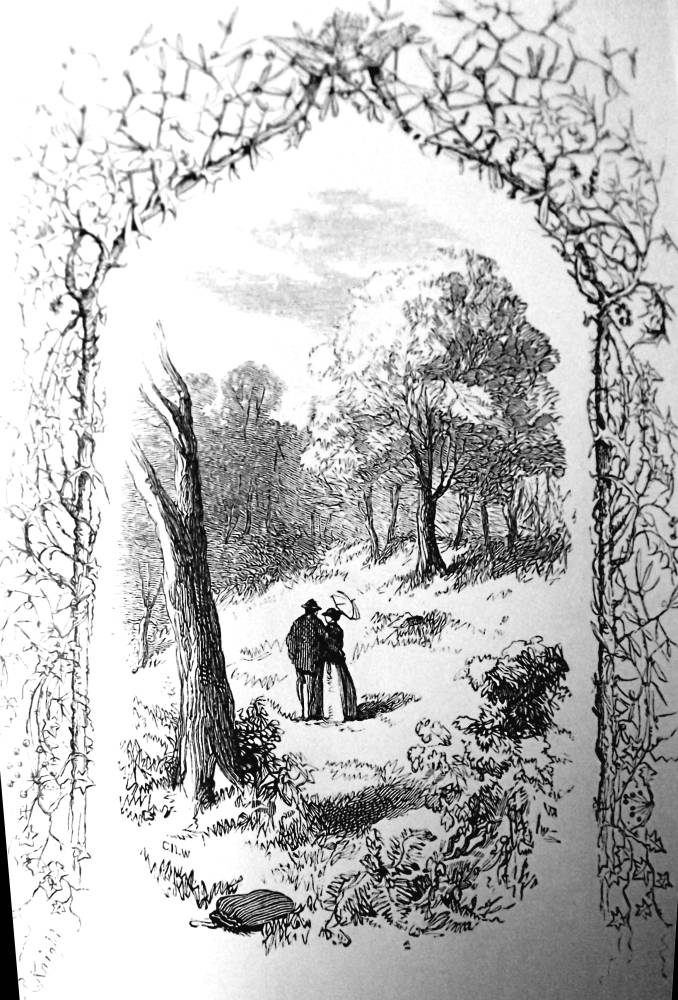 Going Nutting
R. Knight
1878
Wood engraving
14 cm high by 10 cm wide
Twelfth illustration for Hardy's Under the Greenwood Tree, facing page 233
Photograph, caption, and commentary by Philip V. Allingham
[You may use this image without prior permission for any scholarly or educational purpose as long as you (1) credit the person who scanned the image and (2) link your document to this URL in a web document or cite the Victorian Web in a print one. ]
Passage Illustrated
"O Dick," she sobbed out, "where have you been away from me? O, I have suffered agony, and thought you would never come any more! 'Tis cruel, Dick; no 'tisn't, it is justice! I've been walking miles and miles up and down Grey's Wood, trying to find you, till I was wearied and worn out, and I could walk no further, and had come back this far! O Dick, directly you were gone, I thought I had offended you and I put down the dress; t'isn't finished now, and I never will finish, it, and I'll wear an old one Sunday! Yes, Dick, I will, because I don't care what I wear when you are not by my side — ha, you think I do, but I don't! — and I ran after you, and I saw you go up Snail-Creep and not look back once, and then you plunged in, and I after you; but I was too far behind. O, I did wish the horrid bushes had been cut down, so that I could see your dear shape again! And then I called out to you, and nobody answered, and I was afraid to call very loud, lest anybody else should hear me. Then I kept wandering and wandering about, and it was dreadful misery, Dick. And then I shut my eyes and fell to picturing you looking at some other woman, very pretty and nice, but with no affection or truth in her at all, and then imagined you saying to yourself, 'Ah, she's as good as Fancy, for Fancy told me a story, and was a flirt, and cared for herself more than me, so now I'll have this one for my sweetheart.' O, you won't, will you, Dick, for I do love you so!"
It is scarcely necessary to add that Dick renounced his freedom there and then, and kissed her ten times over, and promised that no pretty woman of the kind alluded to should ever engross his thoughts; in short, that though he had been vexed with her, all such vexation was past, and that henceforth and for ever it was simply Fancy or death for him. And then they set about proceeding homewards, very slowly on account of Fancy's weariness, she leaning upon his shoulder, and in addition receiving support from his arm round her waist; though she had sufficiently recovered from her desperate condition to sing to him, 'Why are you wandering here, I pray?' during the latter part of their walk. Nor is it necessary to describe in detail how the bag of nuts was quite forgotten until three days later, when it was found among they brambles and restored empty to Mrs. Dewy, her initials being marked thereon in red cotton; and how she puzzled herself till her head ached upon the question of how on earth her meal-bag could have got into Cuckoo-Lane. [Part the Fourth, "Autumn," Chapter 1, "Going Nutting," p. 243-244]
Commentary
The proleptic reading of the illustration alerts the reader not to the conflict between Dick and Fancy over how best to spend the afternoon off, but to the resolution of the conflict over the refashioning of the blue dress since it depicts Dick and Fancy in the woods rather than in the schoolroom. However, the illustrator does not suggest that the scene decribed in the text transpires almost in darkness and that Fancy has not participated in Dick's nutting expedition at all. The meal-bag conspicuously positioned in the left foreground and the departing pair suggest that the illustrator had the aftermath of the ill-fated "nutting" expedition in mind, rather than Dick's earlier forray into the woods near Cuckoo Lane when Fancy's dress-making has consumed nearly all of Dick's half-day off. Making Fancy his priority, Dick has totally forgotten the overflowing bag of nuts he has so energetically gathered. Although the nutting was initially a symbol of his desire for a stroll in the woods with his beloved, as Fancy wasted time on a dress that Dick would not see her in, the nutting comes to represent for Dick how Fancy is utterly oblivious to his feelings as a result of her vanity.
Bibliography
Hardy, Thomas. Under The Greenwood Tree. A Rural Painting of the Dutch School (1870). Il. R. Knight. London: Chatto and Windus, 1878.
Hardy, Thomas. Under The Greenwood Tree, or, The Mellstock Quire — A Rural Painting of the Dutch School (1872). Ed. Anna Winchcombe. Houndmills, Basingstoke, and London: Macmillan Education, 1978. [All citations from the 1878 Chatto and Windus edition have been checked against this following readily available paperback edition.]
Kay-Robinson, Denys. ​The Landscape of Thomas Hardy. Exeter: Webb and Bower, 1984.
Pinion, F. B. ​A Hardy Companion: A Guide to the Works of Thomas Hardy and Their Background. Trowbridge, Wiltshire, and Basingstoke: Macmillan, 1968, rpt. 1984.
Wright, Sarah Bird. Thomas Hardy A to Z: The Essential Reference to His Life and Work. New York: Facts On File, 2002.
​
---

Victorian
Web

Last modified 13​July 2014