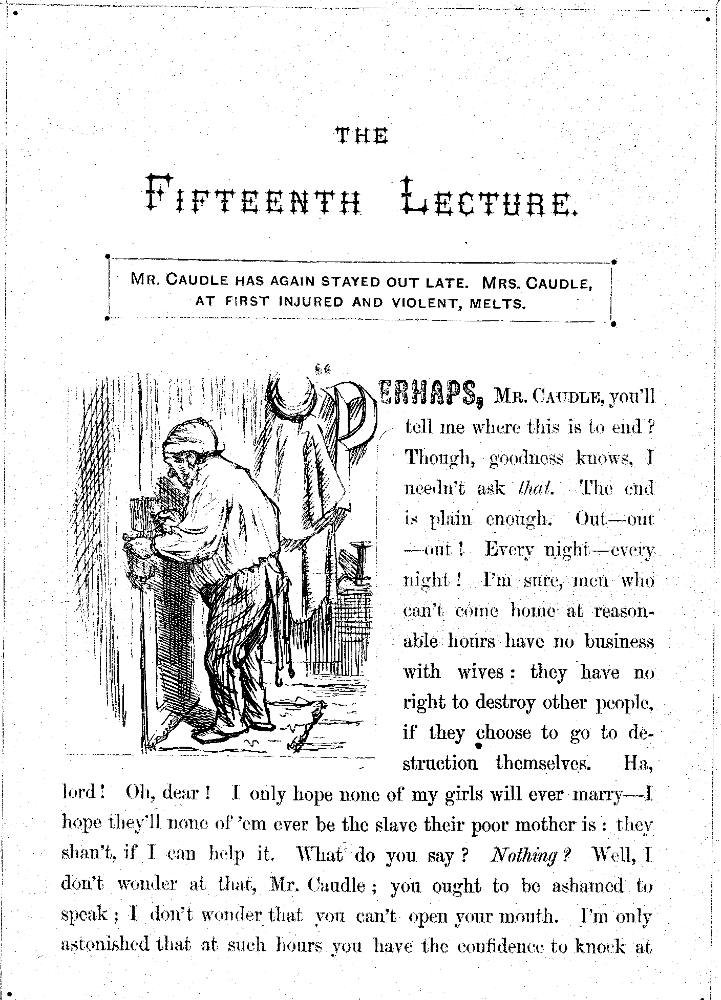 Illuminated Initial "P"
Charles Keene
1866
Wood-engraving
6.3 x 5.1 cm, framed
Twenty-ninth illustration for Douglas Jerrold's Mrs. Caudle's Curtain Lectures (first published 10 May 1845): "The Fifteenth Lecture," p. 72.
Scanned image and text by Philip V. Allingham.
[You may use these images without prior permission for any scholarly or educational purpose as long as you link your document to this URL in a web document or cite the Victorian Web in a print one.]
Passage Complemented
"Perhaps, Mr. Caudle, you'll tell me where this is to end? Though, goodness knows, I needn't ask that. The end is plain enough. Out — out — out! Every night — every night! I'm sure, men who can't come home at reasonable hours have no business with wives: they have no right to destroy other people, if they choose to go to destruction themselves. Ha, lord! Oh, dear! I only hope none of my girls will ever marry — I hope they'll none of 'em ever be the slave their poor mother is: they shan't, if I can help it. What do you say? Nothing? Well, I don't wonder at that, Mr. Caudle? you ought to be ashamed to speak; I don't wonder that you can't open your mouth. I'm only astonished that at such hours you have the confidence to knock at your own door. Though I'm your wife, I must say it, I do sometimes wonder at your impudence. What do you say? Nothing? Ha! you are an aggravating creature, Caudle; lying there like the mummy of a man, and never as much as opening your lips to one. Just as if your own wife wasn't worth answering! It isn't so when you're out, I'm sure. Oh no! then you can talk fast enough; here, there's no getting a word from you. But you treat your wife as no other man does — and you know it.
"Out — out every night! What? You haven't been out this week before? ["The Fifteenth Lecture. — Mr. Caudle has again stayed out late. Mrs. Caudle, at first injured and violent, melts," pp. 72-73]
Commentary
Although the initial letter vignette leads readers to expect that Margaret Caudle's diatribe occurs shortly after her husband has entered the house surreptitiously, in fact it occurs after the Caudles have gone to bed. Mrs. Caudle's attuitude changes abruptly when she learns that her husband has been out late because he had to furnish bail not for the obnoxious Prettyman, but for her own brother, Tom. This salient fact Mr. Caudle is finally able to reveal once his wife pauses for breath; the next illustration, Mr. Caudle is called to a Sponging-house shows her reaction to the terrible news that her brother has been apprehended for debt, and has been incarcerated in a sponging house.
Bibliography
Jerrold, Douglas. Mrs. Caudle's Curtain Lectures, as Suffered by the late Job Caudle.​ Edited from the Original MSS. by Douglas Jerrold. With a frontispiece by Leech, and as motto on the title-page, "Then, Pistol, lay thy head in Fury's lap. — Shakespeare."​ London: Punch​ Office; Bradbury​ and Evans,​ 1846.
Jerrold, Douglas. Mrs. Caudle's Curtain Lectures . Illustrated by John Leach and Richard Doyle. London: Bradbury and Evans, 1856.
Jerrold, Douglas. Mrs. Caudle's Curtain Lectures. Illustrated by Charles Keene. London: Bradbury and Evans, 1866.
---

Victorian
Web

Visual
Arts

Illus-
tration

Charles
Keene

Douglas
Jerrold

Next
Last modified 30 November 2017