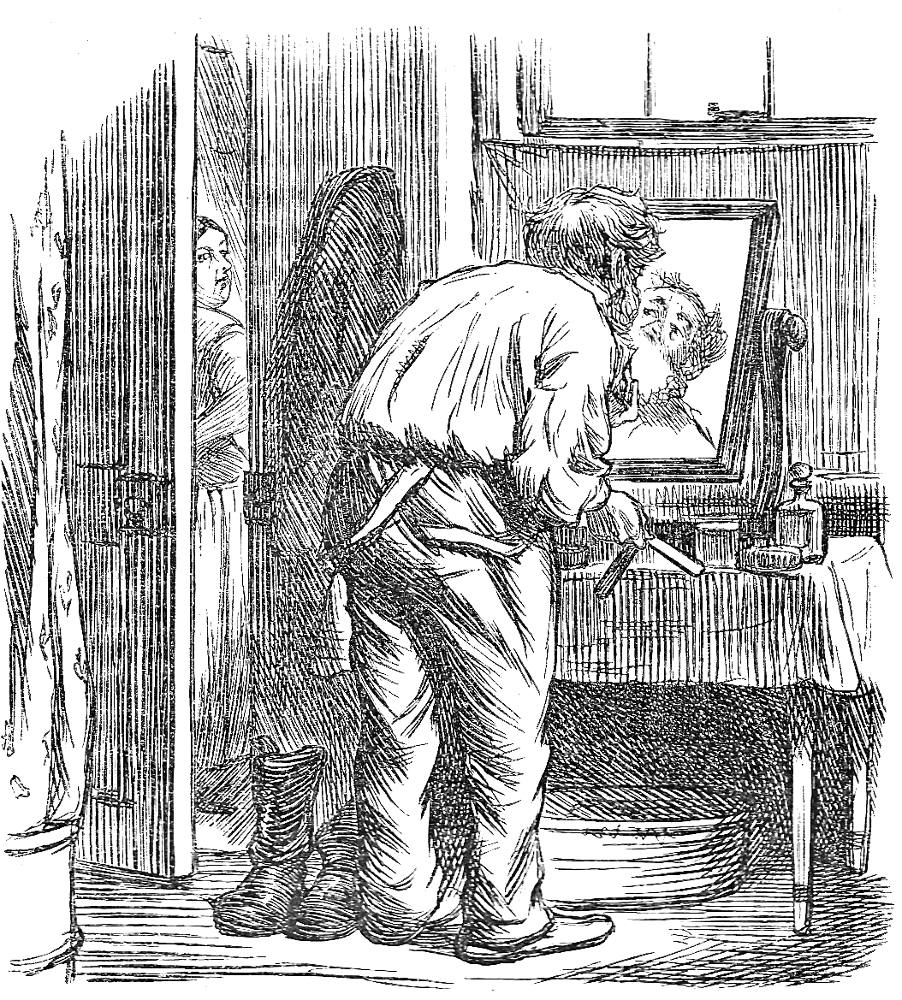 "The Twenty Pounds I will have, Mr. Caudle, if I've any"
Charles Keene
1866
Wood-engraving
9.4 x 8.8 cm, vignetted
Twenty-ninth illustration for Douglas Jerrold's Mrs. Caudle's Curtain Lectures (first published on 26 April 1845): "The Fourteenth Lecture," p. 68.
Scanned image and text by Philip V. Allingham.
[You may use these images without prior permission for any scholarly or educational purpose as long as you link your document to this URL in a web document or cite the Victorian Web in a print one.]
Passage Illustrated
I don't want to dress the children up like countesses? You often fling that in my teeth, you do: but you know it's false, Caudle; you know it. I only want to give 'em proper notions of themselves: and what, indeed, can the poor things think when they see the Briggs's, and the Browns, and the Smiths — and their fathers don't make the money you do, Caudle — when they see them as fine as tulips? Why, they must think themselves nobody; and to think yourself nobody, — depend upon it, Caudle, — isn't the way to make the world think anything of you.
What do you say? Where did I pick up that? Where do you think? I know a great deal more than you suppose &mdash yes; though you don't give me credit for it. Husbands seldom do. However, the twenty pounds I will have, if I've any — or not a farthing. No, sir, no. ["The Fourteenth Lecture. — Mrs. Caudle thinks it 'High Time' that the children should have summer clothing," pp. 70-71]
Commentary
Our sympathies begin to shift in this instalment as Jerrold lets the reader know that Caudle keeps his wife and children on a tight leash, financially; indeed, although he is quite prepared to indulge himself with club drinks, gingerbread nuts at Greenwich, and tavern dinners, he is disinclined to provide for his children's clothing. However, the largely male readership of Punch; or, The London Charivari in 1845 would have been ambivalent about the Caudles in that the twenty pounds that the assertive Margaret Caudle is demanding for the children's summer wardrobe would have amounted to approximately £10331 in today's British currency. In other words, Caudle may be parsimonious in not allowing his wife adequate funds to purchase the clothing, but she is somewhat excessive in her demands. His response, namely that Margaret wishes "to dress up the children like peacocks and parrots (71) is hyperbolic, but certainly one way of describing the lavish wardrobe that she seems to be planning in a bid to out-do the Briggses, Smiths, and Browns.
Whereas Jerrold situates this "lecture," like the others, at the Caudles' bedtime, Keene has re-contextualised it as a discussion held between the couple as Job Caudle is shaving the next morning. She would be striking while the iron is hot, so to speak, for Caudle will shortly have to dress and depart for the office. In the text, as he is falling asleep, he relents, agreeing to twenty pounds rather than fifteen: "man is frail — and woman is strong" (71) when the man is a middle-class Victorian husband, and the woman is his wife, and therefore domestically mistress of all she surveys.
Bibliography
Jerrold, Douglas. Mrs. Caudle's Curtain Lectures, as Suffered by the late Job Caudle.​Edited from the Original MSS. by Douglas Jerrold. With a frontispiece by Leech, and as motto on the title-page, "Then, Pistol, lay thy head in Fury's lap. — Shakespeare."​ London: Punch​ Office; Bradbury​ and Evans,​ 1846.
Jerrold, Douglas. Mrs. Caudle's Curtain Lectures . Illustrated by John Leach and Richard Doyle. London: Bradbury and Evans, 1856.
Jerrold, Douglas. Mrs. Caudle's Curtain Lectures. Illustrated by Charles Keene. London: Bradbury and Evans, 1866.
---

Victorian
Web

Visual
Arts

Illus-
tration

Charles
Keene

Douglas
Jerrold

Next
Last modified 29 November 2017