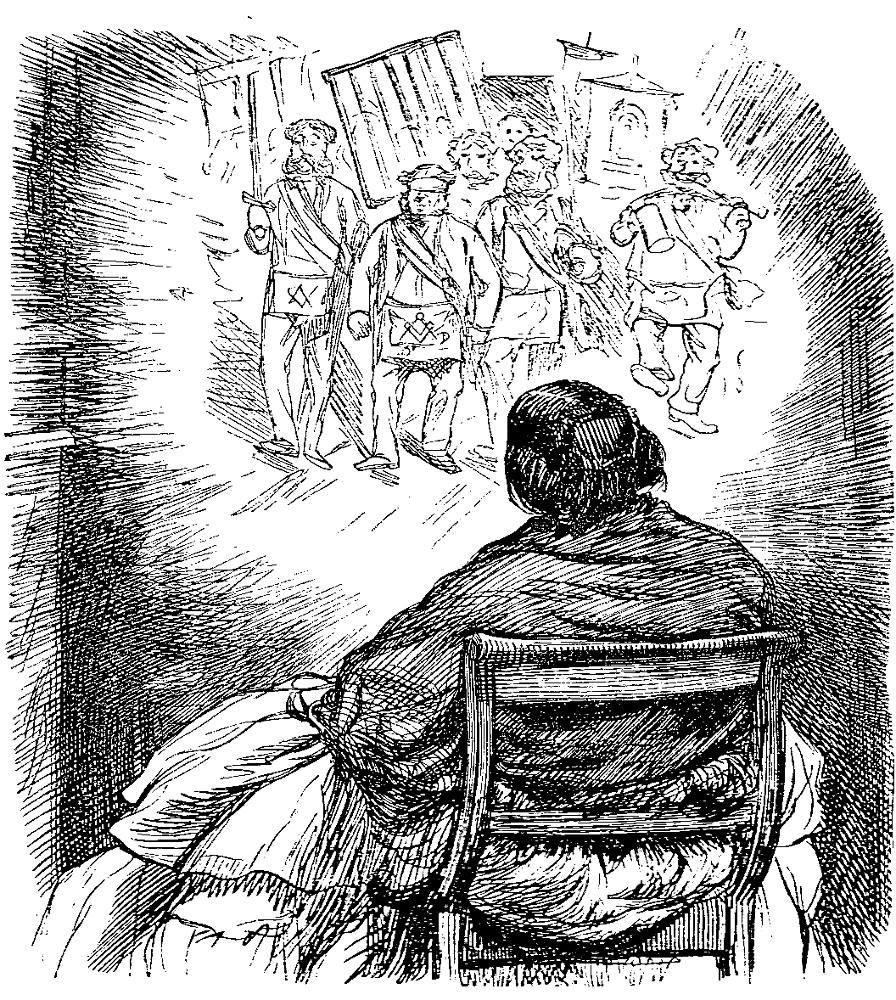 "Lodge, indeed! Nice goings on, I dare say"
Charles Keene
1866
Wood-engraving
9.4 x 8.8 cm, vignetted
Eighteenth illustration for Douglas Jerrold's Mrs. Caudle's Curtain Lectures (first published in 1845): "The Eighth Lecture," p. 36.
Scanned image and text by Philip V. Allingham.
[You may use these images without prior permission for any scholarly or educational purpose as long as you link your document to this URL in a web document or cite the Victorian Web in a print one.]
Passage Illustrated: Margaret Caudle's envisioning​ the Free-masons' Meeting
"Was there ever such a man? A man, indeed! A brute! — yes, Mr. Caudle, an unfeeling, brutal creature, when you might oblige me, and you won't. I'm sure I don't object to your being a mason: not at all, Caudle; I dare say it's a very good thing; I dare say it is — it's only your making a secret of it that vexes me. But you'll tell me — you'll tell your own Margaret? You won't! You're a wretch, Mr. Caudle.
"But I know why: oh, yes, I can tell. The fact is, you're ashamed to let me know what a fool they've been making of you. That's it. You, at your time of life — the father of a family! I should be ashamed of myself, Caudle.
"And I suppose you'll be going to what you call your Lodge every night, now. Lodge, indeed! Pretty place it must be, where they don't admit women. Nice goings on, I dare say. Then you call one another brethren. Brethren! I'm sure you'd relations enough, you didn't want any more.
"But I know what all this masonry's about. It's only an excuse to get away from your wives and families, that you may feast and drink together, that's all. That's the secret. And to abuse women, — as if they were inferior animals, and not to be trusted. That's the secret; and nothing else. ["Eighth Lecture. — Caudle has been made a Mason — Mrs. Caudle Indignant and Curious," pp. 37-38]
Commentary
We encounter the illustration in the midst of Mrs. Caudle's interrogating her husband about Masonic rituals, beginning with the apron, which Keen depicts in the initial-letter vignette for this chapter. Ironically, she recognizes that Caudle's joining the Grand Masonic Lodge is a "good thing," both for his business connections and for the charitable work that the Masons perform. However, she is sure that he is deliberately excluding her from the secrets of the society, and that its meetings are merely an excuse for the prominent middle-class members to get away every week from their familial obligations and enjoy eating and drinking together. This scene is what Mrs. Caudle imagines the Masons doing, so that the figure to the right carrying a large pewter tankard is very much the product of her imagination. The illustration involves her sitting in the evening, constructing mentally what her husband must presently be doing; the actual "lecture," like the others, occurs after he has arrived home, and is attempting to get to sleep. What irks her the most is that he is proof against all arguments, including the implication that she will demand a divorce or a separate maintenance if he does not divulge the Masonic rituals to her:
"And you're not going to let me know the secret, eh? You mean to say, — you're not? Now, Caudle, you know it's a hard matter to put me in a passion — not that I care about the secret itself: no, I wouldn't give a button to know it, for it's all nonsense, I'm sure. It isn't the secret I care about: it's the slight, Mr. Caudle; it's the studied insult that a man pays to his wife, when he thinks of going through the world keeping something to himself which he won't let her know. Man and wife one, indeed! I should like to know how that can be when a man's a mason — when he keeps a secret that sets him and his wife apart? Ha, you men make the laws, and so you take good care to have all the best of 'em to yourselves: otherwise a woman ought to be allowed a divorce when a man becomes a mason: when he's got a sort of corner-cupboard in his heart — a secret place in his mind — that his poor wife isn't allowed to rummage! [pp. 36-37]
Bibliography
Jerrold, Douglas. Mrs. Caudle's Curtain Lectures, as Suffered by the late Job Caudle.​Edited from the Original MSS. by Douglas Jerrold. With a frontispiece by Leech, and as motto on the title-page, "Then, Pistol, lay thy head in Fury's lap. — Shakespeare."​ London: Punch​ Office; Bradbury​ and Evans,​ 1846.
Jerrold, Douglas. Mrs. Caudle's Curtain Lectures . Illustrated by John Leach and Richard Doyle. London: Bradbury and Evans, 1856.
Jerrold, Douglas. Mrs. Caudle's Curtain Lectures. Illustrated by Charles Keene. London: Bradbury and Evans, 1866.
---

Victorian
Web

Douglas
Jerrold

Illus-
tration

Charles
Keene

Next
Last modified 13 November 2017