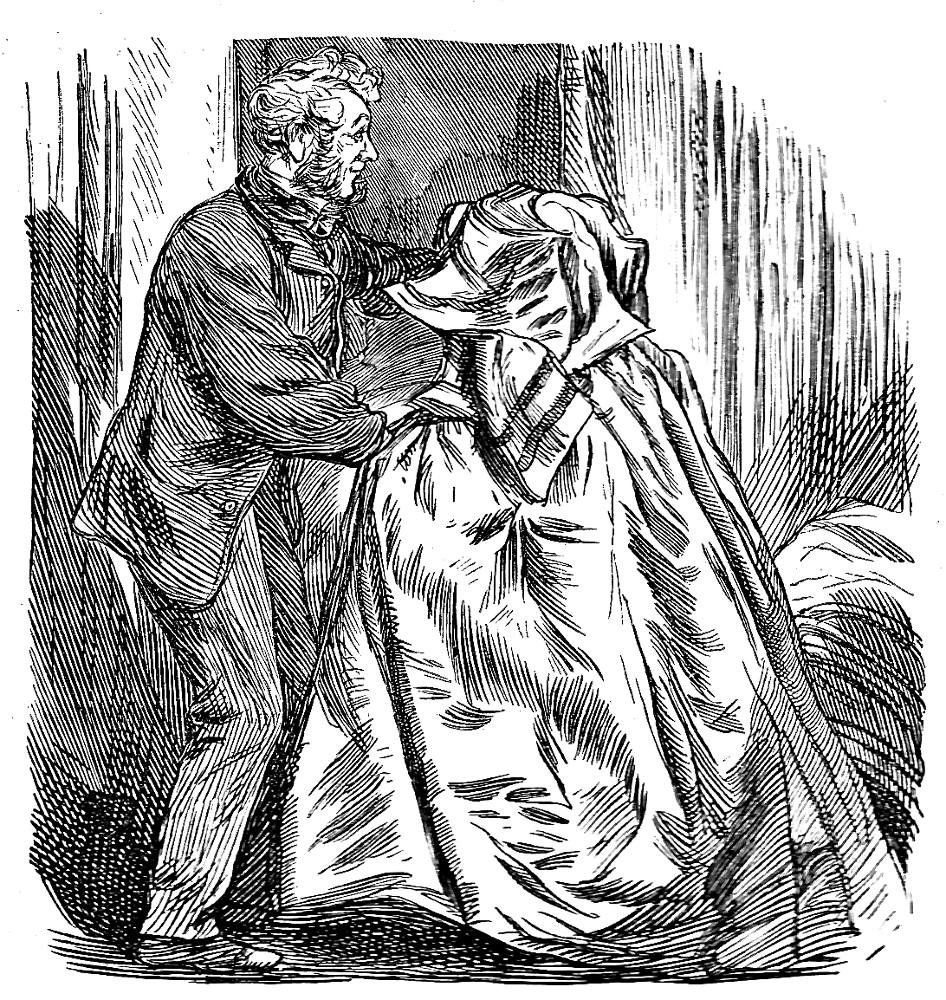 Prettyman taking the Keys from his Wife's Pocket
Charles Keene
1866
Wood-engraving
9.2 x 8.8 cm, vignetted
Seventh illustration for Douglas Jerrold's Mrs. Caudle's Curtain Lectures (first published in 1845): "The Second Lecture," p. 10.
Scanned image and text by Philip V. Allingham.
[You may use these images without prior permission for any scholarly or educational purpose as long as you link your document to this URL in a web document or cite the Victorian Web in a print one.]
Passage Complemented: Margaret Caudle imagines Prettyman stealing his wife's keys
"Taverns! Never did a man go to a tavern who didn't die a beggar. And how your pot-companions will laugh at you when they see your name in the Gazette! For it must happen. Your business is sure to fall off; for what respectable people will buy toys for their children of a drunkard? You're not a drunkard! No: but you will be — it's all the same.
"You've begun by staying out till midnight. By-and-by 'twill be all night. But don't you think, Mr. Caudle, you shall ever have a key. I know you. Yes; you'd do exactly like that Prettyman, and what did he do, only last Wednesday? Why, he let himself in about four in the morning, and brought home with him his pot-companion, Puffy. His dear wife woke at six, and saw Prettyman's dirty boots at her bedside. And where was the wretch, her husband? Why, he was drinking downstairs — swilling. Yes; worse than a midnight robber, he'd taken the keys out of his dear wife's pockets — ha! what that poor creature has to bear! — and had got at the brandy. A pretty thing for a wife to wake at six in the morning, and instead of her husband to see his dirty boots!
"But I'll not be made your victim, Mr. Caudle, not I. You shall never get at my keys, for they shall lie under my pillow — under my own head, Mr. Caudle." ["The Second Lecture. — Mr. Caudle has been at a tavern with a friend, and 'is enough to poison a woman' with tobacco-smoke," pp. 9-11]
Commentary
Keene's choice of subject is somewhat misleading in that, since the illustration lacks an explanatory caption, the reader may mistake "Prettyman," the slightly naughty husband about whose nocturnal drinking his wife has complained to Margaret Caudle, for Caudle himself. The husband's searching the pockets of his wife's voluminous dressing-gown is a scene from Mrs. Caudle's imagination, based on Mrs. Prettyman's description. In that it complements the previous image of the staggering, middle-aged bourgeois Londoners leaving the local public house, the illustrator may be implying that Mr. Caudle would try to obtain extra liquor upon arriving home — if he could. Since Caudle's "pot-companion" may even be Mrs. Caudle's negative exemplum, the dubiously-named neighbour Mr. Harry Prettyman, the image represents Margaret Caudle's fears about becoming isolated, and about her husband's spending many an evening at the tavern. He may come to emulate Prettyman, who (according to his wife's testimony) regularly stays out until 2:00 A. M. and returns home reeking of alcohol and tobacco. In fact, Mr. Caudle, seeking the solace of male-companionship, has just announced that he intends to visit the local public house that evening. He protests that he will not be singing, swearing at the door-mat, or staying out until two in the morning; in short, he will not behave like the naughty neighbour. Despite her dire warnings about the deleterious effects of consuming alcohol in such places, in the monologue Jerrold has incorporated Caudle's protestations that he is not a drunkard, will not be featured in the gazette among the bankrupts, and will not bring home such disreputable companions as Puffy, Prettyman's regular drinking-companion. Thus, Jerrold's ironically summing up his wife's dire predictions with
To this lecture, Caudle affixes no comment. A certain proof, we think, that the man had nothing to say for himself. [p. 11]
is spurious, for Mrs. Caudle's words have actually synthesized her husband's rebuttals. Her portrait of an alcoholic who loses business and family, however, is perfectly consistent with the visual warnings of Temperance Uniuon advocate George Cruikshank in his two pro-abstience series The Bottle (1847) and The Drunkard's Children (1848). Her cautionary commentary reflects such Cruikshankian prognostications as He Is Discharged from His Employment for Drunkenness: They Pawn Their Clothes to Supply the Bottle. In his review of the portfolio in his own Weekly Paper (11 September 1847) Jerrold himself had metaphorically described gin as "the juniper poison" (cited in Meisel, p. 124) since it had such deplorable effects on Victorian family life. The second lecture, then, reflects the anxieties of middle-class wives about the dangers of excessive alcohol consumption in the 1840s, and which undoubtedly continued unabated into the 1860s. Nevertheless, Keene's illustration concerns an envisioned deed enacted by that rapscallion, Prettyman, rather than the long-suffering Job Caudle, respectable London businessman and manufacturer.
Bibliography
Jerrold, Douglas. Mrs. Caudle's Curtain Lectures, as Suffered by the late Job Caudle.​ Edited from the Original MSS. by Douglas Jerrold. With a frontispiece by Leech, and as motto on the title-page, "Then, Pistol, lay thy head in Fury's lap. — Shakespeare."​ London: Punch​ Office; Bradbury​ and Evans,​ 1846.
Jerrold, Douglas. Mrs. Caudle's Curtain Lectures. Illustrated by John Leach and Richard Doyle. London: Bradbury and Evans, 1856.
Jerrold, Douglas. Mrs. Caudle's Curtain Lectures. Illustrated by Charles Keene. London: Bradbury and Evans, 1866.
Meisel, Martin. Chapter 7, "From Hogarth to Cruikshank." Realizations: Narrative, Pictorial, and Theatrical Arts in Nineteenth-Century England. Princeton: Princeton U. P., 1989. Pp. 97-141.
​
---

Victorian
Web

Douglas
Jerrold

Illus-
tration

Charles
Keene

Next
Last modified 23 November 2017