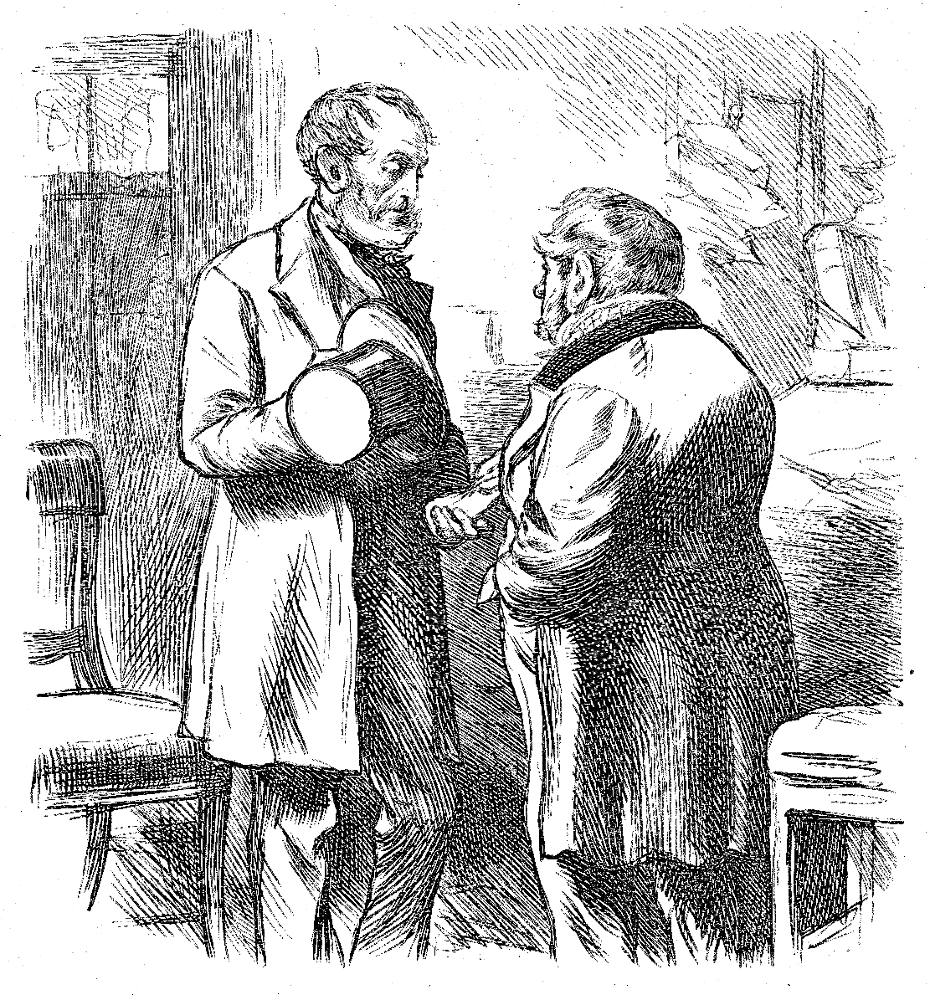 Caudle lending a friend five pounds
Charles Keene
1866
Wood-engraving
9.5 x 9 cm, vignetted
Fifth illustration for Douglas Jerrold's Mrs. Caudle's Curtain Lectures (first published on 4 January 1845): "The First Lecture," p. 3.
Scanned image and text by Philip V. Allingham.
[You may use these images without prior permission for any scholarly or educational purpose as long as you link your document to this URL in a web document or cite the Victorian Web in a print one.]
Passage Complemented: The Making of the Loan
"And thus", comments Caudle, "according to my wife, she — dear soul! — couldn't have a satin gown — the girls couldn't have new bonnets — the water−rate must stand over — Jack must get his death through a broken window — our fire−insurance couldn't be paid, so that we should all fall victims to the devouring element — we couldn't go to Margate, and Caroline would go to an early grave — the dog would come home and bite us all mad — the shutter would go banging for ever — the soot would always fall — the mice never let us have a wink of sleep — thieves be always breaking in the house — our dear Mary Anne be for ever left an unprotected maid, — and with other evils falling upon us, all, all because I would go on lending five pounds!" ["The First Lecture. — "Mr. Caudle Has Lent Five Pounds to a Friend," p. 5]
Commentary
Keene chose his subject wisely, for throughout the entire "lecture" (which, of course, conveys Mrs. Caudle's rather than her husband's perspective) Jerrold never actually describes the scene and circumstances under which the henpecked Job Caudle lends a friend the then-considerable sum of five pounds. Rather, Jerrold describes what Mrs. Caudle regards as the dire and inevitable consequences​of the loan. According to the critical wife, the money that her husband has thoughtlessly loaned a friend might have covered the annual fire insurance premium, bonnets for the children, a chimney-cleaning, a shutter repair, the annual water-rate, a new satin gown for Mrs. Caudle herself, a window repair, the daughter's visit to the dentist, and a family vacation to Margate, at the mouth of the Thames. Mrs. Caudle's attempting to make her spouse feel guilty about the loan will only be effective if five pounds in the year 1845 could do so much. Although she may be exaggerating, the five pounds might well have covered most of the expenditures since in present-day terms it would be worth £458.90.
Contradicting Margaret Caudle's implication that Job's friend is something of a leech, Keene describes the lender as a sober-sided businessman of middle-age, and thereby re-defines the nature of the transaction from a purely personal to a business loan. The lender has every appearance of being a good risk, rather than a ne'er-do-well pot-house companion, as Mrs. Caudle intimates in her initial diatribe, "Mr. Caudle Has Lent Five Pounds to a Friend." The scene is apparently toymaker Caudle's office rather than his parlour at home, and Caudle pays out sovereigns rather than banknotes to a well-dressed businessman of advanced middle-age.
Bibliography
Jerrold, Douglas. Mrs. Caudle's Curtain Lectures, as Suffered by the late Job Caudle.​Edited from the Original MSS. by Douglas Jerrold. With a frontispiece by Leech, and as motto on the title-page, "Then, Pistol, lay thy head in Fury's lap. — Shakespeare."​ London: Punch​ Office; Bradbury​ and Evans,​ 1846.
Jerrold, Douglas. Mrs. Caudle's Curtain Lectures . Illustrated by John Leach and Richard Doyle. London: Bradbury and Evans, 1856.
Jerrold, Douglas. Mrs. Caudle's Curtain Lectures. Illustrated by Charles Keene. London: Bradbury and Evans, 1866.
---

Victorian
Web

Visual
Arts

Illus-
tration

Charles
Keene

Douglas
Jerrold

Next
Last modified 24​November 2017