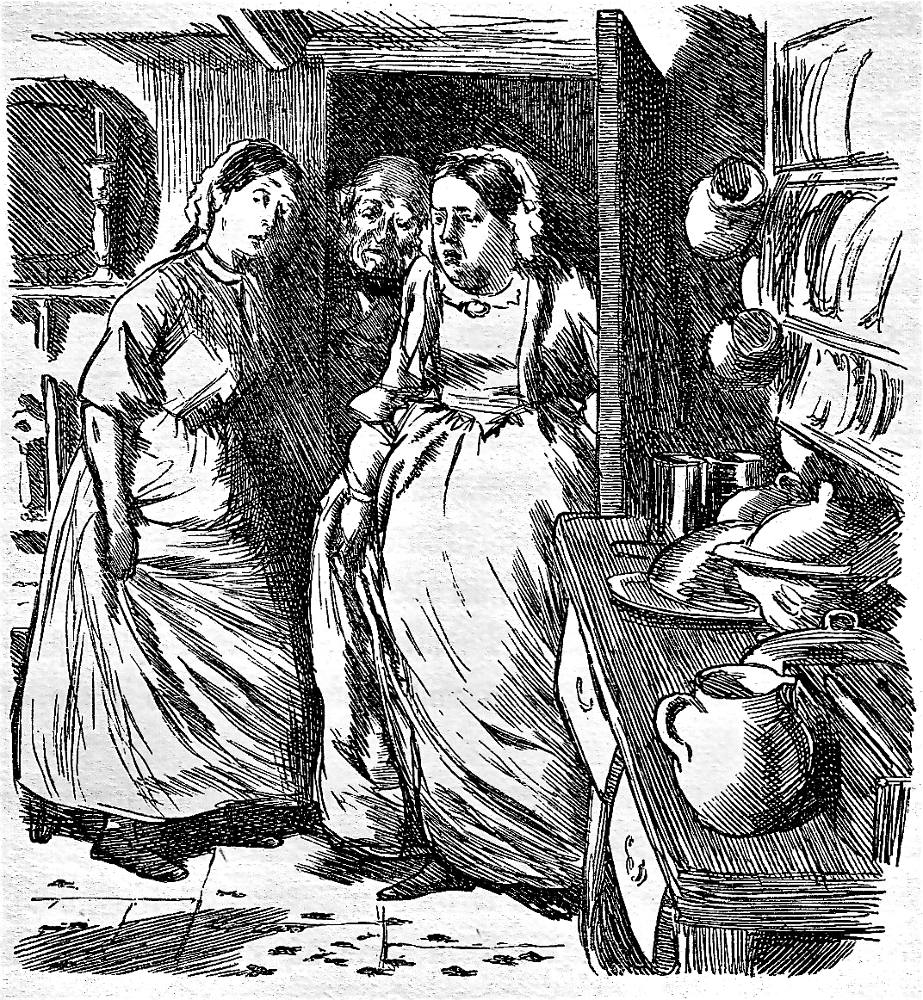 Mrs. Caudle visits the Kitchen — "Millions of Black-beetles!"
Charles Keene
1866
Wood-engraving
9.5 cm high by 9 cm wide
Forty-ninth illustration for Douglas Jerrold's Mrs.​ Caudle's Curtain Lectures (first published on 23 August 1845): "Lecture XXX," p.​ 155.
Scanned image and text by Philip V. Allingham.
[You may use these images without prior permission for any scholarly or educational purpose as long as you link your document to this URL in a web document or cite the Victorian Web in a print one.]
Passage Illustrated: The Caudles inspect the beetle-infected Kitchen
"And the very first night we were here, you know it, the black-beetles came into the kitchen. If the place didn't seem spread all over with a black cloth, I'm a story-teller. What are you coughing at, Mr. Caudle? I see nothing to cough at. But that's just your way of sneering. Millions of black-beetles! And as the clock strikes eight, out they march. What? They're very punctual? I know that. I only wish other people were half as punctual: 'twould save other people's money and other people's peace of mind. You know I hate a black-beetle! No: I don't hate so many things. But I do hate black-beetles, as I hate ill-treatment, Mr. Caudle. And now I have enough of both, goodness knows! [Lecture XXX, ​"Mrs. Caudle complains of the 'Turtle-Dovery.' — discovers black beetles. — thinks it 'nothing but right' that Caudle should set up a chaise," p. 153]
Commentary
A maid apparently presides over the rather old-fashioned kitchen with a large wooden settle, amply stocked with implements and China. The women lift their skirts slightly as they ponder the beetles surging across the flagstones, and Job Caudle reacts quizzically to a situation that as a city-dweller all his life has never happened to him. Nobody seems to know how to address the problem.
Perhaps the insect infestation has occurred in a timely fashion as Margaret Caudle is feeling trapped and isolated in the suburban "Turtle-Dovery." Arguing that Job has missed his omnibus into town on a number of occasions, and has therefore arrived late at the office, she suggests that keeping a chaise would be a cost-effective solution to his transportation problems. It would also enable her to go shopping and visiting in town. The Caudles' commuting problems reflect the expansion of population in the Greater London suburbs from the 1840s onward.
As the periodical Fun implies in the 4 January 1862 cartoon Caution to Omnibus Travellers, suburban bus travel was neither genteel nor trouble free. As early as 1836 Charles Dickens had regarded the London omnibus as a fit subject for satire. In "The First Omnibus Cad," referenced in George Cruikshank's satirical character study The Last Cab Driver, an elderly female passenger complains to the "cad" that she does not wish to be deposited at "The Bank" (that is, the Bank of England). Presumably part of Job Caudle's difficulty is the relative infrequency of omnibus service in the recently expanded system to the London suburbs.
London's expansion southward had always been barred by the Thames, but in the eighteenth century the growing metropolitan population needed somewhere to live. Toll-bridges at Southwark, Waterloo and Vauxhall facilitated the development of housing in Camberwell, Brixton, Clapham, and Dulwich. Over the course of the nineteenth century the population grew rapidly, reaching the 6.5 million mark by the time of Victoria's death in 1901, a seven-fold increase from 1801. Fully twenty per cent of the population of England and Wales lived in Greater London. The transformation of the city as the hub of a commuter nexus depended upon the rapid construction of rail lines to the west and south. Early in Victoria's reign the commuter railway stations of Euston, Waterloo, Paddington, and Victoria increased the efficiency of the railway system. "London Bridge and Fenchurch Street stations began running commuter services in the 1840s, servicing once far-off places like Deptford, Croydon and even Brighton" (Robinson, "London: 'A Modern Babylon'"). Clearly the Caudles are not so far from central London that Job needs to take the railway, but Jerrold does not specify the suburb to which they have moved to escape the bad air of the metropolis.
Related Material
Bibliography
Jerrold, Douglas. Mrs. Caudle's Curtain Lectures, as Suffered by the late Job Caudle.​Edited from the Original MSS. by Douglas Jerrold. With a frontispiece by Leech, and as motto on the title-page, "Then, Pistol, lay thy head in Fury's lap. — Shakespeare."​ London: Punch​ Office; Bradbury​ and Evans,​ 1846.
Jerrold, Douglas. Mrs. Caudle's Curtain Lectures. Illustrated by John Leach and Richard Doyle. London: Bradbury and Evans, 1856.
Jerrold, Douglas. Mrs. Caudle's Curtain Lectures. Illustrated by Charles Keene. London: Bradbury and Evans, 1866.
Robinson, Bruce. "London: 'A Modern Babylon'." BBC History. 17 February 2011. http://www.bbc.co.uk/history/british/victorians/london_modern_babylon_01.shtml
---

Victorian
Web

Illus-
tration

Charles
Keene

Douglas
Jerrold

Next
Last modified 24 December 2017