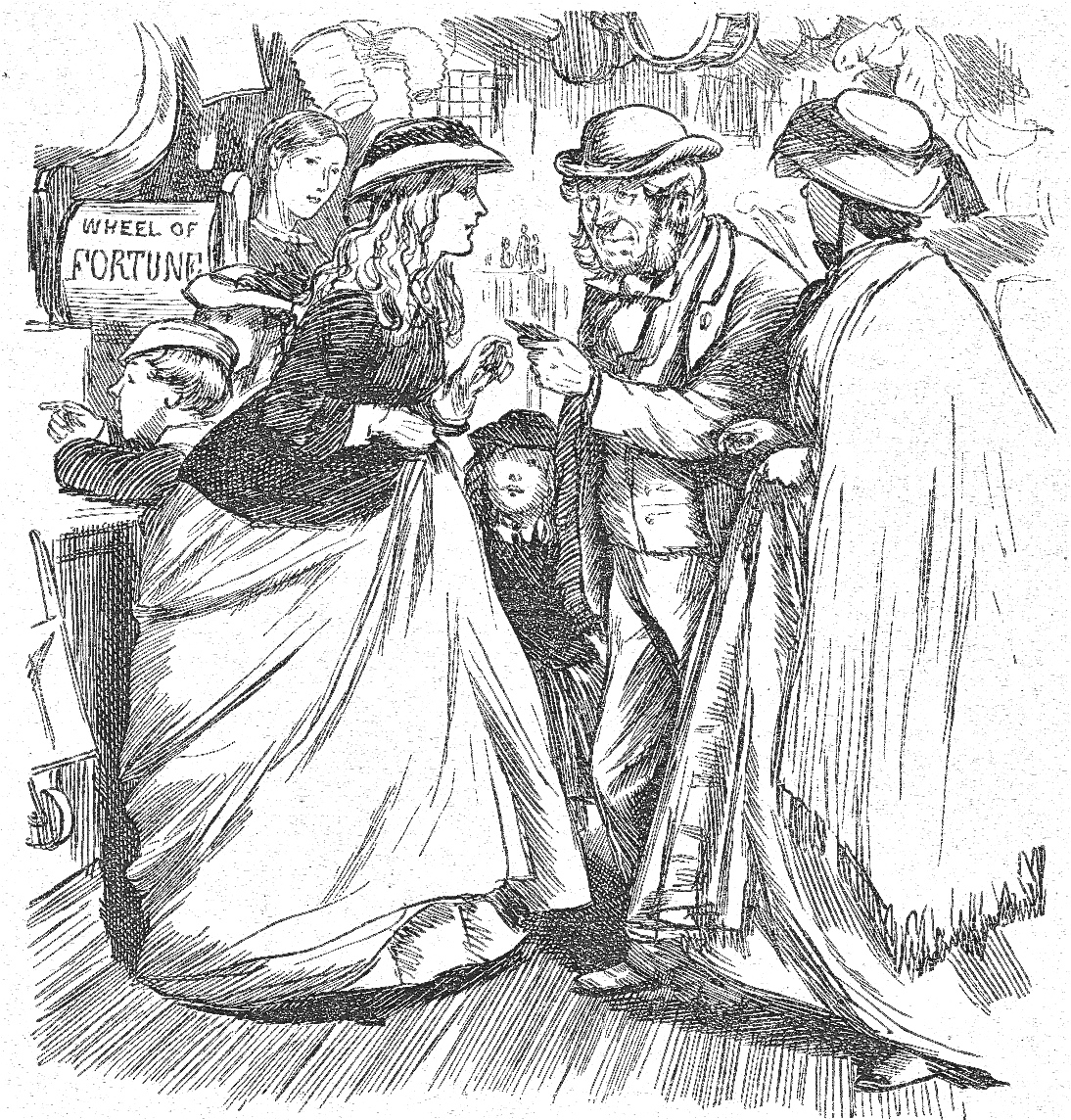 A needle case . . . you gave to Miss Prettyman
Charles Keene
1866
Wood-engraving
9.3 cm high by 9 cm wide
Forty-fifth plate for Douglas Jerrold's Mrs.​Caudle's Curtain Lectures (published 16 August 1845): "Lecture XXVII," p.​140.
Scanned image and text by Philip V. Allingham.
[You may use these images without prior permission for any scholarly or educational purpose as long as you link your document to this URL in a web document or cite the Victorian Web in a print one.]
Passage Illustrated: Miss Prettyman receives a small gift from the Caudles
"I'm sure, too, we've had quite enough of this place. But there's no keeping you out of the libraries, Caudle. You're getting quite a gambler. And I don't think it's a nice example to set your children, raffling as you do for French clocks, and I don't know what. But that's not the worst; you never win anything. Oh, I forgot. Yes; a needle-case, that under my nose you gave to Miss Prettyman. A nice thing for a married man to make presents: and to such a creature as that, too! A needle-case! I wonder whenever she has a needle in her hand! ["Twenty-Seventh Lecture," p. 141]
Commentary
The Caudles had discovered that Boulogne is quite a different world from London or even Margate. In particular, Margaret Caudle has discovered the lower prices of such luxury French goods as lace, velvet, silk stockings, and glassware (tumblers and decanters). She wishes the girls had joined them on the French excursion so that they could assist her in smuggling silk stockings since Caudle had refused to carry six pairs in his top-hat!
In the twenty-seventh "lecture," Mrs. Caudle complains that Miss Prettyman has offered her the left-handed compliment of remarking "how fat [she'd] got" while in France. In fact, Margaret Caudle has sewn all sorts of contraband goods into her clothing so that she must indeed look somewhat overweight, although the unknowing Miss Prettyman must have thought that French cooking was responsible for the new, full-figured look. What she was not permitted to bring back into Great Britain from the Continent Copyright Zone was a "beautiful English novel" (141), presumably handsomely bound and published in Paris, and far less expensive than the same title, published in London:
And if they didn't take it out of my hand, and chopped it to bits like so much dog's-meat. Served me right? And when I so seldom buy a book! No: I don't see how it served me right. If you can buy the same book in France for four shillings that people here have the impudence to ask more than a guinea for—well, if they do steal it, that's their affair, not ours. As if there was anything in a book to steal! [141]
In terms of price-point, then, Mrs, Caudle is absolutely correct about a novel, worth nineteen shillings in England, costing fifteen shillings less in Boulogne. The British price of nineteen shillings in 1845 would be about £60 today for such a book, whereas the French price of just four shillings would be about £12, or just twenty per cent. According to Jerrold, in the 1840s, the fine levied British Customs for smuggling was considerable — one hundred pounds, roughly £6,000 today.
Keene uses an interesting venue for the presentation of the French gift. The sign "Wheel of Fortune" (left rear) implies that Job Caudle has just purchased a raffle-ticket in a general store. The presence of the Caudle children suggests that it is no gambling-den. Although neither author nor illustrator resolves the issue of who was looking after the children while the Caudles were in France, the illustration seems to suggest that the two youngest were left under Miss Prettyman's care. Certainly, he must have purchased expressly for her. The gift, then, may be a thank-you for her assistance. Without doubt in Keene's illustration (which focusses on Miss Prettyman's feelings rather than Mrs. Caudles') she receives it joyfully.
Related Material on Leisure
Bibliography
Jerrold, Douglas. Mrs. Caudle's Curtain Lectures, as Suffered by the late Job Caudle.​Edited from the Original MSS. by Douglas Jerrold. With a frontispiece by Leech, and as motto on the title-page, "Then, Pistol, lay thy head in Fury's lap. — Shakespeare."​ London: Punch​Office; Bradbury​ and Evans,​ 1846.
Jerrold, Douglas. Mrs. Caudle's Curtain Lectures. Illustrated by John Leach and Richard Doyle. London: Bradbury and Evans, 1856.
Jerrold, Douglas. Mrs. Caudle's Curtain Lectures. Illustrated by Charles Keene. London: Bradbury and Evans, 1866.
---

Victorian
Web

Illus-
tration

Charles
Keene

Douglas
Jerrold

Next
Last modified 16 December 2017