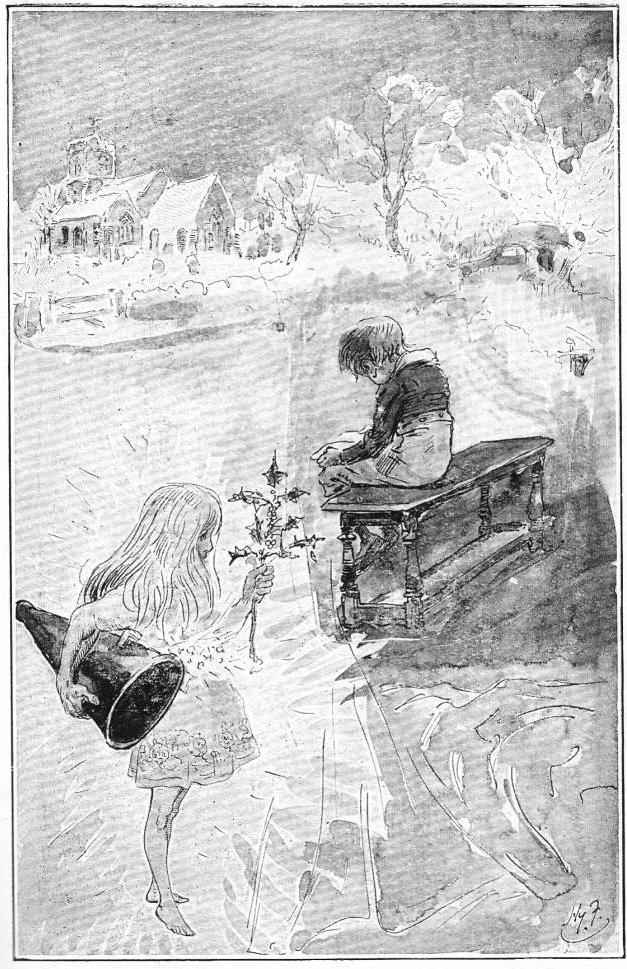 The First of the Three Spirits
Harry Furniss
1910
14.4 x 9.2 cm framed
This amalgam of three visual elements juxtaposes Scrooge's essential isolation as a child (right) with only books for company when the other students went home on holidays with the purity of the countryside in which the somewhat dilapidated school was located. [Commentary continued below.]
[Click on image to enlarge it.]
Details
Scanned image and text by Philip V. Allingham.
[You may use these images without prior permission for any scholarly or educational purpose as long as you (1) credit the photographer and (2) link your document to this URL in a web document or cite the Victorian Web in a print one.]
Commentary
The Spirit of Christmas Past (lower left) holds a sprig of holly to suggest the evergreen or enduring nature of this childhood experience for the mature Scrooge. Of Dickens's major illustrators, only Sol Eytinge, Jr. (1868) and Harry Furniss (1910) have attempted to realise the enigmatic figure of The Ghost of Christmas Past. The great originator of images for A Christmas Carol, John Leech, represents Scrooge's former self only indirectly, through the image of "Mr. Fezziwig's Ball", and focuses on the other two spirits. The fault lies with Dickens's ambiguous description of this androgynous, ageless figure (described as masculine in pronoun) who is a fusion of contraries:
Passage Realised
It was a strange figure — like a child: yet not so like a child as like an old man, viewed through some supernatural medium, which gave him the appearance of having receded from the view, and being diminished to a child's proportions. Its hair, which hung about its neck and down its back, was white as if with age; and yet the face had not a wrinkle in it, and the tenderest bloom was on the skin. The arms were very long and muscular; the hands the same, as if its hold were of uncommon strength. Its legs and feet, most delicately formed, were, like those upper members, bare. It wore a tunic of the purest white, and round its waist was bound a lustrous belt, the sheen of which was beautiful. It held a branch of fresh green holly in its hand; and, in singular contradiction of that wintry emblem, had its dress trimmed with summer flowers. But the strangest thing about it was, that from the crown of its head there sprung a bright clear jet of light, by which all this was visible; and which was doubtless the occasion of its using, in its duller moments, a great extinguisher for a cap, which it now held under its arm.
Even this, though, when Scrooge looked at it with increasing steadiness, was not its strangest quality. For as its belt sparkled and glittered now in one part and now in another, and what was light one instant, at another time was dark, so the figure itself fluctuated in its distinctness: being now a thing with one arm, now with one leg, now with twenty legs, now a pair of legs without a head, now a head without a body: of which dissolving parts, no outline would be visible in the dense gloom wherein they melted away. And in the very wonder of this, it would be itself again; distinct and clear as ever. [Stave Two, "The The First of the Three Spirits," p. 21-22]
Commentary
Since such ambiguity in the description of a character does not offer much guidance to the illustrator, John Leech chose to depict the other spirits, even though one might argue that Scrooge's sense of abandonment, his troubled childhood, and his subsequent rejection by Belle as a young adult profoundly affected his moral development, and that therefore The Spirit of Christmas Past, as American illustrator Sol Eytinge, Jr., realised, is an important figure in Scrooge's journey to spiritual redemption and social reintegration. In the twenty-fifth anniversary Ticknor-Fields edition, Eytinge offers three instances of the diminutive, girl-like figure with the conical hat, including in the book's somewhat surrealistic frontispiece,"Scrooge's Christmas Visitors", and it is quite possible that this interpretation rather than the stage convention of dressing the spirit like a druid (as in the 1951 film adaption scripted by Noel Langley) influenced Furniss's realisation.
Furniss juxtaposes a white background indicative of a winterscape with the darkened figure of the lonely child reading a book on a school bench (a detail consistent with such as images as George Cruikshank's (circa 1843) of early nineteenth-century schoolrooms). Thus, although J. A,. Hammerton, Furniss's editor, has captioned the composite illustration with Dickens's initial description of the spirit, Furniss himself has utilised both the descriptions of "a mansion of dull red brick, with a little weathercock-surmounted cupola" (24), the dreary schoolhouse of Scrooge's youth, and the paragraph in which "a lonely boy was reading near a feeble fire" (25), a picture that brings the mature, life-hardened Scrooge to tears. The scene is important then because of its emotional impact upon Scrooge, but even Arthur Rackham, who specialised in bizarre characters and effects, has elected to depict the subsequent scene in which Fan comes to collect her brother and to avoid entirely the Spirit of Christmas Past. As much as possible, Rackham focuses on the less painful and more seasonal aspects of Scrooge's life, as when the head master offers dubious refreshment to the young Scrooges. The sentiment that all boys should have the opportunity to go home for the holidays occurs also in Dickens's 21 December 1850 essay "A Christmas Tree" in the "Extra-Christmas" number of Household Words. As Hearn notes, the similarity in Dickens's description of Scrooge's old school here and David Copperfield's in the fifth chapter of that bildungsroman (issued serially, Monthly: May 1849 through November 1850) is not mere coincidence, for both are reminiscent of Wellington House Academy, "where Dickens received his brief formal education (a year and a half) before leaving at fifteen" (Note 13, p. 89). The physical setting of the school, far removed from urban pollution and traffic, suggests Strood, Rochester, where Dickens spent the happiest part of his childhood, when his father, John, was a clerk at the Naval Pay Office at the Chatham dockyard.
Related Illustrations from Other Editions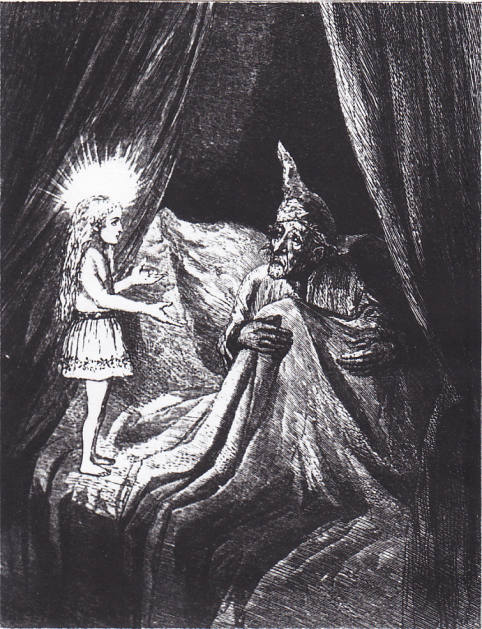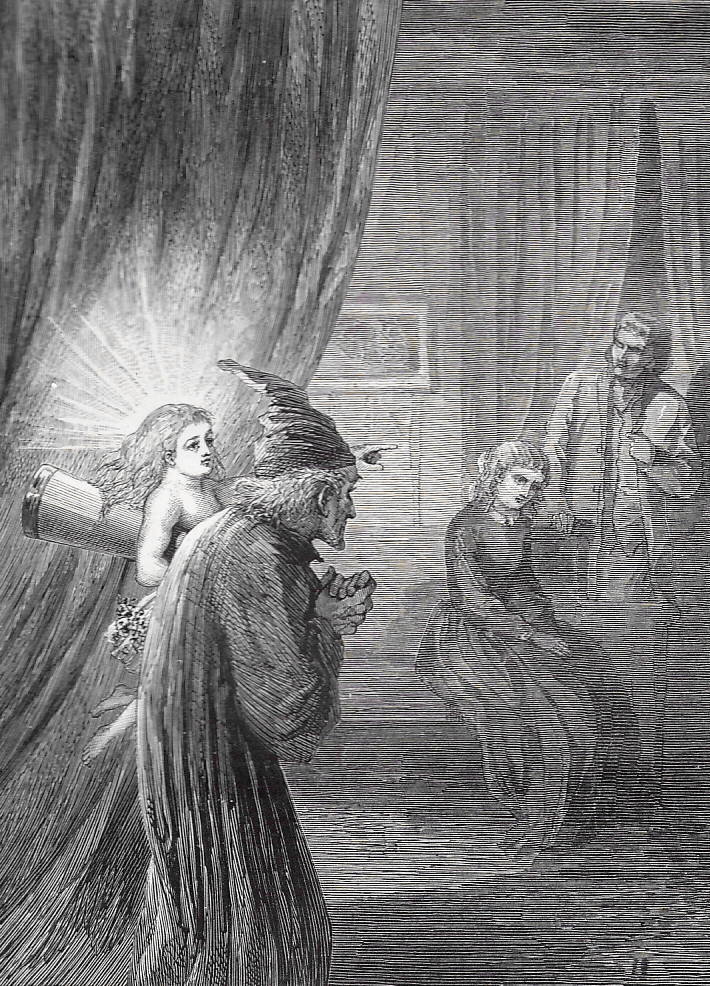 Left: Sol Eytinge, Jr.'s "The Spirit of Christmas Past" (1868); centre: Sol Eytinge, Jr.'s "A Retrospect" (1867); right: Arthur Rackham's "He produced a decanter of curiously light wine, and a block of curiously heavy cake" (1915). [Click on images to enlarge them.]
References
Cohen, Jane Rabb. Charles Dickens and His Original Illustrators. Canton, Ohio: Ohio U. P., 1980.
Davis, Paul. The Lives and Times of Ebenezer Scrooge. New Haven: Yale U. P., 1990.
Dickens, Charles. The Christmas Books. Il. Harry Furniss. Charles Dickens Library Edition. 18 vols. London: Educational Book Company, 1910. Vol. 8.
Dickens, Charles. The Christmas Books. Il. Sol Eytinge, Jr. The Diamond Edition. 16 vols. Boston: Ticknor and Fields, 1867.
Dickens, Charles. Christmas Books. Il. E. A. Abbey. The Household Edition. New York: Harper and Brothers, 1876.
Dickens, Charles. Christmas Books. Il. Fred Barnard. The Household Edition. London: Chapman and Hall, 1878.
Dickens, Charles. A Christmas Carol. Il. Sol Eytinge, Jr. Boston: Ticknor and Fields, 1867.
Dickens, Charles. A Christmas Carol. Il. John Leech. London: Chapman and Hall, 1843.
Dickens, Charles. A Christmas Carol. Il. Arthur Rackham. London: William Heinemann, 1915.
Guiliano, Edward, and Philip Collins, eds. The Annotated Dickens. New York: Clarkson N. Potter, 1986. Vol. 1.
Hearn, Michael Patrick, ed. The Annotated Christmas Carol. New York: Avenel, 1976.
---

Victorian
Web

Visual
Arts

Illustration

Harry
Furniss

Next
Last modified 5 June 2013