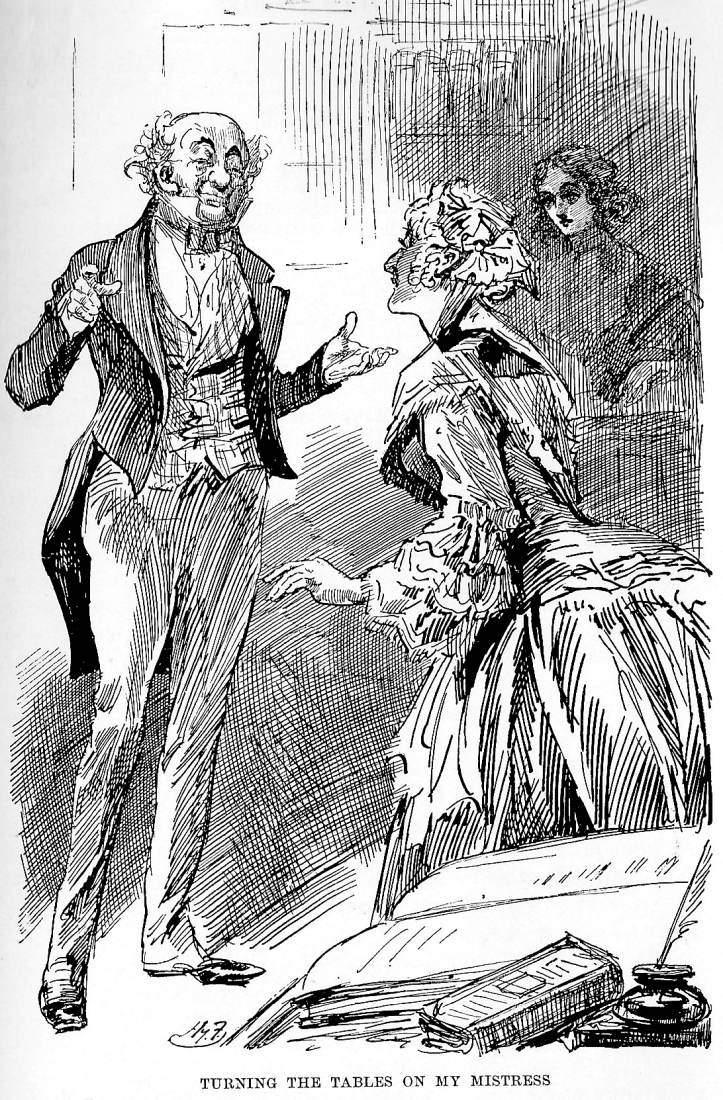 Turning the Tables on My Mistress
Harry Furniss
1910
13.5 x 9 cm vignetted
Dickens's Christmas Stories, Vol. 16 of Charles Dickens Library Edition, facing page 368.
[Click on image to enlarge it, and mouse over to find links.]
Scanned image and text by Philip V. Allingham.
[You may use these images without prior permission for any scholarly or educational purpose as long as you (1) credit the photographer and (2) link your document to this URL in a web document or cite the Victorian Web in a print one.]
Passage Illustrated
"That's a Lottery," says the Mistress, folding her arms upon the book, — it ain't her hands alone that's pretty made, the observation extends right up her arms. "Won't you venture two pound sixteen shillings and sixpence in the Lottery? Why, there's no blanks!" says the Mistress; laughing and bobbing her head again, "you must win. If you lose, you must win! All prizes in this Lottery! Draw a blank, and remember, Gentlemen-Sportsmen, you'll still be entitled to a black portmanteau, a black bag, a desk, a dressing-case, a sheet of brown paper, a hat-box, and an umbrella strapped to a walking-stick!"
To make short of it, Miss Martin come round me, and Mrs. Pratchett come round me, and the Mistress she was completely round me already, and all the women in the house come round me, and if it had been Sixteen two instead of Two sixteen, I should have thought myself well out of it. For what can you do when they do come round you?
So I paid the money — down — and such a laughing as there was among 'em! But I turned the tables on 'em regularly, when I said:
"My family-name is Blue-Beard. I'm going to open Somebody's Luggage all alone in the Secret Chamber, and not a female eye catches sight of the contents!" [Chapter 1, "His Leaving It Till Called For," page 369]
Commentary
The Illustrated Library Edition "anthologized" version of the 1862 novella contained Charles Green's Somebody's Luggage. However, as published Dickens's own periodical some six years earlier the original framed tale also had stories by John Oxenford ("His Umbrella"), Dickens's son-in-law (as of 1860) Charles Collins ("His Black Bag" and "His Writing-Desk"), Arthur Locker ("His Dressing-Case"), Julia Cecilia Stretton ("His Portmanteau" and "His Hat-Box"). Although the weekly journal All the Year Round was unillustrated, in the various anthologised texts in which Somebody's Luggage appeared "In Four Chapters," the story illustrated most frequently was "His Boots," the second of the ten parts. From 1862 until 1867's No Thoroughfare the great Dickensian ampersand, Wilkie Collins, contributed no short stories whatsoever to Dickens's seasonal offerings, leaving the field to his brother.
Charles Green's illustration entitled Somebody's Luggage in the 1868 Illustrated Library Edition realizes a moment in the second and most moving portion of the novella, in which Dickens reveals his familiarity with France and his fondness for the French nation. The account of the bachelor Englishman living in France and his adopting the orphan Bebelle has been the subject of illustrations by Charles Green, E. A. Abbey, and E. G. Dalziel, so that Furniss's choice of subject here shows that he felt perfectly free to diverge from the iconographic traditions established by previous editions, especially since his artistic predecessors had chosen sentimental rather than humorous subjects.
Relevant Illustrated Library Edition (1868) and Household Edition (1876-77) Illustrations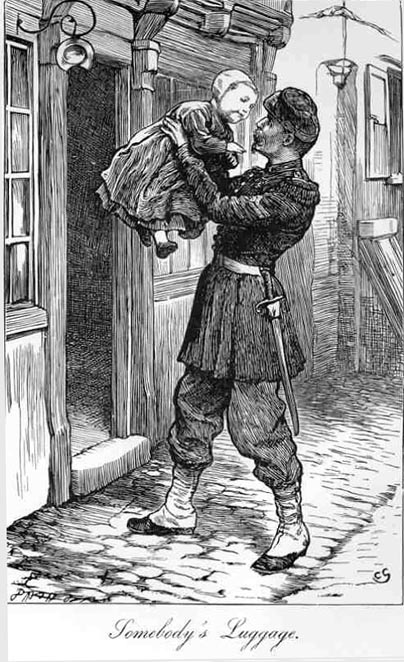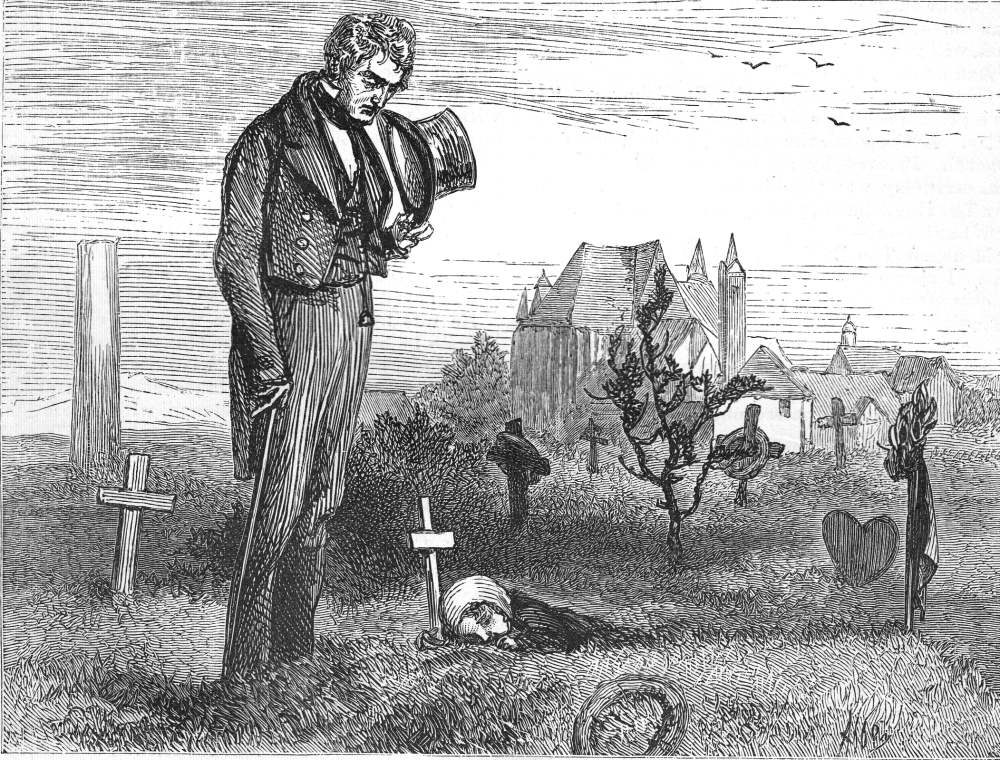 Left: Charles Green's 1868 plate "Somebody's Luggage". Centre: E. A. Abbey's "Bebelle! My little one!". Right: Edward Dalziel's 1877 illustration "But it is not impossible that you are a pig!" retorted Madame Bouclet. [Click on images to enlarge them.]
Other illustrators of the novella from All the Year Round have focussed on the sentimental story of the orphan, Bebelle, and her two protectors, the brave French soldier and the curmudgeonly Englishman, but Furniss has chosen instead to focus on the character of the narrator of the "frame tale," the headwaiter, Christopher, who acquires Somebody's luggage, left behind six years earlier at the hotel, and discovers manuscripts in each of the items he has acquired from the landlady "at auction." Thus, Furniss has chosen the scene that establishes the narrative framework and introduces the voluble and amusing observer of human nature who will be our conductor through eight short stories. Furniss rightly imagines him dressed in a manner suggestive of fashions earlier in the century.
Although Christopher's is the dominant or controlling voice of Somebody's Luggage, Furniss does not conceive of the nattily-dressed Head Waiter, Christopher, in this scene as physically resembling Charles Dickens, aged fifty. Rather, the slender, balding, genial waiter in this story set six years from February 1856, when the guest known as "Somebody" left his luggage in 24B after occupying the room for a few nights, looks nothing like Dickens in contemporary photographs and paintings. The second figure in Furniss's picture is the "Mistress" of the establishment, who has just offered Christopher the left luggage for the amount owing on the traveller's bill; the third figure (right rear) is likely the young accountant of the bar, Miss Martin, rather than the Head Chambermaid. Mrs. Pratchett. The text, however, makes explicit the connection between the Head Waiter of the coffee house and the Conductor of All the Year Round by quoting of Dickens's favourite children's stories, Perrault's cautionary tale of "Bluebeard" (1697, first translated into English in 1729), for Christopher vows not to opening the various articles of luggage in the presence of these managerial females, poking fun then at what he perceives as natural feminine curiosity, which indeed is a subtext of Perrault's Conte du temp passé.
References
Bentley, Nicolas, Michael Slater, and Nina Burgis. The Dickens Index. Oxford and New York: Oxford U. P., 1988.
Davis, Paul. Charles Dickens A to Z: The Essential Reference to His Life and Work. New York: Facts On File, 1998.
Dickens, Charles. Christmas Stories. Il. Harry Furniss. Charles Dickens Library Edition. 18 vols. London: Educational Book Company, 1910. 2 vols.
Dickens, Charles. Christmas Stories from "Household Words" and "All The Year Round". Il. Fred Walker, F. A. Fraser, Harry French, E. G. Dalziel, J. Mahony [sic], Townley Green, and Charles Green. Centenary Edition. 36 vols. London: Chapman & Hall; New York: Charles Scribner's Sons, 1911.
Dickens, Charles. Christmas Stories. Il. Edward Dalziel, Harry French, F. A. Fraser, James Mahoney, Townley Green, and Charles Green. The Oxford Illustrated Dickens. Oxford, New York, and Toronto: Oxford U.P., 1956, rpt. 1989.
Dickens, Charles. Christmas Stories. Il. E. A. Abbey. The Household Edition. New York: Harper and Brothers, 1876.
Dickens, Charles. Christmas Stories from "Household Words" and "All the Year Round". Il. E. G. Dalziel. The Household Edition. London: Chapman and Hall, 1877. Rpt., 1892.
Schlicke, Paul, ed. "Christmas Stories." The Oxford Companion to Dickens. Oxford and New York: Oxford U. P., 1999. Pp. 100-101.
Thomas, Deborah A. Dickens and The Short Story. Philadelphia: U. Pennsylvania Press, 1982.
---

Victorian
Web

Visual
Arts

Illustration

Harry
Furniss

Next
Last modified 14 September 2013