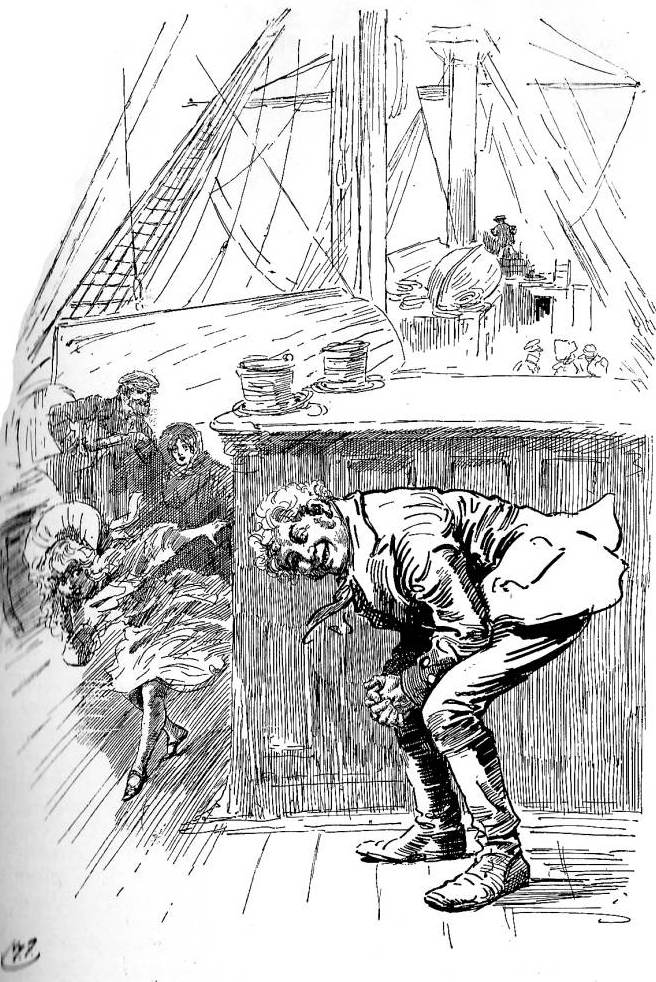 The Golden Lucy
Harry Furniss
1910
13.9 x 9.7 cm vignetted
Dickens's Christmas Stories, Vol. 16 of Charles Dickens Library Edition, facing page 96.
[Click on image to enlarge it, and mouse over to find links.]
Scanned image and text by Philip V. Allingham.
[You may use these images without prior permission for any scholarly or educational purpose as long as you (1) credit the photographer and (2) link your document to this URL in a web document or cite the Victorian Web in a print one.]
Passage Illustrated
Of my passengers, I need only particularise, just at present, a bright-eyed blooming young wife who was going out to join her husband in California, taking with her their only child, a little girl of three years old, whom he had never seen; a sedate young woman in black, some five years older (about thirty as I should say), who was going out to join a brother; and an old gentleman, a good deal like a hawk if his eyes had been better and not so red, who was always talking, morning, noon, and night, about the gold discovery. But, whether he was making the voyage, thinking his old arms could dig for gold, or whether his speculation was to buy it, or to barter for it, or to cheat for it, or to snatch it anyhow from other people, was his secret. He kept his secret.
These three and the child were the soonest well. The child was a most engaging child, to be sure, and very fond of me: though I am bound to admit that John Steadiman and I were borne on her pretty little books in reverse order, and that he was captain there, and I was mate. It was beautiful to watch her with John, and it was beautiful to watch John with her. Few would have thought it possible, to see John playing at bo-peep round the mast, that he was the man who had caught up an iron bar and struck a Malay and a Maltese dead, as they were gliding with their knives down the cabin stair aboard the barque Old England, when the captain lay ill in his cot, off Saugar Point. But he was; and give him his back against a bulwark, he would have done the same by half a dozen of them. The name of the young mother was Mrs. Atherfield, the name of the young lady in black was Miss Coleshaw, and the name of the old gentleman was Mr. Rarx.
As the child had a quantity of shining fair hair, clustering in curls all about her face, and as her name was Lucy, Steadiman gave her the name of the Golden Lucy. So, we had the Golden Lucy and the Golden Mary; and John kept up the idea to that extent as he and the child went playing about the decks, that I believe she used to think the ship was alive somehow — a sister or companion, going to the same place as herself. [Chapter 1, "The Wreck," pages 93-94]
Relevant Illustrated Library Edition (1868) and Household Edition (1877) Illustrations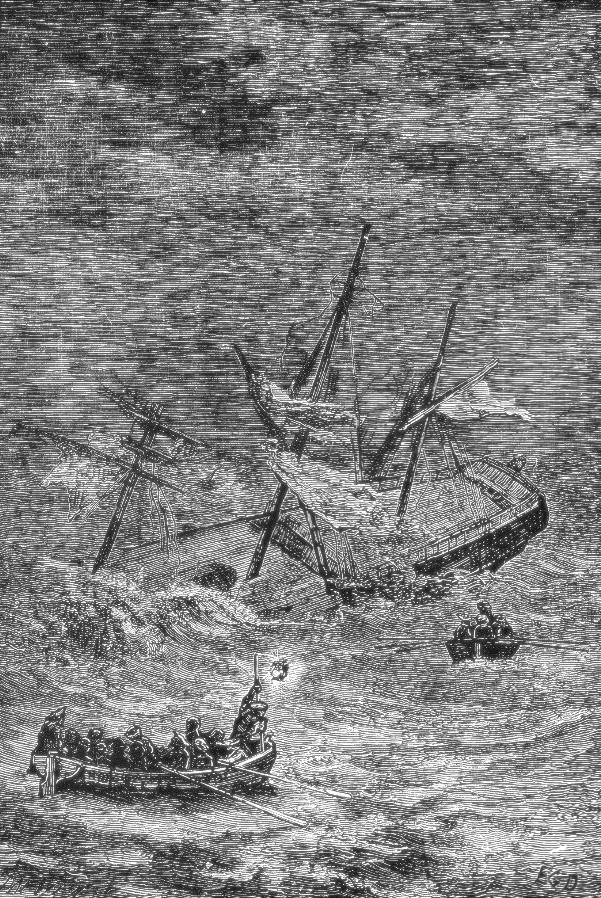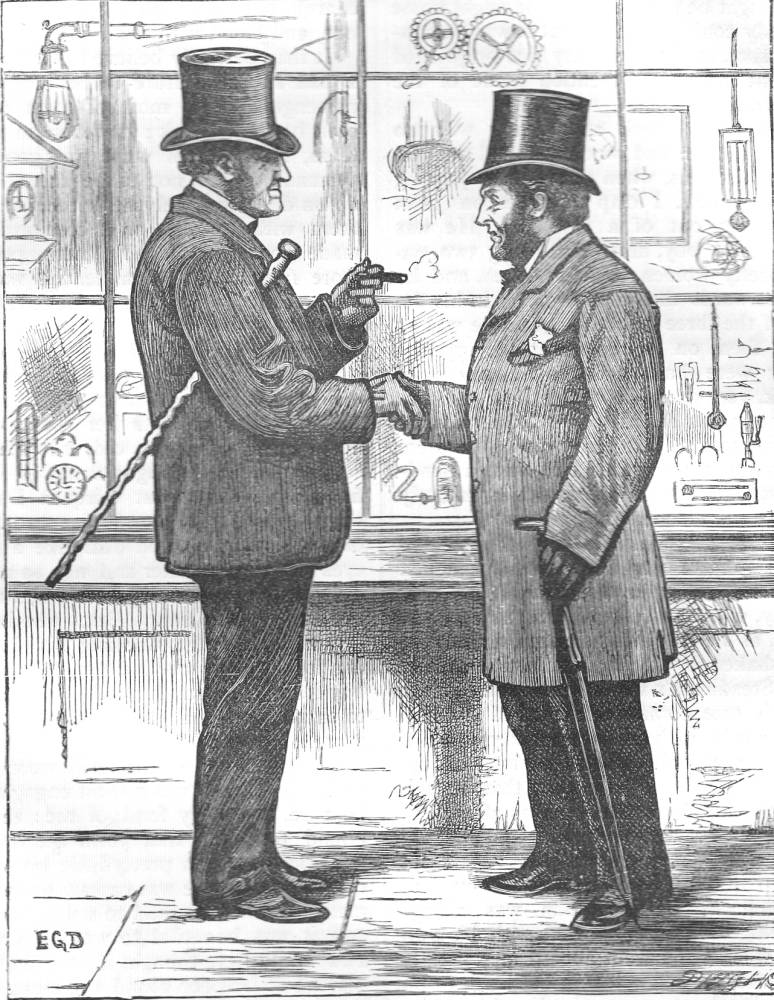 Left : E. G. Dalziel's "The Wreck of the 'Golden Mary'". Right: Edward Dalziel's 1877 illustration "My dear Captain Ravender," says he. "Of all men on earth, I wanted to see you most. I was on my way to you." [Click on images to enlarge them.]
The artist for the Illustrated Library Edition, E. G. Dalziel, chose a moment more consonant with the temper of the opening chapter, the only part that Dickens himself wrote. Charles Dickens, in the throes of writing the nineteen-month serial novel Little Dorrit and readying the melodrama The Frozen Deep for production in his Tavistock House home theatre, was more than usually busy in the autumn of 1856, the time of the year when he customarily created his annual Christmas story for his weekly journal, for whereas the culmination of his autumn activities was usually the "Extra Christmas" number, here it would be a play upon which he had been collaborating with Collins and in which he would star as the self-sacrificing Richard Wardour:
Dickens's current preoccupations were many: he was more than half-way through writing Little Dorrit, running Household Words (whose new year's volume was due out the next day [i. e., 3 January 1857], featuring the first number of Wilkie Collins's The Dead Secret), overseeing building works at his newly-acquired house at Gad's Hill, dealing with the management of the drainage and gas supply to Miss Coutts's refuge for homeless women at Urania Cottage in West London, and rehearsing and overseeing the preparations — costumes, props, sets, music, invitations and seating arrangements for the many guests clamoring to attend — for his production of The Frozen Deep at Tavistock House, just poised for its dress-rehearsal [on 5 January 1857]. [Richardson, 183-184]
In consequence of his being so pressed for time that fall, Dickens unfortunately left the illustrators of the volume editions of Christmas Stories, who restricted themselves to realising only those portions of the framed stories which Dickens himself wrote, less scope than for the other seasonal offerings. This framed story for the "Extra Christmas" number of 1856, then, was largely the product of Dickens's journalistic collaborators, notably the upcoming novelist and Dickens protegé Wilkie Collins, who provided most John Steadiman's testamentary document (signalled by the heading "All that follows, was written by John Steadiman, Chief Mate:) in "The Wreck," as well as the seventh and final part, "The Deliverance." Young newcomer Percy Fitzgerald (1834-1925) contributed "The Armourer's Story" and "The Supercargo's Story," Harriet Parr (publishing under the pseudonym "Holm Lee") "Poor Dick's Story," Adelaide Anne Procter "The Old Seaman's Story," and the Reverend James White "The Scotch Boy's Story." Unfortunately the various volume editions of Christmas Stories do not contain anything other than Dickens's and Collins's work, so that later readers have little sense of the original publication context.
In this scene Furniss does not depict the high seas and imperilled ship as E. G. Dalziel had in the Illustrated Library Edition of forty years earlier. Furniss's impressionistic rendering of the comic and touching scene between the First Mate and Golden Lucy on deck is highly dynamic as vivacious child plays hide-and-seek and a jovial Steadiman deliberately looks the wrong way as others on deck enjoy the fun. The Household Edition's realisation, in contrast, involves a Liverpool shipping magnate's hiring Captain Ravender to navigate the treacherous seas that lie between England and the highly lucrative destination of "The Golden Mary." Dalziel's somewhat prosaic meeting of the merchant and the sea captain for the Household Edition volume is not satisfying in that it contributes far less to the reader's understanding of the text than Furniss's 1910 picture or even Dalziel's own 1868 illustration of the wreck. The pair meet by chance in front of a marine store shop in Leadenhall Street, London; the realisation is neither especially imaginative nor particularly engaging, and the two middle-class figures (despite a difference in height) look so alike that one cannot really determine which is the loquacious mariner and which the maritime capitalist.
Furniss's choice of scene on board a sailing ship travelling around Cape Horn on its way to the gold fields of California involves, like so many other Dickens Christmas fictions, a playful youngster interacting with an indulgent adult. Furniss seems to have gravitasted towards such scenes over the somber possibilities the texts offered him. That the merchant vessel will founder with attendant loss of life would have come as no surprise to a typical Victorian reader, and indeed such a plot gambit Dickens had already deployed in David Copperfield — and must be read against what was in the nineteenth century a journalistic commonplace.
References
Davis, Paul. Charles Dickens A to Z: The Essential Reference to His Life and Work. New York: Facts On File, 1998.
Dickens, Charles. Christmas Stories. Il. Harry Furniss. Charles Dickens Library Edition. 18 vols. London: Educational Book Company, 1910. 2 vols.
Dickens, Charles. Christmas Stories from "Household Words" and "All The Year Round". Il. Fred Walker, F. A. Fraser, Harry French, E. G. Dalziel, J. Mahony [sic], Townley Green, and Charles Green. Centenary Edition. 36 vols. London: Chapman & Hall; New York: Charles Scribner's Sons, 1911.
Dickens, Charles. Christmas Stories. Il. Edward Dalziel, Harry French, F. A. Fraser, James Mahoney, Townley Green, and Charles Green. The Oxford Illustrated Dickens. Oxford, New York, and Toronto: Oxford U.P., 1956, rpt. 1989.
Dickens, Charles. Christmas Stories. Il. E. A. Abbey. The Household Edition. New York: Harper and Brothers, 1876.
Dickens, Charles. Christmas Stories from "Household Words" and "All the Year Round". Il. E. G. Dalziel. The Household Edition. London: Chapman and Hall, 1877. Rpt., 1892.
Richardson, Ruth. "Death & The Lady: Miss Coutts, Mr. Dickens & The Dead House Committee." Dickens Quarterly, vol. 30, No. 3 (Sept., 2013): 177-197.
Schlicke, Paul, ed. "Christmas Stories." The Oxford Companion to Dickens. Oxford and New York: Oxford U. P., 1999. Pp. 100-101.
Thomas, Deborah A. Dickens and The Short Story. Philadelphia: U. Pennsylvania Press, 1982.
---

Victorian
Web

Visual
Arts

Illustration

Harry
Furniss

Next
Last modified 5 September 2013