Pecksniff
Harry Furniss
1910
14.7​ cm high​ by 9.8 cm wide vignetted
Dickens's Martin Chuzzlewit, Vol. 7 of The​ Charles​ Dickens Library Edition, Chapter​ 45, "In which Tom Pinch and his Sister take a little Pleasure; but quite in a Domestic Way, and with no Ceremony about it," facing p. 737.​ Now that the chief plot thread, of the rift between Old Martin Chuzzlewit and his grandson, has been resolved, Dickens turns his attention (and ours) to the incipient romance of the young architect John Westlock, formerly Tom's former fellow apprentice, and Ruth Pinch, until recently a governess. The pair meet — apparently by accident — in the Fountain Court in the Middle Temple, where Tom is working on organizing the library — Furniss even places Tom well in the background, upper left.
Scanned image and text by Philip V. Allingham.
[You may use these images without prior permission for any scholarly or educational purpose as long as you (1) credit the photographer and (2) link your document to this URL in a web document or cite the Victorian Web in a print one.]
Passage Illustrated
Whether there was life enough left in the slow vegetation of Fountain Court for the smoky shrubs to have any consciousness of the brightest and purest-hearted little woman in the world, is a question for gardeners, and those who are learned in the loves of plants. But, that it was a good thing for that same paved yard to have such a delicate little figure flitting through it; that it passed like a smile from the grimy old houses, and the worn flagstones, and left them duller, darker, sterner than before; there is no sort of doubt. The Temple fountain might have leaped up twenty feet to greet the spring of hopeful maidenhood, that in her person stole on, sparkling, through the dry and dusty channels of the Law; the chirping sparrows, bred in Temple chinks and crannies, might have held their peace to listen to imaginary skylarks, as so fresh a little creature passed; the dingy boughs, unused to droop, otherwise than in their puny growth, might have bent down in a kindred gracefulness to shed their benedictions on her graceful head; old love letters, shut up in iron boxes in the neighbouring offices, and made of no account among the heaps of family papers into which they had strayed, and of which, in their degeneracy, they formed a part, might have stirred and fluttered with a moment's recollection of their ancient tenderness, as she went lightly by. Anything might have happened that did not happen, and never will, for the love of Ruth.
Something happened, too, upon the afternoon of which the history treats. Not for her love. Oh no! quite by accident, and without the least reference to her at all.
Either she was a little too soon, or Tom was a little too late — she was so precise in general, that she timed it to half a minute — but no Tom was there. Well! But was anybody else there, that she blushed so deeply, after looking round, and tripped off down the steps with such unusual expedition?
Why, the fact is, that Mr. Westlock was passing at that moment. The Temple is a public thoroughfare; they may write up on the gates that it is not, but so long as the gates are left open it is, and will be; and Mr. Westlock had as good a right to be there as anybody else. But why did she run away, then? Not being ill dressed, for she was much too neat for that, why did she run away? The brown hair that had fallen down beneath her bonnet, and had one impertinent imp of a false flower clinging to it, boastful of its licence before all men, that could not have been the cause, for it looked charming. Oh! foolish, panting, frightened little heart, why did she run away!
Merrily the tiny fountain played, and merrily the dimples sparkled on its sunny face. John Westlock hurried after her. Softly the whispering water broke and fell; as roguishly the dimples twinkled, as he stole upon her footsteps.
Oh, foolish, panting, timid little heart, why did she feign to be unconscious of his coming! Why wish herself so far away, yet be so flutteringly happy there!
"I felt sure it was you," said John, when he overtook her in the sanctuary of Garden Court. "I knew I couldn't be mistaken."
She was so surprised.
"You are waiting for your brother," said John. "Let me bear you company." — Chapter 45, "In which Tom Pinch and his Sister take a little pleasure; but quite in a domestic way, and with no ceremony about it," pp. 709-710.
Commentary
In the original series of illustrations by Hablot Knight Browne, John Westlock and Ruth Pinch appear together in the Chapter 39 illustration Mr. Pinch and Ruth Unconscious of a Visitor (March 1844); in that same monthly number, Tom become custodian of a collection of books in a private library badly in need of reorganisation. In the Household Edition, Fred Barnard depicts the romantic figure of John Westlock just once early on, in Chapter Eleven, "Stand off a moment, Tom," cried the old pupil . . . . . "Let me look at you! Just the same! Not a bit changed!", where Dickens establishes the close emotional connection between Mr. Pecksniff's perpetual drudge, Tom Pinch, and the former student who, no longer willing to accept the senior architect's exploitation, has denounced Pecksniff and left just prior to Martin's arrival.
In the Diamond Edition, Sol Eytinge, Jr.'s focussing on the romantic plot between the manly, forthright John and the diminutive, "womanly" Ruth (complemented an umbrella of doll-like dimensions) is a convenience for introducing the romance between these secondary characters in Dickens's extensive cast of seventy-three. What makes Eytinge's treatment so interesting, however, is his depiction of the little fountain in The Temple as a gigantic aquatic series of jets in the river (rather than a small water-jet in Fountain Court, as accurately described in Harry Furiss's 1910 sequence), contrasting the industrial chimneys of Southwark, on the other bank of the Thames. Although Furniss's depiction of the fountain in Fountain Court is more accurate than Eytinge's in John Westlock and Ruth Pinch, in his treatment as in Eytinge's John Westlock is very much a respectable young gentleman of the mid-Victorian period, dressed in somber black frock-coat and sporting large sideburns; in each illustration, moreover, Ruth lacks the charming vivacity of the Dickensian original, who, like Amy Dorrit, is a young woman in the body of a mere girl.
Entered off Fleet Street, Middle Temple Lane near London's Embankment leads to the hidden square of Fountain Court, an Edenic oasis of quiet suitable to this meeting of the sensible lovers; here many times before Ruth would rendezvous with her brother after work. Since the little fountain dates from 1682, the lovers meet in the shadows of the past; having lived as a bachelor at Lincoln's Inn Fields and worked as a clerk in a law firm, Dickens was highly familiar with the area, which he describes in detail in chapter 15 of Barnaby Rudge, a novel set in the late eighteenth century. Bounded by buildings, the little court with its fountain spouting water eight feet into the air does not afford much of a view of the southern shore of the Thames, so that Eytinge's composition remains an enigma, perhaps born out of his desire to contrast the city's recent past as recorded by Dickens with the modern industrial blight gradually taking hold of London. On the other hand, one may literally step into the scene that Furniss described over a century ago, although the tree to the right is somewhat larger today, and the jet today reaches about half the height of Furniss's. Interesting background details are the gardener (left rear) and a figure (upper right) who looks very much like Ruth's brother.
Relevant Illustrations, 1843-1924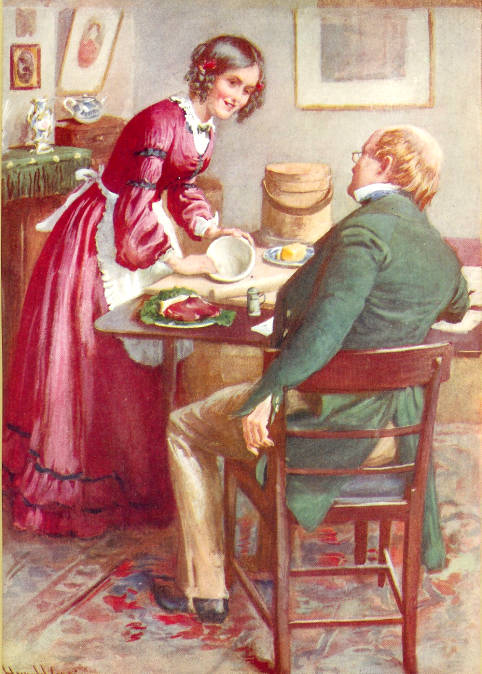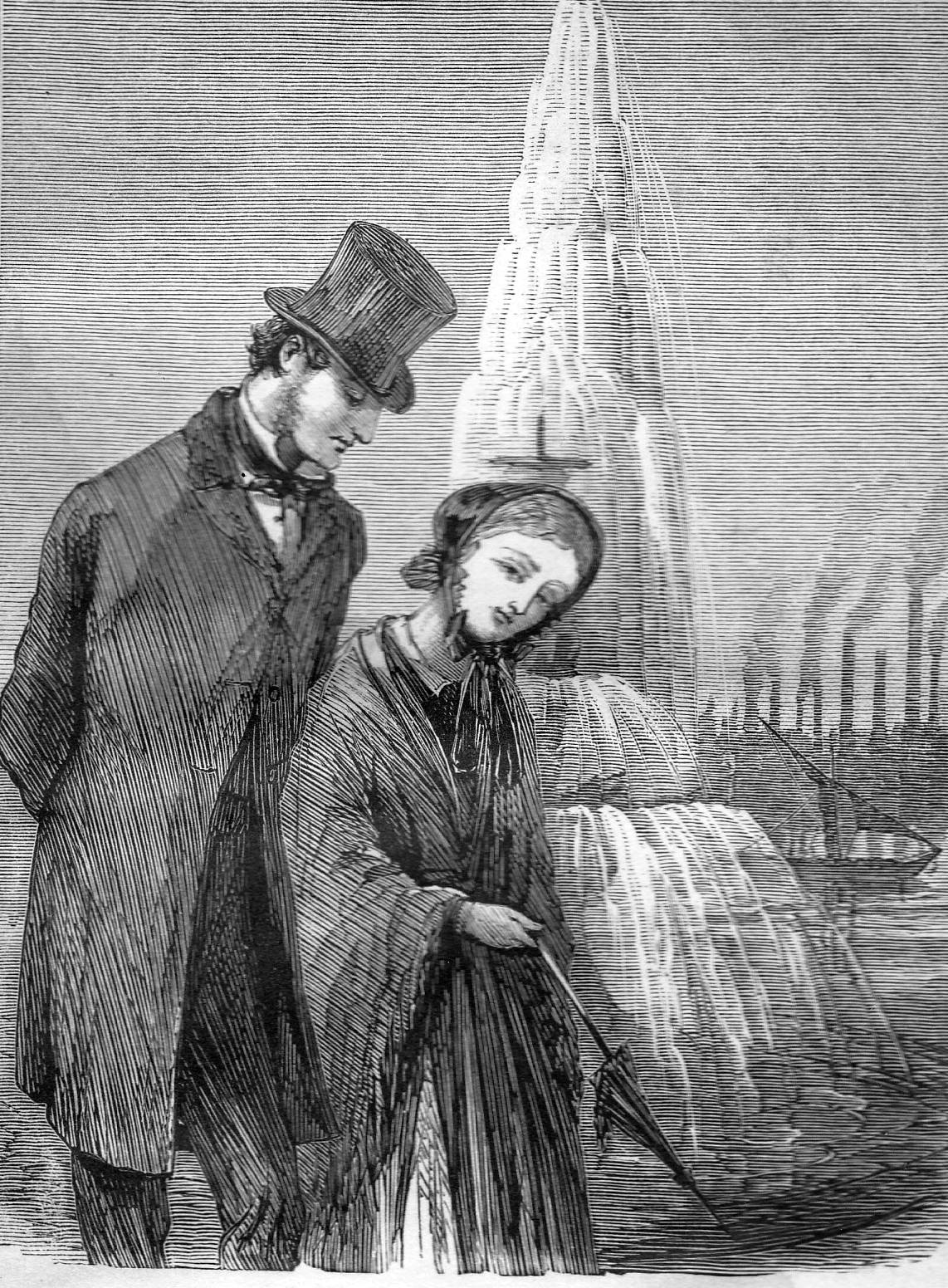 Left: Hablot Knight Browne's realisation of John Westlock's unexpectedly dropping by the Pinches' Islington flat in Chapter 39, Mr. Pinch and Ruth Unconscious of a Visitor (March 1844). Centre: Harold Copping's 1924 colour lithograph of Ruth attempting to make a pudding for her brother, Ruth Pinch Makes a Pudding​(Chapter 39). Right: Sol Eytinge, Jr.'s realisation of the scene between Ruth Pinch and John Westlock, with a rather extravagant fountain, John Westlock and Ruth Pinch (1867). [Click on images to enlarge them.]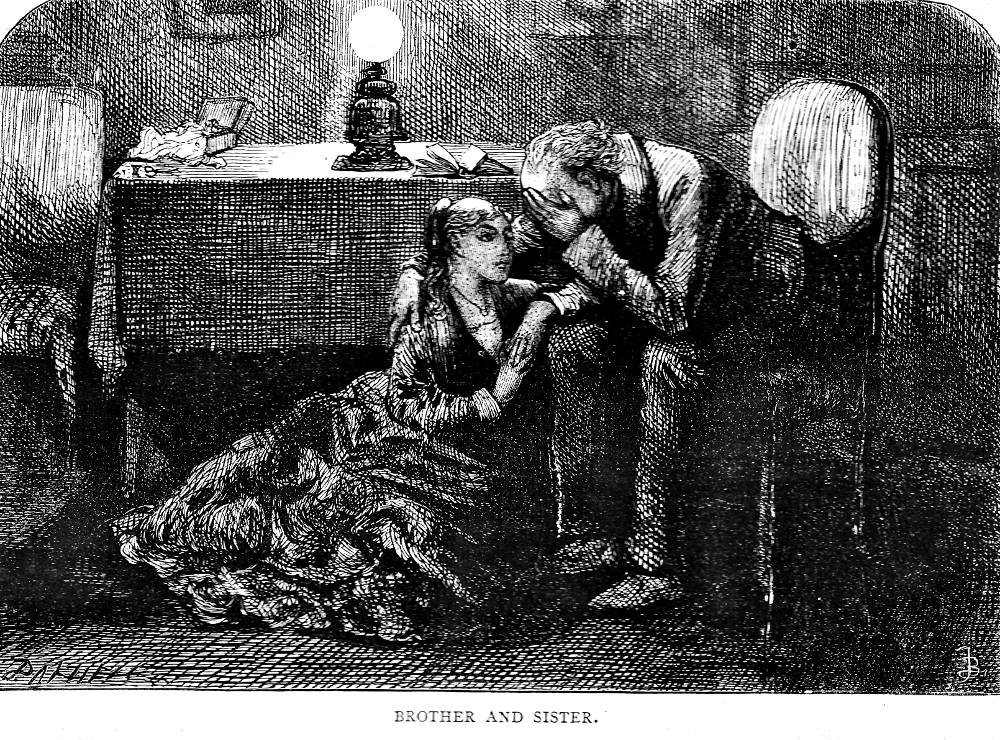 Above: Fred Barnard's realisation of the later scene, in Chapter 51, when, Ruth Pinch comforts her brother after Martin Chuzzlewit has denounced him for not having protected Mary Graham, Brother and Sister​(1872). [Click on the image to enlarge it.]
References
Bentley, Nicolas, Michael Slater, and Nina Burgis. The Dickens Index. New York and Oxford: Oxford U. P., 1990.
Davis, Paul. Charles Dickens A to Z: The Essential Reference to His Life and Work. New York: Facts On File, 1998.
Dickens, Charles. The Life and Adventures of Martin Chuzzlewit. Illustrated by Hablot Knight Browne. London: Chapman and Hall, 1844.
Dickens, Charles. Martin Chuzzlewit. Works of Charles Dickens. Household Edition. 55 vols. Illustrated by F. O. C. Darley and John Gilbert. New York: Sheldon and Co., 1863. Vols. 1 to 4.
Dickens, Charles. The Life and Adventures of Martin Chuzzlewit. Illustrated by Sol Eytinge, Junior. The Diamond Edition. Boston: Ticknor and Fields, 1867.
Dickens, Charles. The Life and Adventures of Martin Chuzzlewit. Illustrated by Fred Barnard. The Household Edition. 22 vols. London: Chapman and Hall, 1872. Vol. 2.
Dickens, Charles. Life and Adventures of Martin Chuzzlewit. Illustrated by Harry Furniss. The Charles Dickens Library Edition. 18 vols. London: Educational Book, 1910. Vol. 7.
Guerard, Albert J. "Martin Chuzzlewit: The Novel as Comic Entertainment." The Triumph of the Novel: Dickens, Dostoevsky, Faulkner. Chicago & London: U. Chicago P., 1976. Pp. 235-260.
Hammerton, J. A. "Chapter 19: Little Dorrit." The Dickens Picture-Book. The Charles Dickens Library Edition. London: Educational Book, 1910. Vol. 17. Pp. 398-427.
Kyd [Clayton J. Clarke]. Characters from Dickens. Nottingham: John Player & Sons, 1910.
"Martin Chuzzlewit — Fifty-nine Illustrations by Fred Barnard." Scenes and Characters from the Works of Charles Dickens, Being Eight Hundred and Sixty-six Drawings by Fred Barnard, Gordon Thomson, Hablot Knight Browne (Phiz), J. McL. Ralston, J. Mahoney, H. French, Charles Green, E. G. Dalziel, A. B. Frost, F. A. Fraser, and Sir Luke Fildes. London: Chapman and Hall, 1907.
"Middle Temple." Wikipedia. Accessed 4 February 2016. https://en.wikipedia.org/wiki/Middle_Temple
Steig, Michael. Dickens and Phiz. Bloomington and London: Indiana U. P., 1978.
_____. "Martin Chuzzlewit's Progress by Dickens and Phiz." Dickens Studies Annual 2 (1972): 119-149.
Vann, J. Don. Victorian Novels in Serial. New York: Modern Language Association, 1985.
---

Victorian
Web

Visual
Arts

Illustra-
tion

Martin Chuz-
zlewit

Harry
Furniss

Next
Last modified 4 February 2016