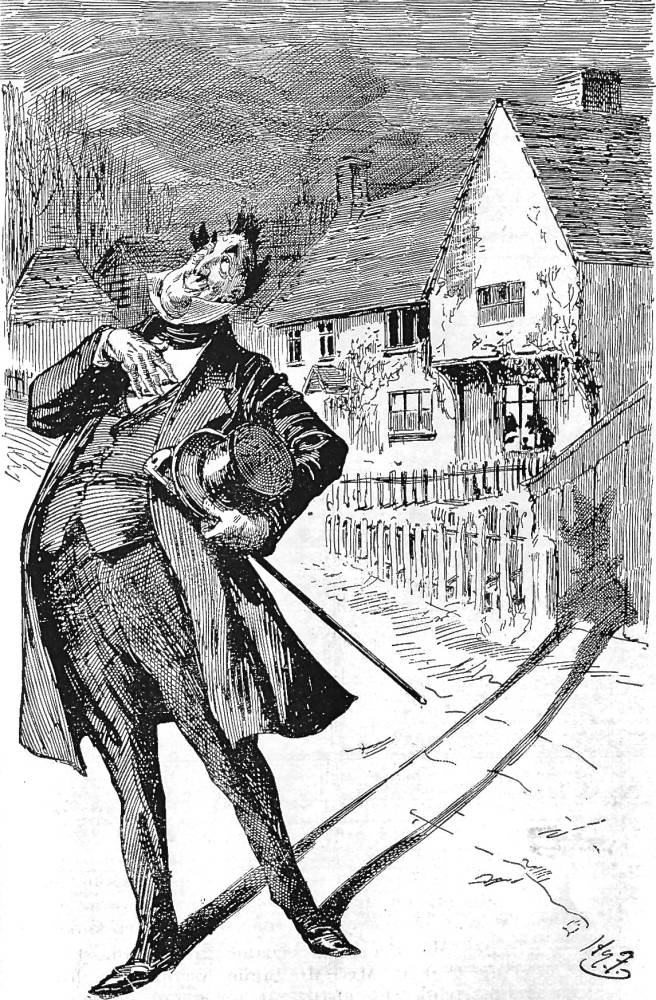 Pecksniff
Harry Furniss
1910
14.7​ cm high​ by 9.7 cm wide vignetted
Dickens's Martin Chuzzlewit, Vol. 7 of The​ Charles​ Dickens Library Edition, Chapter​ 44, "Further Continuation of the Enterprise of Mr. Jonas and His Friend," facing p. 704.​
[Click on image to enlarge it.]
Scanned image and text by Philip V. Allingham.
[You may use these images without prior permission for any scholarly or educational purpose as long as you (1) credit the photographer and (2) link your document to this URL in a web document or cite the Victorian Web in a print one.]
Passage Illustrated
There never had been before, and there never would be again, such an opportunity for the investment of a considerable sum (the rate of advantage increased in proportion to the amount invested), as at that moment. The only time that had at all approached it, was the time when Jonas had come into the concern; which made him ill-natured now, and inclined him to pick out a doubt in this place, and a flaw in that, and grumbling to advise Mr. Pecksniff to think better of it. The sum which would complete the proprietorship in this snug concern, was nearly equal to Mr. Pecksniff's whole hoard; not counting Mr. Chuzzlewit, that is to say, whom he looked upon as money in the Bank, the possession of which inclined him the more to make a dash with his own private sprats for the capture of such a whale as Mr Montague described. The returns began almost immediately, and were immense. The end of it was, that Mr Pecksniff agreed to become the last partner and proprietor in the Anglo-Bengalee, and made an appointment to dine with Mr/ Montague, at Salisbury, on the next day but one, then and there to complete the negotiation.
It took so long to bring the subject to this head, that it was nearly midnight when they parted. When Mr Pecksniff walked downstairs to the door, he found Mrs. Lupin standing there, looking out.
"Ah, my good friend!" he said; "not a-bed yet! Contemplating the stars, Mrs. Lupin?"
"It's a beautiful starlight night, sir."
"A beautiful starlight night," said Mr. Pecksniff, looking up. "Behold the planets, how they shine! Behold the — those two persons who were here this morning have left your house, I hope, Mrs. Lupin?"
"Yes, sir. They are gone."
"I am glad to hear it," said Mr Pecksniff. "Behold the wonders of the firmament, Mrs Lupin! how glorious is the scene! When I look up at those shining orbs, I think that each of them is winking to the other to take notice of the vanity of men's pursuits. My fellowmen!" cried Mr. Pecksniff, shaking his head in pity; "you are much mistaken; my wormy relatives, you are much deceived! The stars are perfectly contented (I suppose so) in their several spheres. Why are not you? Oh! do not strive and struggle to enrich yourselves, or to get the better of each other, my deluded friends, but look up there, with me!"
"Look up there, with me!' repeated Mr Pecksniff, stretching out his hand; "With me, a humble individual who is also an insect like yourselves. Can silver, gold, or precious stones, sparkle like those constellations! I think not. Then do not thirst for silver, gold, or precious stones; but look up there, with me!"
With those words, the good man patted Mrs Lupin's hand between his own, as if he would have added "think of this, my good woman!" and walked away in a sort of ecstasy or rapture, with his hat under his arm.
Jonas sat in the attitude in which Mr. Pecksniff had left him, gazing moodily at his friend; who, surrounded by a heap of documents, was writing something on an oblong slip of paper.
"You mean to wait at Salisbury over the day after to-morrow, do you, then?" said Jonas. — Chapter​44, "Further Continuation of the Enterprise of Mr. Jonas and His Friend," p. 705-706.
Commentary
The narrative continues with the trip undertaken to southwestern England by Jonas Chuzzlewit and Montague Tigg to defraud Pecksniff, whom they seduce to the enterprise with prospect of immense returns from his investment (nearly the whole of his capital) in the Anglo-Bengalee. Furniss's illustration conveys well his sense of satisfaction in having secured a "proprietorship in this sung concern" (705).
While Jonas and Montague Tigg congratulate themselves on the fleecing of so fatuous a sheep, Pecksniff strolls out into the moonlight after leaving The Blue Dragon, completely self-satisfied that he will make a fortune by investing with the Anglo-Bengalee. Although Barnard in the Household Edition illustration "Oh fie, fie!" cried Mr. Pecksniff. "You are very pleasant. That I am sure you don't! That I am sure you don't! How can you, you know?" (Ch. 44), attempted to realize the scene in which the swindlers hook their prey over dinner at The Blue Dragon, Phiz in the April 1844 serial instalment had focussed in Mr. Pecksniff Announces Himself as the Shield of Virtue (Ch. 43) on the plot strand involving the return of Mark (left) and Martin (centre) from America. Desperate to maintain his control over Old Martin, Pecksniff tries to prevent the reconcilliation of the grandfather and grandson, blocking the petitioner's access to the old man as Mary Graham hovers beside the pathetic Martin, Senior.
"No, young man!" said Pecksniff, striking hiumself upon the breast, and stretching out his other arm towards his guest as if it were a wing to shelter him. He interposed between them as Martin advanced to seize his grandfather's hand. "No, Sir. None of that. Strike here, Sir, here! Launch your arrows at Me, Sir, if you'll have the goodness; not at Him! [686]
Pecksniff's selfish and callous behaviour here contributes to the reader's conviction that he deserves to be defrauded by Montague Tigg and Jonas Chuzzlewit in the following chapter. Although Pecksniff is always posing, putting on a pious front for others, in this Furniss illustration of the architect by himself after he has left the dinner at the Dragon he does not have to hide his smug self-satisfaction with his having joined a scheme to increase his "horde."
In the Barnard illustration, Pecksniff is the public persona, self-depracatory, modest, and hiding his genuine delight at participating in questionable investment practices, but still — at least, for the constant poser — natural. In the Furniss illustration, everything about him is hyperbolic, over-the-top, caricature rather than character. He is in the limelight, on stage, soliloquizing "in a sort of ecstasy or rapture" on the insignificance of other human beings against the immensity of the stars, but Furniss captures his self-aggrandizing pomposity as he regards the moon as fixed in its sphere for him especially. There is no equivalent textual passage that describes the old humbug after he leaves the Blue Dragon and Mrs. Lupin; he really seems to be seduced by his own cant in this illustration. Clayton J. Clarke's portrait of Pecksniff on the Player's Cigarette card, by comparison, seems natural and unaffected. As J. A. Hammerton remarks in the prefatory "Story of This Book," much of the action is built around the story's strongest character, a hypocrite not so much drawn from life as inspired by English puritanical insincerity, "the embodiment of British cant and hypocrisy" (ii), who dominates the action of Martin Chuzzlewit as Wilkins Micawber anchors the comic action of David Copperfield:
Pecksniff and Micawber, utterly dissimilar, are two of the greatest comic characters in all literature. They are conceived in the grand style, and of the two, of course, Pecksniff the subtler study. He is a great figure of English comedy, as Tartuffe is of French, though less seldom compared with Molière's masterpiece than Meredith's Sir Willoughby is so compared, but Willoughby is not so eminently an English type, and infinitely less real than Pecksniff. [v-vi]
In the original serial's forty steel-engraving, we find Seth Pecksniff present in some fifteen (counting his bust as a theatrical "appearance"); in Furniss's twenty-eight illustrations he appears ten times, including in the lower-right corner of the final plate with Tom at the organ — and against is one of the twin focal points in the climactic Fall of Pecksniff as he is in Phiz's Warm Reception of Mr. Pecksniff by His Venerable Friend (Chapter 52, July 1844). Young Martin appears as frequently in each narrative-pictorial sequence, but is consistently far less interesting. Moreover, in the Furniss sequence Pecksniff is one of just a handful of characters (including Mark Tapley, Tom Pinch, Sairey Gamp, and Old Chuffey) who merit solo appearances. The eponymous character​appears on ten occasions in the twenty-eight illustrations, there being no single character study, a technique that Furniss reserves for five other characters. Mark Tapley appears on seven separate occasions, including the climactic Fall of Pecksniff (Chapter 52).
Relevant Illustrations, 1843-1924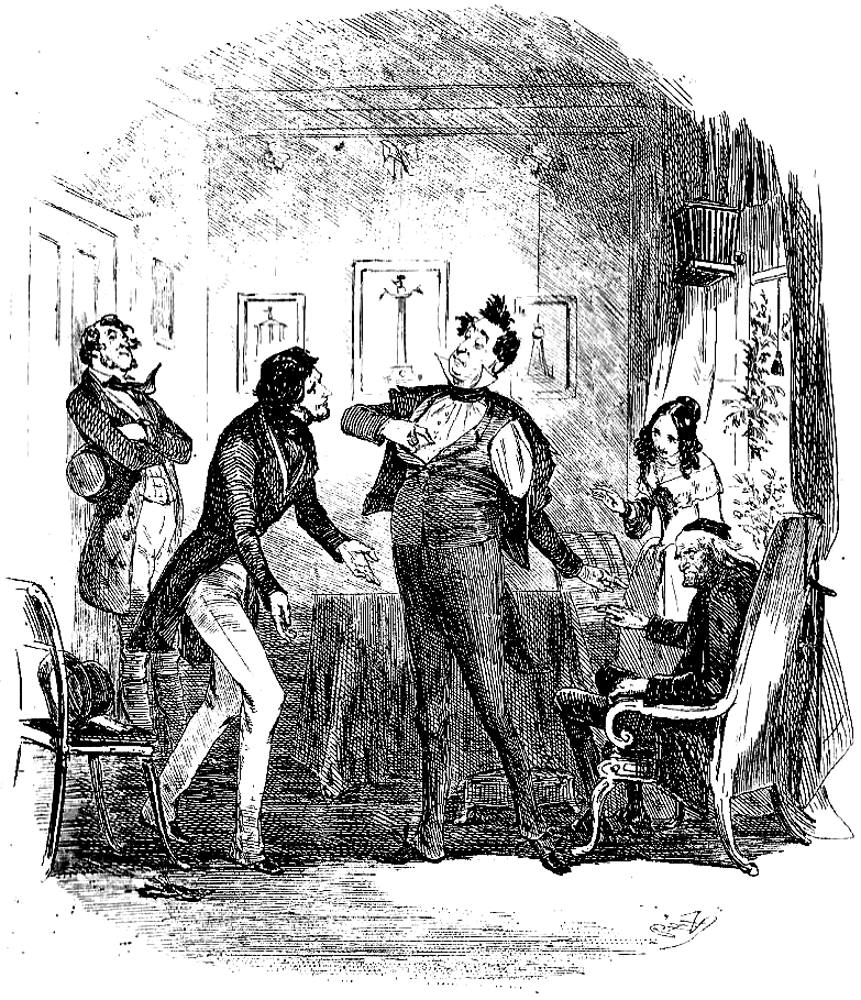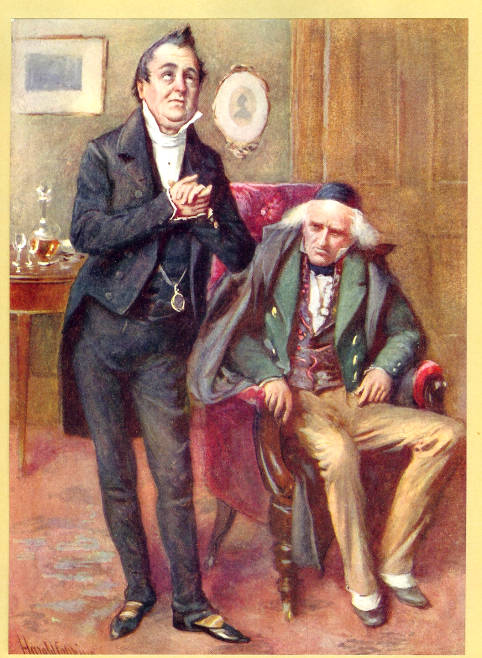 Left: Hablot Knight Browne's realisation of Pecksniff's posing before Old Martin in Chapter 43, Mr. Pecksniff Announces Himself as The Shield of Virtue (April 1844). Centre: Harold Copping's 1924 colour lithograph of Pecksniff's glancing heavenward in a false show of piety for Old Martin in Mr. Pecksniff and Old Martin Chuzzlewit​(Chapter 10, April 1843). Right: Clayton J. Clarke's characterisation of Pecksniff as the arch-hypocrite, Mr. Pecksniff (1910). [Click on images to enlarge them.]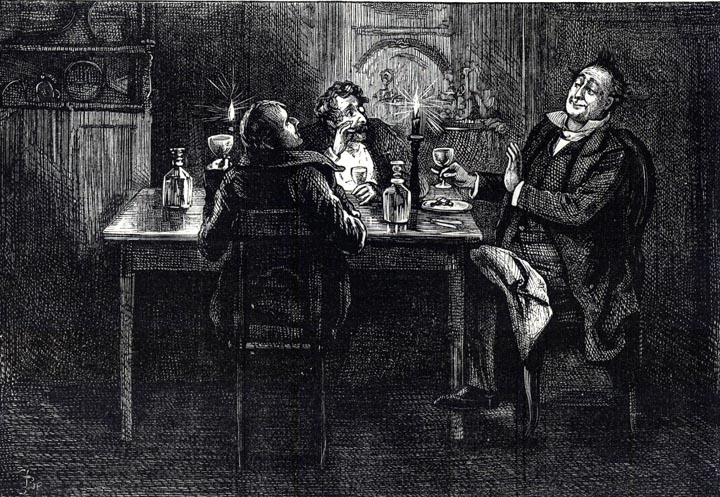 Above: Fred Barnard's realisation of the earlier scene in the chapter when, over dinner at The Blue Dragon, Montague Tigg and Jonas Chuzzlewit convince Pecksniff to invest, "Oh fie, fie!" cried Mr. Pecksniff. "You are very pleasant. That I am sure you don't! That I am sure you don't! How can you know?"​(1872). He fails to recognize Montague Tigg in Tigg Montague. [Click on the image to enlarge it.]
References
Bentley, Nicolas, Michael Slater, and Nina Burgis. The Dickens Index. New York and Oxford: Oxford U. P., 1990.
Davis, Paul. Charles Dickens A to Z: The Essential Reference to His Life and Work. New York: Facts On File, 1998.
Dickens, Charles. The Life and Adventures of Martin Chuzzlewit. Illustrated by Hablot Knight Browne. London: Chapman and Hall, 1844.
Dickens, Charles. Martin Chuzzlewit. Works of Charles Dickens. Household Edition. 55 vols. Illustrated by F. O. C. Darley and John Gilbert. New York: Sheldon and Co., 1863. Vols. 1 to 4.
Dickens, Charles. The Life and Adventures of Martin Chuzzlewit. Illustrated by Sol Eytinge, Junior. The Diamond Edition. Boston: Ticknor and Fields, 1867.
Dickens, Charles. The Life and Adventures of Martin Chuzzlewit. Illustrated by Fred Barnard. The Household Edition. 22 vols. London: Chapman and Hall, 1872. Vol. 2.
Dickens, Charles. Life and Adventures of Martin Chuzzlewit. Illustrated by Harry Furniss. The Charles Dickens Library Edition. 18 vols. London: Educational Book, 1910. Vol. 7.
Guerard, Albert J. "Martin Chuzzlewit: The Novel as Comic Entertainment." The Triumph of the Novel: Dickens, Dostoevsky, Faulkner. Chicago & London: U. Chicago P., 1976. Pp. 235-260.
Hammerton, J. A. "Chapter 19: Little Dorrit." The Dickens Picture-Book. The Charles Dickens Library Edition. London: Educational Book, 1910. Vol. 17. Pp. 398-427.
Kyd [Clayton J. Clarke]. Characters from Dickens. Nottingham: John Player & Sons, 1910.
"Martin Chuzzlewit — Fifty-nine Illustrations by Fred Barnard." Scenes and Characters from the Works of Charles Dickens, Being Eight Hundred and Sixty-six Drawings by Fred Barnard, Gordon Thomson, Hablot Knight Browne (Phiz), J. McL. Ralston, J. Mahoney, H. French, Charles Green, E. G. Dalziel, A. B. Frost, F. A. Fraser, and Sir Luke Fildes. London: Chapman and Hall, 1907.
Steig, Michael. Dickens and Phiz. Bloomington and London: Indiana U. P., 1978.
_____. "Martin Chuzzlewit's Progress by Dickens and Phiz." Dickens Studies Annual 2 (1972): 119-149.
Vann, J. Don. Victorian Novels in Serial. New York: Modern Language Association, 1985.
---

Victorian
Web

Visual
Arts

Illustra-
tion

Martin Chuz-
zlewit

Harry
Furniss

Next
Last modified 4 February 2016