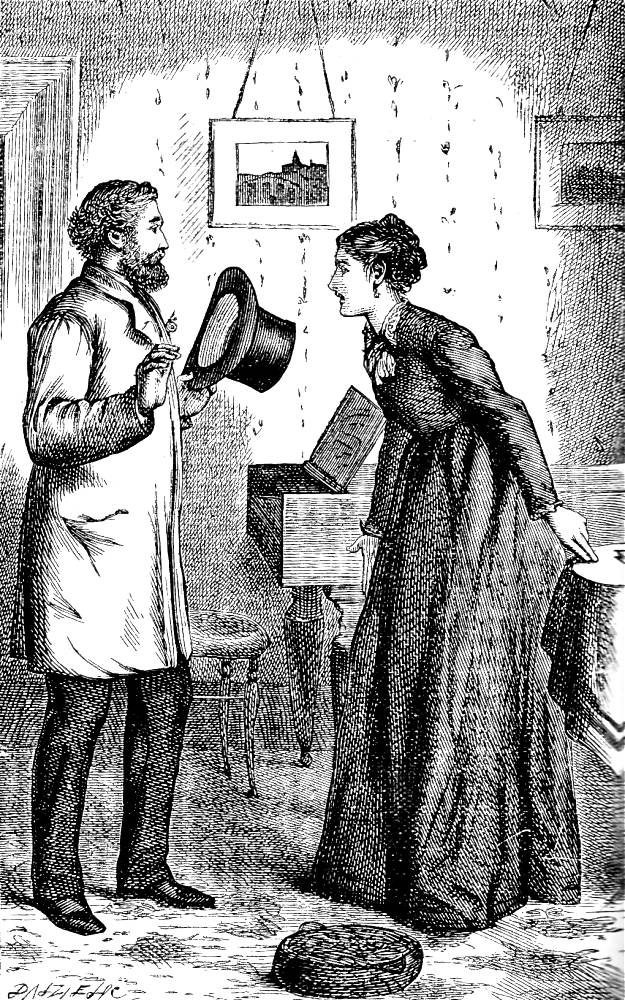 "You villain, I saw you take the Diamond with my own eyes."
F. A. Fraser
Wood engraving
13.9 x 8.8 cm
[Click on image to enlarge it.]
Scanned image and text by Philip V. Allingham.
[You may use these images without prior permission for any scholarly or educational purpose as long as you (1) credit the photographer and (2) link your document to this URL in a web document or cite the Victorian Web in a print one.]
Passage Illustrated
"If you will not speak first," I said, "I must. I have come here with something serious to say to you. Will you do me the common justice of listening while I say it?"
She neither moved, nor answered. I made no second appeal to her; I never advanced an inch nearer to her chair. With a pride which was as obstinate as her pride, I told her of my discovery at the Shivering Sand, and of all that had led to it. The narrative, of necessity, occupied some little time. From beginning to end, she never looked round at me, and she never uttered a word.
I kept my temper. My whole future depended, in all probability, on my not losing possession of myself at that moment. The time had come to put Mr. Bruff's theory to the test. In the breathless interest of trying that experiment, I moved round so as to place myself in front of her.
"I have a question to ask you," I said. "It obliges me to refer again to a painful subject. Did Rosanna Spearman show you the nightgown. Yes, or No?"
She started to her feet; and walked close up to me of her own accord. Her eyes looked me searchingly in the face, as if to read something there which they had never read yet.
​"Are you mad?" she asked.
​I still restrained myself. I said quietly, "Rachel, will you answer my question?"
​She went on, without heeding me.
​"Have you some object to gain which I don't understand? Some mean fear about the future, in which I am concerned? They say your father's death has made you a rich man. Have you come here to compensate me for the loss of my Diamond? And have you heart enough left to feel ashamed of your errand? Is that​the secret of your pretence of innocence, and your story about Rosanna Spearman? Is there a motive of shame at the bottom of all the falsehood, this time?"
I stopped her there. I could control myself no longer.
"You have done me an infamous wrong!" I broke out hotly. "You suspect me of stealing your Diamond. I have a right to know, and I will know, the reason why!"
"Suspect you!" she exclaimed, her anger rising with mine." You​ villain, I saw you take​ the Diamond with my own eyes!"
The revelation which burst upon me in those words, the overthrow which they instantly accomplished of the whole view of the case on which Mr. Bruff had relied, struck me helpless. Innocent as I was, I stood before her in silence. To her eyes, to any eyes, I must have looked like a man overwhelmed by the discovery of his own guilt.
​She drew back from the spectacle of my humiliation and of her triumph. The sudden silence that had fallen upon me seemed to frighten her. "I spared you, at the time," she said. "I would have spared you now, if you had not forced me to speak." She moved away as if to leave the room — and hesitated before she got to the door. "Why did you come here to humiliate yourself?" she asked. "Why did you come here to humiliate me?" She went on a few steps, and paused once more. "For God's sake, say something!" she exclaimed, passionately. "If you have any mercy left, don't let me degrade myself in this way! Say something — and drive me out of the room!" — "Second Period, Third Narrative,​Contributed by Franklin Blake," Chapter 7, p. 316-317.
Commentary
Going to London from Yorkshire after he and Betteredge have retrieved Rosanna Spearman's letter and box from the Shivering Sand, Franklin Blake hopes to clear his name with Rachel by reviewing events on the night of her birthday. He hopes to persuade her out of her prejudice against him, and learn the cause of her suspicions: is it merely that she overheard or learned through her mother about Blake's having defaulted on his loan to the Frenchman? What he is about to learn in his interview with Rachel at Mr. Bruff's house in Hampstead is that she actually saw take the Diamond. He, of course, has absolutely no memory of having committed the theft, and so is stunned by her revelation that he does not know quite how to respond, other than to ask her to go over her memory of events of that night. Although the evidence of the paint-smeared nightgown which he has just acquired from Rosanna Spearman's box supports Rachel's assertion, he cannot bring himself to believe that he is the thief. The original illustrators of this sequence in Harper's Weekly (13 and 20 June 1868) felt that this reunion of the lovers at Mr. Bruff's home was so significant that they devoted four illustrations in the two successive instalment to it: the flashback of Rachel in her nightgown, presumably watching Franklin Blake take the diamond (headnote vignette, 20 June), Rachel at the piano in the conservatory at Bruff's home (headnote vignette, 13 June), Franklin Blake at the door of the conservatory (full-scale illustration, 13 June), and the climactic Rachel and Franklin together (20 June). Whereas F. A. Fraser and Alfred Pearse show Rachel angrily reproaching Franklin for trying to take advantage of her and continuing to pretend that he knows nothing about the theft, the Harper's illustrators in "She caught me by the arm and barred my way out" (20 June 1868, p. 389) are attempting to convey the notion that the lovers may yet be reunited if they can get to the bottom of why Franklin Blake cannot remember taking the Diamond. The mystery, then, is redefined, for it is not the theft of the stone that is unknown, but rather the circumstances and motivations of the theft and, in particular, why Franklin Blake has no memory whatsoever of having gone to Rachel's room in the early morning hours of 22 June 1848. Three of these four crucial illustrations (which give the reader hope that the lovers can yet revive their "romance," the subtitle of the novel, if they can uncover the truth) are what Surridge and Leighton call "threshold" scenes:
The Harper's illustrators also repeatedly deploy threshold settings, locating Collins's characters near doors or windows. These thresholds, we argue, visually suggest the sensation genre's propensity for disrupting boundaries of gender and class, as well as this particular novel's violation of barriers between the known and the unknown, white and nonwhite, England and its foreign others, law and desire, the conscious and the unconscious. The illustrations show Rachel watching the man she loves steal her gemstone (chapter head, Part 25); Rachel watching the investigation and wishing that Franklin might escape (Part 6, fig. 7); and Franklin sleepwalking, midway between conscious and unconscious states (chapter head, Part 30). All of these events place characters in positions where their conscious ethics and their basic drives collide, suggesting how the novel presses beyond the surface of identity, probing its margins. The illustrations contribute, then, to the novel's status as sensation fiction, suggesting the text's roiling undercurrents, its deep-set fears of colonial invasion at the heart of England, and its capacity to undermine or cross boundaries fundamental to self and social identities. — 222.
Indeed, the reader seems to be on a threshold here as the final stage of the story — the discovery of Dr. Candy's dosing Franklin Blake with laudanum, Blake's attempting to protect the Moonstone, and Godfrey Ablewhite's taking it from Blake and pawning it with Septimus Luker. Franklin Blake has just crossed another barrier in polite, upper-middle-class society: he has endeavoured to have an unchaperoned interview with a young woman who is no longer his fiancée. The Fraser and Pearse illustrations, although realising the same conversation, are markedly different in their depiction of the characters. Fraser clearly establishes the setting by the piano behind Franklin Blake and Rachel Verinder. He is taken aback by the ferocity of her response, even though she is trying to maintain her composure (as suggested by her left hand touching table). His posture implies self-defence, but his gaze is unwavering. Quite the opposite situation exists in the Pearse illustration, in which Franklin Blake is clearly the agressor and Rachel recoils in a standard theatrical pose for shock and surprise as she supports herself by touching the table while raising the other hand to her chest.
Relevant Serial (1868) and Collins Clear-Type Edition (1910) Illustrations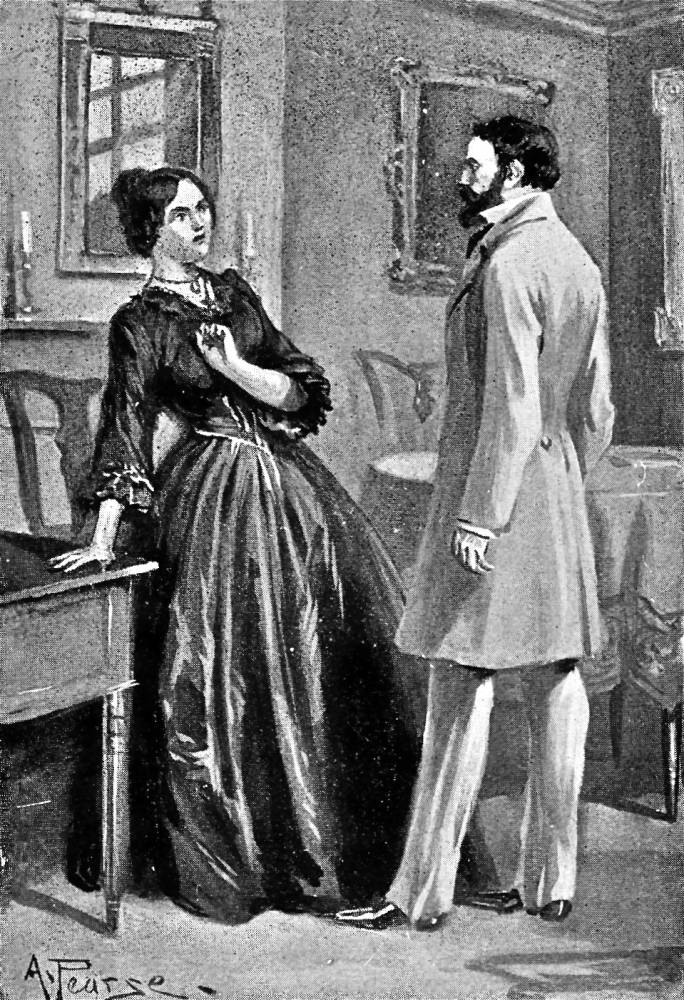 Left: The American serial's relevant Headnote vignette (13 June 1868). Centre: The serial's implying that Rachel Verinder is prepared to assist Franklin Blake, "She caught me by the arm and barred my way out" (20 June 1868). Right: Alfred Pearse's reiteration of the Fraser illustration, with Rachel striking a theatrical pose and Blake in an agressive posture, "You coward!" she said. (1910). [Click on images to enlarge them.]
Related Materials
References
Collins, Wilkie. The Moonstone: A Romance. with sixty-six illustrations. Harper's Weekly: A Journal of Civilization. Vol. 12 (1868), 4 January through 8 August, pp. 5-503.
Collins, Wilkie. The Moonstone: A Romance. All the Year Round. 1 January-8 August 1868.
_________. The Moonstone: A Novel. With 19 illustrations. Second edition. New York: Harper and Brothers, 1874.
_________. The Moonstone: A Romance. Illustrated by George Du Maurier and F. A. Fraser. London: Chatto and Windus, 1890.
_________. The Moonstone. With 19 illustrations. The Works of Wilkie Collins. New York: Peter Fenelon Collier, 1900. Volumes 6 and 7.
_________. The Moonstone: A Romance. With four illustrations by John Sloan. New York: Charles Scribner's Sons, 1908.
_________. The Moonstone: A Romance. Illustrated by A. S. Pearse. London & Glasgow: Collins, 1910, rpt. 1930.
_________. The Moonstone: A Romance. With nine illustrations by Edwin La Dell. London: Folio Society, 1951.
Leighton, Mary Elizabeth, and Lisa Surridge. "The Transatlantic Moonstone: A Study of the Illustrated Serial in Harper's Weekly." Victorian Periodicals Review Volume 42, Number 3 (Fall 2009): pp. 207-243. Accessed 1 July 2016. http://englishnovel2.qwriting.qc.cuny.edu/files/2014/01/42.3.leighton-moonstone-serializatation.pdf
Vann, J. Don. "The Moonstone in All the Year Round, 4 January-8 1868." Victorian Novels in Serial. New York: Modern Language Association, 1985. Pp. 48-50.
---

Victorian
Web

Wilkie
Collins

Illustra-
tion

Francis A.
Fraser

Next
Last updated 27 August 2016