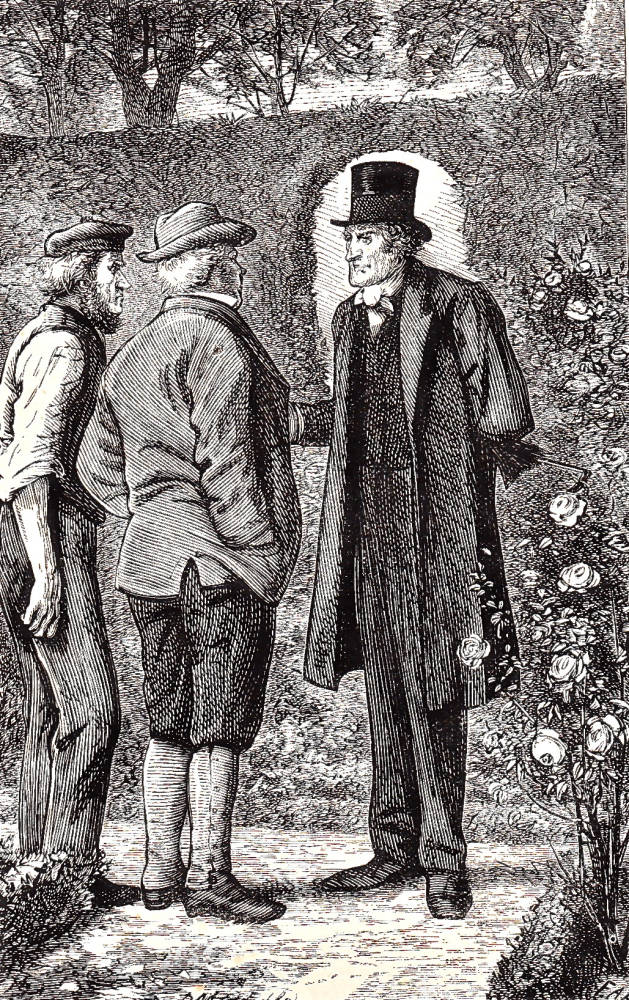 "One of these days (please God) I shall retire from catching thieves, and try my hand at growing roses."
F. A. Fraser
Wood engraving
13.9 x 8.8 cm
[Click on image to enlarge it.]
Scanned image and text by Philip V. Allingham.
[You may use these images without prior permission for any scholarly or educational purpose as long as you (1) credit the photographer and (2) link your document to this URL in a web document or cite the Victorian Web in a print one.]
Passage Illustrated
Asking for my lady, and hearing that she was in one of the conservatories, we went round to the gardens at the back, and sent a servant to seek her. While we were waiting, Sergeant Cuff looked through the evergreen arch on our left, spied out our rosery, and walked straight in, with the first appearance of anything like interest that he had shown yet. To the gardener's astonishment, and to my disgust, this celebrated policeman proved to be quite a mine of learning on the trumpery subject of rose-gardens.
"Ah, you've got the right exposure here to the south and sou'-west," says the Sergeant, with a wag of his grizzled head, and a streak of pleasure in his melancholy voice. "This is the shape for a rosery—nothing like a circle set in a square. Yes, yes; with walks between all the beds. But they oughtn't to be gravel walks like these. Grass, Mr. Gardener—grass walks between your roses; gravel's too hard for them. That's a sweet pretty bed of white roses and blush roses. They always mix well together, don't they? Here's the white musk rose, Mr. Betteredge — our old English rose holding up its head along with the best and the newest of them. Pretty dear!" says the Sergeant, fondling the Musk Rose with his lanky fingers, and speaking to it as if he was speaking to a child.
This was a nice sort of man to recover Miss Rachel's Diamond, and to find out the thief who stole it!
"You seem to be fond of roses, Sergeant?" I remarked.
"I haven't much time to be fond of anything," says Sergeant Cuff. "But when I have a moment's fondness to bestow, most times, Mr. Betteredge, the roses get it. I began my life among them in my father's nursery garden, and I shall end my life among them, if I can. Yes. One of these days (please God) I shall retire from catching thieves, and try my hand at growing roses. There will be grass walks, Mr. Gardener, between my beds," says the Sergeant, on whose mind the gravel paths of our rosery seemed to dwell unpleasantly.
"It seems an odd taste, sir," I ventured to say, "for a man in your line of life."
"If you will look about you (which most people won't do)," says Sergeant Cuff, "you will see that the nature of a man's tastes is, most times, as opposite as possible to the nature of a man's business. Show me any two things more opposite one from the other than a rose and a thief; and I'll correct my tastes accordingly — if it isn't too late at my time of life. You find the damask rose a goodish stock for most of the tender sorts, don't you, Mr. Gardener? Ah! I thought so. Here's a lady coming. Is it Lady Verinder?" — "The Story: First Period — The Loss of the Diamond," Chapter 12," p. 90.
Commentary
The story now shifts from the British siege of Seringapatam, India, in 1799, to a countryhouse in Yorkshire in 1848, where the guardians of the Moonstone have apparently tracked the stolen gem, a birthday present for Rachel Verinder which will turn her life upside down as it bears a family curse. Compare the treatment of this same scene by the original Harper's Weekly illustrators for 4 January 1868, The boy became quite stiff, and stood like a statue, looking into the ink in the hollow of his hand.
Counterbalancing the three East Indians in Fraser's first illustration are the butler, gardener, and detective of the second illustration, a prosaic enough group of middle-aged Englishmen. Between the two illustrations lies the description of events leading up to the second theft and the discovery that the diamond has gone missing. By the time that the reader encounters Sergeant Cuff, England's leading detective, with Betteredge and the gardener, the diamond has been stolen on the night of Rachel Verinder's eighteenth birthday party, and the executor of Herncastle's will, Franklin Blake's father, has telegraphed his son to announce the great detective's imminent arrival. He is not what the Verinders, Betteredge, or the reader expect, as this scene, in which he discusses strategies for growing roses rather than being seen to be pursuing his criminal investigation. Although the three Indian "jugglers" (according to the Indian traveller, Mr. Murthwaite, brahmins in disguise, who have sacrificed caste and are likely on a sacred mission — to recover the Moonstone) are the most likely suspects, the police had observed them sleeping in their rooming-house at Frizinghall overnight, Betteredge had unleashed the dogs on the property, and the house had been locked up tight at midnight. Nevertheless, by 7:30 A. M., the jewel is no longer housed in Rachel's Indian cabinet. With no obvious suspect, Cuff, then, is weighing who within the great house might be responsible for the theft against the possibility that the Indians are somehow responsible, despite their alibi. Hence, he needs to assess each member of the household without seeming to do so: "by indirect find directions out," like Polonius in Hamlet. Cuff in the illustration is gaunt and tall, but otherwise undistinguished, but such a characterization is consistent with Collins's description of him in chapter 12:
When the time came for the Sergeant's arrival, I went down to the gate to look out for him.
A fly from the railway drove up as I reached the lodge; and out got a grizzled, elderly man, so miserably lean that he looked as if he had not got an ounce of flesh on his bones in any part of him. He was dressed all in decent black, with a white cravat round his neck. His face was as sharp as a hatchet, and the skin of it was as yellow and dry and withered as an autumn leaf. His eyes, of a steely light grey, had a very disconcerting trick, when they encountered your eyes, of looking as if they expected something more from you than you were aware of yourself. His walk was soft; his voice was melancholy; his long lanky fingers were hooked like claws. He might have been a parson, or an undertaker​—​or anything else you like, except what he really was. A more complete opposite to Superintendent Seegrave than Sergeant Cuff, and a less comforting officer to look at, for a family in distress, I defy you to discover, search where you may.
"Is this Lady Verinder's?" he asked.
"Yes, sir."
"I am Sergeant Cuff." — p. 89.
Related Materials
References
Collins, Wilkie. The Moonstone: A Romance. with sixty-six illustrations. Harper's Weekly: A Journal of Civilization. Vol. 12 (1868), 4 January through 8 August, pp. 5-503.
Collins, Wilkie. The Moonstone: A Romance. All the Year Round. 1 January-8 August 1868.
_________. The Moonstone: A Novel. With 19 illustrations. Second edition. New York: Harper and Brothers, 1874.
_________. The Moonstone: A Romance. Illustrated by George Du Maurier and F. A. Fraser. London: Chatto and Windus, 1890.
_________. The Moonstone. With 19 illustrations. The Works of Wilkie Collins. New York: Peter Fenelon Collier, 1900. Volumes 6 and 7.
_________. The Moonstone: A Romance. With four illustrations by John Sloan. New York: Charles Scribner's Sons, 1908.
_________. The Moonstone: A Romance. Illustrated by A. S. Pearse. London & Glasgow: Collins, 1910, rpt. 1930.
_________. The Moonstone: A Romance. With nine illustrations by Edwin La Dell. London: Folio Society, 1951.
Leighton, Mary Elizabeth, and Lisa Surridge. "The Transatlantic Moonstone: A Study of the Illustrated Serial in Harper's Weekly." Victorian Periodicals Review Volume 42, Number 3 (Fall 2009): pp. 207-243. Accessed 1 July 2016. http://englishnovel2.qwriting.qc.cuny.edu/files/2014/01/42.3.leighton-moonstone-serializatation.pdf
Vann, J. Don. "The Moonstone in All the Year Round, 4 January-8 1868." Victorian Novels in Serial. New York: Modern Language Association, 1985. Pp. 48-50.
---

Victorian
Web

Wilkie
Collins

Illustra-
tion

Francis A.
Fraser

Next
Last updated 27 August 2016