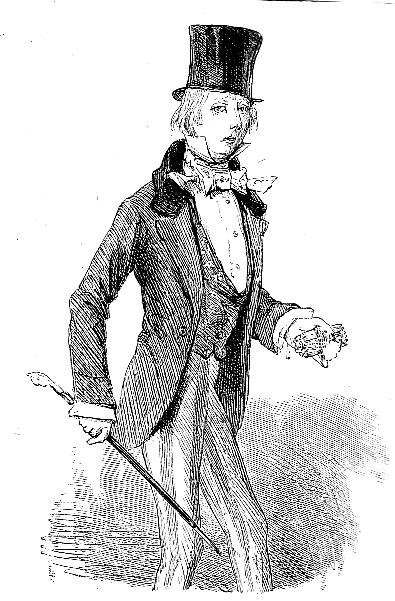 Young John Chivery
Sol Eytinge
Wood engraving
10 cm high by 7.3 cm wide (framed)
Seventh full-page illustration for Dickens's Little Dorrit in the James R. Osgood (Boston), 1871, Diamond Edition.
Scanned image and text by Philip V. Allingham.
[You may use these images without prior permission for any scholarly or educational purpose as long as you (1) credit the photographer and (2) link your document to this URL in a web document or cite the Victorian Web in a print one. ]
"Young John Chivery," the seventh full-page illustration, facing page 124 of the Diamond Edition, by Sol Eytinge, Jr., in Charles Dickens's Little Dorrit (Boston: James R. Osgood [formerly, Ticknor and Fields], 1871).
Years agone, when the object of his affections was wont to sit in her little arm-chair by the high Lodge-fender, Young John (family name, Chivery), a year older than herself, had eyed her with admiring wonder. When he had played with her in the yard, his favourite game had been to counterfeit locking her up in corners, and to counterfeit letting her out for real kisses. When he grew tall enough to peep through the keyhole of the great lock of the main door, he had divers times set down his father's dinner, or supper, to get on as it might on the outer side thereof, while he stood taking cold in one eye by dint of peeping at her through that airy perspective.
If Young John had ever slackened in his truth in the less penetrable days of his boyhood, when youth is prone to wear its boots unlaced and is happily unconscious of digestive organs, he had soon strung it up again and screwed it tight. At nineteen, his hand had inscribed in chalk on that part of the wall which fronted her lodgings, on the occasion of her birthday, "Welcome sweet nursling of the Fairies!" At twenty-three, the same hand falteringly presented cigars on Sundays to the Father of the Marshalsea, and Father of the queen of his soul.
Young John was small of stature, with rather weak legs and very weak light hair. One of his eyes (perhaps the eye that used to peep through the keyhole) was also weak, and looked larger than the other, as if it couldn't collect itself. Young John was gentle likewise. But he was great of soul. Poetical, expansive, faithful.
Though too humble before the ruler of his heart to be sanguine, Young John had considered the object of his attachment in all its lights and shades. Following it out to blissful results, he had descried, without self-commendation, a fitness in it. Say things prospered, and they were united. She, the child of the Marshalsea; he, the lock-keeper. There was a fitness in that. Say he became a resident turnkey. She would officially succeed to the chamber she had rented so long. There was a beautiful propriety in that. It looked over the wall, if you stood on tip-toe; and, with a trellis-work of scarlet beans and a canary or so, would become a very Arbour. There was a charming idea in that. Then, being all in all to one another, there was even an appropriate grace in the lock. With the world shut out (except that part of it which would be shut in); with its troubles and disturbances only known to them by hearsay, as they would be described by the pilgrims tarrying with them on their way to the Insolvent Shrine; with the Arbour above, and the Lodge below; they would glide down the stream of time, in pastoral domestic happiness. Young John drew tears from his eyes by finishing the picture with a tombstone in the adjoining churchyard, close against the prison wall, bearing the following touching inscription: "Sacred to the Memory Of JOHN CHIVERY, Sixty years Turnkey, and fifty years Head Turnkey, Of the neighbouring Marshalsea, Who departed this life, universally respected, on the thirty-first of December, One thousand eight hundred and eighty-six, Aged eighty-three years. Also of his truly beloved and truly loving wife, AMY, whose maiden name was DORRIT, Who survived his loss not quite forty-eight hours, And who breathed her last in the Marshalsea aforesaid. There she was born, There she lived, There she died." [122-123]
However, with Young John's small ivory-headed cane, striped pants, and kid gloves all evident in Eytinge's illustration, the passage realised is clearly this, just after Dickens has described the doorway of the tobacco shop:
From the portal thus decorated, one Sunday after an early dinner of baked viands, Young John issued forth on his usual Sunday errand; not empty-handed, but with his offering of cigars. He was neatly attired in a plum-coloured coat, with as large a collar of black velvet as his figure could carry; a silken waistcoat, bedecked with golden sprigs; a chaste neckerchief much in vogue at that day, representing a preserve of lilac pheasants on a buff ground; pantaloons so highly decorated with side-stripes that each leg was a three-stringed lute; and a hat of state very high and hard. When the prudent Mrs. Chivery perceived that in addition to these adornments her John carried a pair of white kid gloves, and a cane like a little finger-post, surmounted by an ivory hand marshalling him the way that he should go; and when she saw him, in this heavy marching order, turn the corner to the right; she remarked to Mr. Chivery, who was at home at the time, that she thought she knew which way the wind blew. [Book One, Chapter 18, page 124]
Reference
Dickens, Charles. Little Dorrit, il. Sol Eytinge, Junior. The Diamond Edition. Boston: James R. Osgood, 1871.
---

Victorian
Web

Illus-
tration

Little
Dorrit

Sol
Eytinge

Next
Last modified 25 April 2011