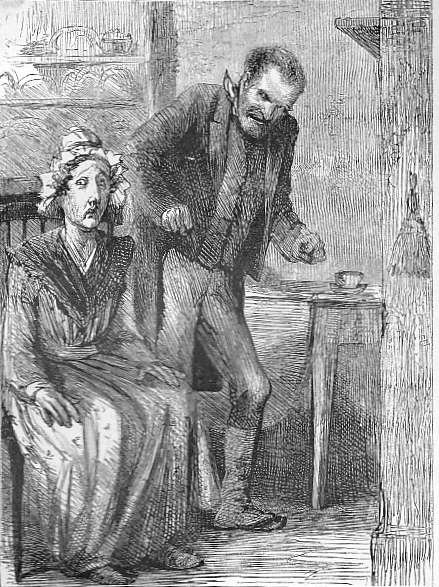 Mr. and Mrs. Flintwinch
Sol Eytinge
Wood engraving
10 cm high by 7.3 cm wide (framed)
Sixth full-page illustration for Dickens's Little Dorrit in the James R. Osgood (Boston), 1871, Diamond Edition.
Scanned image and text by Philip V. Allingham.
[You may use these images without prior permission for any scholarly or educational purpose as long as you (1) credit the photographer and (2) link your document to this URL in a web document or cite the Victorian Web in a print one. ]
"Mr. and Mrs. Flintwinch," the sixth full-page illustration, facing page 109 of the Diamond Edition, by Sol Eytinge, Jr., in Charles Dickens's Little Dorrit (Boston: James R. Osgood [formerly, Ticknor and Fields], 1871).
At last Mr Flintwinch came shuffling down the staircase into the hall, muttering and calling "█Affery woman!" all the way. Affery still remaining behind her apron, he came stumbling down the kitchen stairs, candle in hand, sidled up to her, twitched her apron off, and roused her.
"O Jeremiah!" cried Affery, waking. "What a start you gave me!"
"What have you been doing, woman?" inquired Jeremiah. "You've been rung for fifty times."
"O Jeremiah," said Mistress Affery, "I have been a dreaming!" [107]
However, in order to realize this oddly matched couple, Eytinge has had to draw on Dickens's description of Jeremiah Flintwinch given much earlier in the novel:
He was a short, bald old man, in a high-shouldered black coat and waistcoat, drab breeches, and long drab gaiters. He might, from his dress, have been either clerk or servant, and in fact had long been both. There was nothing about him in the way of decoration but a watch, which was lowered into the depths of its proper pocket by an old black ribbon, and had a tarnished copper key moored above it, to show where it was sunk. His head was awry, and he had a one-sided, crab-like way with him, as if his foundations had yielded at about the same time as those of the house, and he ought to have been propped up in a similar manner. [Book One, Chapter 3, page 19]
Dickens has thus furnished the illustrator with plenty of raw material for realising the idiosyncratic Flintwinch, with his "wry neck" (103), habit of perpetually scraping his jaws, and "demon of anger" (104) constantly breaking out despite the owner's attempts at self-possession. However, given only her confusion and anxiety — and her tendency to hide behind her apron — to go on, Eytinge has had to base his drawing of Mistress Affery on her dominant emotions — confusion and bewilderment at her irascible husband's enigmatic actions and utterances, and her dim apprehension of some deep mystery in the house betokened by strange noises and curious movements — rather than on any particular descriptive passage. Although she is thus seized by vague anxieties and "singular dreams" (107), Affery is nonetheless a sympathetic and not unintelligent character. Eytinge therefore must convey her "haunted state of mind" (108) and yet render her sympathetic, for she was Arthur Clennam's nurse and is the victim of an arranged marriage; she is hectored by her employer and bullied by her brutal husband who utilizes his secret double, his twin Ephraim, to maintain his wife's puzzlement and subservience. In her analysis of the long-suffering Affery, actress Sue Johnson (who brought the character to life in the 1999 BBC One television series) has provided Eytinge's viewer with the key to understanding the mid-Victorian illustrator's interpretation of the character: terror. The old servant mentally refers to her husband and her employer
as 'the clever ones', as they're always scheming together. She is terrified of both of them.
In The Radio Times, Johnson provides an analysis of the character that is wholly consistent with the look of abject fear on the face of Eytinge's Affery:
"Affery [Mrs Clennam's maid] is a sweetheart really, one of life's lost souls. She's been bullied by Flintwinch and Mrs Clennam and she's a nervous wreck. Affery is like a little bird — she's always listening and watching. Flintwinch tells her she's insane, but by the time it all unravels, she has a lot of answers."
Reference
Dickens, Charles. Little Dorrit, il. Sol Eytinge, Junior. The Diamond Edition. Boston: James R. Osgood, 1871.
Johnson, Sue. "Character and Cast: Little Dorrit." London: BBC One Television, 1999 swho brought. Accessed 24 April 2011. http://www.bbc.co.uk/littledorrit/characterandcast/afferyflintwinch.shtml
—. "Little Dorrit: The Cast and Characters." . London: 1999. Accessed 24 April 2011. http://www.radiotimes.com/content/features/galleries/little-dorrit/13/
---

Victorian
Web

Illus-
tration

Little
Dorrit

Sol
Eytinge

Next
Last modified 24 April 2011