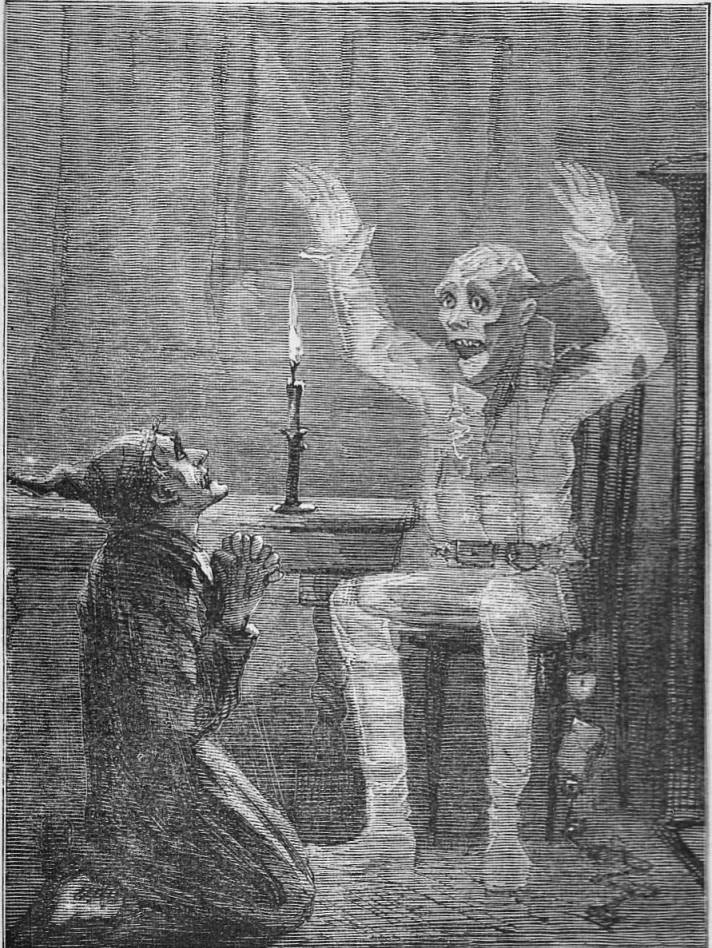 Scrooge and The Ghost
Sol Eytinge, Jr.
Wood engraving
10 cm high by 7.5 cm wide (framed)
Illustration for Dickens's Christmas Books and Sketches by Boz Illustrative of Every-day Life and Every-day People in the Ticknor & Fields (Boston, 1867; rpt., 1875) Diamond Edition.
[Click on image to enlarge it.]
Scanned image and text by Philip V. Allingham
[You may use this image without prior permission for any scholarly or educational purpose as long as you (1) credit the person who scanned the image and (2) link your document to this URL in a web document or cite the Victorian Web in a print one.]
Passage Realised
"Can you — can you sit down?" asked Scrooge, looking doubtfully at him.
"I can."
"Do it then."
Scrooge asked the question, because he didn't know whether a ghost so transparent might find himself in a condition to take a chair; and felt that in the event of its being impossible, it might involve the necessity of an embarrassing explanation. But the ghost sat down on the opposite side of the fireplace, as if he were quite used to it.
"You don't believe in me," observed the Ghost.
"I don't." said Scrooge.
"What evidence would you have of my reality, beyond that of your senses?"
"I don't know," said Scrooge.
"Why do you doubt your senses?"
"Because," said Scrooge, "a little thing affects them. A slight disorder of the stomach makes them cheats. You may be an undigested bit of beef, a blot of mustard, a crumb of cheese, a fragment of an underdone potato. There's more of gravy than of grave about you, whatever you are!"
Scrooge was not much in the habit of cracking jokes, nor did he feel, in his heart, by any means waggish then. The truth is, that he tried to be smart, as a means of distracting his own attention, and keeping down his terror; for the spectre's voice disturbed the very marrow in his bones.
To sit, staring at those fixed glazed eyes, in silence for a moment, would play, Scrooge felt, the very deuce with him. There was something very awful, too, in the spectre's being provided with an infernal atmosphere of its own. Scrooge could not feel it himself, but this was clearly the case; for though the Ghost sat perfectly motionless, its hair, and skirts, and tassels, were still agitated as by the hot vapour from an oven.
"You see this toothpick?" said Scrooge, returning quickly to the charge, for the reason just assigned; and wishing, though it were only for a second, to divert the vision's stony gaze from himself.
"I do," replied the Ghost.
"You are not looking at it," said Scrooge.
"But I see it," said the Ghost, "notwithstanding."
"Well!" returned Scrooge, "I have but to swallow this, and be for the rest of my days persecuted by a legion of goblins, all of my own creation. Humbug, I tell you; humbug!"
At this the spirit raised a frightful cry, and shook its chain with such a dismal and appalling noise, that Scrooge held on tight to his chair, to save himself from falling in a swoon. But how much greater was his horror, when the phantom taking off the bandage round its head, as if it were too warm to wear indoors, its lower jaw dropped down upon its breast!
Scrooge fell upon his knees, and clasped his hands before his face. [Stave One, "Marley's Ghost," p. 12]
Commentary
The illustration is a response not merely to a specific, highly dramatic passage, but also to the original John Leech illustration of 1843, "Marley's Ghost". Realizing the small scale of the 1867 wood-engraving was not sufficient to communicate Scrooge's horror or the terrifying nature of the apparition, Eytinge reworked the image for the 1868 single volume edition's "Marley's Ghost". This, one of the most dramatic moments in the text, has been the subject of a number of graphic studies:
Relevant Illustrations from earlier editions, 1859, 1867, 1874, and 1910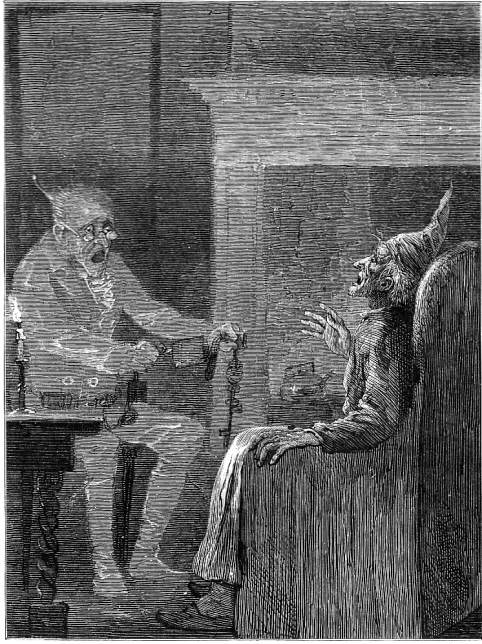 Left: John Leech's original interpretation of Scrooge's encounter with the shade of his partner, dead some seven years, in "Marley's Ghost" (1843). Right: Sol Eytinge, Jr.'s revised version of the same scene in the special Ticknor and Fields volume edition, "Marley's Ghost". (1868).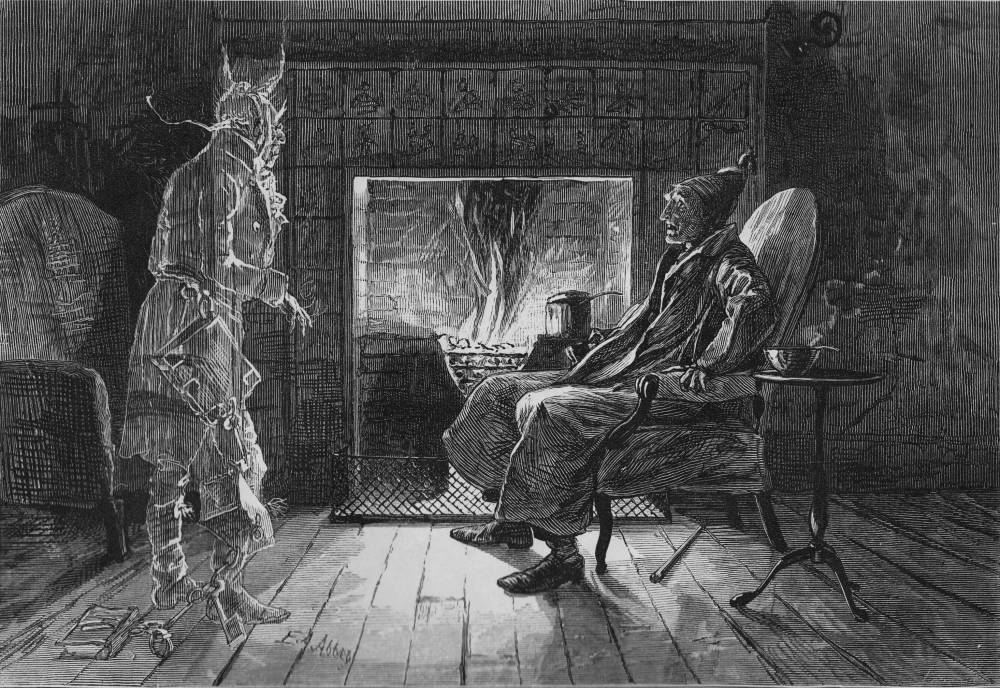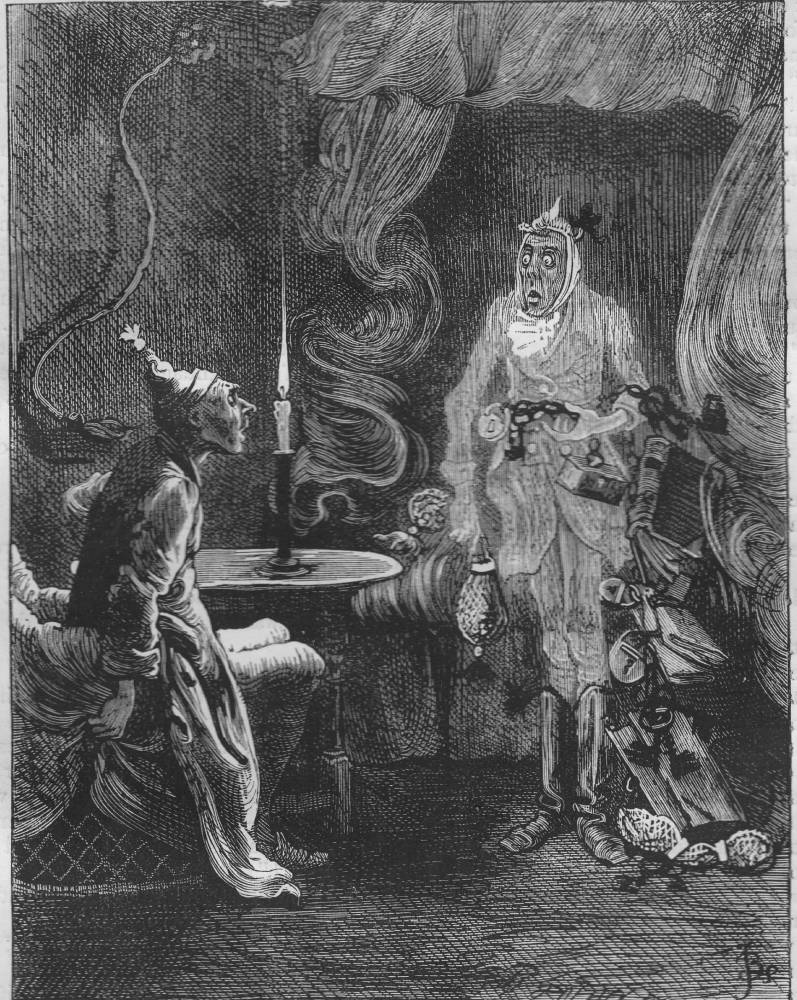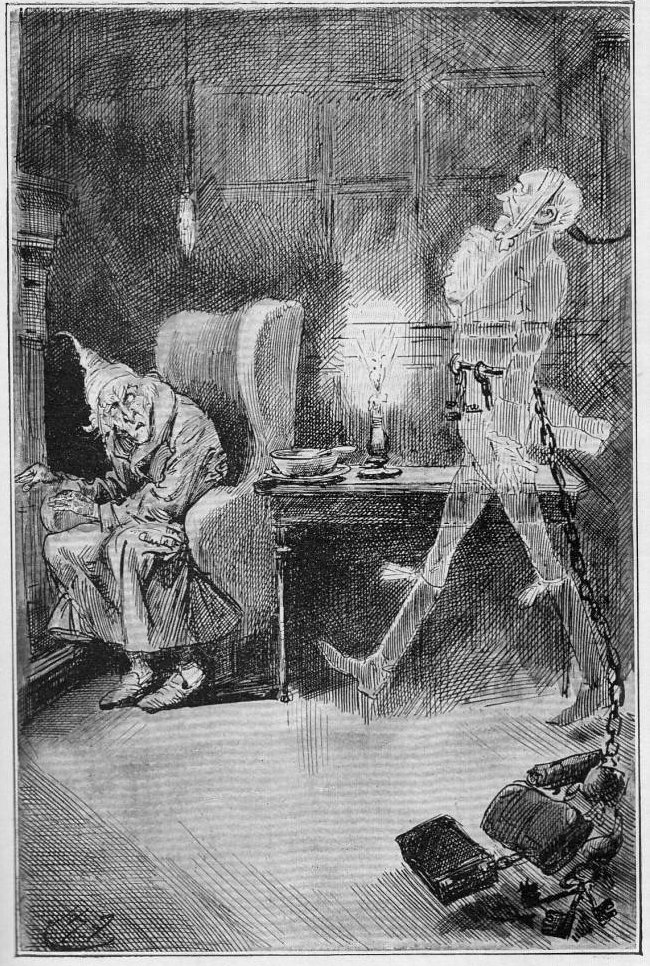 Left: E. A. Abbey's much expanded version of the scene, "What Do You Want with Me?". More dramatic than Eytinge's are the later realisations of this same textual moment by Fred Barnard (1878) and Harry Furniss (1910). Centre: Barnard's baroque "Marley's Ghost". Right: Furniss's Scrooge regards the wooden spectre with the utmost suspicion in "Marley's Ghost".
What distinguishes Eytinge's initial (1867) attempt at realizing this scene is his presenting Scrooge on his knees, entreating the spectre to cease making that "dismal and appalling noise" (12); in other words, Eytinge is not interested in Scrooge's initial reaction to the ghost of Jacob Marley, but in that moment when the spirit exerts his supernatural powers. However, given the dimensions of the illustration, Eytinge has been less than effective in his depiction of the fetters, with their "cash-boxes, keys, padlocks, ledgers, deeds, and heavy purses" (11). Although an unconvincing, skeleton-faced Marley woodenly raises his arms, rather than shakes his chains, Scrooge's contrition seems quite genuine. Rethinking this illustraftion in 1868, Eytinge has reversed the position of the two figures, and has included more furnishings and the fireplace; but, more significantly, the illustrator has presented the ghost far more effectively as he rattles his chains before an appalled Scrooge, still seated at this point in his easy chair, gesturing as if to stay the spirit's anger.
References
Dickens, Charles. Christmas Books and Sketches by Boz Illustrative of Every-day Life and Every-day People. Il. Sol Eytinge, Jr. The Diamond Edition. Boston: Ticknor and Fields, 1867. Rpt., Boston: James R. Osgood, 1875.
Dickens, Charles. Christmas Books. Il. Fred Barnard. The Household Edition. London: Chapman and Hall, 1878.
Dickens, Charles. A Christmas Carol in Prose: being a ghost story of Christmas. Il. Sol Eytinge, Jr. Boston: Ticknor and Fields, 1869 [1868].
Winter, William. "Charles Dickens" and "Sol Eytinge." Old Friends: Being Literary Recollections of Other Days. New York: Moffat, Yard, & Co., 1909. Pp. 181-207, 317-319.
---

Victorian
Web

Illus-
tration

Christmas
Books

Sol
Eytinge

Next
Last modified 29 November 2013