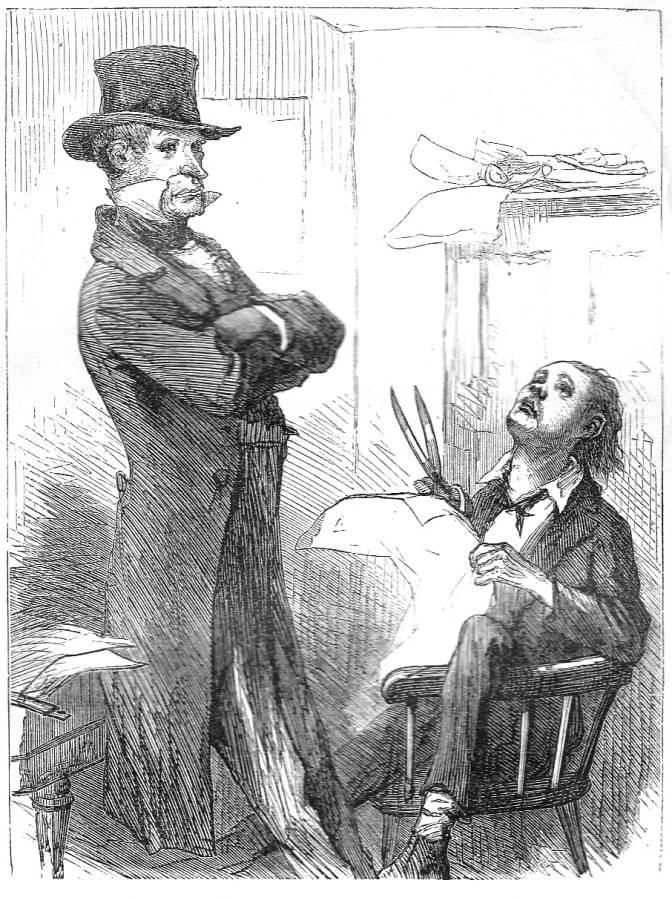 Colonel Diver and Jefferson Brick
Sol Eytinge
Wood engraving, approximately 10 cm high by 7.5 cm wide (framed), facing p. 152.
Initial illustration for Dickens's The Life and Adventures of Martin Chuzzlewit in the Ticknor and Fields (Boston, 1867) Diamond Edition.
Sol Eytinge, unlike Fred Barnard in the Household Edition of the novel, the second volume in the Chapman and Hall series, introduces the newspaper-editing Colonel in his business office, rather than on the deck of "The Screw," the steam-driven vessel on which young Martin and Mark Tapley have crossed the Atlantic. Barnard was interested in the moment in which the newsboys came aboard to flog such elevating reading as The New York Sewer. At this point Dickens introduces the disembodied voice of Colonel Diver at Martin's ear:
"It is in such enlightened means," said a voice almost in Martin's ear, "that the bubbling passions of my country find a vent."
Martin turned involuntarily, and saw, standing close at his side, a sallow gentleman, with sunken cheeks, black hair, small twinkling eyes, and a singular expression hovering about that region of his face, which was not a frown, nor a leer, and yet might have been mistaken at the first glance for either. Indeed it would have been difficult, on a much closer acquaintance, to describe it in any more satisfactory terms than as a mixed expression of vulgar cunning and conceit. This gentleman wore a rather broad–brimmed hat for the greater wisdom of his appearance; and had his arms folded for the greater impressiveness of his attitude. He was somewhat shabbily dressed in a blue surtout reaching nearly to his ankles, short loose trousers of the same colour, and a faded buff waistcoat, through which a discoloured shirt-frill struggled to force itself into notice, as asserting an equality of civil rights with the other portions of his dress, and maintaining a declaration of Independence on its own account. His feet, which were of unusually large proportions, were leisurely crossed before him as he half leaned against, half sat upon, the steamboat's bulwark; and his thick cane, shod with a mighty ferule at one end and armed with a great metal knob at the other, depended from a line-and-tassel on his wrist. Thus attired, and thus composed into an aspect of great profundity, the gentleman twitched up the right-hand corner of his mouth and his right eye simultaneously, and said, once more, —
"It is in such enlightened means that the bubbling passions of my country find a vent."
As he looked at Martin, and nobody else was by, Martin inclined his head, and said, —
"You allude to —?"
"To the Palladium of rational Liberty at home, sir, and the dread of Foreign oppression abroad," returned the gentleman, as he pointed with his cane to an uncommonly dirty newsboy with one eye. "To the Envy of the world, sir, and the leaders of Human Civilization. [Chapter 16; Diamond Edition, p. 149-150]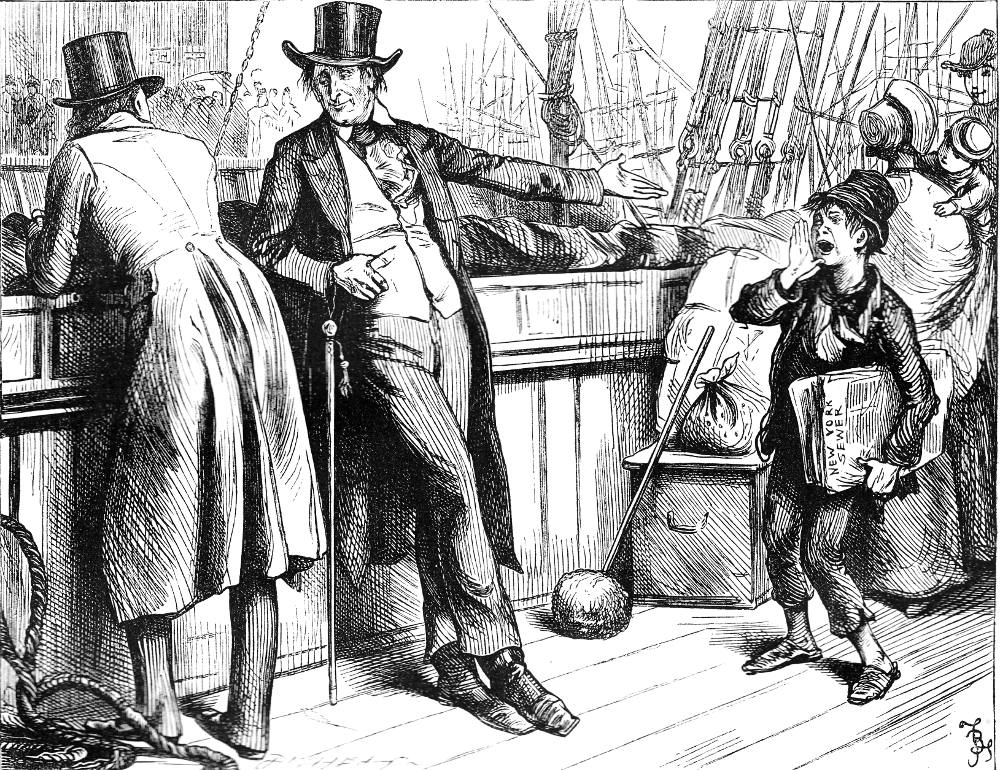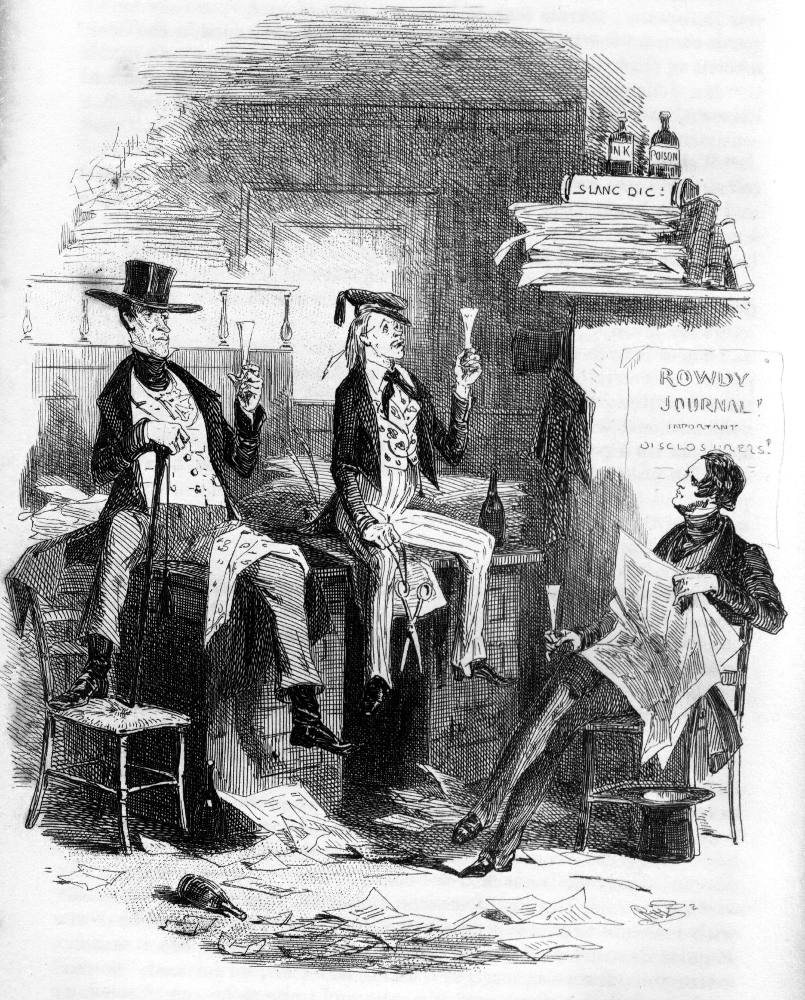 Left: Fred Barnard's "It is in such enlightened means," said a voice, almost in Martin's ear, "That the bubbling passions of my country find a vent." . Right: Phiz's Mr. Jefferson Brick Proposes an Appropriate Sentiment. [Click on these images to enlarge them and to obtain additional information.]
Thus, Fred Barnard in 1872 chose a scene with a dramatic backdrop, New York harbour, for the scene in which Martin first encounters America, "'It is in such enlightened means,' said a voice, almost in Martin's ear, 'That the bubbling passions of my country find a vent'", a woodcut that emphasizes the Colonel (left of centre) and a newsboy (right on centre). Although Barnard does not depict the Colonel as a grotesque in the manner of Phiz in "Mr. Jefferson Brick Proposes an Appropriate Sentiment" (July 1843), neither does he describe a wholly admirable newsman. Eytinge, on the other hand, offers a pair of journalists who are not merely realistic rather thab caricatured, but are drinking champagne in the middle of the day, booty extorted from the Captain of "The Screw," in fact, whereas Phiz's Martin seems a perfectly respectable young man of middle-class mould in the height of English fashion — a figure presumably based on thirty-year-old Charles Dickens himself. The moment that Phiz realised some thirty-four years before Eytinge is essentially the same, but Eytinge omits much of the detail (as well as Martin) in order to focus the reader's attention on the two representatives of the fifth estate:
Presently they turned up a narrow street, and presently into other narrow streets, until at last they stopped before a house whereon was painted in great characters, "ROWDY JOURNAL."
The colonel, who had walked the whole way with one hand in his breast, his head occasionally wagging from side to side, and his hat thrown back upon his ears, like a man who was oppressed to inconvenience by a sense of his own greatness, led the way up a dark and dirty flight of stairs into a room of similar character, all littered and bestrewn with odds and ends of newspapers and other crumpled fragments, both in proof and manuscript. Behind a mangy old writing-table in this apartment sat a figure with a stump of a pen in its mouth and a great pair of scissors in its right hand, clipping and slicing at a file of Rowdy Journals; and it was such a laughable figure that Martin had some difficulty in preserving his gravity, though conscious of the close observation of Colonel Diver.
The individual who sat clipping and slicing as aforesaid at the Rowdy Journals, was a small young gentleman of very juvenile appearance, and unwholesomely pale in the face; partly, perhaps, from intense thought, but partly, there is no doubt, from the excessive use of tobacco, which he was at that moment chewing vigorously. He wore his shirt-collar turned down over a black ribbon; and his lank hair — a fragile crop — was not only smoothed and parted back from his brow, that none of the Poetry of his aspect might be lost, but had, here and there, been grubbed up by the roots; which accounted for his loftiest developments being somewhat pimply. He had that order of nose on which the envy of mankind has bestowed the appellation "snub," and it was very much turned up at the end, as with a lofty scorn. Upon the upper lip of this young gentleman were tokens of a sandy down; so very, very smooth and scant, that, though encouraged to the utmost, it looked more like a recent trace of gingerbread than the fair promise of a moustache; and this conjecture, his apparently tender age went far to strengthen. He was intent upon his work. Every time he snapped the great pair of scissors, he made a corresponding motion with his jaws, which gave him a very terrible appearance.
Martin was not long in determining within himself that this must be Colonel Diver's son; the hope of the family, and future mainspring of the Rowdy Journal. Indeed he had begun to say that he presumed this was the colonel's little boy, and that it was very pleasant to see him playing at Editor in all the guilelessness of childhood, when the colonel proudly interposed and said, —
"My War Correspondent, sir, — Mr. Jefferson Brick!" [Chapter 16; Diamond Edition, p. 152]
Eytinge has made Brick smaller than Diver, but has not given him the straggling moustache of Phiz's character, and the newspaper office in this 1867 woodcut is in nothing like the disarray of its 1843 counterpart, so that the overall effect of the Diamond Edition's illustration is hardly satirical, but rather realistic portraiture, with a dignified and wholly serious Colonel presiding over the scene. But then we must remember that in drawing Diver and Brick Eytinge was describing his own colleagues in the publishing business; he is not nearly so kind to the real estate swindlers General Choke and Mr. Scadder.
Scanned image and text by Philip V. Allingham. [You may use these images without prior permission for any scholarly or educational purpose as long as you (1) credit the photographer and (2) link your document to this URL in a web document or cite the Victorian Web in a print one.]
References
Bentley, Nicolas, Michael Slater, and Nina Burgis. The Dickens Index. Oxford and New York: Oxford U. P., 1988.
Davis, Paul. Charles Dickens A to Z: The Essential Reference to His Life and Work. New York: Checkmark and Facts On File, 1998.
Dickens, Charles. The Life and Adventures of Martin Chuzzlewit. Il. Sol Eytinge, Jr. The Diamond Edition. Boston: Ticknor and Fields, 1867.
Dickens, Charles. "The Life and Adventures of Martin Chuzzlewit (1842-43). Il. Hablot Knight Browne ("Phiz"). London: Chapman and Hall, 1843.
Dickens, Charles. "Pickwick Papers (1836-37). Il. Fred Barnard. The Household Edition. New York: Harper and Bros.; London: Chapman and Hall, 1872.
Hammerton, J. A. The Dickens Picture-Book. London: Educational Book Co., 1910.
Kitton, Frederic G. Dickens and His Illustrators. 1899. Rpt. Honolulu: U. Press of the Pacific, 2004.
Lester, Valerie Browne. Phiz: The Man Who Drew Dickens. London: Chatto and Windus, 2004.
Steig, Michael. Dickens and Phiz. Bloomington & London: Indiana U.P., 1978.
---

Victorian
Web

Illus-
tration

Martin
Chuzzlewit

Sol
Eytinge

Next
Last modified 2 May 2012