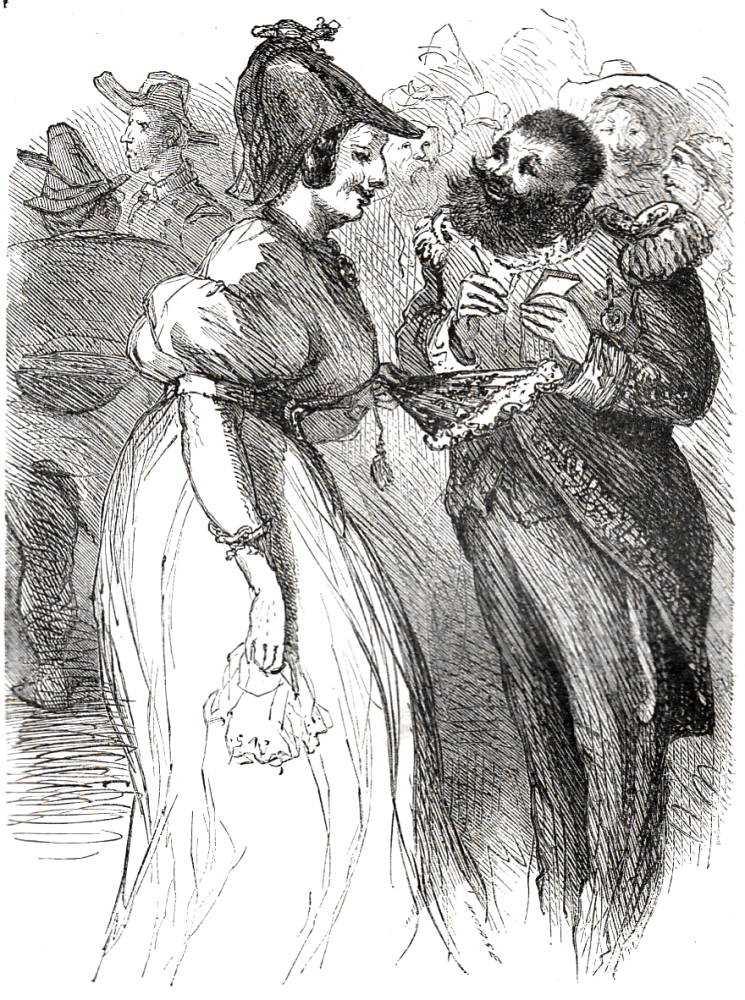 Mrs. Leo Hunter's Party
Sol Eytinge
Wood engraving, approximately 10 cm high by 7.5 cm wide (framed), facing p. 130
Illustration for Dickens's The Posthumous Papers of the Pickwick Club in the Ticknor and Fields (Boston, 1867) Diamond Edition.
Scanned image and text by Philip V. Allingham.
[You may use these images without prior permission for any scholarly or educational purpose as long as you (1) credit the photographer and (2) link your document to this URL in a web document or cite the Victorian Web in a print one.]
Count Smorltork is gathering in a short time information for an exhaustive work descriptive of the English nation and character. If one may judge by Dickens's description of the visitor and accent, the Count is a German or Austrian. Although the original illustrator of the novel in two different editions, Phiz, has commented upon the ridiculous nature of her costume garden-party in "Mrs. Leo Hunter's Fancy-Dress Déjeuner" (plate) from the September 1836 serial instalment, only Eytinge has elected to introduce a visual analogue of Dickens's satire of the foreigner who naively and even arrogantly believes himself capable of completing so challenging a task in just three weeks.
In a dual character study intended to complement chapter 15, entitled in part, "An Accurate Description of a Public Breakfast," Eytinge dwells not upon the costumes of the Pickwickians and leaders of Eatanswill society such as Mr. and Mrs. Pott (suggested by the half-dozen figures in the background), but upon the presiding deity of the occasion and a visiting dignitary of a type not unknown to nineteenth-century Americans, a foreign intellectual who like Alexis de Tocqueville (1805-1859), author of the seminal analysis of the American political system entitled Democracy in America (two volumes, 1835 and 1842), is determined to study the mores of another nation and deliver in brief time a summary work, as if a complex people are mere microbes under his microscope. Eytinge's satire may even have as its butt Charles Dickens himself, since that distinguished foreign guest produced American Notes for General Circulation after his 1842 visit, motivated not so much by the desire to produce an accurate sociological record as by the desire to write a best-selling travelogue. Although Dickens gives the visitor a distinctive "voice" — that of a comic German aristocrat from Victorian farce — he has not supplied his illustrator with much of a physical description (other than the stereotypical whiskers and operetta uniform), so that Eytinge is able to indulge his own fancy in depicting the hairy little foreigner in an extravagant, gold-braided military uniform who cannot even get his hostess's name right:
"Count, count," screamed Mrs. Leo Hunter to a well-whiskered individual in a foreign uniform, who was passing by.
"Ah! you want me?" said the count, turning back.
"I want to introduce two very clever people to each other," said Mrs. Leo Hunter. "Mr. Pickwick, I have great pleasure in introducing you to Count Smorltork." She added in a hurried whisper to Mr. Pickwick, — "The famous foreigner, — gathering materials for his great work on England — hem! — Count Smorltork, Mr. Pickwick."
Mr. Pickwick saluted the count with all the reverence due to so great a man, and the count drew forth a set of tablets.
"What you say, Mrs. Hunt?" inquired the count, smiling graciously on the gratified Mrs. Leo Hunter, "Pig Vig or Big Vig — what you call — Lawyer — eh? I see — that is it. Big Vig" — and the count was proceeding to enter Mr. Pickwick in his tablets, as a gentleman of the long robe, who derived his name from the profession to which he belonged, when Mrs. Leo Hunter interposed. [Ch. 15, p. 130]
As in Phiz's 1836 and 1873 treatments of the scene, in Eytinge's illustration Mrs. Hunter depends upon the Grecian helmet to suggest her pseudo-identity as the patron goddess of the arts, Minerva, the rest of her costume being superfluous to such an association. Whereas the Phiz illustrations have the other intellectual visitor, Samuel Pickwick, as their focus (for in both the 1836 and 1873 illustrations Pickwick, supported by his faithful followers Tupman, Winkle, and Snodgrass, holds centre stage) since he is the episodic novel's principal continuing character, Eytinge seems little concerned with a desire to maintain such visual continuity. Consequently, Eytinge has the opportunity to introduce a minor character whose accented English and mistaken deconstruction of Pickwick's name provide considerable verbal humour and character comedy. Perhaps, too, the underscoring of this moment in the narrative will prove ironic for the reader when Dickens reveals Pickwick's extreme antipathy towards Mrs. Bardell's legal advisers since here Smorltork (a name suggestive of lack of intellectual acumen) mistakenly identifies Pickwick as an attorney.
References
Bentley, Nicolas, Michael Slater, and Nina Burgis. The Dickens Index. Oxford and New York: Oxford U. P., 1988.
Davis, Paul. Charles Dickens A to Z: The Essential Reference to His Life and Work. New York: Checkmark and Facts On File, 1998.
Dickens, Charles. The Posthumous Adventures of the Pickwick Club. Il. Sol Eytinge, Jr. The Diamond Edition. Boston: Ticknor and Fields, 1867.
Dickens, Charles. "Pickwick Papers (1836-37). Il. Hablot Knight Browne ("Phiz"). The Charles Dickens Edition. Boston: Ticknor & Fields, 1867.
Dickens, Charles. "Pickwick Papers (1836-37). Il. Hablot Knight Browne ("Phiz"). The Household Edition. London: Chapman and Hall, 1873.
Dickens, Charles. "Pickwick Papers (1836-37). Il. Thomas Nast. The Household Edition. New York: Harper and Bros., 1873.
Guiliano, Edward, and Philip Collins, eds. The Annotated Dickens. Vol. 1. New York: Clarkson N. Potter, 1986.
Hammerton, J. A. The Dickens Picture-Book. London: Educational Book Co., 1910.
Kitton, Frederic G. Dickens and His Illustrators. 1899. Rpt. Honolulu: U. Press of the Pacific, 2004.
Steig, Michael. Dickens and Phiz. Bloomington & London: Indiana U.P., 1978.
---

Victorian
Web

Illus-
tration

Pickwick
Papers

Sol
Eytinge

Next
Last modified 12 February 2012