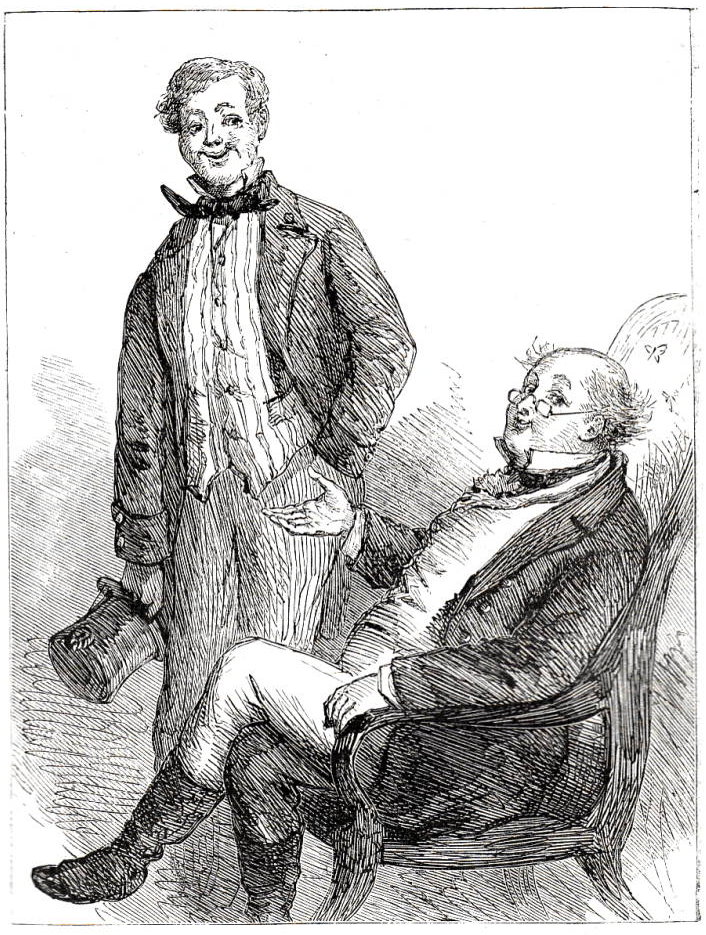 Mr. Pickwick and Sam Weller
Sol Eytinge
Wood engraving, approximately 10 cm high by 7.5 cm wide (framed)
Illustration for Dickens's The Posthumous Papers of the Pickwick Club in the Ticknor and Fields (Boston, 1867) Diamond Edition.
In this second full-page dual character study for the last novel in the compact American publication, Eytinge contrasts the street-smart, wise-cracking Cockney "boots," Sam Weller with his new employer, the retired businessman and amateur antiquarian. Here, at the end of chapter 12, facing Sam Weller's pronouncement upon the prospect of observing Eatanswill election, Eytinge's benevolent Pickwick holds out an open right hand, as if gesturing towards his new employee by way of introducing the cheerful young Londoner to American readers.
After the establishment of a sporting club for young and middle-aged, middle-class Londoners, Pickwick's adventures bring him back to the metropolis. At the White Hart Inn, Southwark ("The Borough") in pursuit of that rascal Jingle and the heiress Rachael Wardle, Pickwick and Wardle encounter Sam Weller in the yard. Here, Pickwick negotiates terms for hiring the congenial youth with the ready tongue, in realisation of the following passage from late in the twelfth chapter:
"That's the pint, sir," interposed Sam; "out vith it, as the father said to his child, wen he swallowed a farden."
"We want to know, in the first place," said Mr. Pickwick, "whether you have any reason to be discontented with your present situation."
"Afore I answers that 'ere question, gen'l'm'n," replied Mr. Weller, "I should like to know, in the first place, whether you're a–goin' to purwide me with a better?"
A sunbeam of placid benevolence played on Mr. Pickwick's features as he said, "I have half made up my mind to engage you myself."
"Have you, though?" said Sam.
Mr. Pickwick nodded in the affirmative.
"Wages?" inquired Sam.
"Twelve pounds a year," replied Mr. Pickwick.
"Clothes?"
"Two suits."
"Work?"
"To attend upon me; and travel about with me and these gentlemen here."
"Take the bill down," said Sam emphatically. "I'm let to a single gentleman, and the terms is agreed upon."
"You accept the situation?" inquired Mr. Pickwick.
"Cert'nly," replied Sam. "If the clothes fits me half as well as the place, they'll do."
"You can get a character of course?" said Mr. Pickwick.
"Ask the landlady o' the White Hart about that, Sir," replied Sam.
"Can you come this evening?"
"I'll get into the clothes this minute, if they're here," said Sam, with great alacrity.
"Call at eight this evening," said Mr. Pickwick; "and if the inquiries are satisfactory, they shall be provided."
With the single exception of one amiable indiscretion, in which an assistant housemaid had equally participated, the history of Mr. Weller's conduct was so very blameless that Mr. Pickwick felt fully justified in closing the engagement that very evening. With the promptness and energy which characterised not only the public proceedings, but all the private actions of this extraordinary man, he at once led his new attendant to one of those convenient emporiums where gentlemen's new and second–hand clothes are provided, and the troublesome and inconvenient formality of measurement dispensed with; and before night had closed in, Mr. Weller was furnished with a grey coat with the "P. C." button, a black hat with a cockade to it, a pink striped waistcoat, light breeches and gaiters, and a variety of other necessaries, too numerous to recapitulate.
"Well," said that suddenly–transformed individual, as he took his seat on the outside of the Eatanswill coach next morning; "I wonder whether I'm meant to be a footman, or a groom, or a gamekeeper, or a seedsman. I looks like a sort of compo of every one on 'em. Never mind; there's a change of air, plenty to see, and little to do; and all this suits my complaint uncommon; so long life to the Pickvicks, says I!" [Chapter 12, page 104]
Thus, Sol Eytinge, Jr., having had the opportunity to consult Charles Dickens about the program of illustration for the last volume in Ticknor and Fields' "Dickens for the Railroad Reader," the Diamond Edition, realised one of the most momentous events in Victorian literature, but in a manner decidely different from from that of Dickens's original illustrator — now out of favour in the new age of realism, the Sixties — in "First Appearance of Sam Weller" (plate) from the July 1836 serial instalment. Eytinge has maintained the visual character of both Pickwick and Sam Weller as established by Phiz, but has modelled their figures and especially their physiognomies "in the round," so to speak, and in more convincing and less wooden poses. As opposed Phiz's interesting panorama of the galleried inn, full of activity and such visual "subtexts" as the peasants asleep on the waggon and the bustling landlady ofd The White Hart, Eytinge's illustration captures the nature not only of master and "compo" servant, but of their relationship. Clearly, the pair have hit it off, and English literature would never be quite the same.
Scanned image and text by Philip V. Allingham. [You may use these images without prior permission for any scholarly or educational purpose as long as you (1) credit the photographer and (2) link your document to this URL in a web document or cite the Victorian Web in a print one.]
References
Bentley, Nicolas, Michael Slater, and Nina Burgis. The Dickens Index. Oxford and New York: Oxford U. P., 1988.
Davis, Paul. Charles Dickens A to Z: The Essential Reference to His Life and Work. New York: Checkmark and Facts On File, 1998.
Dickens, Charles. The Posthumous Adventures of the Pickwick Club. Il. Sol Eytinge, Jr. Boston: Ticknor and Fields, 1869.
Dickens, Charles. "Pickwick Papers (1836-37). Il. Hablot Knight Browne. The Charles Dickens Edition. Boston: Ticknor & Fields, 1867.
Dickens, Charles. "Pickwick Papers (1836-37). Il. Hablot Knight Browne. The Household Edition. London: Chapman and Hall, 1873.
Dickens, Charles. "Pickwick Papers (1836-37). Il. Thomas Nast. The Household Edition. New York: Harper and Bros., 1873.
Guiliano, Edward, and Philip Collins, eds. The Annotated Dickens. Vol. 1. New York: Clarkson N. Potter, 1986.
Hammerton, J. A. The Dickens Picture-Book. London: Educational Book Co., 1910.
Kitton, Frederic G. Dickens and His Illustrators. 1899. Rpt. Honolulu: U. Press of the Pacific, 2004.
Steig, Michael. Dickens and Phiz. Bloomington & London: Indiana U.P., 1978.
---

Victorian
Web

Illus-
tration

Pickwick
Papers

Sol
Eytinge

Next
Last modified 31 January 2012