Black Hole in Henry the Eighth's Gate, in Windsor Castle, based on a sketch made by​ Sandhurst Military Academy drawing-master W. Alfred Delamotte​ for the fourth instalment of W. Harrison Ainsworth's Windsor Castle. An Historical Romance for the November 1842 instalment in Ainsworth's Magazine. "Book the First: Anne Boleyn," Chapter VII, "How the Earl of Surrey and the Fair Geraldine plighted their troth in the Cloisters of Saint George's Chapel," bottom of​p. 60:​9.4 cm high by 9.4 cm wide, roughly framed. One assumes that Delamotte's extensive series of natural and architectural settings required considerable coordination and collaboration between himself and the author, but as the book progresses the connection between image and text is often slight. [Click on the image to enlarge it.]
Scanned image and text by Philip V. Allingham. [You may use this image without prior permission for any scholarly or educational purpose as long as you (1) credit the person who scanned the image and (2) link your document to this URL in a web document or cite the Victorian Web in a print one.]
Passage Complemented
"My lord of Surrey," said the officer, "you are my prisoner. I demand your sword."
"On what plea, sir?" rejoined the other.
"You have drawn it against the king's son — and the act is treason," replied the officer. "I shall take you to the guard house until the king's pleasure is known."
"But I provoked the earl to the conflict," said Richmond: "I was the aggressor."
"Your grace will represent the matter as you see fit to your royal father," rejoined the officer. "I shall fulfil my duty. My lord, to the guard-house!"
"I will procure your instant liberation, Surrey," said Richmond.
The earl was then led away, and conveyed to a chamber in the lower part of Henry the Eighth's gate, now used as a place of military punishment, and denominated the "black hole." [Chapter VII. "How the Earl of Surrey and the Fair Geraldine plighted their troth in the Cloisters of Saint George's Chapel," pp. 59-60]
Johannot's Complementary Steel-engraving for Chapter VII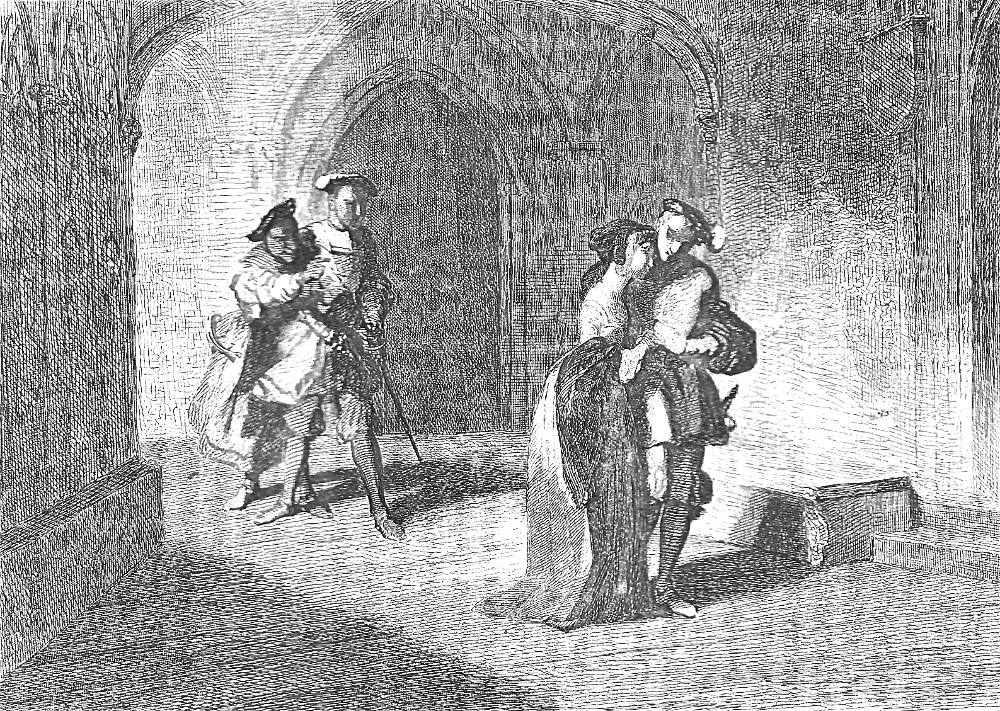 Above: Tony Johannot's stylish realisation of the scene about to unfold in Delamotte's wood-engraving on the facing page, The Cloisters of Saint George's Chapel [Click on image to enlarge it.]
References
Ainsworth, William Harrison. Windsor Castle. An Historical Romance. Illustrated by George Cruikshank and Tony Johannot. With designs on wood by W. Alfred Delamotte. London: Routledge, 1880. Based on the Henry Colburn edition of 1844.
Patten, Robert L. Chapter 30, "The 'Hoc' Goes Down." George Cruikshank's Life, Times, and Art, vol. 2: 1835-1878. Rutgers, NJ: Rutgers U. P., 1991; London: The Lutterworth Press, 1996. Pp. 153-186.
Vann, J. Don. "Windsor Castle in Ainsworth's Magazine, June 1842-June 1843." Victorian Novels in Serial. New York: MLA, 1985. P. 23.
Worth, George J. William Harrison Ainsworth. New York: Twayne, 1972.
---
Last modified 15 December 2017