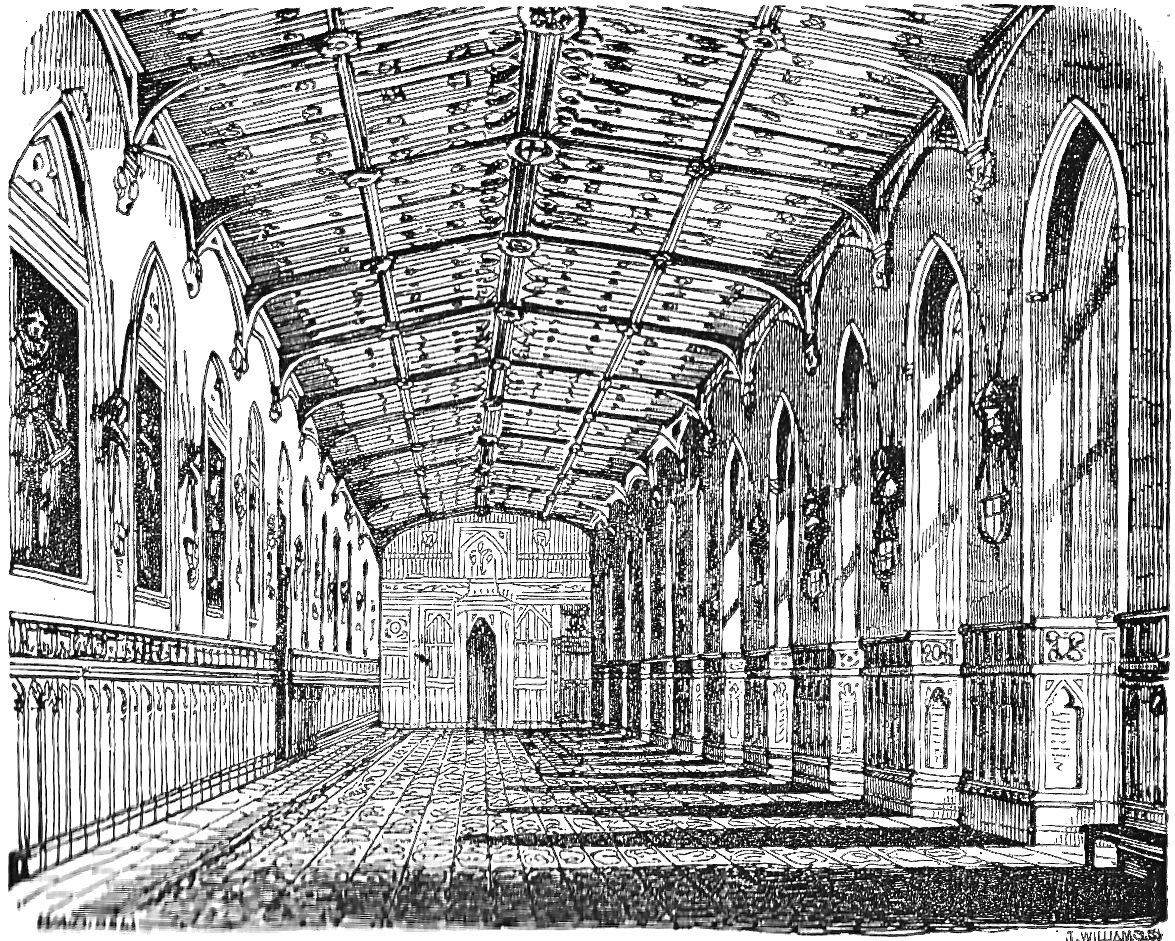 Interior of St. George's Hall, based on a sketch made by​ Sandhurst Military Academy drawing-master W. Alfred Delamotte​ for the third instalment of Windsor Castle. An Historical Romance for September 1842 in Ainsworth's Magazine, which Ainsworth had founded after he had quarrelled with the publisher and left his editorial post at Bentley's Miscellany. "Book the First: Anne Boleyn," Chapter IV, "How King Henry the Eighth held a Chapter of the Garter; How he attended Vespers and Matins in Saint George's Chapel;​And how he feasted with the Knights; Companions in Saint George's Hall," middle of p. 41:​height 7.8 cm width 9.8 cm, framed. [Click on the image to enlarge it.]
Scanned image and text by Philip V. Allingham. [You may use this image without prior permission for any scholarly or educational purpose as long as you (1) credit the person who scanned the image and (2) link your document to this URL in a web document or cite the Victorian Web in a print one.]
Passage Complementing the Hall as it was in 1842
The appearance of the hall during the banquet was magnificent, the upper part being hung with arras representing the legend of Saint George, placed there by Henry the Sixth, and the walls behind the knights-companions adorned with other tapestries and rich stuffs. The tables groaned with the weight of dishes, some of which may be enumerated for the benefit of modern gastronomers. There were Georges on horseback, chickens in brewis, cygnets, capons of high grease, carpes of venison, herons, calvered salmon, custards planted with garters, tarts closed with arms, godwits, peafowl, halibut engrailed, porpoise in armour, pickled mullets, perch in foyle, venison pasties, hypocras jelly, and mainemy royal. [Chapter IV. "How King Henry the Eighth held a Chapter of the Garter; How he attended Vespers and Matins in Saint George's Chapel;​ And how he feasted with the Knights-Companions in Saint George's Hall," p.​ 41]
Johannot's Complementary Steel-engraving for Chapter IV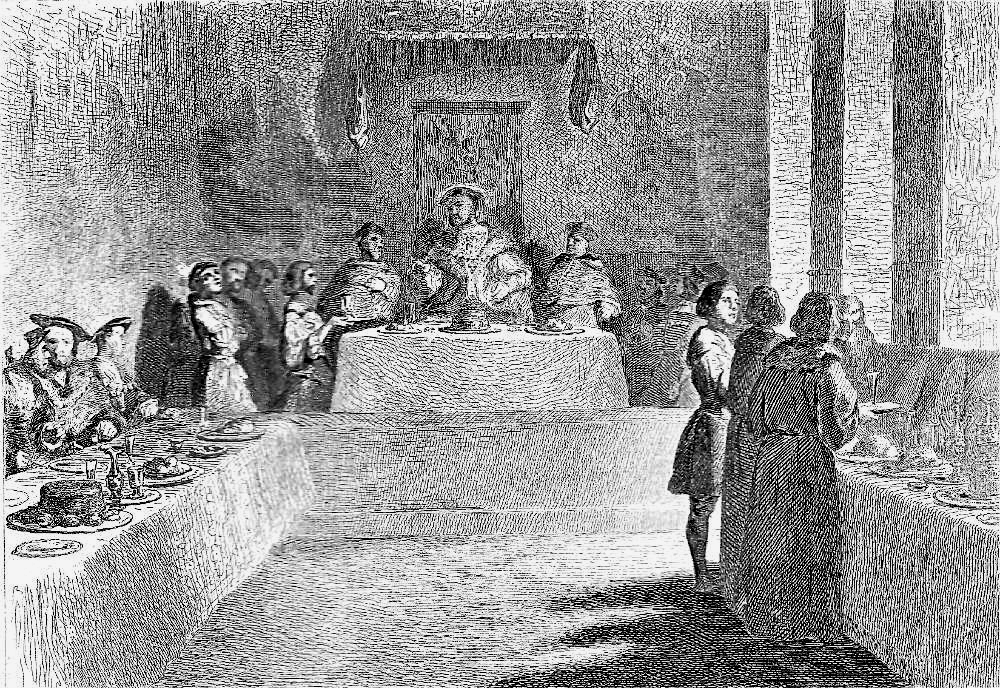 Above: Tony Johannot's painterly realisation of the banquet scene, The Banquet in Saint George's Hall [Click on image to enlarge it.]
References
Ainsworth, William Harrison. Windsor Castle. An Historical Romance. Illustrated by George Cruikshank and Tony Johannot. With designs on wood by W. Alfred Delamotte. London: Routledge, 1880. Based on the Henry Colburn edition of 1844.
Patten, Robert L. Chapter 30, "The 'Hoc' Goes Down." George Cruikshank's Life, Times, and Art, vol. 2: 1835-1878. Rutgers, NJ: Rutgers U. P., 1991; London: The Lutterworth Press, 1996. Pp. 153-186.
Worth, George J. William Harrison Ainsworth. New York: Twayne, 1972.
---
Last modified 8 December 2017