Riderhood Checkmated
Felix O. C. Darley
1866
9.1 ​x 8 cm vignetted
Photogravure
[Click on illustration to enlarge it.]
Scanned image and text by Philip V. Allingham from his personal collection.
[You may use these images without prior permission for any scholarly or educational purpose as long as you (1) credit the photographer and (2) link your document to this URL in a web document or cite the Victorian Web in a print one.]
​
Passage Illustrated
[Rogue Riderhood] leaned across the table to see it nearer, touched the sleeve, turned the cuff to look at the sleeve-lining (the man, in his perfect composure, offering not the least objection), and exclaimed, "It's my belief as this here coat was George Radfoot's too!"
"You are right. He wore it the last time you ever saw him, and the last time you ever will see him — in this world."
"It's my belief you mean to tell me to my face you killed him!" exclaimed Riderhood; but, nevertheless, allowing his glass to be filled again.
The man [John Rokesmith in disguise] only answered with another shrug, and showed no symptom of confusion.
"Wish I may die if I know what to be up to with this chap!" said Riderhood, after staring at him, and tossing his last glassful down his throat. "Let's know what to make of you. Say something plain."
"I will," returned the other, leaning forward across the table, and speaking in a low impressive voice. "What a liar you are!"
The honest witness rose, and made as though he would fling his glass in the man's face. The man not wincing, and merely shaking his forefinger half knowingly, half menacingly, the piece of honesty thought better of it and sat down again, putting the glass down, too.
"And when you went to that lawyer yonder in the Temple with that invented story," said the stranger, in an exasperatingly comfortable sort of confidence, "you might have had your strong suspicions of a friend of your own, you know. I think you had, you know."
"Me my suspicions? Of what friend?"
"Tell me again whose knife was this?" demanded the man.
"It was possessed by, and was the property of — him as I have made mention on," said Riderhood, stupidly evading the actual mention of the name.
"Tell me again whose coat was this?"
"That there article of clothing likeways belonged to, and was wore by — him as I have made mention on," was again the dull Old Bailey evasion.
"I suspect that you gave him the credit of the deed, and of keeping cleverly out of the way. But there was small cleverness in his keeping out of the way. The cleverness would have been, to have got back for one single instant to the light of the sun." — Vol. 2, Book Two, Ch. 12, "More Birds of Prey," p. 219.
Commentary
​
It is quite likely that both Felix Octavius Carr Darley and Sol Eytinge, Jr., the first American illustrators of Our Mutual Friend first read the novel as a monthly serial in Harper's New Monthly Magazine, June 1864 through December 1865 — in other words, in instalments that were exactly one month later than the monthly parts issued in Great Britain (May 1864 through November 1865). Thus, the ninth instalment, which would have contained the twelfth chapter of the second book, Darley would probably have read in February 1865, perhaps just a year ahead of when he executed the four frontispieces for the Hurd and Houghton "Household Edition" initiated five years earlier by New York publisher James G. Gregory. Among the periodical articles that American readers consumed with the third monthly part of the novel in Harper's New Monthly Magazine was an illustrated non-fiction piece of reportage relating directly to the material in this ninth instalment, "Treatment of the Apparently Drowned" in August 1864 (pp. 377-9).
There are thirty-six (of the forty) plates included, reproduced from the original illustrations by Marcus Stone. Illustrations began to be issued with the second number (in July 1864), and initially related to the number published the previous month; hence the text of the second part (published in July 1864) included 'The Bird of Prey' (referring to chapter 1), and 'Witnessing the Agreement' (referring to chapter 4). This pattern continued until the third monthly number, in which four plates appeared. [Queen's University Belfast]
Consequently, Americans could not always read the appropriate illustrations against their textual counterparts, this behind-the-date method of publication often forcing an analeptic reading of the Stone illustrations, so that, for example, Darley would have encountered Miss Riderhood at Home in March 1865, the tenth Harper's issue, memorable to an artist because that particular instalment was actually accompanied by four instalments — those for the ninth number, issued by Chapman and Hall in the previous January, as well as the pair for the tenth number, issued across the Atlantic in February. At this point, in other words, the illustrations caught up with the American text.
Whereas the Marcus Stone illustration contains an amazing amount of detail for a wood-engraving, the parallel Eytinge and Darley illustrations do not. Whereas Eytinge focuses on the abusive father-daughter relationship, showing Riderhood threatening to strike Pleasant, Darley re-interprets the Stone illustration set in the sailors' rooming-house and "leaving shop" run by Pleasant Riderhood, anticipating the 1875 Household Edition wood-engraving by James Mahoney, And now, as the man held out the bottle to fill all round, Riderhood stood up, leaned over the table to take a closer look at the knife, and stared from it to him (Chapter 12, "More Birds of Prey," p. 155). To appreciate fully the situation that Darley and Mahoney have realised, one needs to know something of the plot at this point.
The scene in both instances is the kitchen-parlour-and-pawnbroker's shop of Pleasant Riderhood's lodging house for merchant sailors in the dockyard London district known as Limehouse. The clothing hanging in the background is items of apparel pawned by sailors down on their luck. While Rogue Riderhood, a waterman who scavenges the Thames, has been momentarily out of the shop, John Harmon (that is to say, the supposedly murdered "John Rokesmith," disguised as a sailor) strikes up a conversation with the proprietess and begins to question her as she puts up her hair in preparation for ironing — as in Marcus Stone's illustration, a feature retained by Darley (Pleasant is right rear). The bearded stranger shifts his attention to her father when he returns, offering to share a bottle of liquor with him. During their subsequent conversation which is the subject of the Stone and Darley illustrations, the sailor who has yet to identify himself pulls out a knife which Riderhood immediately recognizes as George Radfoot's, and then realizes that his guest is also wearing Radfoot's peacoat — and yet the stranger will not admit to having murdered Radfoot. The disguised Rokesmith then accuses Riderhood as having fabricated the story that his fellow waterman, Gaffer Hexam, murdered a passenger named John Harmon, implying that Riderhood and Radfoot were the actual killers. The stranger leverages Riderhood into promising to sign an affidavit attesting to Gaffer's innocence.
In contrast to the subtlety of Darley's engraving, the other illustrations, utlising the bold lines of the composite wood-block engraving, although dramatic, seem crude when one notes the lightness and subtlety of Darley's photogravure. As both J. A. Hammerton and Frederic G. Kitton have noted, the original illustration by Marcus Stone, who worked closely with Dickens, bears the stamp of authorial intention, influencing later illustrators as an adjunct to the original text. Conversations with and detailed notes from the novelist gave young Stone direct access to what he himself termed Dickens's "pictorialism" (Kitton, 197), that is, an innate sense of what in in a text will be most suitable as an illustration, so that Miss Riderhood at Home prepares the reader for the confrontation between the duplicitous waterman and the disguised Rokesmith — a confrontation which thoroughly engaged the "pictorial imaginations" of Felix Darley and James Mahoney, but which Harry Furniss in 1910 rejected as perhaps too obvious (in any event, Stone had already done a masterful realisation), so that the later artist decided to depict the disguised Rokesmith's carefully observing the Riderhood rooming-house from across the street in Outside the Seamen's Boarding-House, an impressionistic pen-and-ink that underscores Rokesmith's approaching Rogue Riderhood with extreme caution.
As opposed to the static illustrations of Stone and Furniss, those of Eytinge and Darley capture the characters in the midst of action, a moment of tableau, as the most active figure in the scene, Riderhood, holds aloft a boot and is about to strike in Eytinge, and Riderhood, rising, when accused of lying to the lawyer about the murder, "as though he would fling his glass in the man's face" — curiously, Darley has given both drinkers small wine-glasses rather than shot-glasses. Although technically not a merchant-seaman, Riderhood in the Darley frontispiece wears the striped shirt and neck-cloth of such a sailor; he is, moreover, somewhat younger and physically more attractive than the Riderhoods of Eytinge and Mahoney. In his haste, he has overturned his stool, but Pleasant, immediately behind him, is unperturbed, as if such outbursts are common enough with her father. Rokesmith, sure that he holds all the cards and can command his opponent, remains completely self-possessed as he holds aloft an accusatory finger.
Rokesmith disguised in the original later editions, 1865-1910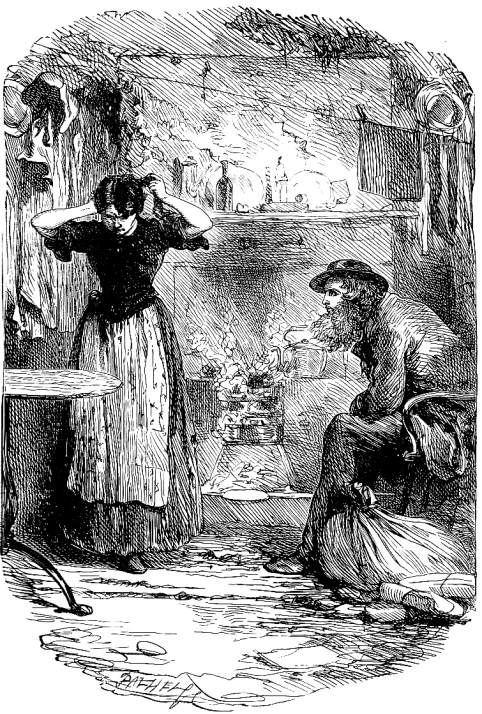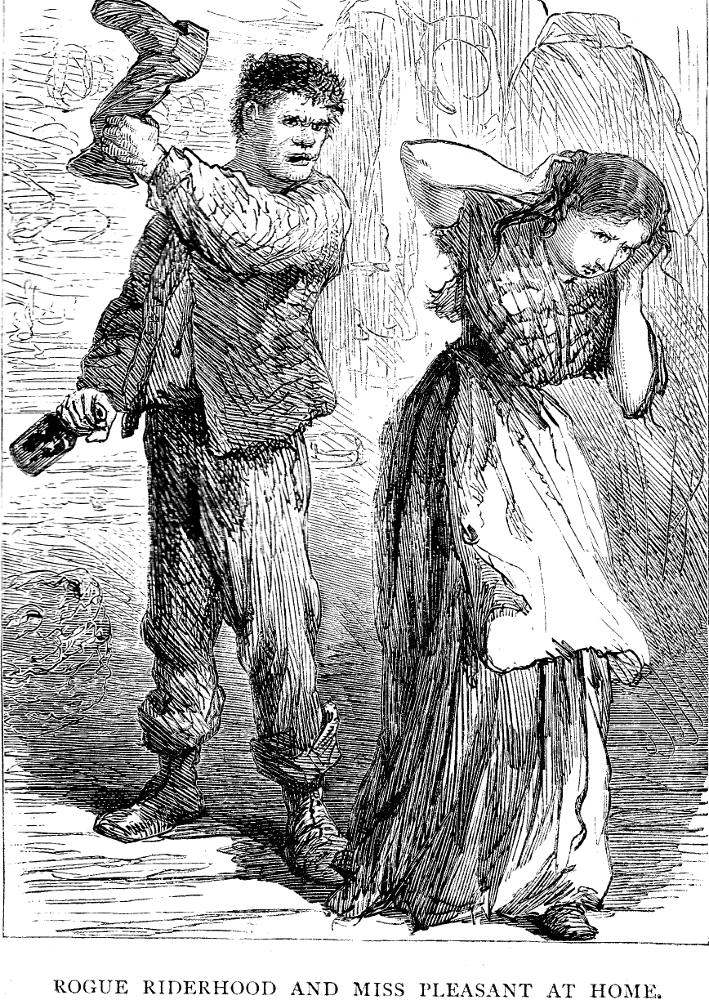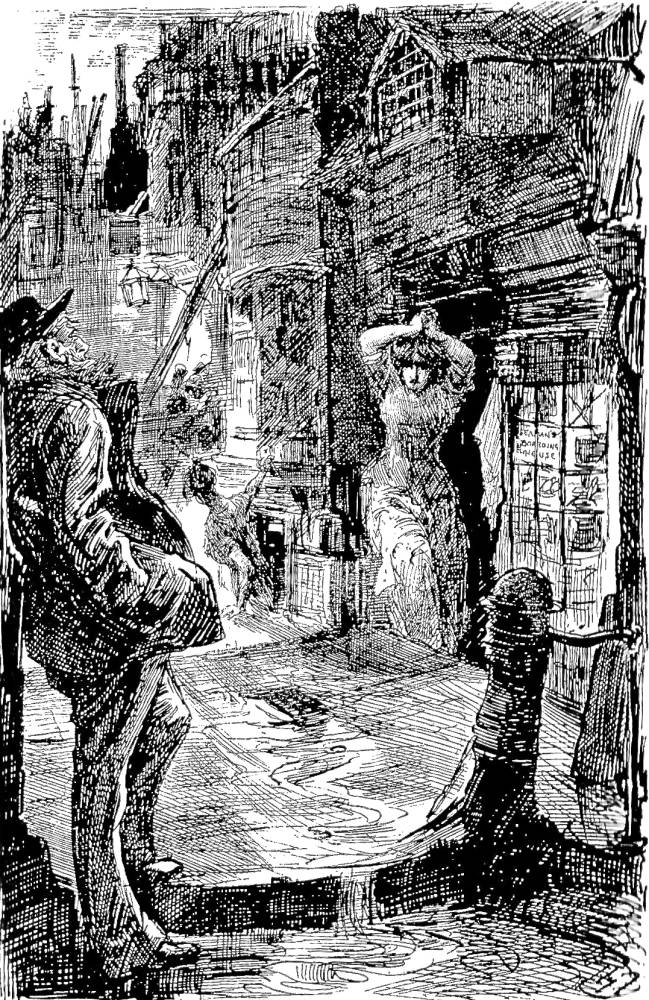 Left: Marcus Stone's January 1865 serial illustration of Rokesmith's visit to the Riderhoods' shop and rooming-house, Miss Riderhood at Home.​ Centre: Sol Eytinge, Junior's dual character study of the​ Riderhoods, Rogue Riderhood and Miss Pleasant at Home (1867). Right: Furniss's version of Rokesmith eyeing Pleasant at the door of the "leaving shop," After dark, a certain man standing over against the house on the opposite side of the street took notice of her. Pleasant Riderhood's hair was a ragged knot, constantly coming down behind, and at that particular moment, being newly come to the threshold, she was winding herself up with both hands after this fashion. — Our Mutual, p. 366 (1910). [Click on images to enlarge them.]
Above: James Mahoney's realistic interpretation of ​Rokesmith's confronting Rogue Riderhood about Gaffer's being guilty of murder, And now, as the man held out the bottle to fill all round, Riderhood stood up, leaned over the table to take a closer look at the knife, and stared from it to him (Household Edition, 1875). [Click on the image to enlarge it.]
References
Bentley, Nicolas, Michael Slater, and Nina Burgis. The Dickens Index. New York and Oxford: Oxford U. P., 1990.
The Characters of Charles Dickens pourtrayed in a series of original watercolours by "Kyd." London, Paris, and New York: Raphael Tuck & Sons, n. d.
Cohen, Jane Rabb. "The Illustrators of Our Mutual Friend, and The Mystery of Edwin Drood: Marcus Stone, Charles Collins, Luke Fildes." Charles Dickens and His Original Illustrators. Canton: Ohio U. P., 1980. Pp. 203-228.
Darley, Felix Octavius Carr. Character Sketches from Dickens. Philadelphia: Porter and Coates, 1888.
Davis, Paul. Charles Dickens A to Z: The Essential Reference to His Life and Work. New York: Facts On File, 1998.
Dickens, Charles. Our Mutual Friend. Illustrated by Marcus Stone [40 ​composite wood-block engravings]. Volume 14 of the Authentic Edition of the Works of Charles Dickens. London: Chapman and Hall; New York: Charles Scribners' Sons, 1901 [based on the original nineteen-month serial and the two-volume edition of 1865].
Dickens, Charles. Our Mutual Friend. Illustrated by F. O. C. Darley and John Gilbert. The Works of Charles Dickens. The Household Edition. New York: Hurd and Houghton, 1866. Vol. 1.
Dickens, Charles. Our Mutual Friend. Illustrated by Sol Eytinge, Jr. The Works of Charles Dickens. The Diamond Edition. Boston: Ticknor and Fields, 1867.
Dickens, Charles. Our Mutual Friend. Illustrated by James Mahoney [58 composite wood-block engravings]. The Works of Charles Dickens. The Household Edition. London: Chapman and Hall, 1875.
Hammerton, J. A. "Chapter 21: The Other Novels." The ​​ Dickens Picture-Book. The Charles​Dickens Library Edition. London: Educational Book, 1910. Vol. 17. Pp.​441-442.
Kitton, Frederic G. Dickens and His Illustrators. (1899). Rpt. Honolulu: University of Hawaii, 2004.
Kyd [Clayton J. Clarke]. Characters from​ ​ Dickens. Nottingham: John Player & Sons, 1910.
"Our Mutual Friend — Fifty-eight Illustrations by James Mahoney." Scenes and Characters from the Works of Charles Dickens, Being Eight Hundred and Sixty-six Drawings by Fred Barnard, Gordon Thomson, Hablot Knight Browne (Phiz), J. McL. Ralston, J. Mahoney, H. French, Charles Green, E. G. Dalziel, A. B. Frost, F. A. Fraser, and Sir Luke Fildes. London: Chapman and Hall, 1907.
Queen's University, Belfast. "Charles Dickens's Our Mutual Friend, Clarendon Edition. Harper's New Monthly Magazine, June 1864-December 1865." Accessed 12 November 2105. http://www.qub.ac.uk/our-mutual-friend/witnesses/Harpers/Harpers.htm
Vann, J. Don. Victorian Novels in Serial. New York: Modern Language Association, 1985.
---

Victorian
Web

Visual
Arts

Illustra-
tion

Our Mu-
tual​Friend​

F. O. C.
Darley

Next
Last modified 14 November 2015