Joyful Tidings — Book I, Ch. XXXV.
Felix Octavius Carr Darley
1863
8.6 x 7.3 cm vignetted
Photogravure
[Click on illustration to enlarge it.]
Scanned image and text by Philip V. Allingham from his personal collection.
[You may use these images without prior permission for any scholarly or educational purpose as long as you (1) credit the photographer and (2) link your document to this URL in a web document or cite the Victorian Web in a print one.]
​
Passage Illustrated
"Compose yourself, sir," said Clennam, "and take a little time to think. To think of the brightest and most fortunate accidents of life. We have all heard of great surprises of joy. They are not at an end, sir. They are rare, but not at an end."
"Mr. Clennam? Not at an end? Not at an end for —" He touched himself upon the breast, instead of saying "me."
"No," returned Clennam.
"What surprise," he asked, keeping his left hand over his heart, and there stopping in his speech, while with his right hand he put his glasses exactly level on the table: "what such surprise can be in store for me?"
"Let me answer with another question. Tell me, Mr Dorrit, what surprise would be the most unlooked for and the most acceptable to you. Do not be afraid to imagine it, or to say what it would be."
He looked steadfastly at Clennam, and, so looking at him, seemed to change into a very old haggard man. The sun was bright upon the wall beyond the window, and on the spikes at top. He slowly stretched out the hand that had been upon his heart, and pointed at the wall.
"It is down," said Clennam. "Gone!"
He remained in the same attitude, looking steadfastly at him.
"And in its place," said Clennam, slowly and distinctly, "are the means to possess and enjoy the utmost that they have so long shut out. Mr Dorrit, there is not the smallest doubt that within a few days you will be free, and highly prosperous. I congratulate you with all my soul on this change of fortune, and on the happy future into which you are soon to carry the treasure you have been blest with here — the best of all the riches you can have elsewhere — the treasure at your side."
With those words, he pressed his hand and released it; and his daughter, laying her face against his, encircled him in the hour of his prosperity with her arms, as she had in the long years of his adversity encircled him with her love and toil and truth; and poured out her full heart in gratitude, hope, joy, blissful ecstasy, and all for him.
"I shall see him as I never saw him yet. I shall see my dear love, with the dark cloud cleared away. I shall see him, as my poor mother saw him long ago. O my dear, my dear! O father, father! O thank God, thank God!" — Vol. 2, Book One, "Poverty"; Ch. 35, pp. 308-09.
Commentary
The scene is the Marshalsea is the culmination of the novel's first movement, "Poverty." Here, Arthur Clennam, having already broken the news of the inheritance to Amy Dorrit, now imparts to a stunned Father of the Marshalsea, William Dorrit, that (like the novelists's own father, John Dickens) he has come into a bequest to will result in his immediate release from debtors' prison. Whereas Amy's initial response had been to faint, Mr. Dorrit has an involuntary shaking fit because he has become so acclimatized to prison life and has, indeed, built his entire identity on the length of his incarceration. Now, thanks to Pancks's detective work, William Dorrit will be able to adopt the life-style to which he had always aspired, beginning with a grand tour through Switzerland to Venice and Rome. Darley's image of the stunned heir implies that he will always be haunted by the shades of the prison house.
Phiz's The Marshalsea becomes an Orphan (Book One, Chapter 36), realises the aftermath of the baronial feast that William Dorrit throws for the collegians and the heroic procession out of the prison yard of the Dorrit family; Phiz's preference for showing the group exodus over the intimate scene in which William Dorrit learns of his good fortune in the previous chapter may have been occasioned by the illustrator's already having shown the Dorrit brothers in Chapter 19, The Brothers. Certainly the moving scene that Darley elected to illustrate has no precedent in the original serial, and Darley would not have had access to Sol Eytinge, Junior's 1867 Diamond Edition illustration Little Dorrit and Her Father (frontispiece). Although James Mahoney provided an Illustration for Chapter 35 in the 1873 Household Edition, he shows the aftermath of their reception of the good news, when Amy and her father, exhausted, fall asleep, and Arthur Clennam discretely leaves the room. Darley's treatment is particularly effective because of the triangular arrangement of the figures, with the fashionably dressed Clennam at the apex, left, and Amy's skirt leading the eye downward to the base, right. In their emotional throes William Dorrit has dropped his newspaper and Amy her bonnet as her father struggles to understand the great change that providence has wrought upon him and his family. The composition with father and daughter released from the confines of the Marshalsea Debtors' Prison also recalls the sudden release of Dr. Manette from captivity after years of imprisonment in the Bastille in A Tale of Two Cities, Dickens's next novel.
The Father of the Marshalsea in the original and Diamond editions, 1855-1867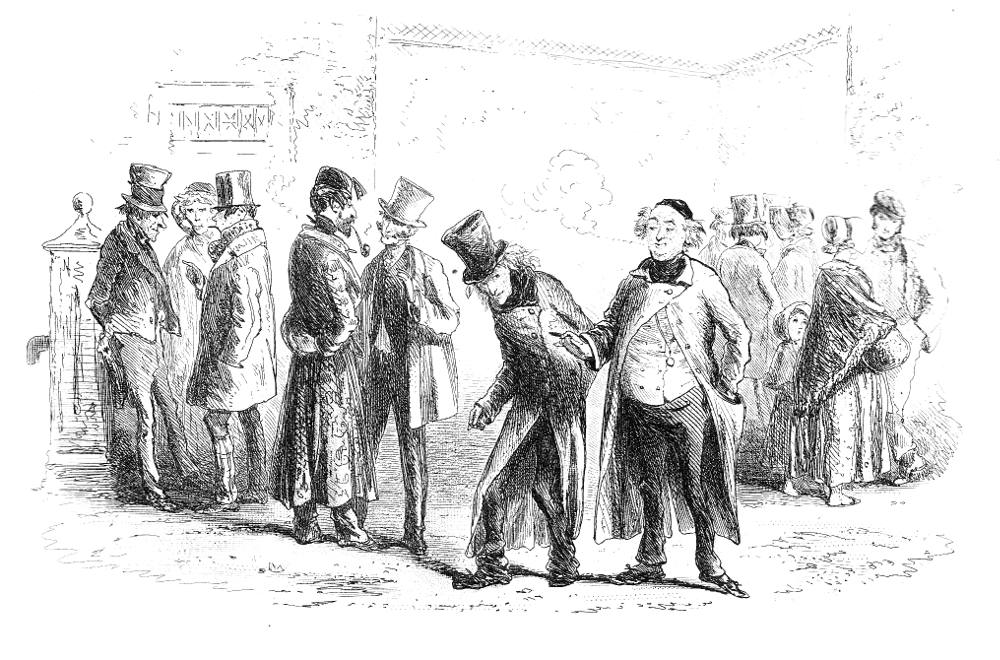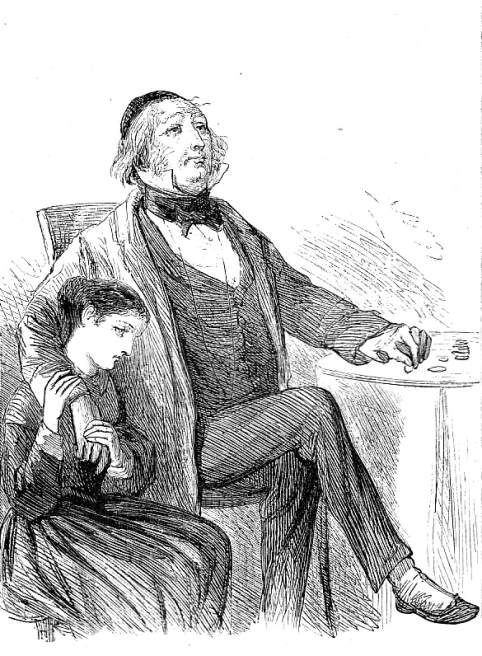 Left: Phiz's original serial illustration of the Marshalsea prison yard, The Brothers (May 1855). Right: Sol Eytinge, Junior's interpretation of the Father of the Marshalsea as a dual portrait with his daughter, Little Dorrit and her Father (1867). [Click on images to enlarge them.]
Bentley, Nicolas, Michael Slater, and Nina Burgis. The Dickens Index. New York and Oxford: Oxford U. P., 1990.
The Characters of Charles Dickens pourtrayed in a series of original watercolours by "Kyd." London, Paris, and New York: Raphael Tuck & Sons, n. d.
Darley, Felix Octavius Carr. Character Sketches from Dickens. Philadelphia: Porter and Coates, 1888.
Davis, Paul. Charles Dickens A to Z: The Essential Reference to His Life and Work. New York: Facts On File, 1998.
Dickens, Charles. Little Dorrit. Illustrated by Hablot Knight Browne ('Phiz'). The Works of Charles Dickens. The Authentic Edition. London: Chapman and Hall, 1910.
Dickens, Charles. Little Dorrit. Illustrated by F. O. C. Darley and John Gilbert. The Works of Charles Dickens. The Household Edition. 55 vols. New York: Sheldon and Company, 1863. Vol. 2.
Dickens, Charles. Little Dorrit. Illustrated by James Mahoney [58 composite wood-block engravings]. The Works of Charles Dickens. The Household Edition. 22 vols. London: Chapman and Hall, 1875. Vol. 5.
Dickens, Charles. Little Dorrit. Illustrated by Harry Furniss. The Charles Dickens Library Edition. 18 vols. London: Educational Book, 1910. Vol. 12.
Hammerton, J. A. "Chapter 18: Little Dorrit." The Dickens Picture-Book. The Charles Dickens Library Edition. London: Educational Book, 1910. Vol. 17. Pp. 398-427.
Kyd [Clayton J. Clarke]. Characters from Dickens. Nottingham: John Player & Sons, 1910.
"Little Dorrit — Fifty-eight Illustrations by James Mahoney." Scenes and Characters from the Works of Charles Dickens, Being Eight Hundred and Sixty-six Drawings by Fred Barnard, Gordon Thomson, Hablot Knight Browne (Phiz), J. McL. Ralston, J. Mahoney, H. French, Charles Green, E. G. Dalziel, A. B. Frost, F. A. Fraser, and Sir Luke Fildes. London: Chapman and Hall, 1907.
Vann, J. Don. Victorian Novels in Serial. New York: Modern Language Association, 1985.
---

Victorian
Web

Visual
Arts

Illustra-
tion

Little
Dorrit

F. O. C.
Darley

Next
Last modified 25 March 2016