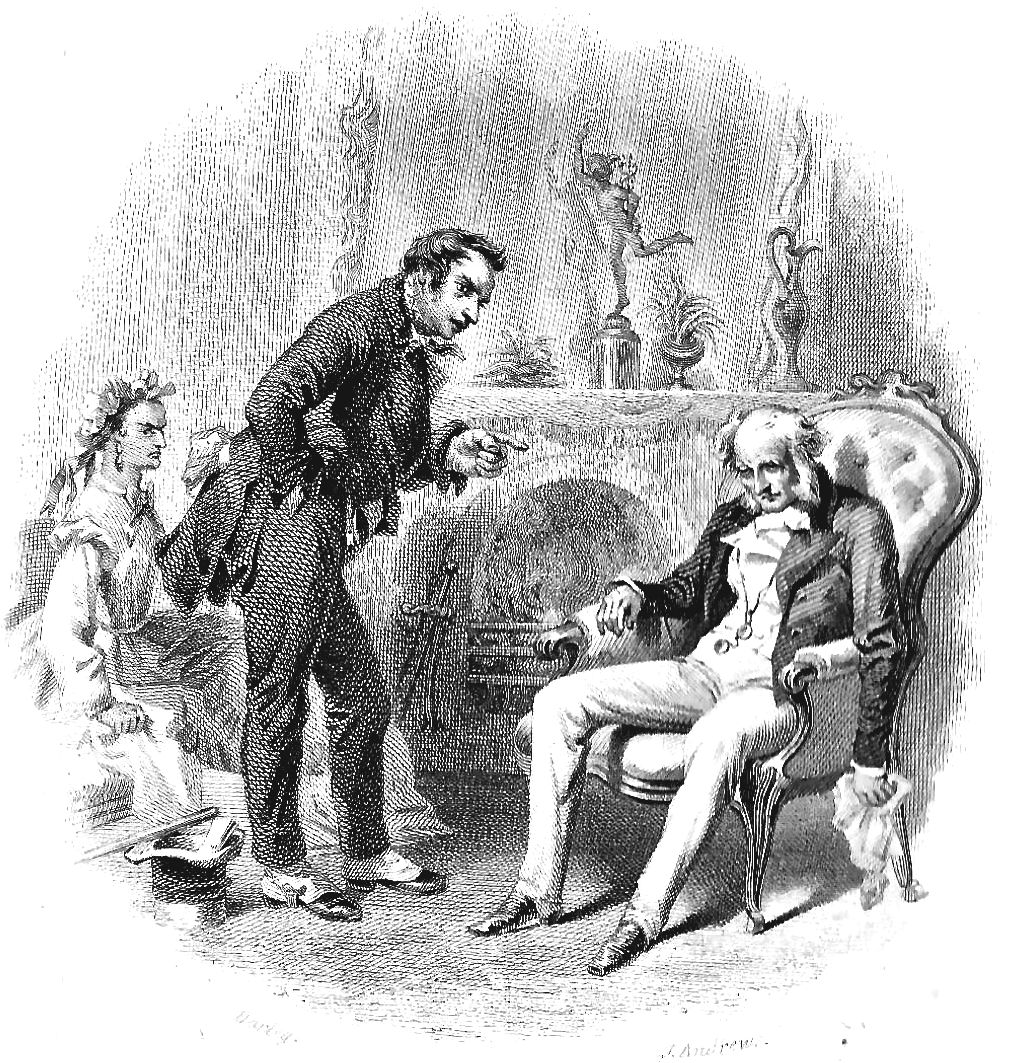 Springing a Mine
Felix O. C. Darley
1863
9 x 8.8 cm vignetted
Photogravure
[Click on illustration to enlarge it.]
Scanned image and text by Philip V. Allingham from his personal collection.
[You may use these images without prior permission for any scholarly or educational purpose as long as you (1) credit the photographer and (2) link your document to this URL in a web document or cite the Victorian Web in a print one.]
​
Passage Illustrated
Thoughtful Mr. Bucket is; as a man may be, with weighty work to do; but composed, sure, confident. From the expression of his face, he might be a famous whist-player for a large stake — say a hundred guineas certain — with the game in his hand, but with a high reputation involved in his playing his hand out to the last card, in a masterly way. Not in the least anxious or disturbed is Mr. Bucket, when Sir Leicester appears; but he eyes the baronet aside as he comes slowly to his easy chair, with that observant gravity of yesterday, in which there might have been yesterday, but for the audacity of the idea, a touch of compassion. [pp. 89-90]
After dealing with the Rev. Chadband and Grandfer Smallweed, who have intentions of extorting Sir Leicester, Detective Inspector Bucket moves to "spring his mine," not on Sir Leicester or his wife, but on Hortense, formerly Lady Dedlock's maid — and the murderer of the lawyer, Tulkinghorn, who disguised herself as Lady Dedlock.
Mr. Bucket rings, goes to the door, briefly whispers Mercury, shuts the door, and stands behind it with his arms folded. After a suspense of a minute or two, the door slowly opens, and a French woman enters. Mademoiselle Hortense.
The moment she is in the room, Mr Bucket claps the door to, and puts his back against it. The suddenness of the noise occasions her to turn; and then, for the first time, she sees Sir Leicester Dedlock in his chair.
"I ask you pardon," she mutters hurriedly. "They tell me there was no one here."
Her step towards the door brings her front to front with Mr. Bucket. Suddenly a spasm shoots across her face, and she turns deadly pale.
This is my lodger, Sir Leicester Dedlock," says Mr. Bucket, nodding at her. "This foreign young woman has been my lodger for some weeks back."
"What do Sir Leicester care for that, you think, my angel?" returns mademoiselle, in a jocular strain.
Why, my angel," returns Mr. Bucket, "we shall see." — Vol. 4, Ch. 54, "Springing a Mine," p. 107.
Commentary
The scene is the library of Sir Leicester Dedlock at his Lincolnshire estate, Chesney Wold. The precise moment realised is signalled by the presence of Hortense, formerly Lady Dedlock's personal maid. The model for Kyd's interpretation of Inspector Bucket is a single Phiz image in the original serial, specifically, the fourteenth (April 1853) instalment's Friendly Behaviour of Mr. Bucket (ch. 43, "Esther's Narrative"). However, Dickens describes the detective in Chapter 22, well before climactic confrontation in Sir Leicester's library. The letter (for the reader may safely assume that Sir Leicester holds an unfolded letter in his hand as despair overwhelms him) is presumably the one that the detective has encouraged him to open: "Open the one directed to yourself, which I stopped this very morning, and read the three words, LADY DEDLOCK, MURDERESS, in it" (113). Here, Sir Leicester's eyeglass is more than an article of mere realia, for it implies his shortsightedness in assessing his wife's character and his lack of knowledge as to her history.
Although Phiz's image is acceptable, Darley's captures more of Bucket's salient features, complementing The character and role of Inspector Bucket in the novel: a "stoutly built, steady-looking, sharp-eyed man in black, of about the middle-age" (ch. 22), looking much more like a professional man, a physician or lawyer (although with more panache), Darley's Bucket has the gimlet eye and posture that Dickens describes. This attentive, observant police inspector with the fat forefinger (reminiscent of that of Jaggers, the criminal attorney in Great Expectations, 1861) — pointing relentlessly at Sir Leicester throughout the scene — is up to the task of solving Tulkinghorn's murder, a task that would have been far too challenging for the Bow Street Runners of Oliver Twist. Although more affable and less quirky, Bucket is the forerunner or prototype of Wilkie Collins's Sergeant Cuff of Scotland Yard in The Moonstone (1868). A later image of the detective by Kyd (Clayton J. Clarke), Inspector Bucket, provides him with a walking stick and tailcoat, but describes the detective as being somewhat older than Darley's in the Household Edition. Darley's image of the nattily dressed, assertive, somewhat gauche police detective is far more effective than Phiz's as it reveals him in his true colours in the motional scene at Chesney Wold.
Chief Appearance of Detective Bucket in the Original Serial (1853)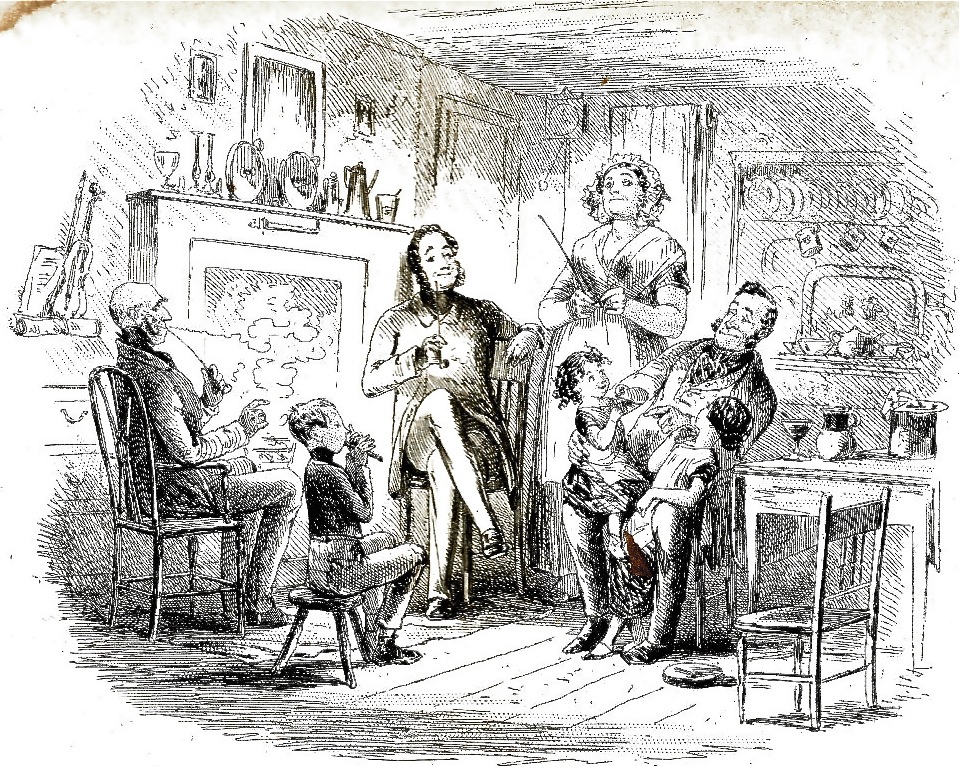 Above: Hablot Knight Browne's interpretation of the perceptive detective, Friendly Behaviour of Mr. Bucket. [Click on the image to enlarge it.]
"Friendly behaviour of Mr Bucket," by Phiz (Hablot K. Browne), 1853. George Rouncewell is visiting the Bagnets on the occasion of Mrs. Bagnet's birthday when Mr. Bucket drops in. Bucket takes two of the Bagnet children, Quebec and Malta, on his knee, saying, "My name's Bucket. Ain't that a funny name?" [618]. He listens to their brother Woolwich, George's godson, playing the fife, and observes George carefully for signs of guilt, since he seems to have been there when Tulkinghorn was murdered. George [centre] is doing his best to be cheerful, but he has been deeply shocked by the sad death of Jo, the young crossing-sweeper. — Jacqueline Banerjee, Associate Editor, Victorian Web.
References
Bentley, Nicolas, Michael Slater, and Nina Burgis. The Dickens Index. New York and Oxford: Oxford U. P., 1990.
The Characters of Charles Dickens pourtrayed in a series of original watercolours by "Kyd." London, Paris, and New York: Raphael Tuck & Sons, n. d.
Darley, Felix Octavius Carr. Character Sketches from Dickens. Philadelphia: Porter and Coates, 1888.
Davis, Paul. Charles Dickens A to Z: The Essential Reference to His Life and Work. New York: Facts On File, 1998.
Dickens, Charles. Bleak House. Illustrated by F. O. C. Darley and John Gilbert. The Works of Charles Dickens. The Household Edition. New York: Seldon and Company, 1863. Vol. 2.
Dickens, Charles. Bleak House. Illustrated by Fred Barnard [61 composite wood-block engravings]. The Works of Charles Dickens. The Household Edition. London: Chapman and Hall, 1875.
Hammerton, J. A. "Chapter 18: Bleak House." The Dickens Picture-Book. The Charles Dickens Library Edition. London: Educational Book, 1910. Vol. 17. Pp. 366-397.
Kyd [Clayton J. Clarke]. Characters from Dickens. Nottingham: John Player & Sons, 1910.
"Bleak House — Sixty-one Illustrations by Fred Barnard." Scenes and Characters from the Works of Charles Dickens, Being Eight Hundred and Sixty-six Drawings by Fred Barnard, Gordon Thomson, Hablot Knight Browne (Phiz), J. McL. Ralston, J. Mahoney, H. French, Charles Green, E. G. Dalziel, A. B. Frost, F. A. Fraser, and Sir Luke Fildes. London: Chapman and Hall, 1907.
Vann, J. Don. Victorian Novels in Serial. New York: Modern Language Association, 1985.
---

Victorian
Web

Visual
Arts

Illustra-
tion

Little
Dorrit

F. O. C.
Darley

Next
Last modified 9 November 2015