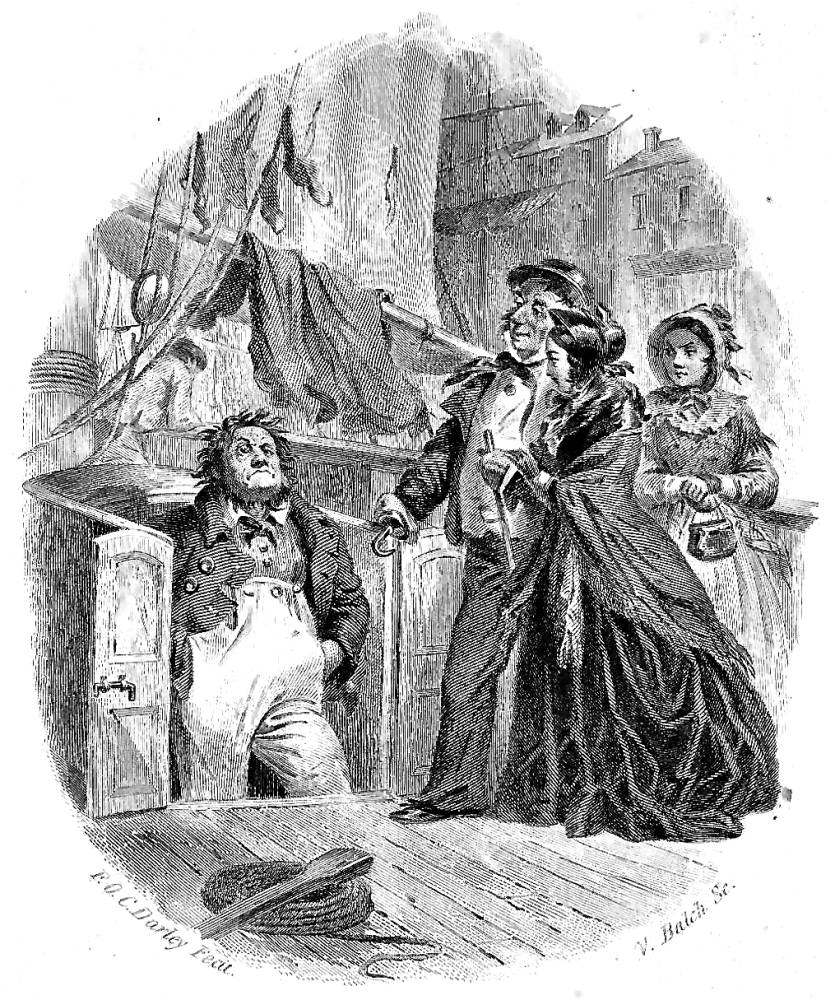 The first appearance of Bunsby — Ch. 23
Felix O. C. Darley
1862
9 x 8.4 cm vignetted
Photogravure
Dickens's Dombey and Son, Household Edition, vol. 2 frontispiece.
Frontispiece for Dombey and Son, volume 2, in the Sheldon and Company (New York) Household Edition (1862).
[Click on illustration to enlarge it.]
Scanned image and text by Philip V. Allingham.
[You may use these images without prior permission for any scholarly or educational purpose as long as you (1) credit the photographer and (2) link your document to this URL in a web document or cite the Victorian Web in a print one.]
Passage Illustrated
"Clara a-hoy!" cried the Captain, putting a hand to each side of his mouth.
"A-hoy!' cried a boy, like the Captain's echo, tumbling up from below.
"Bunsby aboard?" cried the Captain, hailing the boy in a stentorian voice, as if he were half-a-mile off instead of two yards.
"Ay, ay!" cried the boy, in the same tone.
The boy then shoved out a plank to Captain Cuttle, who adjusted it carefully, and led Florence across: returning presently for Miss Nipper. So they stood upon the deck of the Cautious Clara, in whose standing rigging, divers fluttering articles of dress were curing, in company with a few tongues and some mackerel.
Immediately there appeared, coming slowly up above the bulk-head of the cabin, another bulk-head — human, and very large — with one stationary eye in the mahogany face, and one revolving one, on the principle of some lighthouses. This head was decorated with shaggy hair, like oakum, which had no governing inclination towards the north, east, west, or south, but inclined to all four quarters of the compass, and to every point upon it. The head was followed by a perfect desert of chin, and by a shirt-collar and neckerchief, and by a dreadnought pilot-coat, and by a pair of dreadnought pilot-trousers, whereof the waistband was so very broad and high, that it became a succedaneum for a waistcoat: being ornamented near the wearer's breastbone with some massive wooden buttons, like backgammon men. As the lower portions of these pantaloons became revealed, Bunsby stood confessed; his hands in their pockets, which were of vast size; and his gaze directed, not to Captain Cuttle or the ladies, but the mast-head.
The profound appearance of this philosopher, who was bulky and strong, and on whose extremely red face an expression of taciturnity sat enthroned, not inconsistent with his character, in which that quality was proudly conspicuous, almost daunted Captain Cuttle, though on familiar terms with him. Whispering to Florence that Bunsby had never in his life expressed surprise, and was considered not to know what it meant, the Captain watched him as he eyed his mast-head, and afterwards swept the horizon; and when the revolving eye seemed to be coming round in his direction, said:
"Bunsby, my lad, how fares it?"
A deep, gruff, husky utterance, which seemed to have no connexion with Bunsby, and certainly had not the least effect upon his face, replied, "Ay, ay, shipmet, how goes it?" At the same time Bunsby's right hand and arm, emerging from a pocket, shook the Captain's, and went back again.
"Bunsby," said the Captain, striking home at once, "here you are; a man of mind, and a man as can give an opinion. Here's a young lady as wants to take that opinion, in regard of my friend Wal'r; likewise my t'other friend, Sol Gills, which is a character for you to come within hail of, being a man of science, which is the mother of invention, and knows no law. Bunsby, will you wear, to oblige me, and come along with us?" — Part 8, May 1847, Chapter 23, "Florence Solitary, and the Midshipman Mysterious," Household Edition, vol. 3, pages 167-168.
Commentary
Concerned about Walter's safety on the voyage to Barbados on behalf of her father's business, Florence Dombey (right of centre in the Darley illustration), accompanied by her maid, Susan Nipper, decides to pay a visit to Walter's Uncle Sol in order to ascertain whether he has had a letter from his nephew. However, finding only Rob the Grinder at The Wooden Midshipman, she asks for directions to Brig Place, thinking that Sol may be found at his friend's rooms. Once found, Captain Cuttle suggests that they consult another old sailor, Captain Bunsby. Cuttle, Bunsby, Florence, and Susan then return to Uncle Sol's home to determine the fate of Walter's vessel — this is the scene illustrated by Phiz in the original monthly parts, whereas Darley has realised the moment of arrival at Captain Jack Bunsby's vessel The Cautious Clara, moored at Radcliffe, represented by the buildings in the background. Shortly the reader will learn that Walter's uncle, Sol Gills, has also dropped out of sight.
Darley had precedent for an illustration of this group aboard The Cautious Clara in Part 8 of the original serial, with Phiz's picture of the visit to Sol Gils's map-strewn parlour, Solemn Reference is Made to Mr. Bunsby (May 1847) — even though Bunsby is at best a tertiary character, and hardly an oracle to be consulted about the fate of Walter Gay. The Darley scene, set above decks, is far less congested than Phiz's in Sol Gills's parlour, and is visually more engaging because of its giving prominence to the two old salts, the protective Captain Cuttle and the obtuse Captain Bunsby, with Florence and her maid in supporting roles. In place of the crowded Phiz composition whose centre is Sol Gills, a map, and Susan Nipper, Darley has organized the composition so that the emphasis is on the comic characters with the amusing visages and extraordinary costumes, Bunsby and Cuttle.
The Relevant Illustrations of Capt. Cuttle and Bunsby from the Original Serial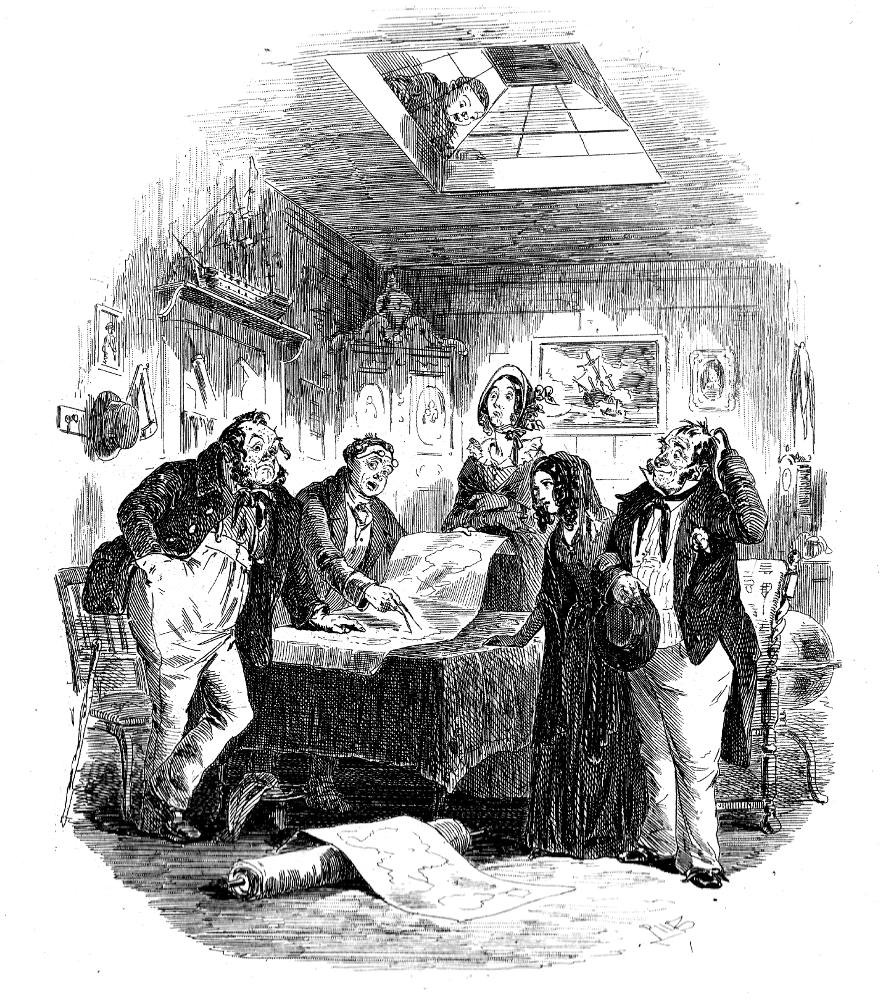 Left: Phiz's May 1847 introduction of Capt. Bunsby, Solemn Reference Is Made to Mr. Bunsby. Centre: Phiz's September 1846 engraving of Walter Gay and the old salt, Profound Cogitation of Captain Cuttle. Right: Phiz's October 1847 comic scene The Midshipman is boarded by the enemy. [Click on the images to enlarge them.]
Later illustrations of Capt. Cuttle influenced by Phiz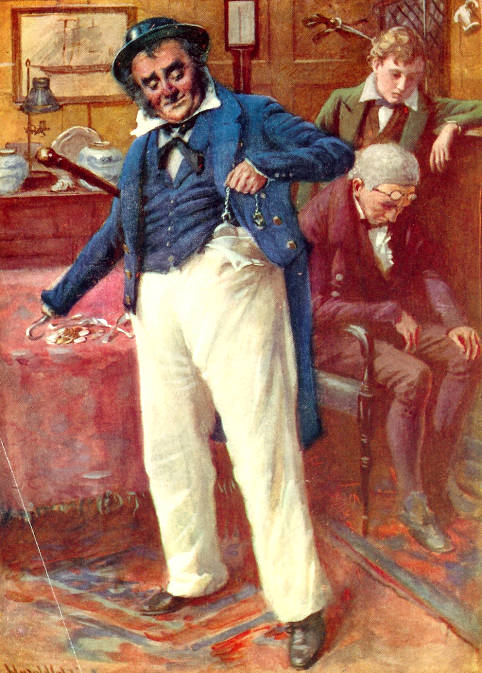 Left: Kyd's 1910​cigarette card representing the genial sailor, Captain Cuttle. Centre: Kyd's coloured lithograph Capt. Cuttle. Right: Harold Copping's 1924 coloured lithograph of the kindly seafarer, Captain Cuttle's Bright Idea. [Click on the images to enlarge them.]
References
Bentley, Nicolas, Michael Slater, and Nina Burgis. The Dickens Index. New York and Oxford: Oxford U. P., 1990.
Darley, Felix Octavius Carr. Character Sketches from Dickens. Philadelphia: Porter and Coates, 1888.
Davis, Paul. Charles Dickens A to Z: The Essential Reference to His Life and Work. New York: Facts On File, 1998.
Dickens, Charles. Dombey and Son. Illustrated by F. O. C. Darley and John Gilbert. The Works of Charles Dickens. The Household Edition. New York: Sheldon and Company, 1862. Vol. 1.
Dickens, Charles. Dombey and Son. Illustrated by W. L. Sheppard; [52 composite wood-block engravings]. The Works of Charles Dickens. The Household Edition. New York: Harper and Bros., 1873.
Dickens, Charles. Dombey and Son. Illustrated by Fred Barnard [62 composite wood-block engravings]. The Works of Charles Dickens. The Household Edition. London: Chapman and Hall, 1877.
Hammerton, J. A. "Chapter 16: Dombey and Son." The Dickens Picture-Book. The Charles Dickens Library Edition. London: Educational Book, 1910. Vol. 17. Pp. 295-338.
Matz, B. W., and Kate Perugini; illustrated by Harold Copping. Character Sketches from Dickens. London: Raphael Tuck, 1924. Copy in the Paterson Library, Lakehead University.
"Dealings with the Firm of Dombey and Son: Wholesale, Retail and for Exportation — Sixty-two Illustrations by Fred Barnard." Scenes and Characters from the Works of Charles Dickens, Being Eight Hundred and Sixty-six Drawings by Fred Barnard, Gordon Thomson, Hablot Knight Browne (Phiz), J. McL. Ralston, J. Mahoney, H. French, Charles Green,, E. G. Dalziel, A. B. Frost, F. A. Fraser, and Sir Luke Fildes. London: Chapman and Hall, 1907.
Vann, J. Don. Victorian Novels in Serial. New York: Modern Language Association, 1985.
---

Victorian
Web

Visual
Arts

Illustra-
tion

Dombey
& Son

F. O. C.
Darley

Next
Last modified 2 November 2015