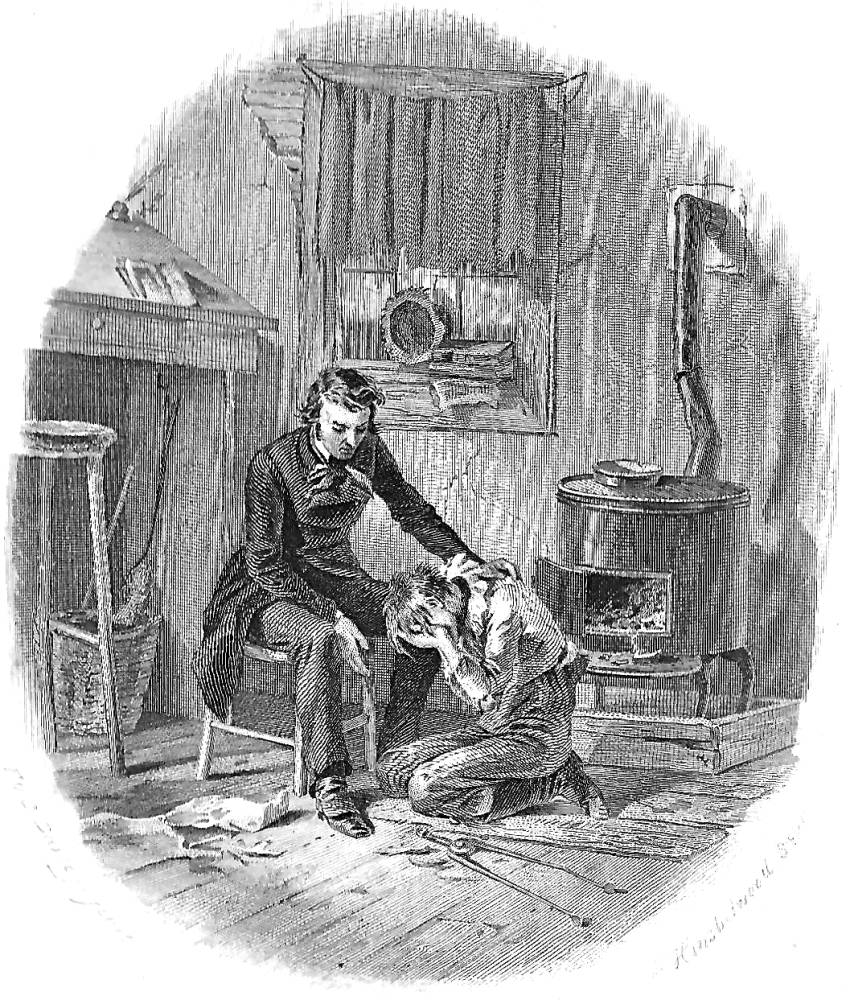 "Hush!" said Nicholas, laying his hand upon his shoulder.
Felix O. C. Darley
1861
10.2 x 8.8 cm vignetted
Photogravure
Frontispiece to the first volume of Dickens's The Life and Adventures of Nicholas Nickleby, in the W. A. Townsend (New York) Household Edition (1861-71).
Scanned image and text by Philip V. Allingham from his own collection.
[You may use these images without prior permission for any scholarly or educational purpose as long as you (1) credit the scanned the image and (2) link your document to this URL in a web document or cite the Victorian Web in a print one.]
​
Passage Illustrated
"You need not fear me," said Nicholas kindly. "Are you cold?"
"N-n-o."
"You are shivering."
"I am not cold," replied Smike quickly. "I am used to it."
There was such an obvious fear of giving offence in his manner, and he was such a timid, broken-spirited creature, that Nicholas could not help exclaiming, "Poor fellow!"
If he had struck the drudge, he would have slunk away without a word. But, now, he burst into tears.
"Oh dear, oh dear!" he cried, covering his face with his cracked and horny hands. "My heart will break. It will, it will."
"Hush!" said Nicholas, laying his hand upon his shoulder. "Be a man; you are nearly one by years, God help you."
"By years!" cried Smike. "Oh dear, dear, how many of them! How many of them since I was a little child, younger than any that are here now! Where are they all!"
"Whom do you speak of?" inquired Nicholas, wishing to rouse the poor half-witted creature to reason. "Tell me."
"My friends," he replied, "myself — my — oh! what sufferings mine have been!"
"There is always hope," said Nicholas; he knew not what to say. — Volume 1, Chapter 8, ​"Of the Internal Economy of Dotheboys Hall," ​pages 151-​152​.
Commentary
The passage from the closing of Chapter 8 of 1861 edition of Nicholas Nickleby, first published in Part Three (June 1838), comes the end of an extremely trying day for the protagonist at the Yorkshire school run by the brutal, greedy, mean-spirited Wackford Squeers, the one-eyed sadist consistently depicted by illustrat​​​or​s from Phiz to Harold Copping. Rather than display Nicholas's pity for the distraught, mentally-challenged Smike, Phiz focusses on the difficult circumstances that all the students at "Do-the-boys" Hall must endure in The Internal Economy of Dotheboys Hall earlier in this serial instalment. Under Phiz's caricatural interpretation, all the other boys are as gaunt, ragged, and dispirited as Smike, not introduced as an individual until the illustration for the twenty-second chapter, The Country Manager Rehearses a Combat. Thus, Darley's attitude strikes the present-day reader as modern in that he expresses sympathy for special-needs students such as Smike, and finds admirable Nicholas's sympathy for the distressed adolescent. The sentimental scene between Smike and Nicholas from Chapter 8 is without precedent in the original serial (April 1838-October 1839).
Independent of Darley's choices of subjects for the frontispieces of the three volumes of Nicholas Nickleby, Fred Barnard elected to provide a more realistic but less tender version of the same scene in the Chapman and Hall Household Edition, with Nicholas seated, hearing Sikes's anguished narrativce about his dead friend and his dismal outlook if he remains Dotheboys Hall: "Pain and fear, pain and fear, alive or dead. No hope, no hope!" — Chap. viii. Whereas Phiz's approach was to render Nicholas a typical Dickens-Scott young man in search of himself in the picaresque tradition, Barnard made Nicholas something of an individual, but, even though he makes Smike a very real youth, Nicholas's comforting him in the Darley plate renders him more worthy of the reader's sympathy. What little we see of Smike here reveals that Darley elected not to be guided by the long-headed, perpetually astounded caricature consistently delivered by Phiz in the original sequence.
Darley's background detailing situates this emotional scene in the mundane realities of the schoolroom; there is nothing noble or traditional about the cast-iron stove in the set, but it is undoubtedly functional, and probably represents the kind of heating system American schools would have had at the time. Moreover, the details in the background reveal that Darley had carefully studied the text of the eighth chapter (which, in this American edition, bear​s​ its original title, "Of the Internal Economy of Dotheboys Hall"). For example, in the frontispiece, the window behind and above Nicholas appears to be stuffed with paper and books, just as in
a couple of windows, whereof a tenth part might be of glass, the remainder being stopped up with old copy-books and paper. [139]
The cast-iron stove and chimney are also derived directly from the text:
There was a small stove at that corner of the room which was nearest to the master's desk, and by it Nicholas sat down, so depressed and self-degraded by the consciousness of his position, that if death could have come upon him at that time, he would have been almost happy to meet it. [150]
Playing the role of Cinderella in this anti-fairytale, Smike is the boy expected to tend the stove; hence, Darley shows its door open, and paper beside Smike intended to facilitate lighting the fire, there being tongs immediately beside the lad:
[Nicholas] all at once encountered the upturned face of Smike, who was on his knees before the stove, picking a few stray cinders from the hearth and planting them on the fire. He had paused to steal a look at Nicholas, and when he saw that he was observed, shrunk back, as if expecting a blow. [151]
Darley has even covered the boards underneath the stove with a fireproof material, and has the stove sitting on a platform to further insulate it. The master's desk, stool, and wastebasket complete the scene's realia. The reader, attending to the meaning of details that he or she will not encounter for 150 pages, quickly assimilates these details as he or she attempts a proleptic reading to assess the emotional significance of the characters' juxtapositions and postures, which contribute to the binary opposites upon which Darley has structured the scene. Nicholas, not merely warmly but fashionably dressed, sits on a chair, comforting Smile, clad in the merest rags, kneeling before the stove. The cracked plaster, revealing the lath beneath, implies the rundown condition of the schoolroom, and Squeers' wilful neglect of the physical condition of the school in general. Amidst these details sits the well-dressed, reasonable Nicholas, who simply does not fit this environment.
Relevant Illustrations from the Original Serial, 1838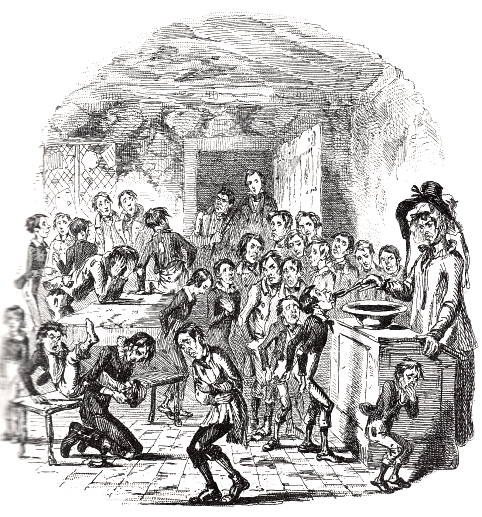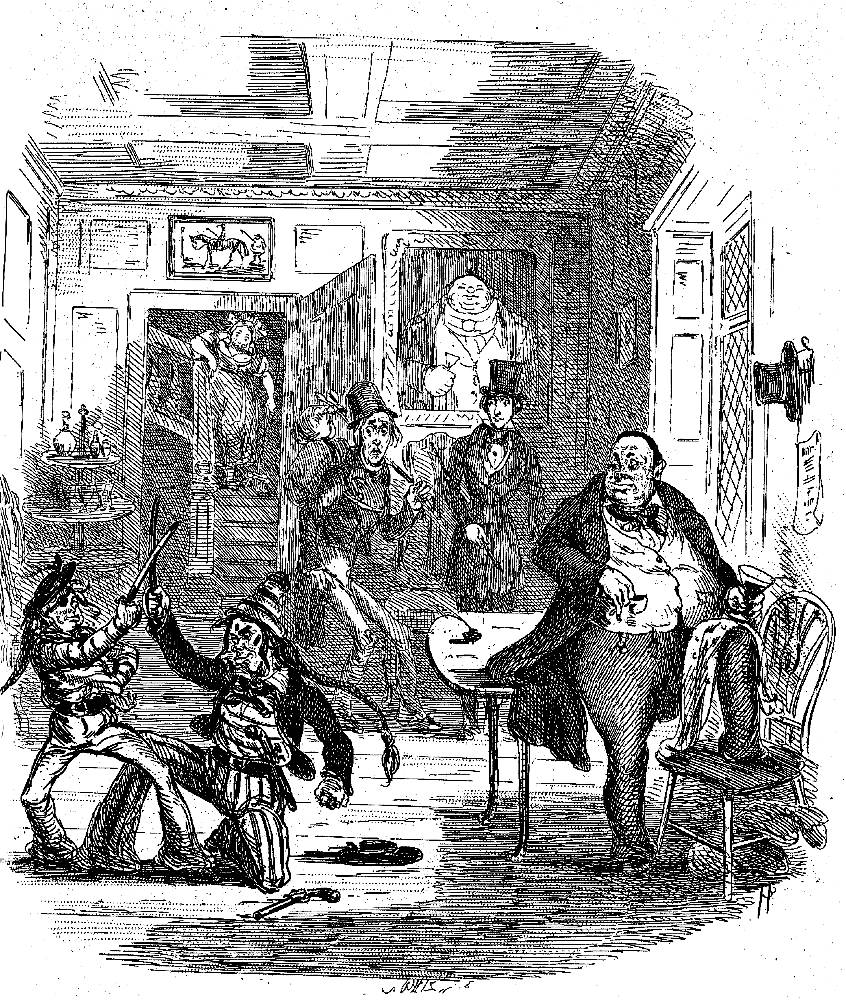 Left: Phiz's 1838 steel engraving demonstrating the abuses of the Yorkshire schools, The Internal Economy of Dotheboys Hall; Right: Phiz's representation of the scene in which Dickens describes the state of the provincial stage, The Country Manager Rehearses a Combat. [Click on the images to enlarge them.]
References
Bentley, Nicolas, Michael Slater, and Nina Burgis. The Dickens Index. New York and Oxford: Oxford U. P., 1990.
Darley, Felix Octavius Carr. Character Sketches from Dickens. Philadelphia: Porter and Coates, 1888.
Davis, Paul. Charles Dickens A to Z: The Essential Reference to His Life and Work. New York: Facts On File, 1998.
Dickens, Charles. Nicholas Nickleby. Illustrated by F. O. C. Darley and John Gilbert. The Works of Charles Dickens. The Household Edition. New York: W. A. Townsend, 1861. Vol. 1.
Dickens, Charles. Nicholas Nickleby. Illustrated by C. S. Reinhart [52 composite wood-block engravings]. The Works of Charles Dickens. The Household Edition. New York: Harper and Bros., 1873.
Hammerton, J. A. "Chapter 12: Nicholas Nickleby." The Dickens Picture-Book. The Charles Dickens Library Edition. London: Educational Book, 1910. Vol. 17. Pp. 147-170.
Matz, B. W., and Kate Perugini; illustrated by Harold Copping. Character Sketches from Dickens. London: Raphael Tuck, 1924. Copy in the Paterson Library, Lakehead University.
"Nicholas Nickleby — Fifty-nine Illustrations by Fred Barnard." Scenes and Characters from the Works of Charles Dickens, Being Eight Hundred and Sixty-six Drawings by Fred Barnard, Gordon Thomson, Hablot Knight Browne (Phiz), J. McL. Ralston, J. Mahoney, H. French, Charles Green, E. G. Dalziel, A. B. Frost, F. A. Fraser, and Sir Luke Fildes. London: Chapman and Hall, 1907.
Vann, J. Don. Victorian Novels in Serial. New York: Modern Language Association, 1985.
---

Victorian
Web

Visual
Arts

Illustra-
tion

Nicholas
Nickleby

F. O. C.
Darley

Next
Last modified 4 November 2015