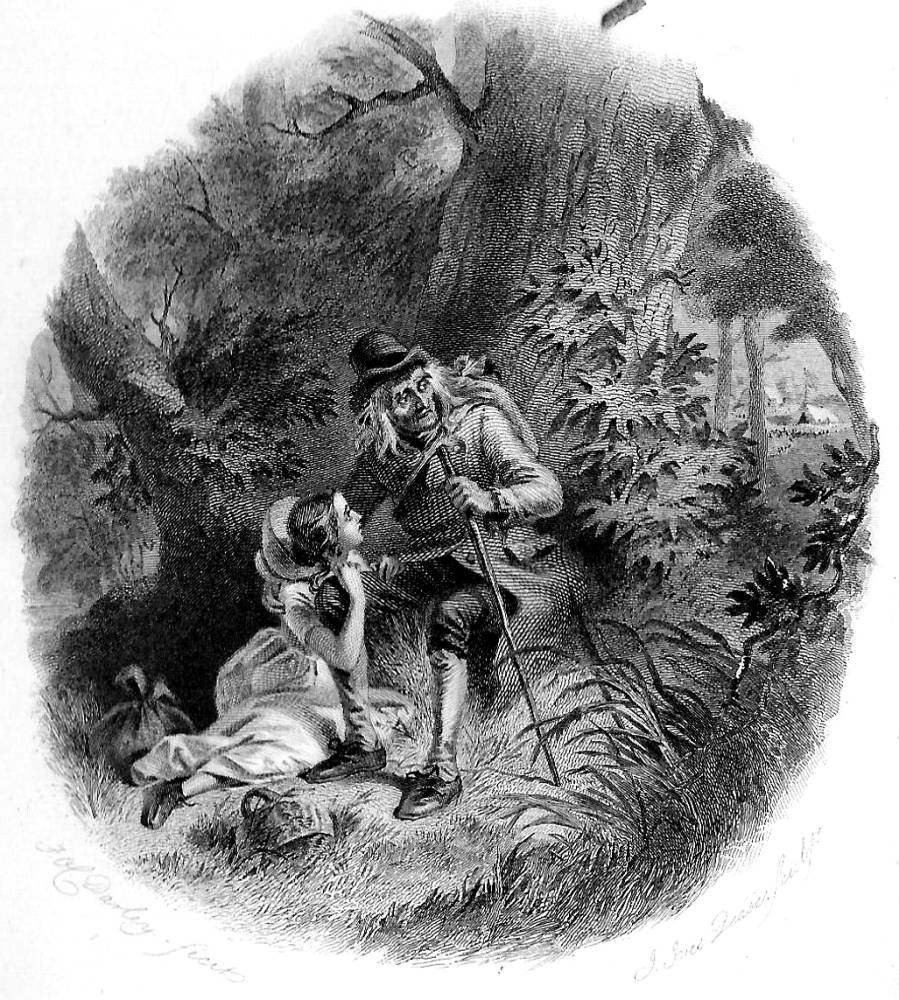 The Fugitives
Felix O. C. Darley
1861
9.2 x 8.3 cm vignetted
Photogravure
Frontispiece to the second volume of Dickens's The Old Curiosity Shop, in the James G. Gregory (New York) Household Edition (1861-71).
Scanned image and text by Philip V. Allingham from his own collection.
[You may use these images without prior permission for any scholarly or educational purpose as long as you (1) credit the photographer and (2) link your document to this URL in a web document or cite the Victorian Web in a print one.]
​
Passage Illustrated
There is no passage that corresponds precisely to this scene. Darley does not include his customary caption because, in all likelihood, he has synthesized several passages, one from the end of the first volume, when the travellers come upon Mrs. Jarley's caravan, and the second in volume two when Nell and her grandfather try to stay one step ahead of their pursuer, Daniel Quilp — and Nell forestalls her grandfather's plan to pilfer Mrs. Jarley's cashbox.
At length they had left the village far behind, and even lost sight of the smoke among the trees. They trudged onward now, at a quicker pace, resolving to keep the main road, and go wherever it might lead them.
But main roads stretch a long, long way. With the exception of two or three inconsiderable clusters of cottages which they passed, without stopping, and one lonely road-side public-house where they had some bread and cheese, this highway had led them to nothing-- late in the afternoon — and still lengthened out, far in the distance, the same dull, tedious, winding course, that they had been pursuing all day. As they had no resource, however, but to go forward, they still kept on, though at a much slower pace, being very weary and fatigued.
The afternoon had worn away into a beautiful evening, when they arrived at a point where the road made a sharp turn and struck across a common. On the border of this common, and close to the hedge which divided it from the cultivated fields, a caravan was drawn up to rest; upon which, by reason of its situation, they came so suddenly that they could not have avoided it if they would. —​Vol. 1, Chapter 26, p. 283.
Here, Nell and her grandfather meet Mrs. Jarley, the proprietor of a travelling wax-works exhibit. When Nell learns that his grandfather to feed his gambling addiction plkans to rob Mrs. Jarley, she takes the only step possible, determining to quit the woman who has befriended them.
The old man rose from his bed: his forehead bedewed with the cold sweat of fear: and, bending before the child as if she had been an angel messenger sent to lead him where she would, made ready to follow her. She took him by the hand and led him on. As they passed the door of the room he had proposed to rob, she shuddered and looked up into his face. What a white face was that, and with what a look did he meet hers!
She took him to her own chamber, and, still holding him by the hand as if she feared to lose him for an instant, gathered together the little stock she had, and hung her basket on her arm. The old man took his wallet from her hands and strapped it on his shoulders — his staff, too, she had brought away — and then she led him forth.
Through the strait streets, and narrow crooked outskirts, their trembling feet passed quickly. Up the steep hill too, crowned by the old grey castle, they toiled with rapid steps, and had not once looked behind.
But as they drew nearer the ruined walls, the moon rose in all her gentle glory, and, from their venerable age, garlanded with ivy, moss, and waving grass, the child looked back upon the sleeping town, deep in the valley's shade: and on the far-off river with its winding track of light: and on the distant hills; and as she did so, she clasped the hand she held, less firmly, and bursting into tears, fell upon the old man's neck. —​Vol. 2, Chapter 42, p. 163-164.
Commentary
Throughout Master Humphrey's Clock the focal characters of Little Nell and Grandfather Trent, as depicted by Dickens's team of illustrators — Hablot Knight Browne, George Cattermole, and Daniel Maclise — appear singly or together in twenty-three of the seventy-six illustrations. However, the original serial does not offer a picture of the two equivalent to Darley's portrait of them in the second volume's frontispiece.
Although essentially passive figures whose presence across the narrative-pictorial program binds the various picaresque episodes together, the two are active insofar as they abandon London for the provinces in order to escape the odious Daniel Quilp. Darley himself would revisit the image of Nell and her grandfather as "wayfarers" established by Phiz in The Pilgrimage Begins (27 June 1840: Chapter 12).
The Darley frontispiece in a more realistic manner than the original, 1840-41 illustrations for the novel, conveys the sense of little Nell anxious flight from Quilp. In particular, Darley seems to have realised elements of several different passages, and combined several wood-block engravings by Hablot Knight Browne: The Pilgrimage Begins (27 June 1840: Chapter 12) and A Rest by the Way (Chapter 15). However, in his later study, Little Nell and Her Grandfather (1888), the pair are well advanced on their journey through the provinces, as they enter the precincts of the country churchyard, and before they see the Punch and Judy showmen, Codlin and Short. The pavillion tent in the distance represents two conflicting prospects that this sign of urban civilisation suggests to Nell: on the one hand, it offers social and physical sustenance (companionship, protection, and food); on the other hand, it may well expose her grandfather to the temptation to gamble. The faces of Nell and her grandfather, therefore, present contrasting emotions as Nell looks adoringly at her grandfather, who regards the pavillion with apprehension.
References
Bentley, Nicolas, Michael Slater, and Nina Burgis. The Dickens Index. New York and Oxford: Oxford U. P., 1990.
Darley, Felix Octavius Carr. Character Sketches from Dickens. Philadelphia: Porter and Coates, 1888.
Davis, Paul. Charles Dickens A to Z: The Essential Reference to His Life and Work. New York: Facts On File, 1998.
Dickens, Charles. The Old Curiosity Shop. Illustrated by F. O. C. Darley. The Works of Charles Dickens. The Household Edition. New York: James G. Gregory and W. A. Townsend, 1861. 3 vols.
Dickens, Charles. The Old Curiosity Shop. Illustrated by Charles Green. The Works of Charles Dickens. The Household Edition. London: Chapman and Hall, 1871.
Hammerton, J. A. "Chapter 13: The Old Curiosity Shop." The Dickens Picture-Book. The Charles Dickens Library Edition. London: Educational Book, 1910. Vol. 17. Pp. 171-211.
"The Old Curiosity Shop — Thirty-nine Illustrations by Charles Green." Scenes and Characters from the Works of Charles Dickens, Being Eight Hundred and Sixty-six Drawings by Fred Barnard, Gordon Thomson, Hablot Knight Browne (Phiz), J. McL. Ralston, J. Mahoney, H. French, Charles Green,, E. G. Dalziel, A. B. Frost, F. A. Fraser, and Sir Luke Fildes. London: Chapman and Hall, 1907.
Vann, J. Don. Victorian Novels in Serial. New York: Modern Language Association, 1985.
---

Victorian
Web

Visual
Arts

Illustra-
tion

Old Curios-
ity Shop

F. O. C.
Darley

Next
Last modified 28 October 2015