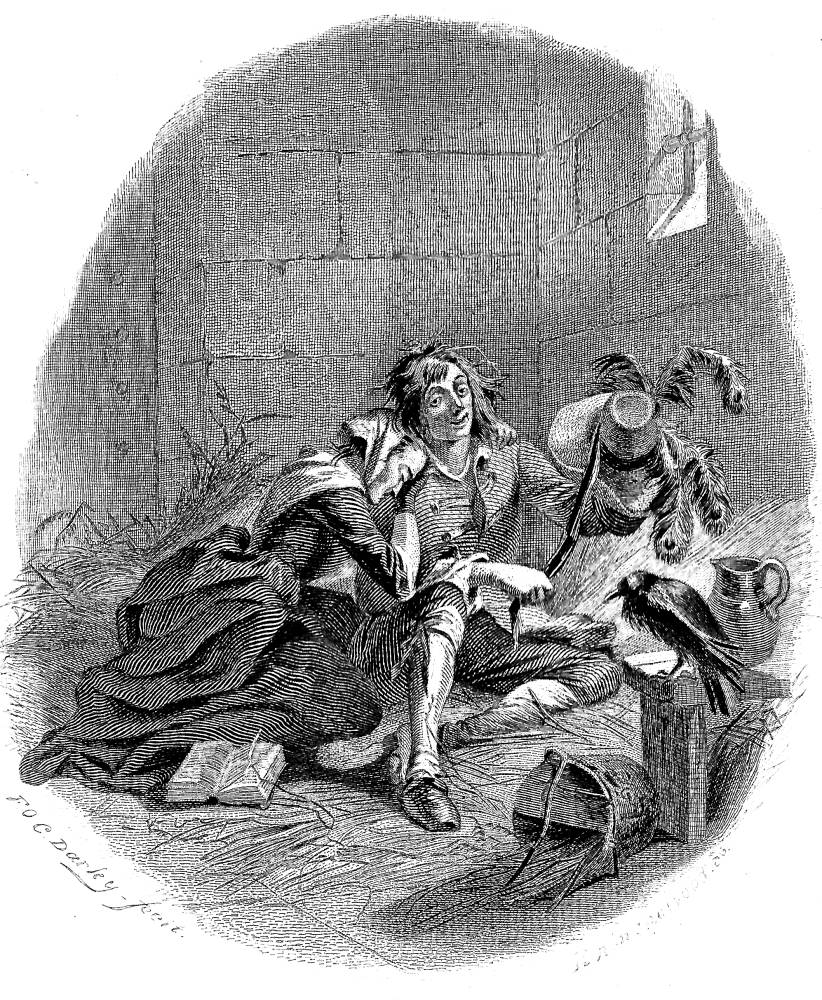 When she dropped the book she had been reading to him aloud, and fell upon his neck . .
Felix O. C. Darley
1862
9.8 x 8.4 cm vignetted
Photogravure
Frontispiece to vol. 3 of Dickens's Barnaby Rudge. A Tale of the Riots of 'Eighty, in the Sheldon and Company (New York) Household Edition (1861-71).
Scanned image and text by Philip V. Allingham from his own collection.
[You may use these images without prior permission for any scholarly or educational purpose as long as you (1) credit the photographer and (2) link your document to this URL in a web document or cite the Victorian Web in a print one.]
​
Passage Illustrated
Barnaby was to die. There was no hope. It is not the least evil attendant upon the frequent exhibition of this last dread punishment, of Death, that it hardens the minds of those who deal it out, and makes them, though they be amiable men in other respects, indifferent to, or unconscious of, their great responsibility. The word had gone forth that Barnaby was to die. It went forth, every month, for lighter crimes. It was a thing so common, that very few were startled by the awful sentence, or cared to question its propriety. Just then, too, when the law had been so flagrantly outraged, its dignity must be asserted. The symbol of its dignity, — stamped upon every page of the criminal statute-book, — was the gallows; and Barnaby was to die.
They had tried to save him. The locksmith had carried petitions and memorials to the fountain-head, with his own hands. But the well was not one of mercy, and Barnaby was to die.
From the first his mother had never left him, save at night; and with her beside him, he was as usual contented. On this last day, he was more elated and more proud than he had been yet; and when she dropped the book she had been reading to him aloud, and fell upon his neck, he stopped in his busy task of folding a piece of crape about his hat, and wondered at her anguish. Grip uttered a feeble croak, half in encouragement, it seemed, and half in remonstrance, but he wanted heart to sustain it, and lapsed abruptly into silence.
With them who stood upon the brink of the great gulf which none can see beyond, Time, so soon to lose itself in vast Eternity, rolled on like a mighty river, swollen and rapid as it nears the sea. It was morning but now; they had sat and talked together in a dream; and here was evening. The dreadful hour of separation, which even yesterday had seemed so distant, was at hand. — chapter 76, pages 234-235.
Commentary
Dickens's original illustrators for part-publication, H. K. Browne and George Cattermole, realised several scenes involving the eponymous character and his pet raven, a subject to which Darley reverted three decades later in Character Sketches from Dickens.
In chapter seventy-six​of the third volume, the eponymous character, the good-hearted,​mentally challenged Barnaby, is sentenced for his part in the Gordon Riots,​ despite the fact that he was only swept up by the rioters and was in no way a leader of the insurrection. In the original weekly serial in Master Humphrey's​ Clock, ​Hablot Knight Browne had provided Darley with a possible model for this 1862 illustration in a scene containing Barnaby, Grip the raven, and Barnaby's mother in a Newgate Prison cell, In the Condemned Cell (Chapter 76, Part 39, 6 November 1841). Perhaps because he does not fully comprehend his circumstances, Barnaby is calm while the other two awaiting their deaths exhibit disturbed mental states: Hugh remains angry and defiant; Dennis, terrified, keeps hoping for a last-minute reprieve. Only Barnaby faces the ordeal with friends and family, for, as his mother keeps him company through the day, reading to him, the locksmith, Gabriel Varden, is attempting to arrange for a pardon. Since his death would hardly serve the Victorians' notions of Divine Providence and poetic justice, Barnaby is ultimately reprieved, and lives out the remainder of life in bucolic tranquility on Maypole Farm.
An examination of Phiz's parallel illustration reveals not only the degree of Darley's indebtedness, but also his unique qualities as an illustrator. For example, although Phiz makes of the feathers in Barnaby's hat, Darley specifies peacock feathers — something of an extravagance for one from so humble a social station which nevertheless provide visual and textural appeal. More significantly, Darley reveals the face of the sleeping Mrs. Rudge and dresses her in a pious fashion. Since Phiz's raven is obviously too small compared to his representations in previous Phiz illustrations, Darley both enlarges the bird and moves him considerably closer to his owner (right). Darley replaces two barred windows with a single one, making the sign of the cross, and shows much more clearly such background details as the straw, the open book, the bucket, the bench, and the noble pitcher. Finally, and most significantly, whereas Phiz's Barnaby is focussing on the task of wrapping his hat with funereal cloth, in the Darley illustration Barnaby's gaze is not so much upon his hat as upon the viewer, as if he is engaging with the reader. Moreover, Darley's figures occupy more of the picture, so that Darley does not lose his figures in the composition and develops Barnaby's character subtly in realising the following passage (given as a caption for the picture, without reference to either chapter or page) in this masterful photogravure: "When she dropped the book she had been reading to him aloud, and fell upon his neck, he stopped in his busy task of folding a piece of crape about his hat." [F. O. C. Darley fecit.] — Ch. 76, p. 235.
Relevant Illustrations from the Serial (1841), 1867 Diamond Edition, and the 1888​ "Sketches"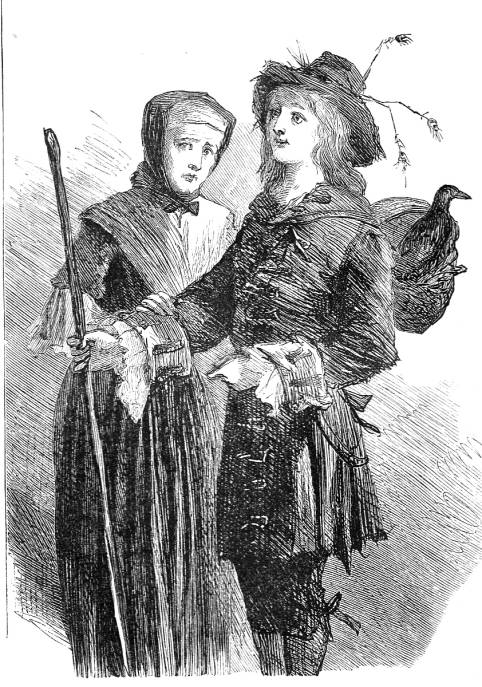 Left: Phiz's In the Condemned Cell (1841). Centre: Sol Eytinge, Juniors's (1867). Right:​F. O. C. Darley's later character study, Barnaby Rudge​and Grip the Raven (1888). [Click on images to enlarge them.]
References
Bentley, Nicolas, Michael Slater, and Nina Burgis. The Dickens Index. New York and Oxford: Oxford U. P., 1990.
Darley, Felix Octavius Carr. Character Sketches from Dickens. Philadelphia: Porter and Coates, 1888.
Davis, Paul. Charles Dickens A to Z: The Essential Reference to His Life and Work. New York: Facts On File, 1998.
Dickens, Charles. Barnaby Rudge. Illustrated by George Cattermole and Hablot Knight Browne. London: Bradbury and Evans, 1849.
Dickens, Charles. Barnaby Rudge. Illustrated by Felix Octavius Carr Darley and Gilbert. New York: Sheldon and Co., 1862. 2 vols.
Dickens, Charles. Barnaby Rudge. Ed. Kathleen Tillotson. Illustrated by Hablot K. Browne ('Phiz') and George Cattermole. The New Oxford Illustrated Dickens. London: Oxford University Press, 1954, rpt. 1987.
Hammerton, J. A. "Chapter 14: Barnaby Rudge." The Dickens Picture-Book. The Charles Dickens Library Edition. London: Educational Book, 1910. Vol. 1​7​, pp. 213-265.
Vann, J. Don. Victorian Novels in Serial. New York: Modern Language Association, 1985.
---

Victorian
Web

Visual
Arts

Illustra-
tion

Barnaby
Rudge

F. O. C.
Darley

Next
Last modified 2 November 2015