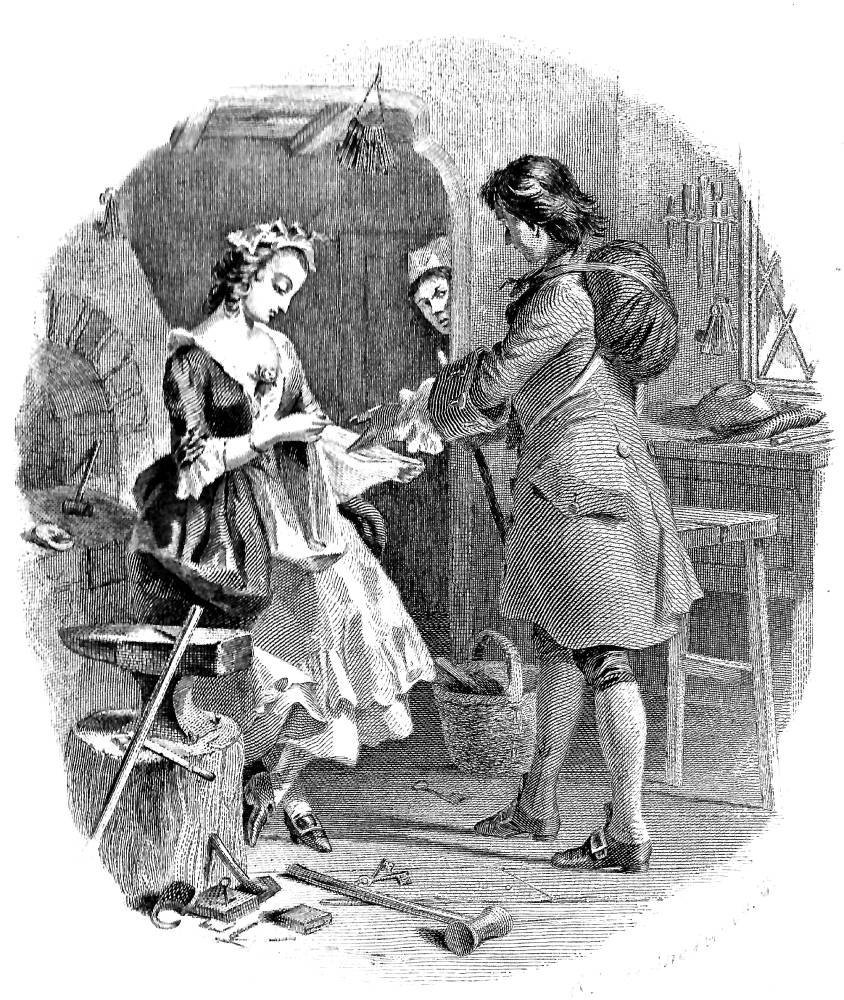 "Come," said Joe, putting out both hands . . .
Felix O. C. Darley
1862
9.7 x 8.3 cm vignetted
Photogravure
Frontispiece to vol. 2 of Dickens's Barnaby Rudge. A Tale of the Riots of 'Eighty, in the Sheldon and Company (New York) Household Edition (1861-71).
Scanned image and text by Philip V. Allingham from his own collection.
[You may use these images without prior permission for any scholarly or educational purpose as long as you (1) credit the photographer and (2) link your document to this URL in a web document or cite the Victorian Web in a print one.]
​
Passage Illustrated
Dolly hesitated to lead the way into the parlour, for there it was nearly dark; at the same time she hesitated to stand talking in the workshop, which was yet light and open to the street. They had got by some means, too, before the little forge; and Joe having her hand in his (which he had no right to have, for Dolly only gave it him to shake), it was so like standing before some homely altar being married, that it was the most embarrassing state of things in the world.
"I have come," said Joe, "to say good-by — to say good-by for I don't know how many years; perhaps for-ever. I am going abroad."
Now this was exactly what he should not have said. Here he was, talking like a gentleman at large who was free to come and go and roam about the world at pleasure, when that gallant coachmaker had vowed but the night before that Miss Varden held him bound in adamantine chains; and had positively stated in so many words that she was killing him by inches, and that in a fortnight more or thereabouts he expected to make a decent end and leave the business to his mother.
Dolly released her hand and said "Indeed!" She remarked in the same breath that it was a fine night, and in short, betrayed no more emotion than the forge itself.
"I couldn't go," said Joe, "without coming to see you. I hadn't the heart to."
Dolly was more sorry than she could tell, that he should have taken so much trouble. It was such a long way, and he must have such a deal to do. And how was Mr. Willet — that dear old gentleman" —
"Is this all you say!" cried Joe.
All! Good gracious, what did the man expect! She was obliged to take her apron in her hand and run her eyes along the hem from corner to corner, to keep herself from laughing in his face; — not because his gaze confused her — not at all.
Joe had small experience in love-affairs, and had no notion how different young ladies are at different times; he had expected to take Dolly up again at the very point where he had left her after that delicious evening ride, and was no more prepared for such an alteration than to see the sun and moon change places. He had buoyed himself up all day with an indistinct idea that she would certainly say "Don't go," or "Don't leave us," or "Why do you go?" or "Why do you leave us?" or would give him some little encouragement of that sort; he had even entertained the possibility of her bursting into tears, of her throwing herself into his arms, of her falling down in a fainting fit without previous word or sign; but any approach to such a line of conduct as this, had been so far from his thoughts that he could only look at her in silent wonder.
Dolly in the mean while turned to the corners of her apron, and measured the sides, and smoothed out the wrinkles, and was as silent as he. At last, after a long pause, Joe said good-by. "Good-by," — said Dolly — with as pleasant a smile as if he were going into the next street, and were coming back to supper; "good-by."
"Come," said Joe, putting out both hands, "Dolly, dear Dolly, don't let us part like this. I love you dearly, with all my heart and soul; with as much truth and earnestness as ever man loved woman in this world, I do believe. I am a poor fellow, as you know — poorer now than ever, for I have fled from home, not being able to bear it any longer, and must fight my own way without help. You are beautiful, admired, are loved by everybody, are well off and happy; and may you ever be so! Heaven forbid I should ever make you otherwise; but give me a word of comfort. Say something kind to me. I have no right to expect it of you, I know, but I ask it because I love you, and shall treasure the slightest word from you all through my life. Dolly, dearest, have you nothing to say to me?" — Chapter 31, pages 44-46.
Commentary
Dickens's original illustrators for part-publication, Phiz (H. K. Browne) and George Cattermole, realised several scenes involving the youthful protagonists of the story's romance. In chapter thirty-one of the second volume, Darley depicts Joe Willet, son the all-too-controlling proprietor of The Maypole Inn near Chigwell, determined to assert his independence from his father by joining the army. Darley's illustration, like the one Phiz created for the book's initial publication showing the jealous apprentice, Sim Tappertit, overhearing the tender conversation, a scene which Darley has both studied and assimilated, giving the figures a more modelled form and conveying the situation with a more realistic eye than the earlier illustrator. Darley chose to focus almost exclusively on the youthful couple themselves, making the heroine seem less self-centred than she appears in both Dickens's text and Phiz's illustration, but detailing admirably where the parting occurs. Whereas in the Phiz illustration Joe holds his stick and bundle in both hands, as he prepares to set off in search of glory and wealth as an enlistee in the King's army, in Darley's illustration we cannot judge his expression because her is turned away from us, and his pack is now strapped to his back so that he has both hands free to make his entreaty.
Even so charming and sympathetic a young woman as Dolly Varden, daughter of the London locksmith Gabriel Varden, could at times be a coquette, enjoying her power over such young men as the handsome Joe Willet (dominating the right of the Darley composition). For his choice of scene, both Darley and, later, Harold Copping in this instance had a ready-made model from Phiz's original illustration for the serialized version of the novel, Joe bids Dolly Good-bye (chapter 31, in part 17 of the serial in Master Humphrey's Clock (5 June 1841). The scene which Phiz had set theatrically in the forge (on the way to the parlour) in the locksmith's London home-business, The Golden Key, with fireplace, anvil, and tools, here Darley realises economically but effectively, and yet with a greater emphasis on the young couple. Darley pushes the realia of the background detailing to the scene's periphery: hammers and locks are strewn about the anvil in the left foreground to suggest that the locksmith's labour has been temporarily interrupted. The beautiful Dolly (less self-absorbed than in Phiz's illustration, but more comely) plays with her apron rather than, as in Phiz's plate, her hair-ribbon, but likewise seems to be avoiding the scrutinizing gaze of her departing lover. The background detailing makes the setting of the forge entirely credible, with a bunch of keys above the figures and basket, stool, workbench, and neatly ordered tools all conveying precisely the nature of the labour executed there. However, Darley does not lose figures in the composition and makes Joe more dynamic; Joe's gesture of heart-felt entreaty suggests that this is the narrative moment (indicated by Darley's caption) so elegantly and sentimentally realised in the 1862 photogravure:
"Come," said Joe, putting out both hands, "Dolly, dear Dolly, don't let us part like this. I love you dearly, with all my heart and soul. . . ." — ch. 31, p. 46.
Only after Joe has said a reluctant farewell to an undemonstrative Dolly does the reader of the text become aware of the presence of Sim Tappertit, Varden's self-centred apprentice, who in Darley's illustration is critical of the scene but who in Phiz's plate seems delighted with the discomfiture and departure of his chief rival. The focus in Darley's plate is thus not the irony of the situation nor the scene's place in the narrative-pictorial sequence, but rather the determination of the young man (back toward the reader) to elicit some sign and word of tender feeling on the part of the vain Dolly. Both the handsome Joe Willet and the coquettish Dolly are dressed very much in the upper-middle class fashions of the late eighteenth century, a manner of dress that the illustrator may have divined from studying the serial plate, although, as Henry James has noted, the England of the eighteenth century was Darley's natural milieu.
Relevant Illustrations from the Serial (1841), 1867 Diamond Edition, and 1924 "Sketches"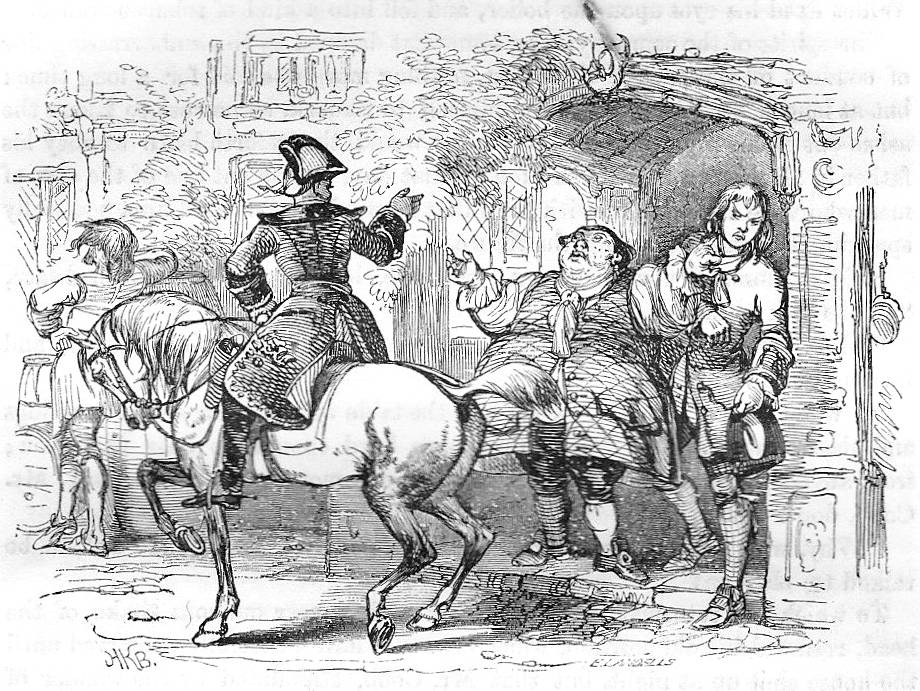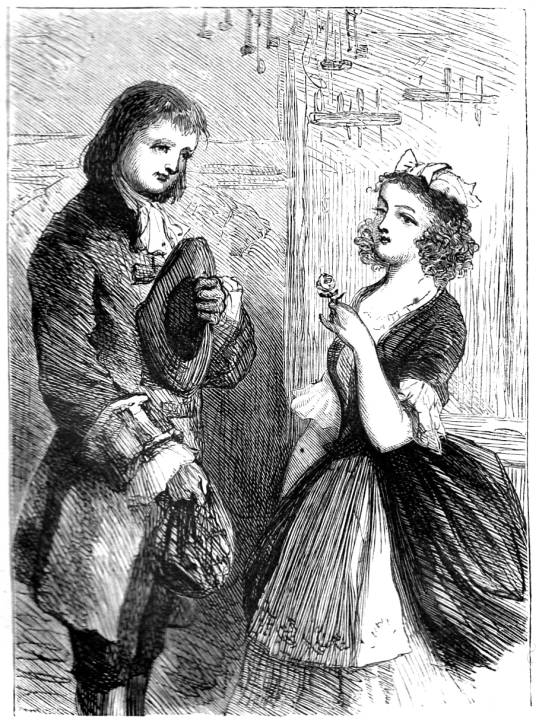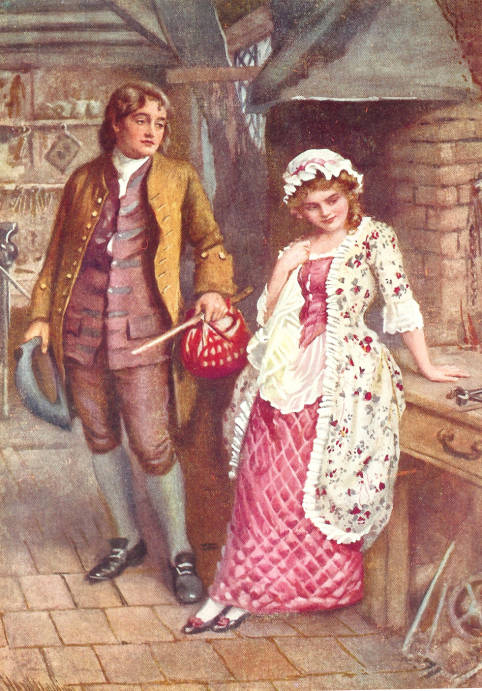 Left: Phiz's Joe Willet bids Dolly Good-bye (1841). Centre: Sol Eytinge, Juniors's Joe Willet and Dolly Varden (1867). Right: Harold Copping's Joe Willet and Dolly Varden (1924). [Click on images to enlarge them.]
References
Bentley, Nicolas, Michael Slater, and Nina Burgis. The Dickens Index. New York and Oxford: Oxford U. P., 1990.
Darley, Felix Octavius Carr. Character Sketches from Dickens. Philadelphia: Porter and Coates, 1888.
Davis, Paul. Charles Dickens A to Z: The Essential Reference to His Life and Work. New York: Facts On File, 1998.
Dickens, Charles. Barnaby Rudge. Illustrated by George Cattermole and Hablot Knight Browne. London: Bradbury and Evans, 1849.
Dickens, Charles. Barnaby Rudge. Illustrated by Felix Octavius Carr Darley and Gilbert. New York: Sheldon and Co., 1862. 2 vols.
Dickens, Charles. Barnaby Rudge. Ed. Kathleen Tillotson. Illustrated by Hablot K. Browne ('Phiz') and George Cattermole. The New Oxford Illustrated Dickens. London: Oxford University Press, 1954, rpt. 1987.
Hammerton, J. A. "Chapter 14: Barnaby Rudge." The Dickens Picture-Book. The Charles Dickens Library Edition. London: Educational Book, 1910. Vol. 17, pp. 213-265.
Matz, B. W., and Kate Perugini; illustrated by Harold Copping. Character Sketches from Dickens. London: Raphael Tuck, 1924.
Vann, J. Don. Victorian Novels in Serial. New York: Modern Language Association, 1985.
---

Victorian
Web

Visual
Arts

Illustra-
tion

Barnaby
Rudge

F. O. C.
Darley

Next
Last modified 2 November 2015