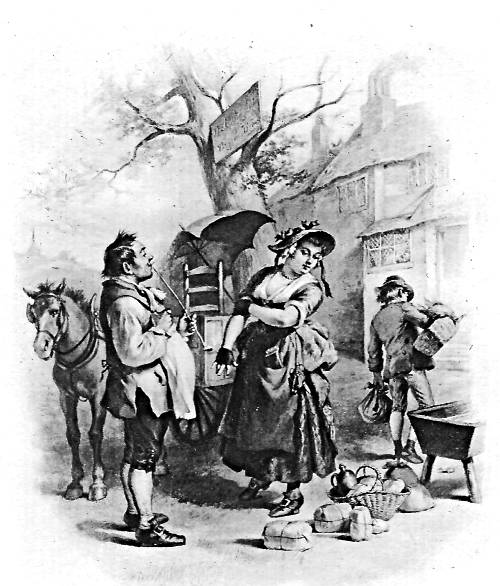 Mine Host of "The Nutmeg Grater" — Benjamin Britain & Clemency
Felix O. C. Darley
1888
Photogravure
11.2 by 9 cm vignetted
Dickens's The Battle of Life, as realised in No. 13 of Character Sketches from Dickens (1888).
Scanned image and text by Philip V. Allingham.
[You may use this image without prior permission for any scholarly or educational purpose as long as you (1) credit the person who scanned the image and (2) link your document to this URL in a web document or cite the Victorian Web in a print one.]
Passages Illustrated
A chaise-cart, driven by a boy, came clattering along the road: and seated in it, in a chair, with a large well-saturated umbrella spread out to dry behind her, was the plump figure of a matronly woman, with her bare arms folded across a basket which she carried on her knee, several other baskets and parcels lying crowded around her, and a certain bright good nature in her face and contented awkwardness in her manner, as she jogged to and fro with the motion of her carriage, which smacked of old times, even in the distance. Upon her nearer approach, this relish of by-gone days was not diminished; and when the cart stopped at the Nutmeg-Grater door, a pair of shoes, alighting from it, slipped nimbly through Mr. Britain's open arms, and came down with a substantial weight upon the pathway, which shoes could hardly have belonged to any one but Clemency Newcome. . . . — The Battle of Life, "Part the Third," 1846 edition, p. 129-130; Christmas Stories, Household Edition, vol. 2, p.​124.
Mr. Britain heaved a sigh, and shook his head, and said he couldn't make it out: he had left off trying long ago. With that remark, he applied himself to putting up the bill just inside the bar window. Clemency, after meditating in silence for a few moments, roused herself, cleared her thoughtful brow, and bustled off to look after the children. — "Part the Third," 1846 edition, p. 133; Christmas Stories, Household Edition, vol. 2, p.​127.
Relevant Illustrations from 1846, 1867, 1876, 1878, and 1910 Editions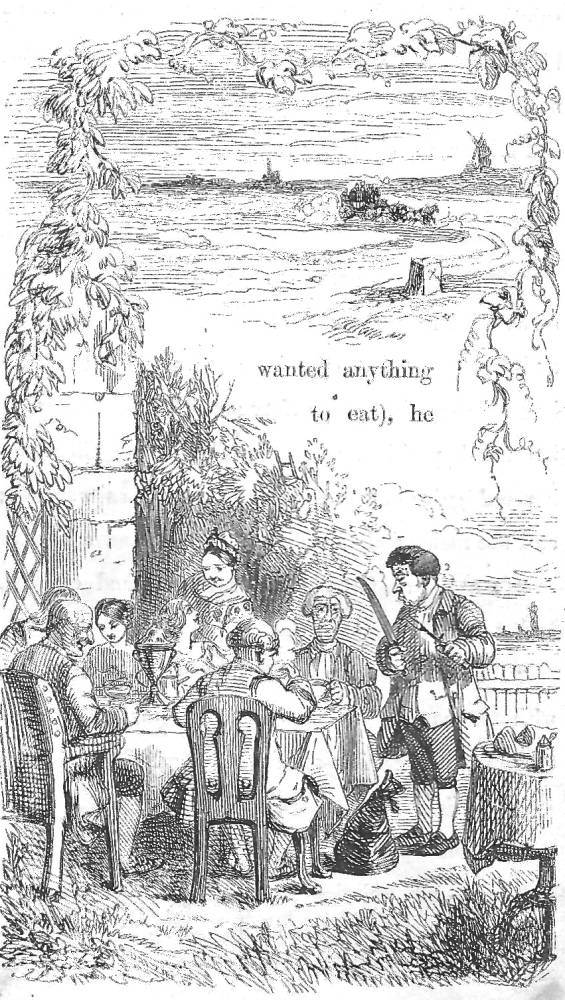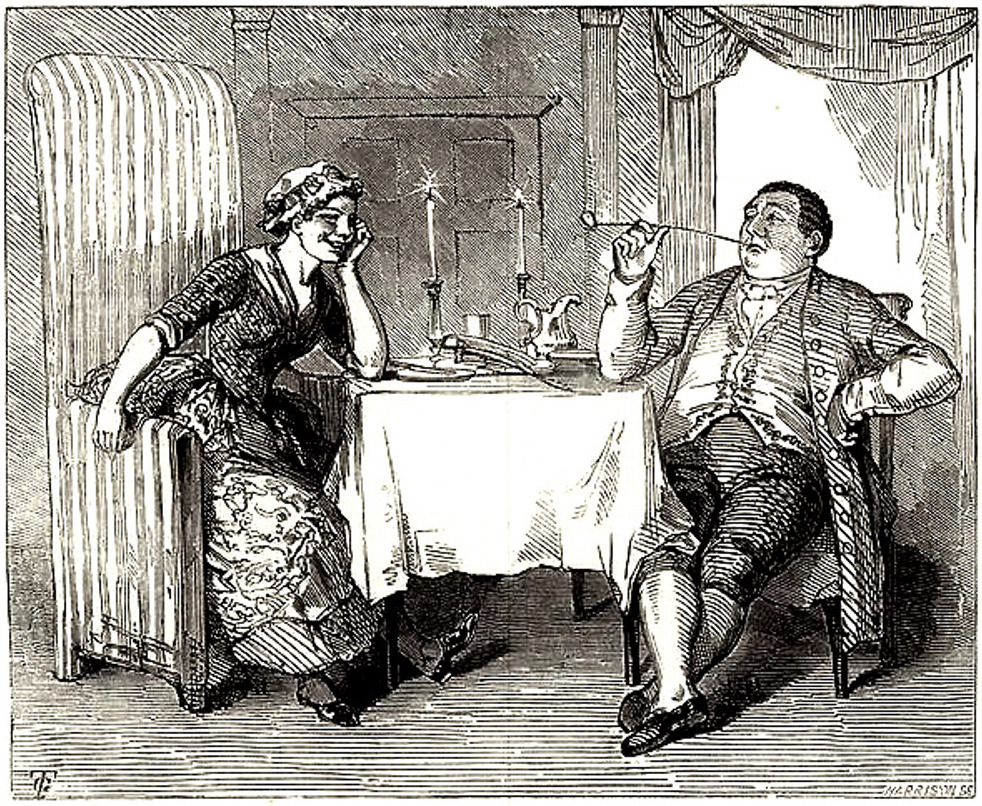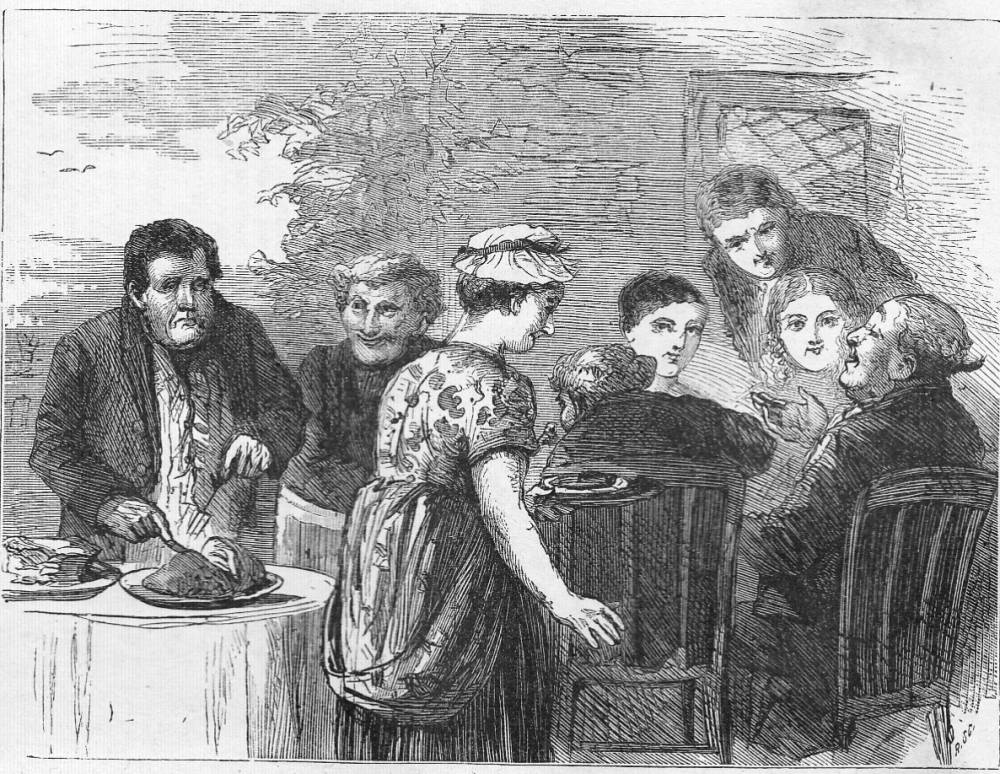 Left: John Leech's The Parting Breakfast; centre, contemporary illustration from theatrical review Scene from "The Battle of Life," at the Lyceum Theatre: Clemency, Mrs. Keeley; Britain, Mr. Keeley; right, Sol Eytinge, Junior's Diamond Edition illustration of the dour Benjamine Britain and lively Clemency Newcome in The Breakfast (1867). [Click on images to enlarge them.]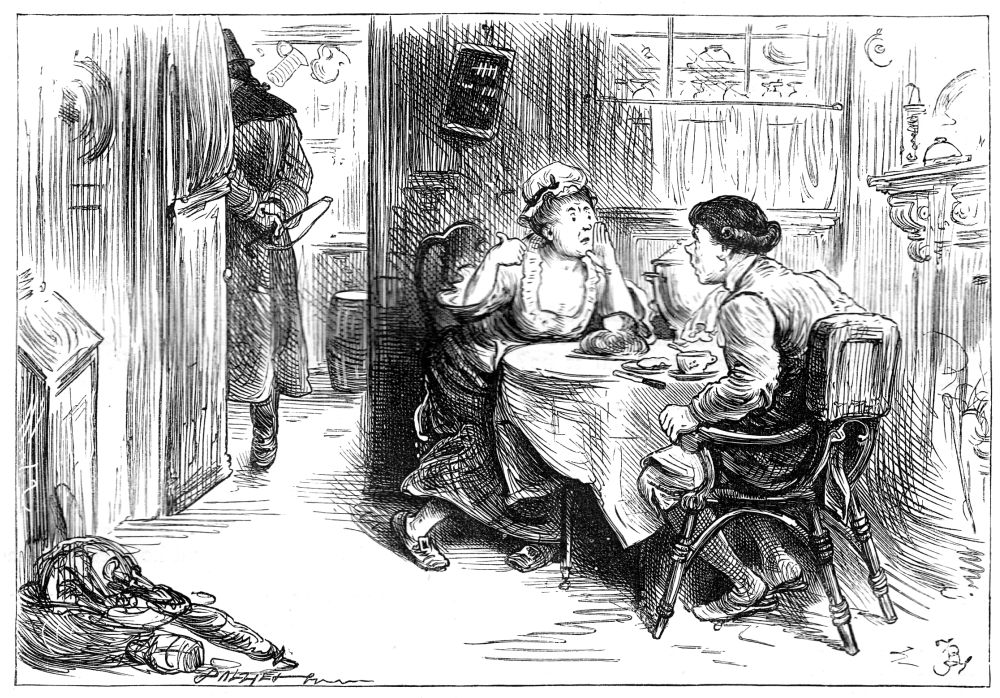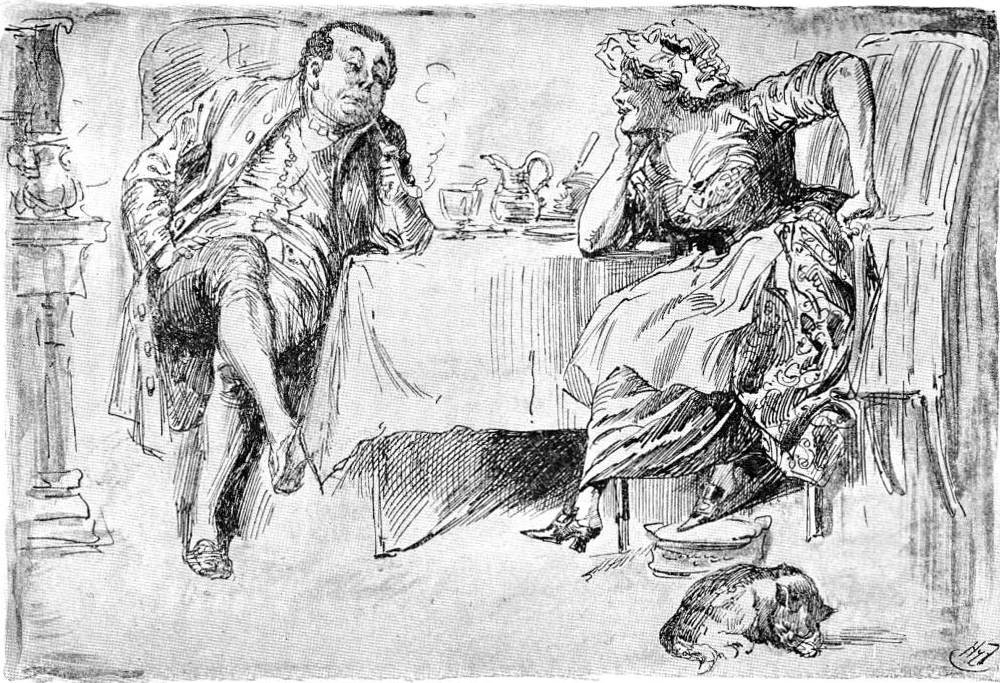 Left: E. A. Abbey's "'Meat?' said Britain, approaching Mr. Snitchey, with the carving knife and fork in his hands, and throwing the question at him like a missile" (1876). Centre, Fred Barnard's "Guessed half aloud 'milk and water,' 'monthly warning,' 'mice and walnuts' — and couldn't approach her meaning" (1878). Right: Harry Furniss's impressionistic treatment of the comic servants before they become prosperous publicans in "Clemency and Britain" (1910). [Click on images to enlarge them.]
Commentary
Whereas many of the story's illustrators have conceived of the comic man and woman of the domestic melodrama (as represented in The Battle of Life by deadpan Benjamin Britain and lively but somewhat scattered Clemency Newcome) as Dr. Jeddler's servants, Darley realizes them as they exist at the close of the story, after they have left Dr. Jeddler's households and set up shop as publicans at The Nutmeg Grater, picturesquely rendered by seascape and landscape painter Clarkson Stanfield in the original edition in 1846, an illustration in which the publican is reduced to a tiny figure in the doorway, centre. Indeed, only Fred Barnard in the British Household Edition among the other illustrators whose work Darley might have studied has chosen depict Benjamin and Clemency as husband and wife, and as solid members of the middle class. Darley prefers to realise the couple as comfortably circumstanced inn-keepers, in markedly eighteenth-century garb, with Britain transformed by independence from his dour and sour former self. No longer is his face "remarkably discontented," and his manner curt as he comfortably puffs on his long-stemmed flayed pipe:
On the door-step, appeared a proper figure of a landlord, too; for though he was a short man, he was round and broad; and stood with his hands in his pockets, and his legs just wide enough apart to express a mind at rest upon the subject of the cellar, and an easy confidence — too calm and virtuous to become a swagger — in the general resources of the Inn. — The Battle of Life. A Love Story, "Part the Third," 1846 edition, p. 126; Christmas Stories, Household Edition, vol. 2, p.​122.
Although Darley's title suggests that he is focussing on the innkeeper, the picture conveys both a sense of the innyard and the character of Benjamin's wife, carrying the "well-saturated umbrella." Both are fashionably dressed bourgeoisie, and the inn in the background looks prosperous and well kept up. While Benjamin Britain is a homely, short, middle-aged, complacent publican, Darley's Clemency is rather attractive, and neither especially "plump" or "matronly," or even "awkward." In other words, while Benjamin has changed somewhat in appearance and considerably in disposition, according to the text, if not the illustrator, Clemency is supposed to look much the same as when Dickens first introduced her:
She was about thirty years old, and had a sufficiently plump and cheerful face, though it was twisted up into an odd expression of tightness that made it comical. But, the extraordinary homeliness of her gait and manner, would have superseded any face in the world. To say that she had two left legs, and somebody else's arms, and that all four limbs seemed to be out of joint, and to start from perfectly wrong places when they were set in motion, is to offer the mildest outline of the reality. To say that she was perfectly content and satisfied with these arrangements, and regarded them as being no business of hers, and that she took her arms and legs as they came, and allowed them to dispose of themselves just as it happened, is to render faint justice to her equanimity. Her dress was a prodigious pair of self-willed shoes, that never wanted to go where her feet went; blue stockings; a printed gown of many colours, and the most hideous pattern procurable for money; and a white apron. She always wore short sleeves, and always had, by some accident, grazed elbows, in which she took so lively an interest, that she was continually trying to turn them round and get impossible views of them. In general, a little cap placed somewhere on her head; though it was rarely to be met with in the place usually occupied in other subjects, by that article of dress; but, from head to foot she was scrupulously clean, and maintained a kind of dislocated tidiness. Indeed, her laudable anxiety to be tidy and compact in her own conscience as well as in the public eye, gave rise to one of her most startling evolutions, which was to grasp herself s ometimes by a sort of wooden handle (part of her clothing, and familiarly called a busk), and wrestle as it were with her garments, until they fell into a symmetrical arrangement. — The Battle of Life. A Love Story, "Part the First," 1846 edition, p. 20-21; Christmas Stories, Household Edition, vol. 2, pp.​58-59.
Darley underscores the inward change in Clemency by showing the servant, Harry, prominently as he carries parcels in from the chaise-cart; Dickens mentions that Clemency, although much the same physically, has assumed an administrative position, directing the affairs and paperwork associated with running an inn. That the business is doing well is suggested by the fact that even the servant, Harry, appears to be well-dressed.
Bibliography
Bentley, Nicolas, Michael Slater, and Nina Burgis. The Dickens Index. New York and Oxford: Oxford U. P., 1990.
Bolton, Theodore. The Book Illustrations of Felix Octavius Carr Darley (1951). Worcester, Mass: American Antiquarian Society, 1952.
Cohen, Jane Rabb. "John Leech." Charles Dickens and His Original Illustrators. Columbus, Ohio: Ohio U. P., 1980. Pp. 141-151.
Darley, Felix Octavius Carr. Character Sketches from Dickens. Philadelphia: Porter and Coates, 1888.
Davis, Paul. . Charles Dickens A to Z: The Essential Reference to His Life and Work. New York: Facts On File, 1998.
Dickens, Charles. The Battle of Life. A Love Story. Illustrated by John Leech, Daniel Maclise, Richard Doyle, and Clarkson Stanfield. London: Bradbury and Evans, 1846.
Dickens, Charles. The Battle of Life. A Love Story. Christmas Stories. Illustrated by F. O. C. Darley. Household Edition. 55 vols. New York: James G. Gregory, 1861. Vol. 2.
Dickens, Charles. The Christmas Books. Illustrated by Sol Eytinge, Jr. The Diamond Edition. 16 vols. Boston: Ticknor and Fields, 1867.
Dickens, Charles. Christmas Books. Illustrated by Fred Barnard. The Household Edition. 22 vols. London: Chapman and Hall, 1878. Vol. 17.
Dickens, Charles. The Christmas Books. Illustrated by Harry Furniss. Charles Dickens Library Edition. 18 vols. London: Educational Book Company, 1910. Vol. 8.
Dickens, Charles. Christmas Stories. Illustrated by E. A. Abbey. The Household Edition. 16 vols. New York: Harper & Brothers, 1876.
"Scene from The Battle of Life, at the Lyceum Theatre: Clemency, Mrs. Keeley; Britain, Mr. Keeley." The Illustrated London News, 26 December 1846: page 413.
Thomas, Deborah A. Dickens and The Short Story. Philadelphia: U. Pennsylvania Press, 1982.
---

Victorian
Web

Illustra-
tion

F. O. C.
Darley

Charles
Dickens

Next
Last modified 24 March 2016