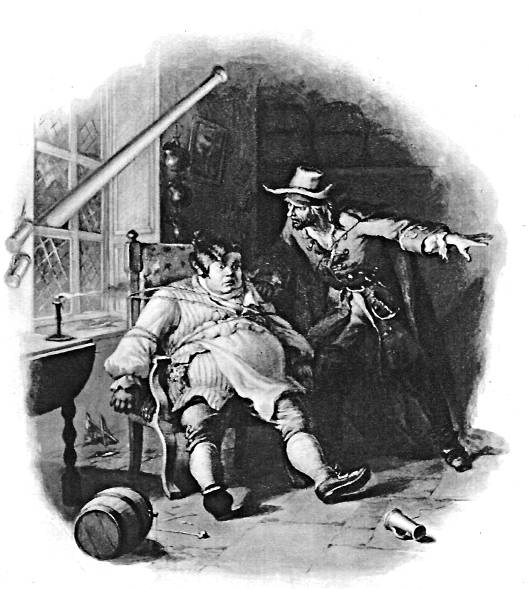 Old Rudge and John Willet
Felix O. C. Darley
1888
Photogravure
11.4 by 10 cm vignetted
Dickens's Barnaby Rudge, as realised in Character Sketches from Dickens (1888).
Scanned image and text by Philip V. Allingham.
[You may use this image without prior permission for any scholarly or educational purpose as long as you (1) credit the person who scanned the image and (2) link your document to this URL in a web document or cite the Victorian Web in a print one.].
Passage Illustrated
By and by he heard a footstep — a hurried, and yet cautious footstep — coming on towards the house. It stopped, advanced again, then seemed to go quite round it. Having done that, it came beneath the window, and a head looked in.
It was strongly relieved against the darkness outside by the glare of the guttering candles. A pale, worn, withered face; the eyes — but that was owing to its gaunt condition — unnaturally large and bright; the hair, a grizzled black. It gave a searching glance all round the room, and a deep voice said:
"Are you alone in this house?"
John made no sign, though the question was repeated twice, and he heard it distinctly. After a moment's pause, the man got in at the window. John was not at all surprised at this, either. There had been so much getting in and out of window in the course of the last hour or so, that he had quite forgotten the door, and seemed to have lived among such exercises from infancy.
The man wore a large, dark, faded cloak, and a slouched hat; he walked up close to John, and looked at him. John returned the compliment with interest.
How long have you been sitting thus?' said the man.
John considered, but nothing came of it.
"Which way have the party gone?"
Some wandering speculations relative to the fashion of the stranger's boots, got into Mr. Willet's mind by some accident or other, but they got out again in a hurry, and left him in his former state.
"That!" said John, finding his voice all at once, and nodding with perfect good faith — he couldn't point; he was so tightly bound —,in exactly the opposite direction to the right one.
"You lie!" said the man angrily, and with a threatening gesture. "I came that way. You would betray me."— Chapter LV, p. 502-503 in the Penguin edition; Household Edition, vol. 2, p. 305-306.
Commentary
Dickens's official illustrators for Barnaby Rudge, George Cattermole and Hablot Knight Browne enjoy making the host of the Maypole, John Willet, an obtuse but convivial publication, a figure of fun not to be taken seriously, even when the rampaging "No Popery" mob has swept through The Maypole and trussed him up like a Christmas turkey. The dull-witted, complacent host of The Maypole, himself a sort of John Bull character suggesting the outmoded thinking of the previous generation, appears some seven times in their seventy-six illustrations, which initially appeared in Master Humphrey's Clock 13 February through 27 November 1841. However, they depict Old Rudge, formerly steward to Reuben Haredale, a mere four times, because, having murdered his master and substituted the gardener's body for his own, he must lead a clandestine existence, reappearing only occasionally at his wife's cottage to extort money from her. In the illustration for chapter 17, Barnaby Greets His Mother, we glimpse Old Rudge peering out from a closet, and really have no sense of his appearance until chapter 62 in the Browne illustration Father and Son. Although Dickens mentions the shadowy figure as the robber on the Chigwell Road in the third chapter and brings him onstage momentarily as the "phantom" in chapter 17, he remains a shrouded and enigmatic presence in Phiz's illustration of the captive John Willet, Old John ast a Disadvantage, in which, as Dickens describes, a stupefied John Willet stares about anxiously him at the loss of everything he has held dear:
John Willet, left alone in his dismantled bar, continued to sit staring about him; awake as to his eyes, certainly, but with all his powers of reason and reflection in a sound and dreamless sleep. He looked round upon the room which had been for years, and was within an hour ago, the pride of his heart; and not a muscle of his face was moved. The night, without, looked black and cold through the dreary gaps in the casement; the precious liquids, now nearly leaked away, dripped with a hollow sound upon the floor; the Maypole peered ruefully in through the broken window, like the bowsprit of a wrecked ship; the ground might have been the bottom of the sea, it was so strewn with p recious fragments. Currents of air rushed in, as the old doors jarred and creaked upon their hinges; the candles flickered and guttered down, and made long winding-sheets; the cheery deep-red curtains flapped and fluttered idly in the wind; even the stout Dutch kegs, overthrown and lying empty in dark corners, seemed the mere husks of good fellows whose jollity had departed, and who could kindle with a friendly glow no more. John saw this desolation, and yet saw it not. He was perfectly contented to sit there, staring at it, and felt no more indignation or discomfort in his bonds than if they had been robes of honour. So far as he was personally concerned, old Time lay snoring, and the world stood still. [Chapter 55, p. 500 in the Penguin edition]
With a strong sense of the dramatic, Darley draws upon these images of destruction and of the amazed publican trussed up in his carver beside the leaded pane window and the pole that has given the inn its name, and combines the opening passage with the later dialogue between John and the cloaked stranger (in fact, Old Rudge). Darley lets the empty pewter tankard and the cask on the floor represent the wanton destruction wrought upon the public house by the Gordon rioters, who have moved on to set fire to the manor known as The Warren nearby. The nineteenth-century American illustrator enjoys detailing the eighteenth-century costumes of the captive and his interrogator, and of contrasting lean, almost piratical Rudge's alertness with the obese publican's inertness, as he stares vacantly before him and seems unable to frame a response to Rudge's succession of questions. Only by studying the original serial illustration is one aware of the cloaked figure in the slouch hat who stands before him as he apprehensively looks upstage right. It seems likely that Dickens did not wish his illustrators to reveal much about the "phantom" and "stranger" until much later in the story.
References
Bentley, Nicolas, Michael Slater, and Nina Burgis. The Dickens Index. New York and Oxford: Oxford U. P., 1990.
Bolton, Theodore. The Book Illustrations of Felix Octavius Carr Darley (1951). Worcester, Mass: American Antiquarian Society, 1952.
Darley, Felix Octavius Carr. Character Sketches from Dickens. Philadelphia: Porter and Coates, 1888.
Davis, Paul. . Charles Dickens A to Z: The Essential Reference to His Life and Work. New York: Facts On File, 1998.
Dickens, Charles. Barnaby Rudsge/span>. Illustrated by Phiz and George Cattermole. London: Chapman and Hall, 1841.
Dickens, Charles. Barnaby Rudge: A Tale of the Riots of 'Eighty. Works of Charles Dickens. Household Edition. 55 vols. Illustrated by F. O. C. Darley and John Gilbert. New York: Sheldon and Co., 1865. 3 vols.
Dickens, Charles. Barnaby Rudge. Works of Charles Dickens. Diamond Edition. 18 vols. Illustrated by Sol Eytinge, Jr. Boston: Ticknor and Fields, 1867.
Dickens, Charles. Barnaby Rudge. Works of Charles Dickens. Household Edition. Illustrated by Fred Barnard. London: Chapman and Hall, 1874.
Dickens, Charles. Barnaby Rudge. Works of Charles Dickens. Charles Dickens Library Edition. 18 vols. Illustrated by Harry Furniss. London: Educational Book Company, 1910. Vol. 6.
Dickens, Charles. Barnaby Rudge. Ed. Gordon Spence. Illustrated by Hablot Knight Browne and George Cattermole. Harmondsworth: Penguin, 1977.
Hammerton, J. A. The Dickens Picture-Book. Works of Charles Dickens. Charles Dickens Library Edition. 18 vols. London: Educational Book Company, 1910. Vol. 17.
---

Victorian
Web

Illustra-
tion

Barnaby
Rudge

F. O. C.
Darley

Next
Last modified 18 August 2014