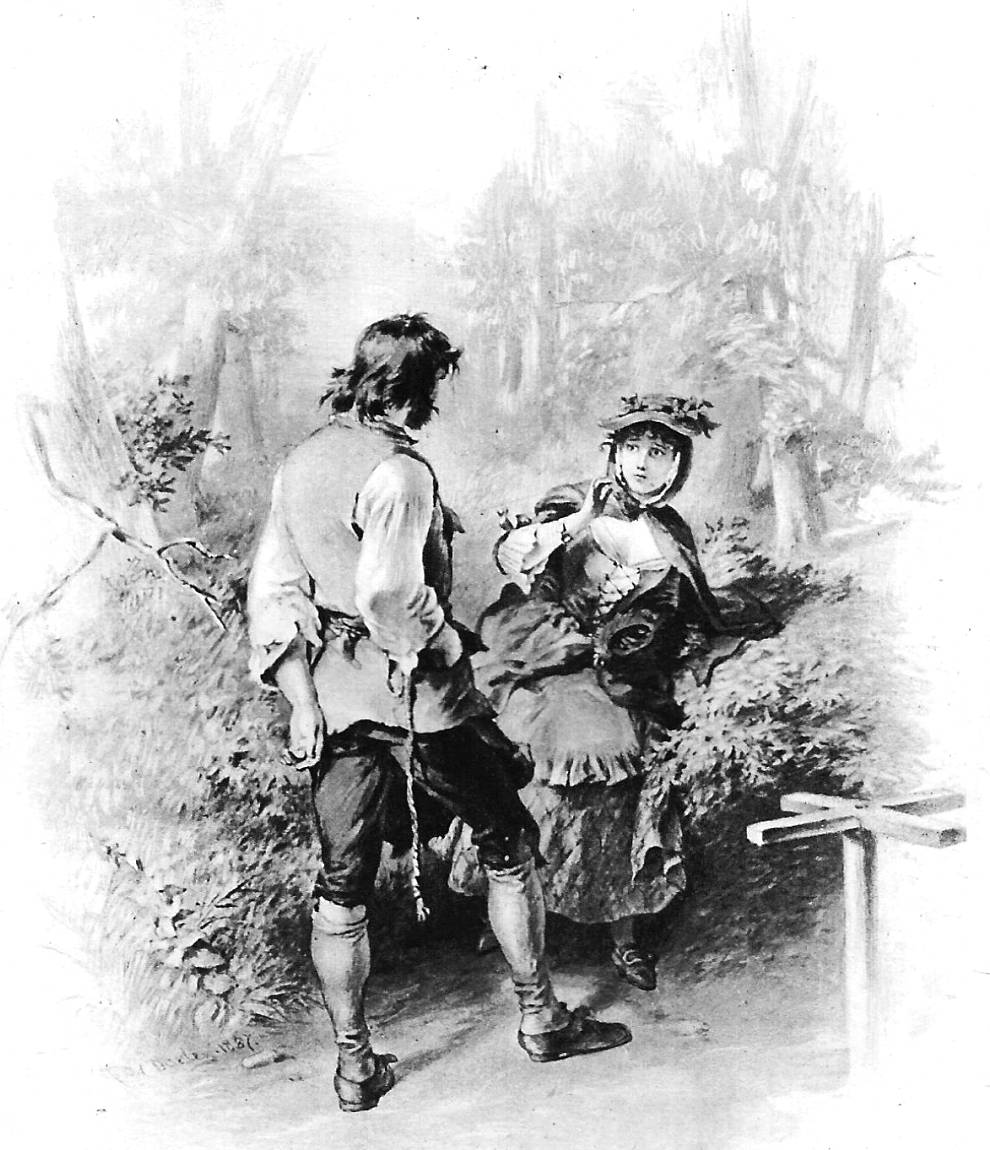 Hugh and Dolly Varden
Felix O. C. Darley
1888
Photogravure
11.4 by 10 cm vignetted
Dickens's Barnaby Rudge, as realised in Character Sketches from Dickens (1888).
Scanned image and text by Philip V. Allingham.
[You may use this image without prior permission for any scholarly or educational purpose as long as you (1) credit the person who scanned the image and (2) link your document to this URL in a web document or cite the Victorian Web in a print one.].
Passage Illustrated
The rough bearing of this fellow, and his wild, uncouth appearance, had often filled the girl with a vague apprehension even when other people were by, and had occasioned her to shrink from him involuntarily. The having him for an unbidden companion in so solitary a place, with the darkness fast gathering about them, renewed and even increased the alarm she had felt at first.
If his manner had been merely dogged and passively fierce, as usual, she would have had no greater dislike to his company than she always felt — perhaps, indeed, would have been rather glad to have had him at hand. But there was something of coarse bold admiration in his look, which terrified her very much. She glanced timidly towards him, uncertain whether to go forward or retreat, and he stood gazing at her like a handsome satyr; and so they remained for some short time without stirring or breaking silence. At length Dolly took courage, shot past him, and hurried on.
"Why do you spend so much breath in avoiding me?" said Hugh, accommodating his pace to hers, and keeping close at her side.
"I wish to get back as quickly as I can, and you walk too near me, answered Dolly."
"Too near!" said Hugh, stooping over her so that she could feel his breath upon her forehead. "Why too near? You're always proud to me, mistress."
"I am proud to no one. You mistake me," answered Dolly. "Fall back, if you please, or go on."
"Nay, mistress," he rejoined, endeavouring to draw her arm through his, "I'll walk with you." — Chapter XXI, p. 217-218 in the Penguin edition; Household Edition, vol. 1, p. 239-240.
Commentary
Dickens's official illustrators for Barnaby Rudge, George Cattermole and Hablot Knight Browne depict the charming heroine of the novel, Dolly Varden, some nine times in their seventy-six illustrations, which initially appeared in Master Humphrey's Clock 13 February through 27 November 1841. Likewise, they depict the loutish Hugh, outlet at the Maypole, ten times, including by himself in the Phiz portrait of an inebriated Hugh in chapter 11 (12 March 1841. Although Dickens introduces Dolly in the fourth chapter simultaneously with Phiz's illustration It's a Poor Heart That Never Rejoices, Dickens offers no description of her, other than that she is the locksmith's "handsome" daughter. For Hugh, on the other hand, Dickens offers a verbal portrait to complement Hablot Knight Browne's full-page portrait of the muscular but inebriated ostler:
There were present two, however, who showed but little interest in the general contentment. Of these, one was Barnaby himself, who slept, or, to avoid being beset with questions, feigned to sleep, in the chimney-corner; the other, Hugh, who, sleeping too, lay stretched upon the bench on the opposite side, in the full glare of the blazing fire.
The light that fell upon this slumbering form, showed it in all its muscular and handsome proportions. It was that of a young man, of a hale athletic figure, and a giant's strength, whose sunburnt face and swarthy throat, overgrown with jet black hair, might have served a painter for a model. Loosely attired, in the coarsest and roughest garb, with scraps of straw and hay — his usual bed — clinging here and there, and mingling with his uncombed locks, he had fallen asleep in a posture as careless as his dress. The negligence and disorder of the whole man, with something fierce and sullen in his features, gave him a picturesque appearance, that attracted the regards even of the Maypole customers who knew him well, and caused Long Parkes to say that Hugh looked more like a poaching rascal to-night than ever he had seen him yet. — Chapter XI, Household Edition, vol. 1, p. 134; Penguin edition, p. 138.
On the other hand, Dickens offers no detailed description of the coquettish, fashionably dressed heroine until chapter 19, a description that is more concerned with her mode of dress than he face, form, and character:
As to Dolly, there she was again, the very pink and pattern of good looks, in a smart little cherry-coloured mantle, with a hood of the same drawn over her head, and upon the top of that hood, a little straw hat trimmed with cherry-coloured ribbons, and worn the merest trifle on one side-just enough in short to make it the wickedest and most provoking head-dress that ever malicious milliner devised. [Page 207 in the Penguin edition]
Curiously, Dickens transfers her coquettish nature to her garments, including "a cruel little muff, and such a heart-rending pair of shoes" (207), the whole ensemble inspiring the portrait painter William Powell Frith​ in his 1842 visualization of her, the oil painting now in the Victoria and Albert Museum, a study more fashion plate than literary character. Not interested in mere portraiture, here, however, Darley has made his​model Hugh Accosts Dolly Varden in chapter 21 (1 May 1841), although Darley has positioned the assailant so that the viewer must imagine Hugh's aggressive expression and is not aware of his mane of jet black hair.
Whereas ludicrous Hugh in the original was a static, hairy caricature, in Darley's dual character study he is caught in motion and clearly means to harm Dolly. Moreover, Darley has reversed the order of the figures, placing Hugh in the left foreground and Dolly, right rear, and thereby disposing of the figures more dramatically than the original. Dolly's gesture of defence and her posture, leaning back, complement the forward movement of Hugh's right leg, and Hugh's legs are balanced by the wicket in the right foreground, as if he, too, represents a barrier in her path. Small-framed Darley makes the figures binary opposites, with small, feminine Dolly's precise and fashionable attire, including a hat, contrasting the giant in everyday working clothes, lacking both jacket and hat. Whereas the woods in the background frame the figures in Phiz's original steel engraving, in Darley's photogravure plate the woods recede into the distance, forcing the eye well forward.
As was the case with his portrait of Barnaby, Darley had a model in mind from among the original illustrations, but has reshaped it to sharpen the effect and heighten our appreciation of the character. Darley utilizes the natural setting both to heighten the sense of Dolly's isolation and vulnerability and to connect the savage ostler with the power of nature, and perhaps even its insentience. As opposed to those of the clownish figure in Phiz's plate, Hugh's malevolent intentions are much clearer in the realistic Darley study, as are Dolly's apprehensions, and the period treatment of Hugh's clothing underscores the realistic nature of the rape scene — he is no mere cartoon character. If one may guibble with a scene so dramatically realised, one might challenge Darley's conception of feminine beauty as not matching Frith's, for Dolly's coquettish charm sufficiently impressed her image on the minds of readers on both sides of the Atlantic and, after her capture during the Gordon Riots, elicited their sympathy, that she leant her name to a gaily speckled species of North American trout, an elegantly decorated early sewing machine, an 1872 style of eighteenth-century-inspired dress that included a parasol and beribboned straw hat, and ultimately a British Columbia silver mine (circa 1910). "Dolly Varden" remains London Cockney rhyming slang for "garden."
References
Bentley, Nicolas, Michael Slater, and Nina Burgis. The Dickens Index. New York and Oxford: Oxford U. P., 1990.
Bolton, Theodore. The Book Illustrations of Felix Octavius Carr Darley (1951). Worcester, Mass: American Antiquarian Society, 1952.
Darley, Felix Octavius Carr. Character Sketches from Dickens. Philadelphia: Porter and Coates, 1888.
p class="bibl">Davis, Paul.
. Charles Dickens A to Z: The Essential Reference to His Life and Work
. New York: Facts On File, 1998.
Dickens, Charles. Barnaby Rudsge/span>. Illustrated by Phiz and George Cattermole. London: Chapman and Hall, 1841.
Dickens, Charles. Barnaby Rudge: A Tale of the Riots of 'Eighty. Works of Charles Dickens. Household Edition. 55 vols. Illustrated by F. O. C. Darley and John Gilbert. New York: Sheldon and Co., 1862. 3 vols.
Dickens, Charles. Barnaby Rudge. Works of Charles Dickens. Diamond Edition. 18 vols. Illustrated by Sol Eytinge, Jr. Boston: Ticknor and Fields, 1867.
Dickens, Charles. Barnaby Rudge. Works of Charles Dickens. Household Edition. Illustrated by Fred Barnard. London: Chapman and Hall, 1874.
Dickens, Charles. Barnaby Rudge. Works of Charles Dickens. Charles Dickens Library Edition. 18 vols. Illustrated by Harry Furniss. London: Educational Book Company, 1910. Vol. 6.
Dickens, Charles. Barnaby Rudge. Ed. Gordon Spence Illustrated by Hablot Knight Browne and George Cattermole. Harmondsworth: Penguin, 1977.
Hammerton, J. A. The Dickens Picture-Book. Works of Charles Dickens. Charles Dickens Library Edition. 18 vols. London: Educational Book Company, 1910. Vol. 17.
---

Victorian
Web

Illustra-
tion

Barnaby
Rudge

F. O. C.
Darley

Next
Last modified 17 August 2014