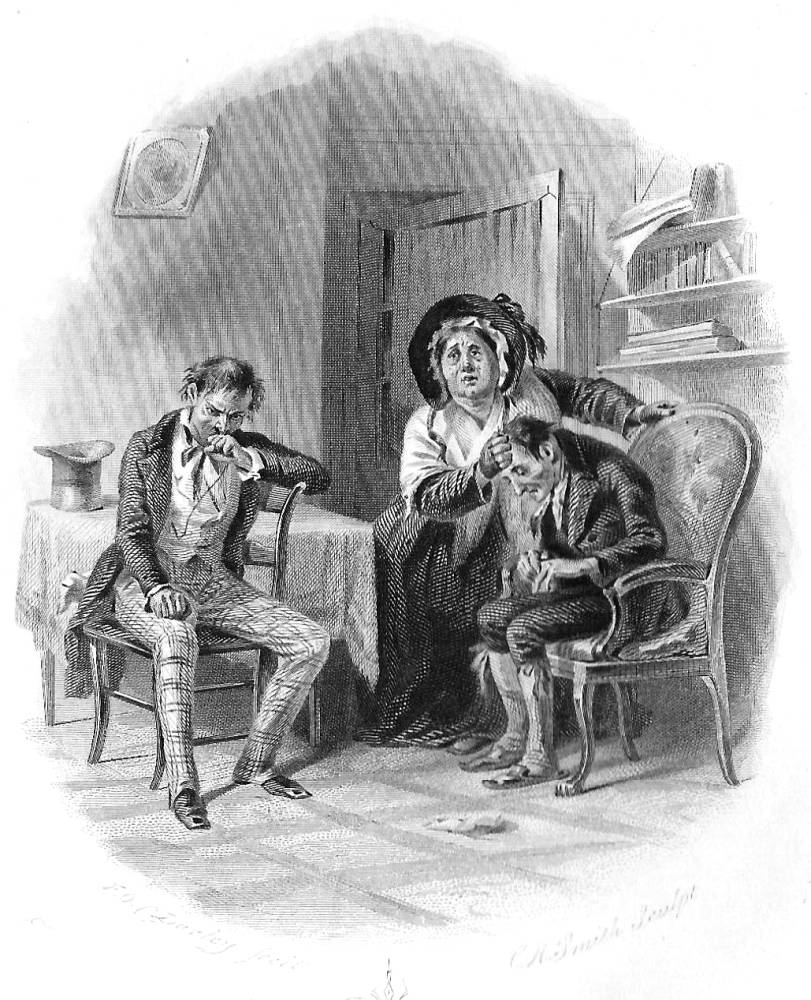 "The creeter's head's so hot" said Mrs. Gamp
Felix O. C. Darley
1863
Photogravure
9.7 x 8.4 cm vignetted
Dickens's Martin Chuzzlewit, Household Edition, vol. 4 frontispiece.
[Click on image to enlarge it and mouse over text for links.]
Scanned image and text by Philip V. Allingham.
[You may use this image without prior permission for any scholarly or educational purpose as long as you (1) credit the person who scanned the image and (2) link your document to this URL in a web document or cite the Victorian Web in a print one.].
Passage Illustrated
He was brooding in this chair, with his eyes cast down upon the ground, when Mrs. Gamp came in to tell him that the little room was ready. Not being quite sure of her reception after interfering in the quarrel, Mrs. Gamp, as a means of interesting and propitiating her patron, affected a deep solicitude in Mr. Chuffey.
"How is he now, sir?" she said.
"Who?" cried Jonas, raising his head, and staring at her.
"To be sure!" returned the matron with a smile and a curtsey. "What am I thinking of! You wasn't here, sir, when he was took so strange. I never see a poor dear creetur took so strange in all my life, except a patient much about the same age, as I once nussed, which his calling was the custom-'us, and his name was Mrs. Harris's own father, as pleasant a singer, Mr. Chuzzlewit, as ever you heerd, with a voice like a Jew's-harp in the bass notes, that it took six men to hold at sech times, foaming frightful."
"Chuffey, eh?" said Jonas carelessly, seeing that she went up to the old clerk, and looked at him. "Ha!"
"The creetur's head's so hot," said Mrs. Gamp, "that you might heat a flat-iron at it. And no wonder I am sure considerin' the things he said!"
"Said!" cried Jonas. "What did he say?"
Mrs. Gamp laid her hand upon her heart, to put some check upon its palpitations, and turning up her eyes replied in a faint voice:
"The awfullest things, Mr. Chuzzlewit, as ever I heerd! Which Mrs. Harris's father never spoke a word when took so, some does and some don't, except sayin' when he come round, "Where is Sairey Gamp?" But raly, sir, when Mr. Chuffey comes to ask who's lyin' dead upstairs, and —"
"Who's lying dead up-stairs!" repeated Jonas, standing aghast. [vol. 4, Chapter 46, "In which Miss Pecksniff makes love, Mr. Jonas makes wrath, Mrs. Gamp makes tea, and Mr. Chuffy makes business," vol. 4, p. 146]
Commentary
In selecting his subjects for the four frontispieces for the four volumes in the American "Household Edition" of the early 1860s, Felix Darley had merely to consider the original forty monthly illustrations by Dickens's graphic collaborator, Phiz, that is, Hablot Knight Browne. Among the incidents which occur within the scope of volume four (chapters 40 through 54), the revellation of Jonas Chuzzlewit (the third figure in Darley's illustration) as his father's murderer offers plenty of drama, and the presence of the novel's greatest comic creation, the sick-room nurse Sarah ("Sairey") Gamp, had the additional benefit of giving the illustrator the opportunity to introduce her simultaneously with the old Chuzzlewit family retainer, Chuffey. Darley's handling of Mrs. Gamp is hardly up to the comic standards of the original serial, or of Fred Barnard in the Household Edition and his celebrated "extra illustrations," Characters from Dickens (see below).
Whereas for chapter forty-six, Phiz's thirty-fourth illustration (for the seventeenth monthly instalment, May 1844), Mrs. Gamp Makes Tea (see below), depicts the androgynous sick-room nurse, a hypocrite of a more delightful turn (particularly in terms of her rhetorical flourishes) than Seth Pecksniff, the second plate for that monthly number shows her in a more characteristic situation, as, sitting opposite her confederate, Betsy Prig, Mrs. Gamp Propoges a Toast, her face and form clearly based on a Daumier caricature. This particular visual character study seems to have served as the basis for Fred Barnard's Mrs. Gamp, on the Art of Nursing, not a part of his original fifty-nine illustrations for the Household Edition (1871-79), but rather one of his celebrated Character Sketches from Dickens, second series (1884). Another Barnard study based on that same Phiz illustration, one which did appear in the Household Edition volume, is that in which Mrs. Gamp and her partner part company over the putative existence of that invaluable character reference, Mrs. Harris, in chapter forty-nine, Then Mrs. Gamp rose — . . .. With a greater comic spirit and a sharper eye for humorous detail, Barnard succeeds where Darley fails in using such accoutrements as her omnipresent umbrella and teapot, oversized bonnet, capacious apron (with a bottle obviously weighing down the front pocket), bleery eyes, and her androgynous features to render her immediately amusing, no matter what the narrative context.
In the Diamond Edition of 1867, Sol Eytinge, Junior, depicts each character just once, so that Old Chuffey appears in company with Anthony and Jonas Chuzzlewit, and the overblown, boozey-faced Mrs. Gamp appears with her "turn-and-turn-about" professional partner, Betsey Prig, "nursing" her reluctant patient Mr. Lewsome, in Sairey Gamp and Betsey Prig (see below), rather than with such employers as Jonas Chuzzlewit.
Since The Life and Adventures of Martin Chuzzlewit was a nineteen-month serialisation, a sprawling narrative with a large cast of humorous characters, it was not especially well suited to Darley's sober and realistic style, especially in terms of Darley's depicting such comic characters as Mark Tapley and Sairey Gamp with their distinctive habits of speech and Cockney accents. However, with its caricatures directed at the exposure of hypocrisy on two continents and in two societies, the picaresque novel was the ideal vehicle for the comic genius and Expressionistic style of Dickens's last great Victorian illustrator, Harry Furniss. His studies of Sairey Gamp are funny in themselves, whether she is in her characteristic pose, imbibing gin while sitting within easy reach of her umbrella in Furniss's title-page vignette, depicted without context as Mrs. Gamp after her initial appearance in chapter nineteen, or pointing out her landlord, Nadgett, to Tom Pinch at the docks in chapter forty. disappointingly, she appears only four times in Furniss's twenty-nine illustrations.
Darley's fourth and final frontispiece for the 1863 American edition of the novel draws the reader's attention to the scene in which Old Chuffey reveals his knowledge of the supposed poisoning of his old master, Jonas Chuzzlewit's father, Anthony. Already, Jonas Chuzzlewit, deeply despondent and disturbed in Darley's plate, is formulating his plans to do away with his financial partner, Montague, so that Dartley's focus is necessarily divided between the comic nurse and the melodramatic villain in the windowpane trousers (a feature derived from his likenesses in Phiz's April 1844 steel engraving Mr. Jonas Exhibits his Presence of Mind). For whatever reason, Darley has elected to make Jonas look more like Montague, replacing his powerful, lithe figure and close-cropped hairstyle for a shaggier hairstyle and a far less confident demeanour.
Relevant Serial Edition (1843), Diamond Edition (1867), Household Edition (1873), and Charles Dickens Library Edition (1910) Illustrations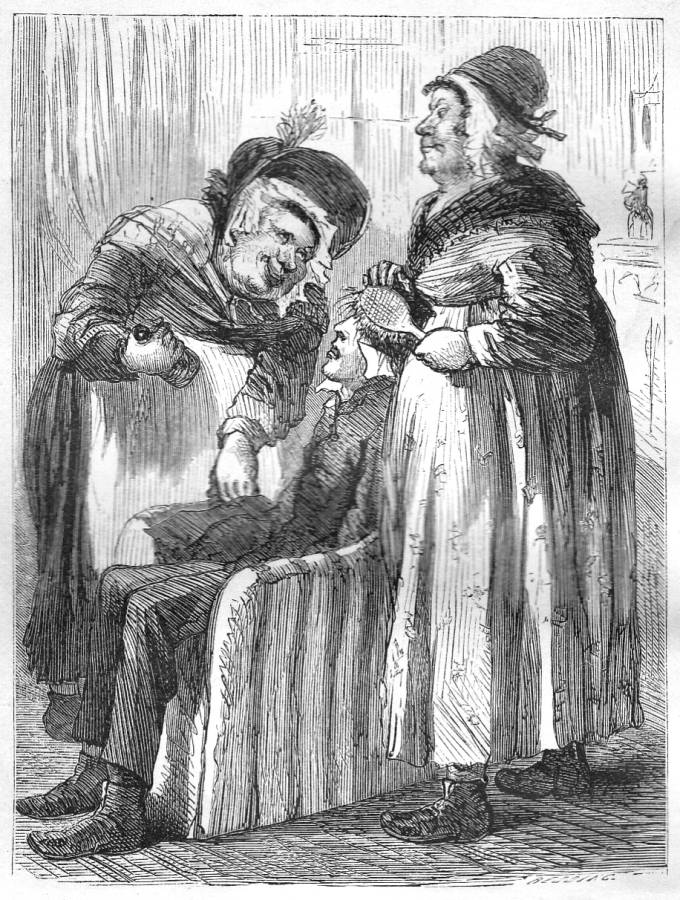 Left: Hablot Knight Browne's "Mrs. Gamp makes tea" (May 1844). Right: Sol Eytinge, Jr.'s "Sairey Gamp and Betsey Prig" (1867). [Click on images to enlarge them.]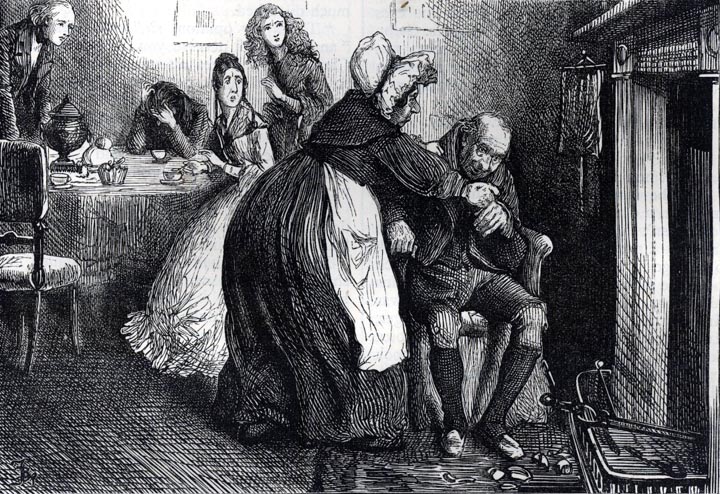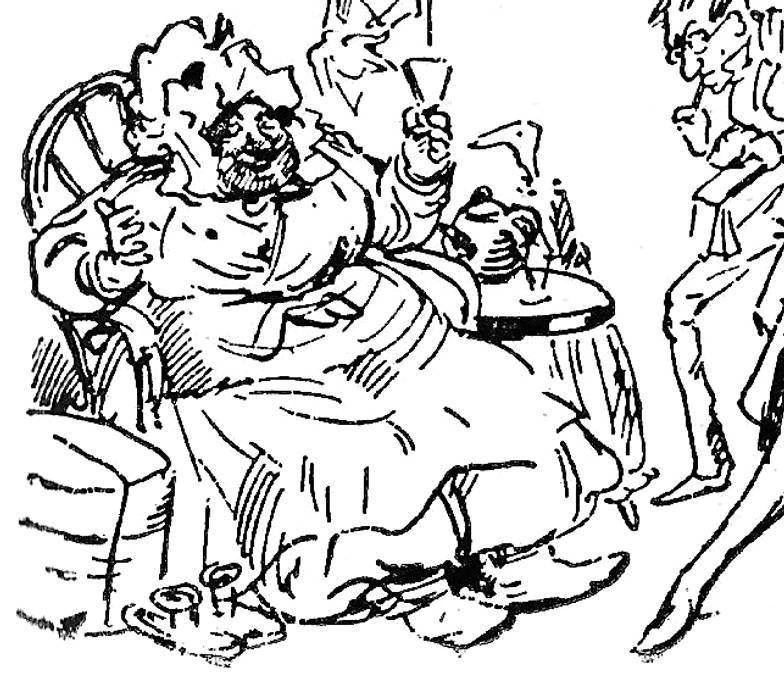 Later Editions. Left: Fred Barnard's "Mrs. Gamp favours the company with an exhibition of professional skill" (1872). Right: Harry Furniss's "Mrs. Gamp" (1910). [Click on images to enlarge them.]
References
Bentley, Nicolas, Michael Slater, and Nina Burgis. The Dickens Index. New York and Oxford: Oxford U. P., 1990.
Dickens, Charles. The Life and Adventures of Martin Chuzzlewit. Il. Hablot Knight Browne. London: Chapman and Hall, 1844.
Dickens, Charles. Martin Chuzzlewit. Works of Charles Dickens. Household Edition. 55 vols. Il. F. O. C. Darley and John Gilbert. New York: Sheldon and Co., 1863. Vol. 2 of 4.
Dickens, Charles. The Life and Adventures of Martin Chuzzlewit. Il. Sol Eytinge, Junior. The Diamond Edition. Boston: Ticknor and Fields, 1867.
Dickens, Charles. The Life and Adventures of Martin Chuzzlewit. Illustrated by Fred Barnard. The Household Edition. 22 vols. London: Chapman and Hall, 1872. Vol. 2.
Dickens, Charles. Life and Adventures of Martin Chuzzlewit. Il. Harry Furniss. The Charles Dickens Library Edition. 18 vols. London: Educational Book, 1910. Vol. 7.
---

Victorian
Web

Illustra-
tion

Martin
Chuzzlewit

F. O. C.
Darley

Next
Last modified 16 March 2014