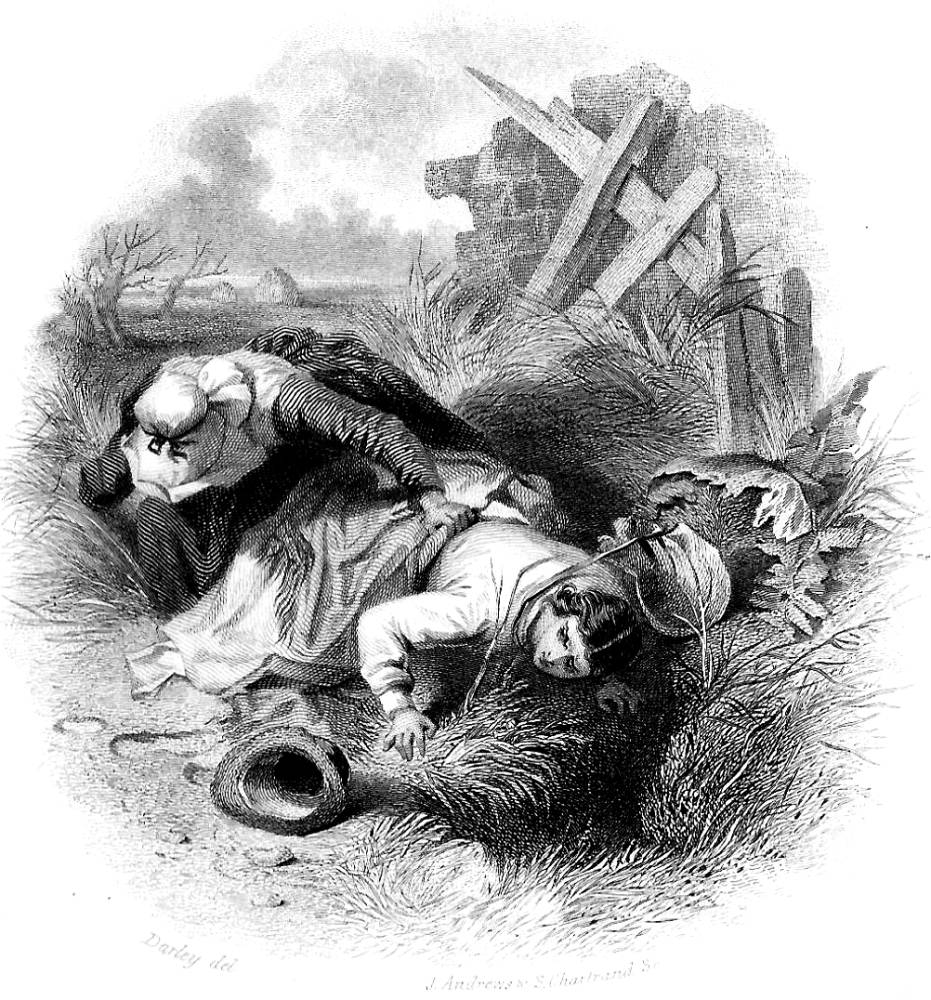 She shuddered to approach the pit
Felix O. C. Darley
1863
Photogravure
9 x 8.3 cm vignetted
Dickens's Hard Times, Household Edition, vol. 2 frontispiece.
[Click on image to enlarge it.]
Scanned image and text by Philip V. Allingham.
[You may use this image without prior permission for any scholarly or educational purpose as long as you (1) credit the person who scanned the image and (2) link your document to this URL in a web document or cite the Victorian Web in a print one.].
Passage Illustrated
"O, my good Lord! He's down there! Down there!" At first this, and her terrific screams, were all that could be got from Rachael, by any tears, by any prayers, by any representations, by any means. It was impossible to hush her; and it was deadly necessary to hold her, or she would have flung herself down the shaft.
"Rachael, dear Rachael, good Rachael, for the love of Heaven, not these dreadful cries! Think of Stephen, think of Stephen, think of Stephen!"
By an earnest repetition of this entreaty, poured out in all the agony of such a moment, Sissy at last brought her to be silent, and to look at her with a tearless face of stone.
"Rachael, Stephen may be living. You wouldn't leave him lying maimed at the bottom of this dreadful place, a moment, if you could bring help to him?"
"No, no, no!"
"Don't stir from here, for his sake! Let me go and listen."
She shuddered to approach the pit; but she crept towards it on her hands and knees, and called to him as loud as she could call. She listened, but no sound replied. She called again and listened; still no answering sound. She did this, twenty, thirty times. She took a little clod of earth from the broken ground where he had stumbled, and threw it in. She could not hear it fall.
The wide prospect, so beautiful in its stillness but a few minutes ago, almost carried despair to her brave heart, as she rose and looked all round her, seeing no help. "Rachael, we must lose not a moment. We must go in different directions, seeking aid. You shall go by the way we have come, and I will go forward by the path. Tell any one you see, and every one what has happened. Think of Stephen, think of Stephen!" [Book Three, The Garnering"; Chapter 6, "The Starlight," Vol. 2, page 21]
Commentary
The novel at this point in the 1863 volumes is almost over, for only five chapters in Book Two remain — and yet Darley is able to tantalise the reader with the accident that has befallen Stephen, leaving the reader wondering whether Stephen is already dead, whether Rachael and Sissy will find help, and whether Tom's being the author of the bank robbery will ever be discovered. Later illustrators of the novel in the nineteenth century have focussed on the recovery of Stephen's body and his final moments, scenes certainly capable of generating pathos and a thoroughly sentimental response, but only Felix O. C. Darley and fellow American illustrator Charles S. Reinhart have selected a subject that generates suspense, forcing readers to push on through the text to answers the plot riddles that Dickens has posed.
Darley's dramatic study of the women complements that of the long-suffering Stephen Blackpool in his initial frontispiece. For neither full-page illustration did Darley have a model, since no illustrated edition of the 1854 novel, serialised from 1 April through 12 August in weekly instalments in Household Words, existed at the time that James G. Gregory, the New York publisher, commissioned Felix Octavius Carr Darley to provide the frontispieces for the majority of the fifty-five volumes in the so-called "Household Edition," the pertinent volumes of which which his firm published in 1863, four years prior to the Ticknor-Fields Diamond Edition, illustrated by Sol Eytinge, Jr., and five years prior to the Chapman and Hall Illustrated Library Edition, with its elegant but slight series of illustrations by Fred Walker. Thus, Darley was working without precedent when he composed two illustrations to complement the Stephen Blackpool subplot.
The full caption given in the second volume of the 1863 "Household Edition" for the initial frontispiece is this:
She shuddered to approach the pit, but she crept towards it on her hands and knees, and called to him as loud as she could call. She listened, but no sound replied. — Book Three, Chapter 6.
In this Darley photogravure, the poses of the women beside the abandoned mineshaft rather than their faces to convey their desperation. In the foreground is a man's hat, presumably of the type worn by American factory-workers of the period rather than the cloth cap of the proletariat depicted in Eytinge's image of Stephen and Rachael (1867). Although C. S. Reinhart presents the same moment in the Harper and Brothers Household Edition in the next decade, Darley masterfully conveys the suspense within the accompanying text as Rachael attentively listens for the clod of soil she dropped to hit bottom. Realistically, in Darley's kinetic rendering of the incident, Sissy (dressed as a domestic servant to signal her place in the Gradgrind household) clings desperately to a young, attractive Rachael so that she, too, will not fall victim to the pernicious landform created by the carelessness of the mine's owners, who have failed to put up protective barriers and seal the fissure. In contrast to the movement and extreme emotion of the figures in the foreground, Darley presents the surrounding countryside as complementary, giving prominence to the haystacks (left of centre, rear), representing the pre-industrial life of England, but showing the contaminating effects of recent human industry through the distorted, leafless trees and the broken masonry.
Unlike the other illustrators of the novel, Darley had to confront the problem of selectivity; that is, in focusing on the Stephen Blackpool plot (and, by implication, the divorce question), Darley neglected the novel's other plot lines involving Thomas Gradgrind and his children, Bounderby and his mother, Louisa and Harthouse, and Sleary and the horse-riders,all of which offered rich possibilities for the illustrators of the Household Edition. Only in the figure of Sissy Jupe, whose face we cannot even see in Darley's second illustration, do we have a figure associated with these other plot lines and such themes as the necessity for imagination and entertainment.
Relevant Diamond Edition (1867), Illustrated Library Edition (1868), and Household Edition (1876-77) Illustrations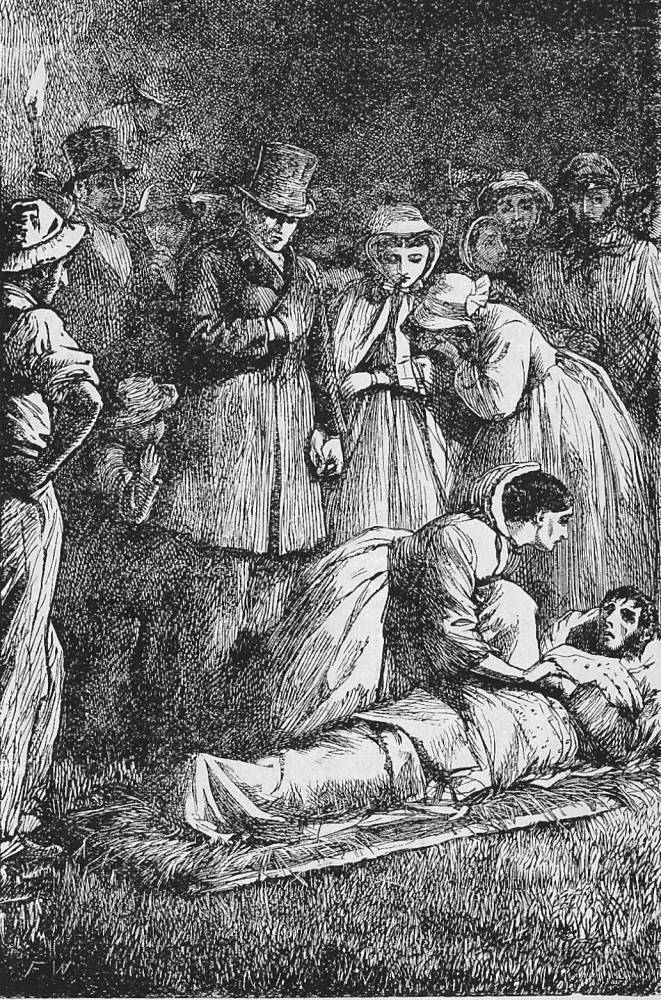 Left: Sol Eytinge Junior's "Stephen and Rachael" (1867). Right: Fred Walker's "Stephen Blackpool Recovered from The Old Hell shaft." (1868). [Click on images to enlarge them.]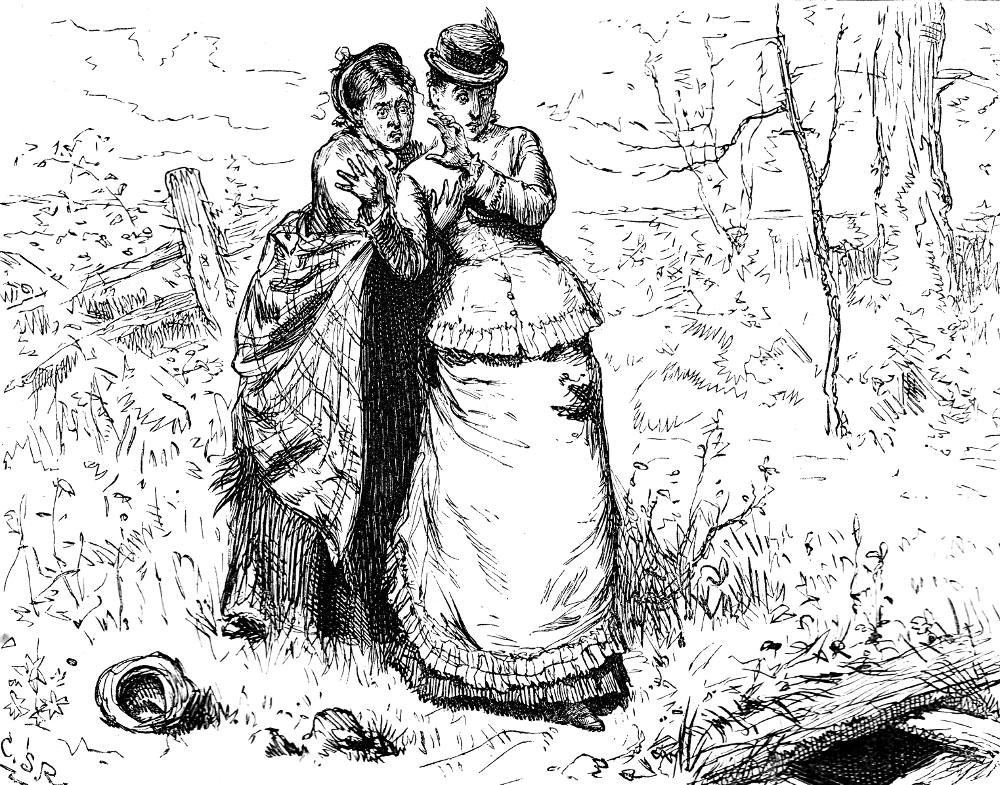 The Household Editions. Left: C. S. Reinhart's "Rachael caught her in both arms, with a scream that resounded over the wide landscape" (1876). Right: Harry French's dramatic 1876 illustration of Rachael's bending over the battered body of Stephen in "She stooped down on the grass at his side, and bent over him" (1877). [Click on images to enlarge them.]
References
Bentley, Nicolas, Michael Slater, and Nina Burgis. The Dickens Index. New York and Oxford: Oxford U. P., 1990.
Dickens, Charles. Hard Times. Works of Charles Dickens. Household Edition. 55 vols. Il. F. O. C. Darley and John Gilbert. New York: Sheldon and Co., 1863. Vol. 2.
Dickens, Charles. Barnaby Rudge and Hard Times. Il. Sol Eytinge, Jr. The Diamond Edition. 16 vols. Boston: Ticknor and Fields, 1867.
Dickens, Charles. Hard Times and Pictures from Italy. Il. Fred Walker. Illustrated Library Edition. London: Chapman and Hall, 1868.
Dickens, Charles. Hard Times and The Uncommercial Traveller. Il. Charles Stanley Reinhart. The Household Edition. New York: Harper and Brothers, 1876.
Dickens, Charles. Hard Times. With twenty illustrations by Harry French. The Household Edition. London: Chapman and Hall, 1877.
Dickens, Charles. The Old Curiosity Shop and Hard Times. Il. Harry Furniss. Charles Dickens Library Edition. 18 vols. London: Educational Book Company, 1910. Vol. 5.
---

Victorian
Web

Illustra-
tion

Hard
Times

F. O. C.
Darley

Next
Last modified 7 March 2014