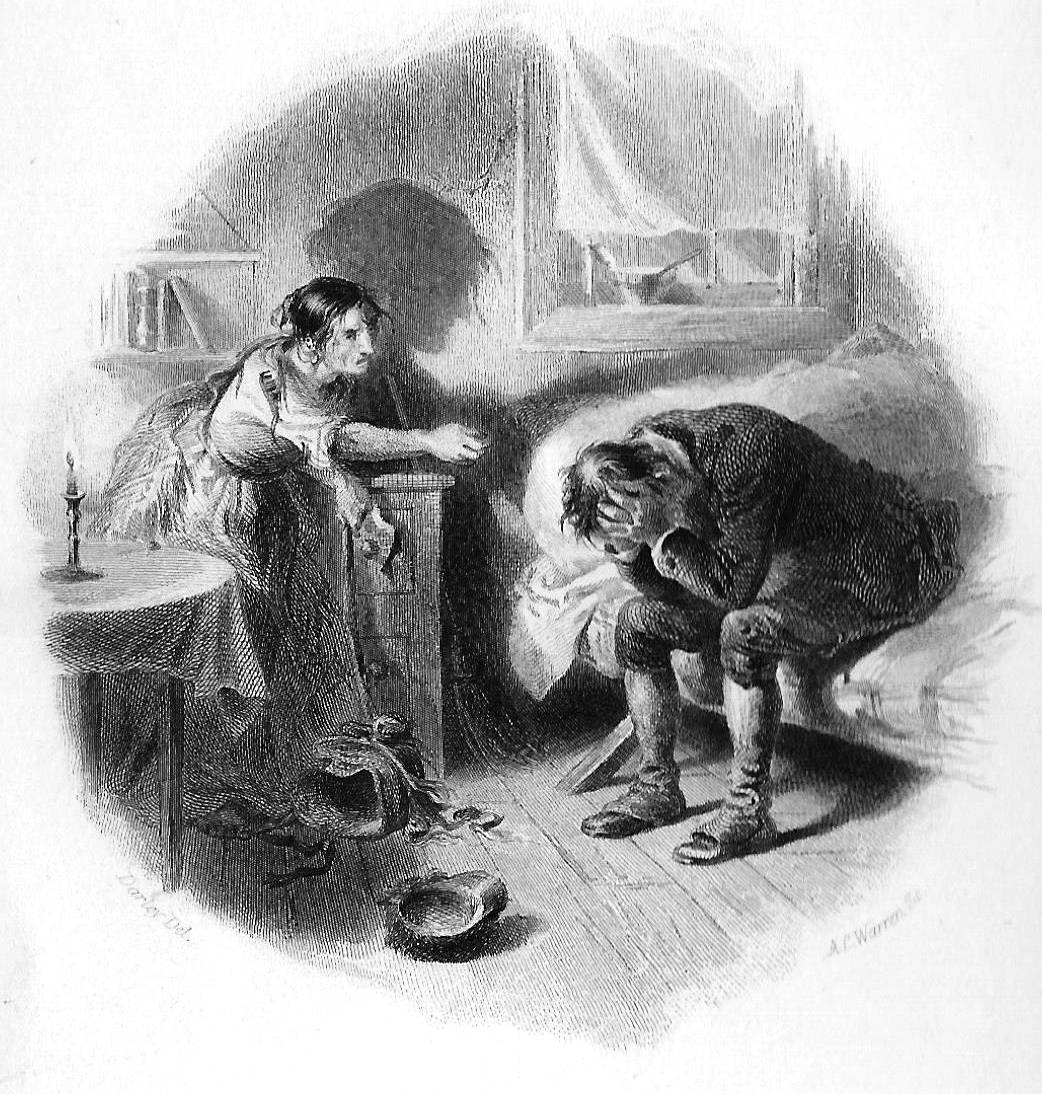 Stephen Blackpool
Felix O. C. Darley
1861
Photogravure
9 x 8.5 cm vignetted
Dickens's Hard Times, Household Edition (1862), vol. 1 frontispiece.
Vol. 2 frontispiece by the same artist
[Click on image to enlarge it.]
Scanned image and text by Philip V. Allingham.
[You may use this image without prior permission for any scholarly or educational purpose as long as you (1) credit the person who scanned the image and (2) link your document to this URL in a web document or cite the Victorian Web in a print one.].
Passage Illustrated
"Heaven's mercy, woman!" he cried, falling farther off from the figure. "Hast thou come back again!"
Such a woman! A disabled, drunken creature, barely able to preserve her sitting posture by steadying herself with one begrimed hand on the floor, while the other was so purposeless in trying to push away her tangled hair from her face, that it only blinded her the more with the dirt upon it. A creature so foul to look at, in her tatters, stains and splashes, but so much fouler than that in her moral infamy, that it was a shameful thing even to see her.
After an impatient oath or two, and some stupid clawing of herself with the hand not necessary to her support, she got her hair away from her eyes sufficiently to obtain a sight of him. Then she sat swaying her body to and fro, and making gestures with her unnerved arm, which seemed intended as the accompaniment to a fit of laughter, though her face was stolid and drowsy.
"Eigh, lad? What, yo'r there?" Some hoarse sounds meant for this, came mockingly out of her at last; and her head dropped forward on her breast.
"Back agen?" she screeched, after some minutes, as if he had that moment said it. "Yes! And back agen. Back agen ever and ever so often. Back? Yes, back. Why not?"
Roused by the unmeaning violence with which she cried it out, she scrambled up, and stood supporting herself with her shoulders against the wall; dangling in one hand by the string, a dunghill-fragment of a bonnet, and trying to look scornfully at him.
"I'll sell thee off again, and I'll sell thee off again, and I'll sell thee off a score of times!" she cried, with something between a furious menace and an effort at a defiant dance. "Come awa' from th' bed!" He was sitting on the side of it, with his face hidden in his hands. "Come awa' from 't. 'Tis mine, and I've a right to 't!" [Chapter 10, "Stephen Blackpool," Vol. 1, page 93]
Commentary
The scenes of life in an industrial town in the original 1854 weekly serial are based on Dickens's observations during the Preston Strike in the North of England, a few days' experiences transformed into Hard Times For These Times. The fortunes of a secondary character in the novel, the archetypal working man saddled with an alcohol-and-laudanum addicted wife (left), as the subject for his initial illustration demonstrates Darley's understanding of the "industrial" nature of the story.
Darley's dramatic study of the long-suffering Stephen and his incubus is not based on earlier illustrations, since no illustrated edition of the 1854 novel, serialized in Household Words existed at the time that James G. Gregory, the New York publisher, commissioned Felix Octavius Carr Darley to provide the frontispieces for the majority of the fifty-five volumes in the so-called "Household Edition," which his firm began to publish in 1861, six years prior to the Ticknor-Fields Diamond Edition, illustrated by Sol Eytinge, Jr., and seven years prior to the Chapman and Hall Illustrated Library Edition, with its elegant but slight series of illustrations by Fred Walker. In fact, this Darley photogravure, with the ominous shadow of Mrs. Blackpool dominating the room, anticipates realizations of that same relationship by Fred Walker, C. S. Rinehart, and Harry French. The spartan, orderly room of the working-class hero of the novel, with the few books representing his attempts at self-education and self-help, contrasts the chaotic misery that the slatternly wife (left) without a Christian name inflicts upon the prostrate Stephen (right), whose despair Darley masterfully conveys through Stephen's posture.
The other properties — the "writings . . . on an old bureau in the corner," the candle on the three-legged table, the bare floorboards, and the few sticks of furniture — come directly from the text; to these Darley has significantly added the wife's bonnet and Stephen's cap on the floor. However, the effeciveness of the illustration depends upon the menacing shadow of Mrs. Blackpool's arm that extents her own reach right across the despairing Stephen and, as it were, into his future as she threatens to pawn his belongings again and again so that she can procure alcohol and opium.
Relevant Diamond Edition (1867), Illustrated Library Edition (1868), and Household Edition (1876-77) Illustrations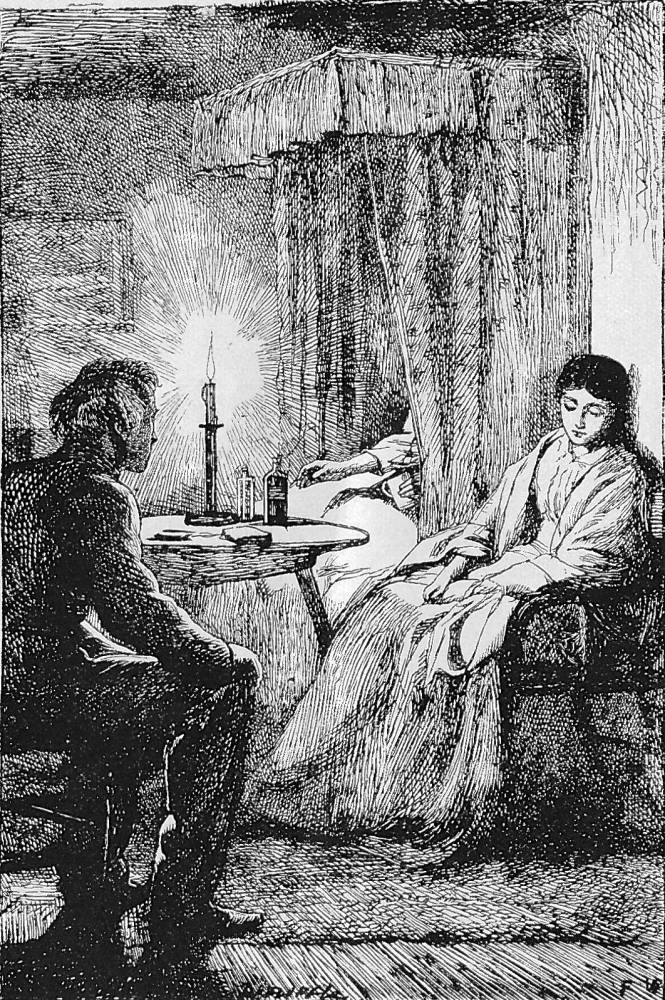 Left: Sol Eytinge Junior's "Stephen and Rachael" (1867). Right: Fred Walker's "Stephen and Rachel in the Sick-Room." (1868). [Click on images to enlarge them.]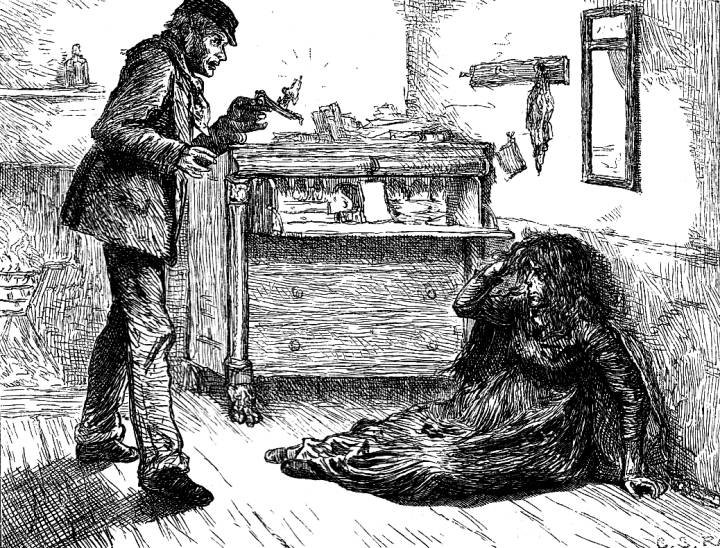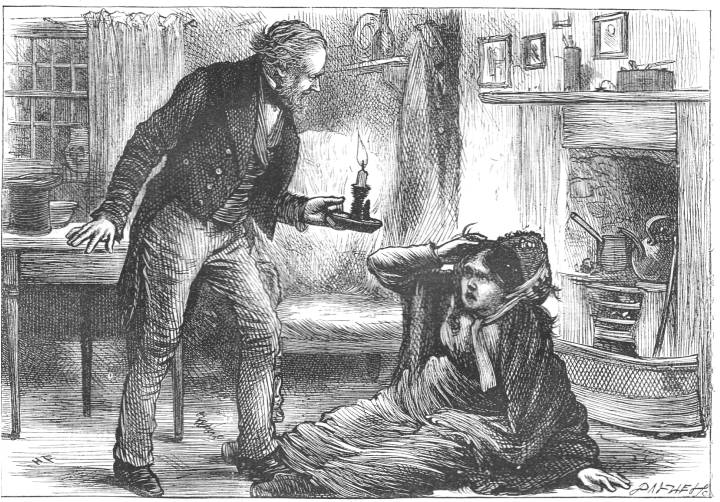 The Hosehold Editions. Left: C. S. Reinhart's "Heaven's Mercy, Woman! . . . .Hast Thou Come Back Again!" (1876). Right: Harry French's dramatic 1876 illustration of Stephen's discovering his alcoholic wife in his rooms in "'Heaven's Mercy, Woman!' He Cried, Falling Farther Off From The Figure. 'Has Thou Come Back Agen?'" (1877). [Click on images to enlarge them.]
References
Bentley, Nicolas, Michael Slater, and Nina Burgis. The Dickens Index. New York and Oxford: Oxford U. P., 1990.
Dickens, Charles. Hard Times. Works of Charles Dickens. Household Edition. 55 vols. Il. F. O. C. Darley and John Gilbert. 4 vols. New York: Sheldon and Co., 1862.
Dickens, Charles. Barnaby Rudge and Hard Times. Il. Sol Eytinge, Jr. The Diamond Edition. 16 vols. Boston: Ticknor and Fields, 1867.
Dickens, Charles. Hard Times and Pictures from Italy. Il. Fred Walker. Illustrated Library Edition. London: Chapman and Hall, 1868.
Dickens, Charles. Hard Times and The Uncommercial Traveller. Il. Charles Stanley Reinhart. The Household Edition. New York: Harper and Brothers, 1876.
Dickens, Charles. Hard Times. With twenty illustrations by Harry French. The Household Edition. London: Chapman and Hall, 1877.
Dickens, Charles. The Old Curiosity Shop and Hard Times. Il. Harry Furniss. Charles Dickens Library Edition. 18 vols. London: Educational Book Company, 1910. Vol. 5.
---

Victorian
Web

Illustra-
tion

Hard
Times

F. O. C.
Darley

Next
Last modified 3 March 2014