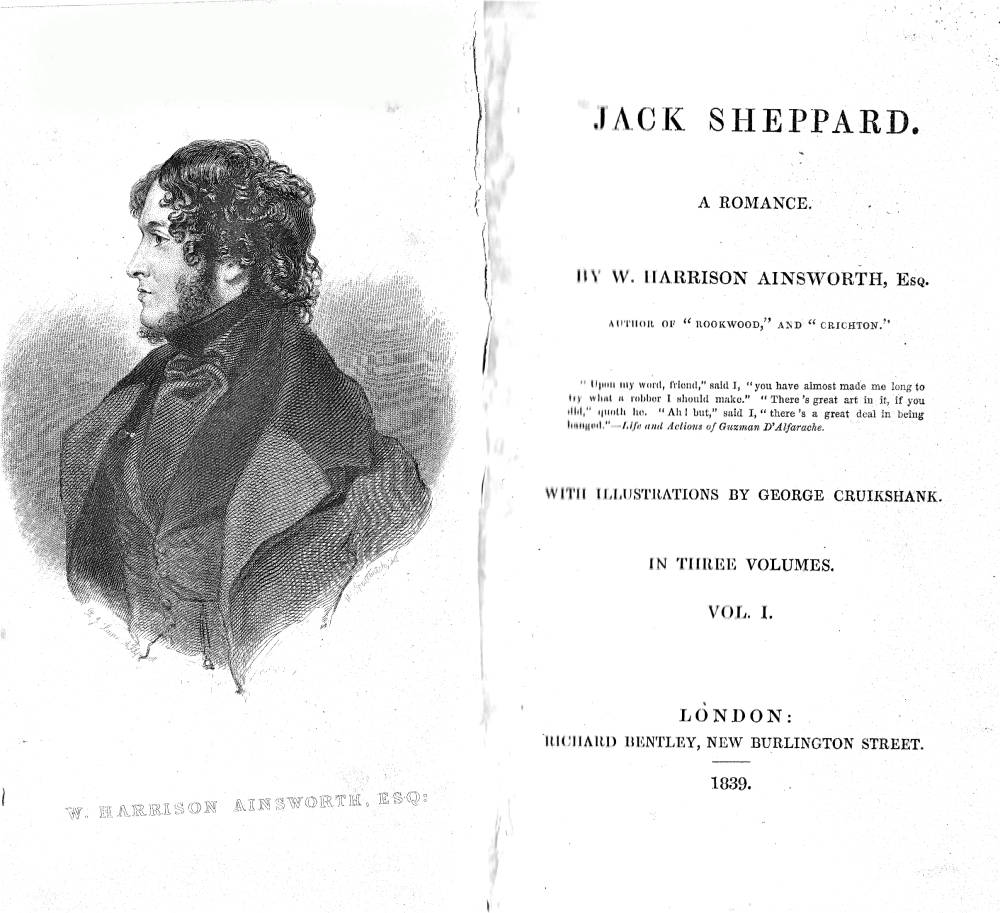 The title-page and frontispiece for volume one with portrait of the author. William Greatbach (1802-85). William Harrison Ainsworth's Jack Sheppard first saw publication in Bentley's Miscellany, the first weekly installment appearing in February 183. Each page 18.8 x 10.5 cm. The frontispiece sets the keynote for the November 1839 triple-decker as a work of literature rather than a mere potboiler, and it is interesting that the publisher used a portrait by an artist other than the book's illustrator. The initial illustration also connects the volume publication to the magazine in which it was first serialised, Bentley's Miscellany, for Ainsworth took over as editor after the resignation of Charles Dickens. The artist makes Ainsworth look every inch the distinguished and animated writer and literary editor. The romanticized image of the author, with tousselled hair, keen eyes, and striking profile, casts him as a worthy successor to the Father of the Historical Novel, Sir Walter Scott (1772-1832), and also reinforces William Greatbach (1802-85) as a gifted portrait artist, complementing Cruikshank's plates as engaging visual interpretations of Ainsworth's fiction. Although Cruikshank as a caricatuirst and fatasist was not interested realism, his illustrations for Ainsworth and Dickens sometimes feature pointed social commentary. Greatbach (sometimes spelled " Greatbatch") also executed a genial portrait of the period's greatest clown, Joseph Grimaldi in the 1838 Memoirs of Joseph Grimaldi, edited by 'Boz' (Charles Dickens). Despite the fact that in the 1840s Ainsworth was a prolific and best-selling writer, today he is chiefly remembered for the controversial "rogue novel" or "Newgate novel" Jack Sheppard. A Romance (January 1839 through February 1840).]
Scanned image and text by Philip V. Allingham from material in his collection.. [You may use this image without prior permission for any scholarly or educational purpose as long as you (1) credit the person who scanned the image and (2) link your document to this URL.]
Commentary
In his biography of Charles Dickens, Peter Ackroyd notes that, even as he wrangled with publisher Richard Bentley's solicitors over his contract with "The Burlington Street Brigand" to produce Barnaby Rudge for serialisation in the Miscellany, the younger novelist
persuaded Harrison Ainsworth to take over the editorship of the magazine; apart from anything else, it is possible that he wanted the Miscellany in relatively safe hands at least until the serialisation of Oliver Twist had come to an end [i. e., in April 1839]. Ainsworth seemed at first reluctant to take on what must have looked like Dickens's abandoned project but, after a series of urgent missives and protracted meetings, finally he agreed. Bentley demurred in the arrival of Ainsworth (although later saying that he was "forced upon me") and Dickens wrote a sentimental farewell to Bentley's Miscellany, addressed as "My Child", in the February [1839] issue; it is notable, perhaps, only for the reference to the new railway as the symbol of necessary change and progress. His publicly stated affection for Ainsworth, however, did not prevent Dickens from sending him a few weeks later a stern and very cold letter in which he accused Ainsworth of spreading scandals about Forster's role in the editorial transition. . . . . [278-279]
The twenty-first monthly instalment of Oliver Twist ran in the same issue of the Miscellany as the opening number of the new Ainsworth novel, a Newgate novel of a different cast entirely. By the time that the Dickens novel concluded in the April 1839 issue, Jack Sheppard was in its fourth monthly instalment, in "Epoch the Second," Chapters 6 through 12.
Related Materials
Bibliography
Ackroyd, Peter. Dickens. London: Sinclair-Stevenson, 1990.
Ainsworth, William Harrison. Jack Sheppard. A Romance. With 28 illustrations by George Cruikshank. In three volumes. London: Richard Bentley, 1839.
Ainsworth, William Harrison. Jack Sheppard. Edited by Edward Jacobs and Manuela Mourao. With 31 illustrations. Peterborough, ON: Broadview, 2007.
Sutherland, John. "Jack Sheppard" in The Stanford Companion to Victorian Fiction. Stanford: Stanford University Press, 19893. Pp. 323-324.
Vann, J. Don. "Jack Sheppard in Bentley's Miscellany, January 1839 — February 1840." Victorian Novels in Serial. New York: Modern Language Association, 1985. Page 19.
---
Last modified 1 July 2017