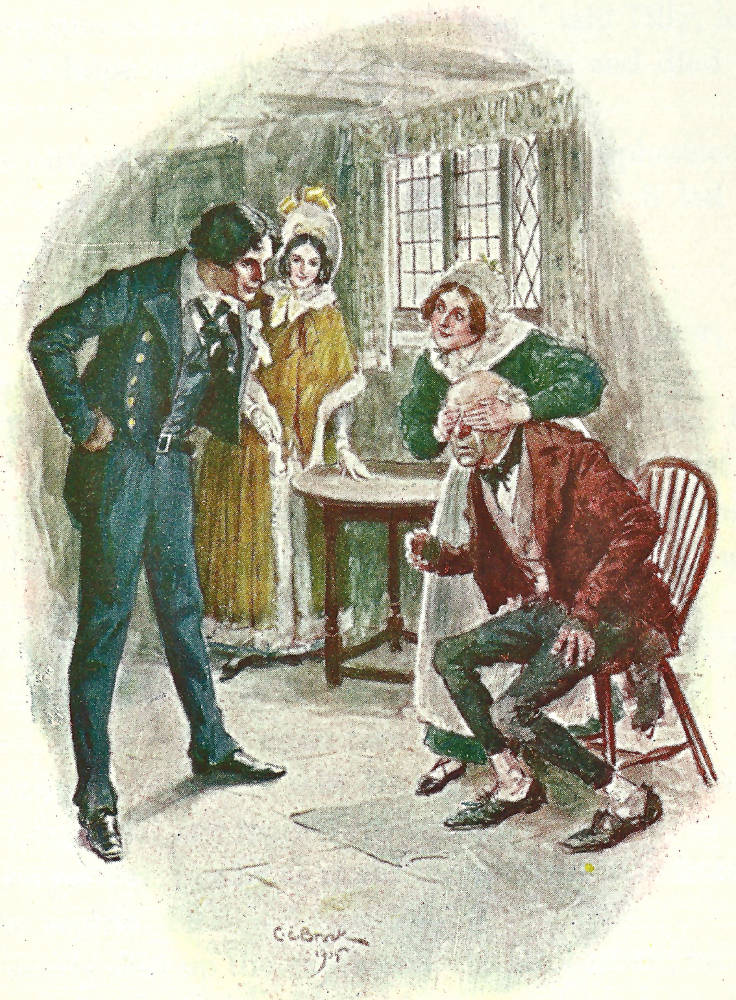 "Do you recollect the voice, dear Caleb?" — See page 199
Charles Edmund Brock
1905
whole page: 10 x 8.5 cm. vignetted
Dickens's The Cricket on the Hearth, facing page 184.
Scanned image and text by Philip V. Allingham.
[You may use this image without prior permission for any scholarly or educational purpose as long as you (1) credit the person who scanned the image and (2) link your document to this URL in a web document or cite the Victorian Web in a print one.].
Passage Illustrated
"I — I — I know you have a quick ear," said Dot, placing her hand upon her heart, and evidently talking on, as fast as she could to hide its palpitating state, "because I have noticed it often, and because you were so quick to find out that strange step last night. Though why you should have said, as I very well recollect you did say, Bertha, "Whose step is that!" and why you should have taken any greater observation of it than of any other step, I don't know. Though as I said just now, there are great changes in the world: great changes: and we can't do better than prepare ourselves to be surprised at hardly anything."
Caleb wondered what this meant; perceiving that she spoke to him, no less than to his daughter. He saw her, with astonishment, so fluttered and distressed that she could scarcely breathe; and holding to a chair, to save herself from falling.
"They are wheels indeed!" she panted. "Coming nearer! Nearer! Very close! And now you hear them stopping at the garden-gate! And now you hear a step outside the door — the same step, Bertha, is it not! — and now!" —
She uttered a wild cry of uncontrollable delight; and running up to Caleb put her hands upon his eyes, as a young man rushed into the room, and flinging away his hat into the air, came sweeping down upon them.
"Is it over?" cried Dot.
"Yes!"
"Happily over?"
"Yes!"
"Do you recollect the voice, dear Caleb? Did you ever hear the like of it before?" cried Dot.
"If my boy in the Golden South Americas was alive ——" said Caleb, trembling.
"He is alive!" shrieked Dot, removing her hands from his eyes, and clapping them in ecstasy; "look at him! See where he stands before you, healthy and strong! Your own dear son! Your own dear living, loving brother, Bertha!" — Chapter Three, "Chirp the Third," p. 199.
Commentary
C. E. Brock, working in 1905, had a number of possible models from which to produce his extended visual program for The Cricket on the Hearth, in particular, the 1845 fourteen-image edition by Dickens's original illustrators, and the somewhat shorter visual series in British and American Household Editions of the 1870s. However, the scene in which Bertha correctly detects the presence of her long-lost brother, resolving both the main plot (Dot's supposed adultery) and the subplots involving the Plummers, Fieldings, and Tackleton's engagement, is entirely Brock's innovation. Although both Richard Doyle and John Leech in the original edition show the emotional aftermath of the scene in the gallery as John tries to determine how he should act upon this knowledge of his wife's (supposed) infidelity, neither they nor the illustrators of the Household Edition have included this comic recognition scene in which Caleb is visibly straining to hear the the stranger's arrival.
The room should look familiar to the viewer as it is same in which John returned home to wife and child in Chirp the First (page 105) and "An't He beautiful, John?" — See page 112 (facing page 169). The leaded panes, the curtained valance and window, the table (no longer spread with the carrier's supper), the flagstones, and the chair al;l recall the Peerybingles' cottage. However, instead of John, Boxer, Dot, and Tilly, the figures are (left to right) sailor Edward Plummer (in a trim merchant navy uniform), May Fielding in fur-lined cloak and fashionable bonnet of mid-century style, the matronly Dot (in the same blue dress and white apron), and, eyes covered, Caleb Plummer, dressed much as he was in "Where are your gay bridegrooms now!" (page 160). Conspicuously absent is Edward's blind sister, Bertha, whose auditory acuity is the chief component of the scene which introduces the return of the sailor-son in his own form and figure, rather than those of the Old Stranger whom John picked up by the highroad. The chief discontinuity between the two scenes in the Peerybingles' parlour, however, remains Edward, who prepares himself for his father's astonished gaze, propelling the reader back into the text, for the scene will not occur for some fifteen pages. Inevitably, then, the reader must return to the picture after reading about the dramatic reunion that will utterly confound Tackleton's marriage plans.
Relevant Illustrations from various editions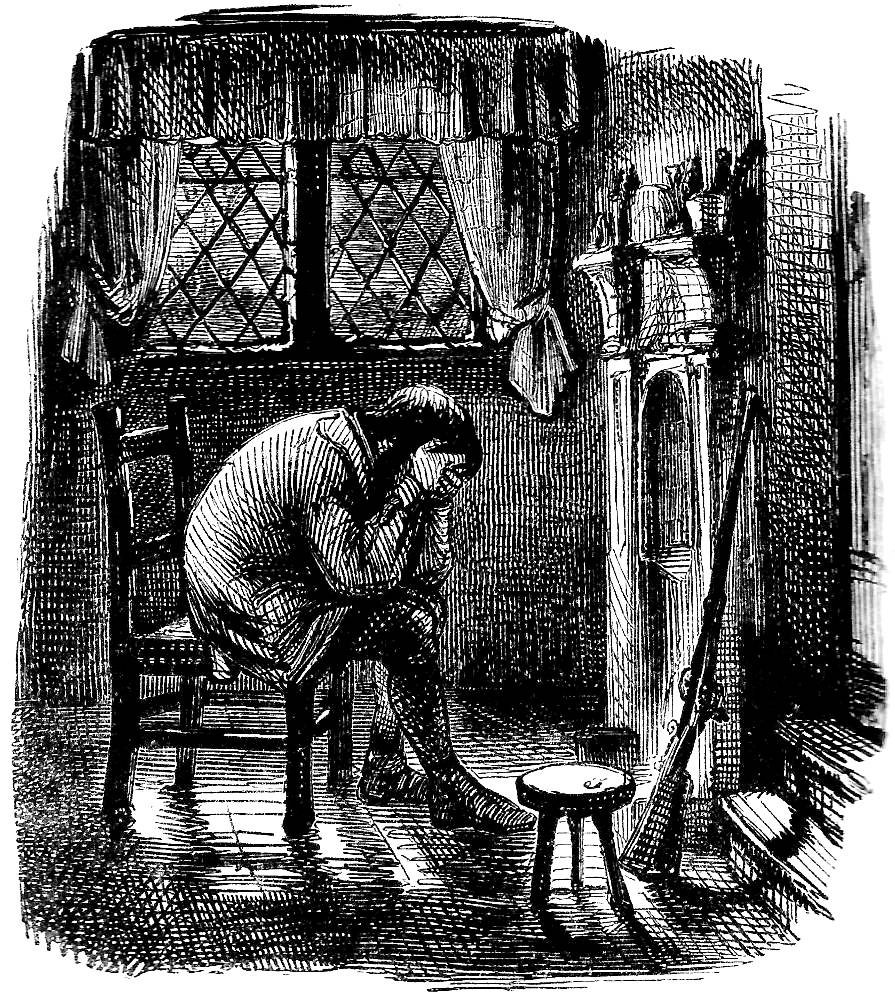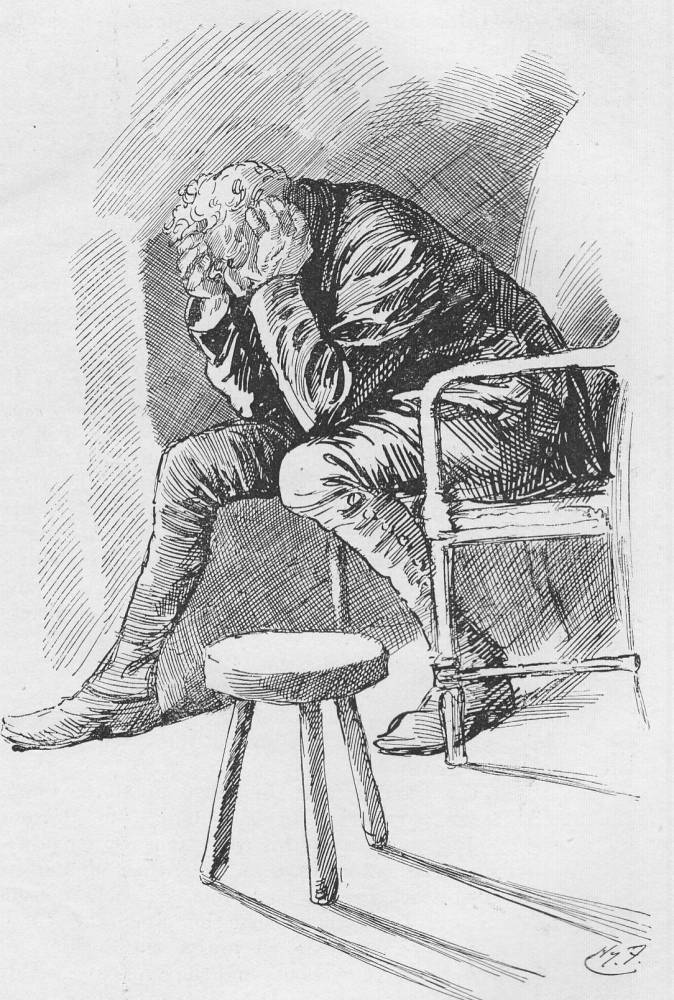 Left: Richard Doyle's melodramatic treatment of John's anguish, Chirp the Third (1845). Centre: John Leech's depiction of the middle-aged carrier's wrestling with the revellation of adultery, John's Reverie (1845). Right: Harry Furniss's study of the despondent carrier, contemplating the wreck of his marriage, The Vacant Stool (1876).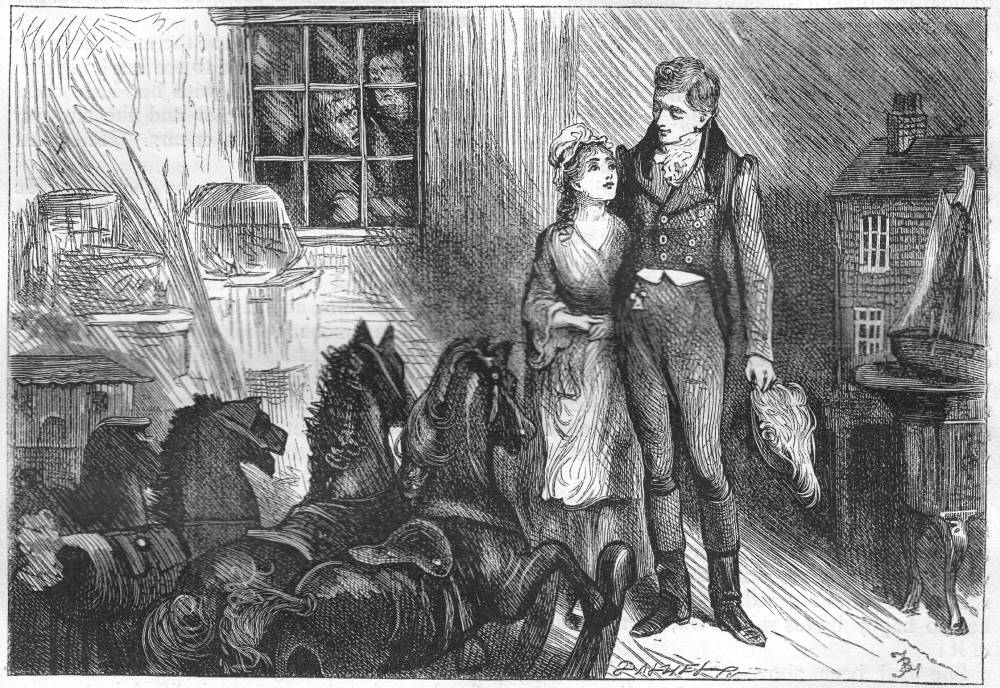 Above: Fred Barnard's illustration of the scene between Dot and Edward Plummer undisguised in the gallery, Suffering him to clasp her round the waist, as they moved slowly down the dim wooden gallery (1878). [Click on image to enlarge it.]
References
Dickens, Charles. Christmas Books. Illustrated by Fred Barnard. The Household Edition. London: Chapman and Hall, 1878.
___. Christmas Stories. Illustrated by E. A. Abbey. The Household Edition. New York: Harper and Brothers, 1876.
Dickens, Charles. Christmas Books, illustrated by Sol Eytinge, Jr. The Diamond Edition. Boston: Ticknor and Fields, 1867.
___. Christmas Books, illustrated by Fred Barnard. Household Edition. London: Chapman and Hall, 1878.
___. Christmas Books, illustrated by A. A. Dixon. London & Glasgow: Collins' Clear-Type Press, 1906.
___. Christmas Books, illustrated by Harry Furniss. The Charles Dickens Library Edition. London: Educational Book, 1910.
___. A Christmas Carol and The Cricket on the Hearth, illustrated by C. E. [Charles Edmund] Brock. London: J. M. Dent, 1905; New York: Dutton, rpt., 1963. No. 59 in Dent's Children's Illustrated Classics.
___. Christmas Stories, illustrated by E. A. Abbey. The Household Edition. New York: Harper and Brothers, 1876.
Dickens, Charles. The Cricket on the Hearth: A Fairy Tale of Home. Illustrated by John Leech, Daniel Maclise, Richard Doyle, Clarkson Stanfield, and Edwin Landseer. London: Bradbury and Evans, 1845.
---

Victorian
Web

Illustr-
ation

E. C.
Brock

The Cricket
on the
Hearth

Next
Last modified 18 October 2015