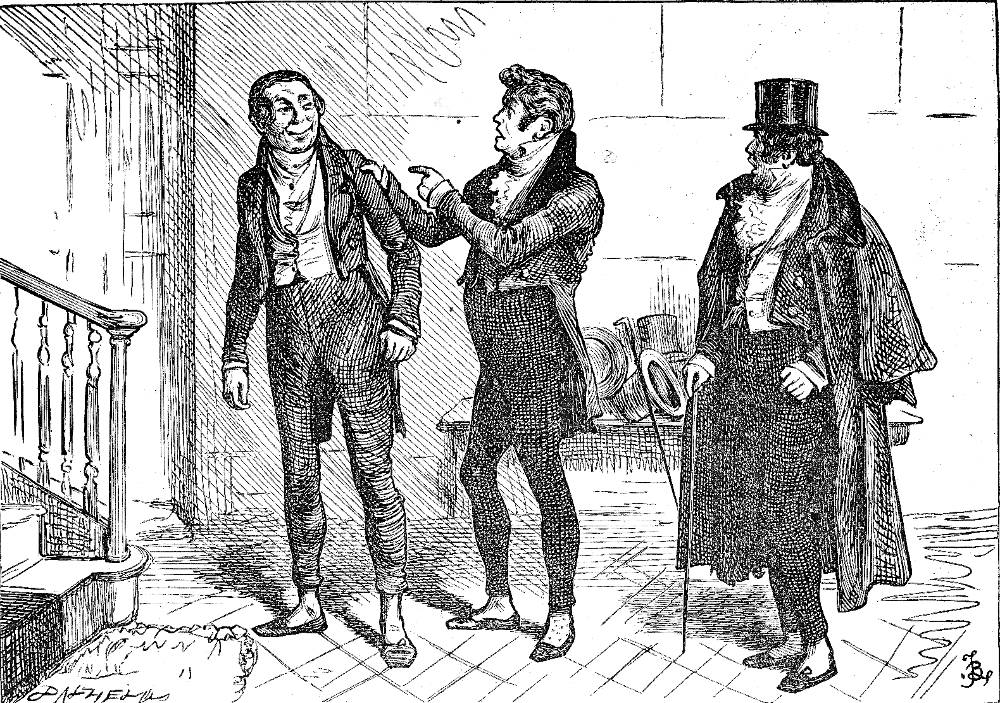 "Why the Devil ain't you looking after that plate?" (frontispiece). 1876. 13.2 cm high x 18 cm wide, framed. The half-page wood-engraving references a scene in Dickens's "The Broker's Man" (originally published in The Evening Chronicle, unillustrated, on 28 July 1835 as "Sketches of London, No. 18: The Parish." The narrator is not the avuncular voice one hears throughout the Sketches by Boz, but rather that of Bung, one of the candidates for Beadle in Chapter 4, "The Election for Beadle."
Scanned image and text by Philip V. Allingham. [You may use this image without prior permission for any scholarly or educational purpose as long as you (1) credit the person who scanned the image and (2) link your document to this URL in a web document or cite the Victorian Web in a print one.]
Passage Illustrated
Well, I laughed: and the gentleman laughed, and we all laughed; and I went home and cleaned myself, leaving Fixem there, and when I went back, Fixem went away, and I polished up the plate, and waited at table, and gammoned the servants, and nobody had the least idea I was in possession, though it very nearly came out after all; for one of the last gentlemen who remained, came down-stairs into the hall where I was sitting pretty late at night, and putting half-a-crown into my hand, says, "Here, my man," says he, "run and get me a coach, will you?" I thought it was a do, to get me out of the house, and was just going to say so, sulkily enough, when the gentleman (who was up to everything) came running down-stairs, as if he was in great anxiety. "Bung," says he, pretending to be in a consuming passion. "Sir," says I. "Why the devil an't you looking after that plate?" — "I was just going to send him for a coach for me," says the other gentleman. "And I was just a-going to say," says I — "Anybody else, my dear fellow," interrupts the master of the house, pushing me down the passage to get out of the way — "anybody else; but I have put this man in possession of all the plate and valuables, and I cannot allow him on any consideration whatever, to leave the house. Bung, you scoundrel, go and count those forks in the breakfast-parlour instantly." You may be sure I went laughing pretty hearty when I found it was all right. The money was paid next day, with the addition of something else for myself, and that was the best job that I (and I suspect old Fixem too) ever got in that line. — Ch. 7, "Our Next-door Neighbour," p. .
Commentary
One of the 'Parish' sketches, the last but one to be published ('The Broker's Man', Evening Chronicle, 28 July) features Dickens's first attempt at characterised narrator within the narration. Mr Bung, who works for a broker, that is, someone whose job it is to value goods seized for unpaid rent or other debts, tells Boz various anecdotes, comic and pathetic, of his professional life. There is some evidence to suggest that Dickens's friends and admirers considered this sketch a particularly fine one. George Hogarth [Editor of the Evening Chronicle and subsequently Dickens's father-in-law] evidently treasured a proof of it which Dickens asked him to loan to Thomas Beard who wanted to show it to a friend. — Michael Slater, "'The Copperfield Days': 1828-1835," p. 52.
As Peter Ackroyd points out, Dickens mined his father's unfortunate ordeals with brokers and bailiffs for such sketches as "A Passage in the Life of Mr. Watkins Tottle," in which the protagonist is conducted to a lock-up house in the vicinity Chancery Lane as a result of debt.
Dickens was using his private family experiences even though they have no direct relation to the plot of the story which he was composing — either he was being a good reporter and wanted to make use of the material which he had observed so woefully at first hand, or he simply had to put down the episode in fictional form in order to deal with it properly and to come to terms with his own feelings. [p. 160]
The Barnard versions of the broker's man (Bung) and the master of the house are markedly more realistic than their counterparts in George Cruikshank's The Broker's Man, but are far less entertaining. Ironically, the master of the house prevents Bung from leaving the house of which he is "in possession" until the debt is discharged. Bung smiles knowingly, appreciating the fact that the master of the house is intent upon maintaining the broker's man's persona as a servant in front of the well-dressed visitor.
References
Ackroyd, Peter. Dickens: A Biography. London: Sinclair-Stevenson, 1990.
Bentley, Nicholas, Michael Slater, and Nina Burgis. The Dickens: Index. Oxford: Oxford U. P., 1990.
Dickens, Charles. Oliver Twist. Illustrated by George Cruikshank. London: Bradbury and Evans; Chapman and Hall, 1846.
Dickens, Charles. "The Broker's Man." Chapter 5 in "Our Parish." Sketches by Boz. Illustrated by George Cruikshank. London: Chapman and Hall, 1839, rpt. 1890.
Dickens, Charles. "The Broker's Man." Chapter 5, "Our Parish."Sketches by Boz. Illustrated by Fred Barnard. The Household Edition. London: Chapman and Hall, 1876.
Dickens, Charles. "The Broker's Man." Sketches by Boz Illustrative of Every-day Life and Every-Day People. Ed. Thea Holme. The Oxford Illustrated Dickens. Oxford: Oxford U. P., 1957; rpt., 1987.
Slater, Michael. Charles Dickens: A Life Defined by Writing. New Haven and London: Yale U. P., 2009.
---
Last modified 2 April 2017