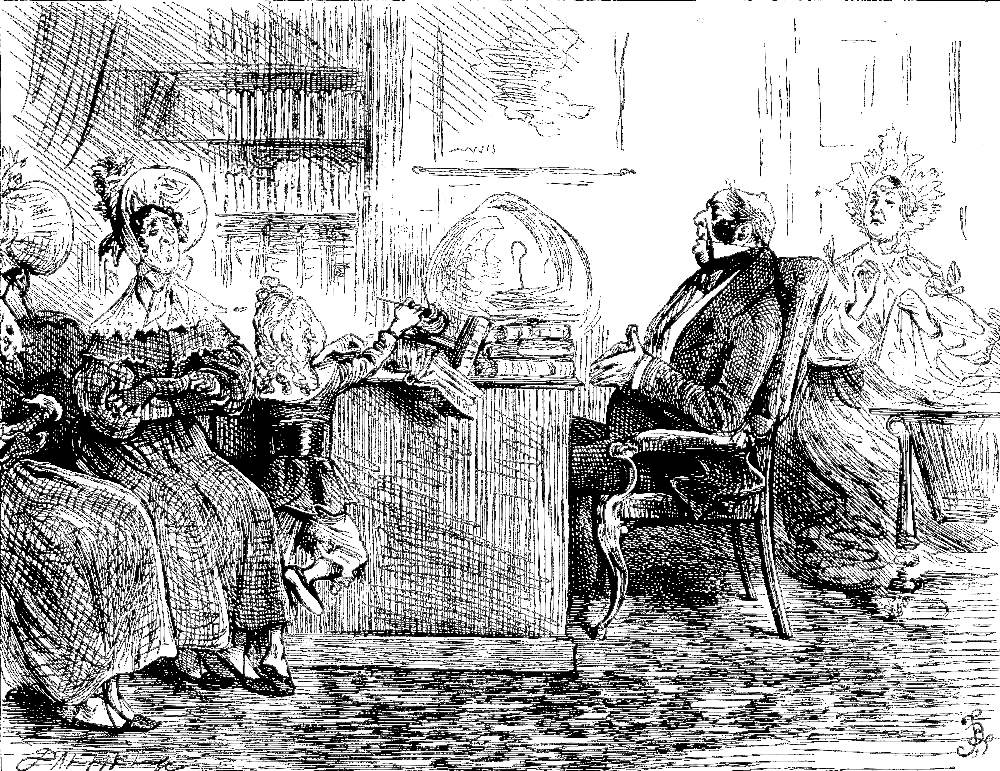 The dear little fellow, having recovered his animal spirits, was standing upon her most tender foot. (wood-engraving). 1876. 10.6 cm high x 13.8 cm wide, framed. — Fred Barnard's satirical response to the original copper-plate engraving by George Cruikshank in the 1836 and 1839 editions. Whereas the earlier illustrator had depicted the scene in which the separated young lovers meet at the Hammersmith girls' school, Barnard focusses readers' attentions on the comic interview between the self-important Member of Parliament and the Misses Crumpton in the politician's fashionable rooms at The Adelphi overlooking the Thames.
Scanned image and text by Philip V. Allingham. [You may use this image without prior permission for any scholarly or educational purpose as long as you (1) credit the person who scanned the image and (2) link your document to this URL in a web document or cite the Victorian Web in a print one.]
Passage Illustrated
On the present occasion, this talented individual was seated in a small library at a table covered with papers, doing nothing, but trying to look busy — playing at shop. Acts of Parliament, and letters directed to "Cornelius Brook Dingwall, Esq., M. P.," were ostentatiously scattered over the table; at a little distance from which, Mrs. Brook Dingwall was seated at work. One of those public nuisances, a spoiled child, was playing about the room, dressed after the most approved fashion — in a blue tunic with a black belt — a quarter of a yard wide, fastened with an immense buckle — looking like a robber in a melodrama, seen through a diminishing glass.
After a little pleasantry from the sweet child, who amused himself by running away with Miss Maria Crumpton's chair as fast as it was placed for her, the visitors were seated, and Cornelius Brook Dingwall, Esq., opened the conversation.
He had sent for Miss Crumpton, he said, in consequence of the high character he had received of her establishment from his friend, Sir Alfred Muggs.
Miss Crumpton murmured her acknowledgments to him (Muggs), and Cornelius proceeded.
"One of my principal reasons, Miss Crumpton, for parting with my daughter, is, that she has lately acquired some sentimental ideas, which it is most desirable to eradicate from her young mind." (Here the little innocent before noticed, fell out of an arm-chair with an awful crash.)
"Naughty boy!"​said his mamma, who appeared more surprised at his taking the liberty of falling down, than at anything else; "I'll ring the bell for James to take him away."
"Pray don't check him, my love,"​said the diplomatist, as soon as he could make himself heard amidst the unearthly howling consequent upon the threat and the tumble.​"It all arises from his great flow of spirits."​This last explanation was addressed to Miss Crumpton.
"Certainly, sir," replied the antique Maria: not exactly seeing, however, the connexion between a flow of animal spirits, and a fall from an arm-chair.
Silence was restored, and the M. P. resumed:​"Now, I know nothing so likely to effect this object, Miss Crumpton, as her mixing constantly in the society of girls of her own age; and, as I know that in your establishment she will meet such as are not likely to contaminate her young mind, I propose to send her to you."
The youngest Miss Crumpton expressed the acknowledgments of the establishment generally. Maria was rendered speechless by bodily pain. The dear little fellow, having recovered his animal spirits, was standing upon her most tender foot, by way of getting his face (which looked like a capital O in a red-lettered play-bill) on a level with the writing-table.
"Of course, Lavinia will be a parlour boarder," continued the enviable father; "and on one point I wish my directions to be strictly observed. The fact is, that some ridiculous love affair, with a person much her inferior in life, has been the cause of her present state of mind. Knowing that of course, under your care, she can have no opportunity of meeting this person, I do not object to — indeed, I should rather prefer — her mixing with such society as you see yourself."
This important statement was again interrupted by the high-spirited little creature, in the​excess of his joyousness breaking a pane of glass, and nearly precipitating himself into an adjacent area. James was rung for; considerable confusion and screaming succeeded; two little blue legs were seen to kick violently in the air as the man left the room, and the child was gone. — "Tales," Chapter​ 3, "Sentiment," pp. 254-55.
Commentary
The Miss Crumptons, a pair of middle-aged sisters who run a girls' school in Hammersmith, receive a summons to the Adelphi rooms of Cornelius Brook Dingwall, Member of Parliament (for which constituency Dickens never tells us). The egotistical politician and his wife (elaborately dressed, right rear) specifically want the spinster-teachers to cure his daughter, the adolescent Lavinia, of a "sentiment," by which readers are to understand a romantic attachment. Whereas George Cruikshank's 1836 engraving Sentiment — Theodosius Introduced to the New Pupil focusses on the incipient romance as Miss Maria Crumpton introduces her guest, Theodosius, to Lavinia, unaware that there is a prior relationship between the two, Barnard exploits the physical comedy afforded by Lavinia's young brother at the interview at the Adelphi. The neoclassical building designed by the Adams Brothers (1768-1774) has been home to some famous and fashionable Londoners, including the Great Lexicographer, Dr. Samuel Johnson, the Shakespearean actor David Garrick, and Lady Emma Hamilton, the gorgeous mistress of Horatio, Lord Nelson, hero of the naval battle of Trafalgar, and the philanthropic Charles Booth (who statistically graphed London's poverty), as well as Charles Dickens and his creation, the novelist David Copperfield. David's bachelor rooms are at York House in the Adelphi block on Buckingham Street, adjacent to the north side of the Thames, in the 1849-50 novel.
Relevant Illustrations of Other Love Stories in the Original Edition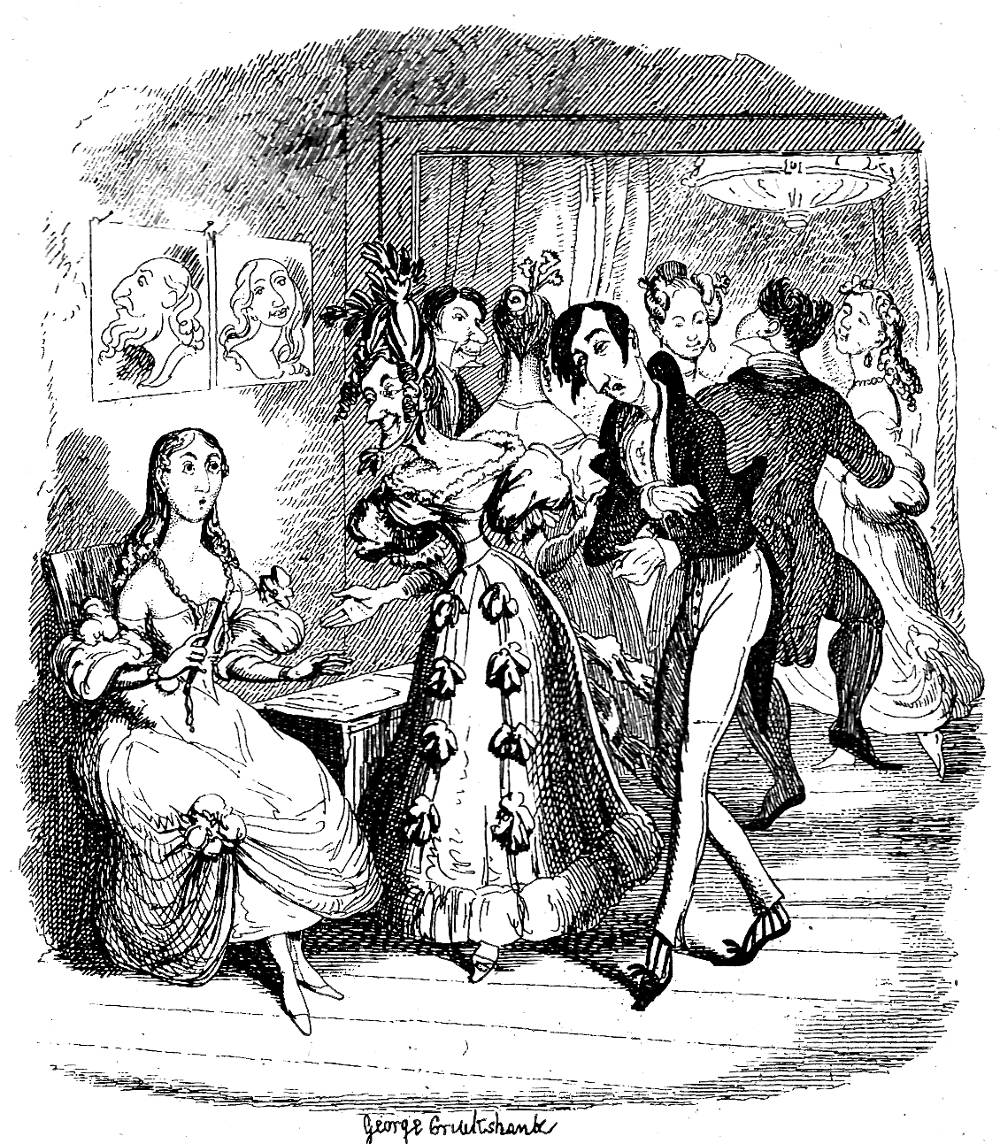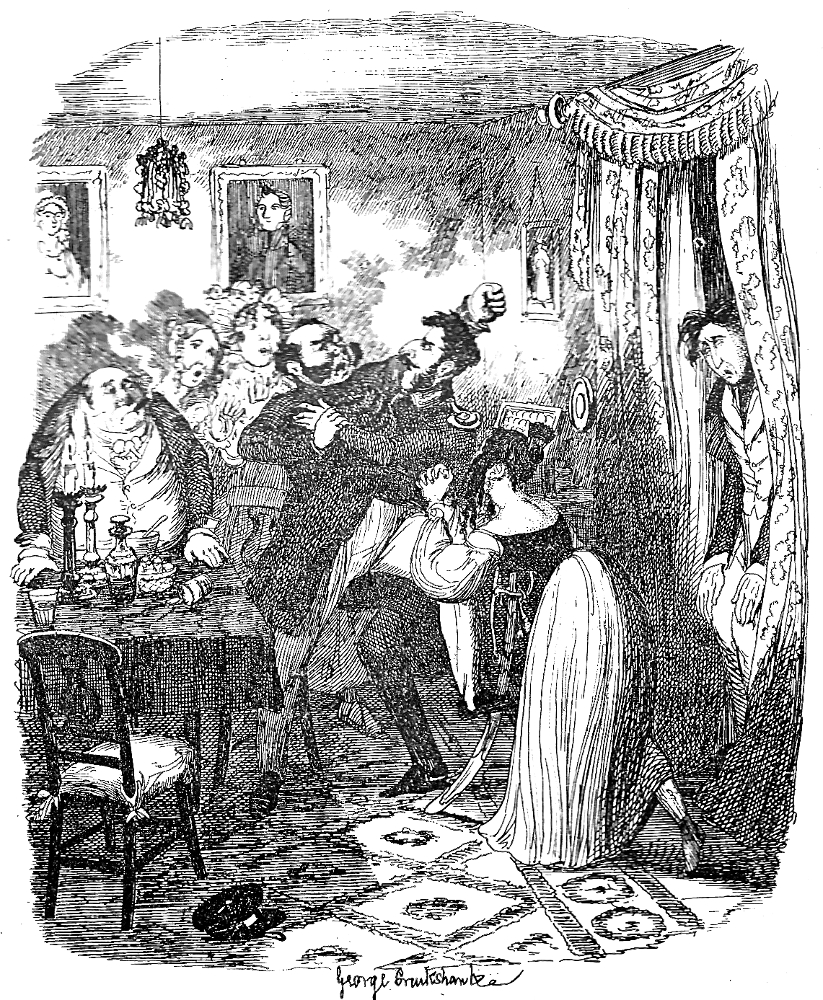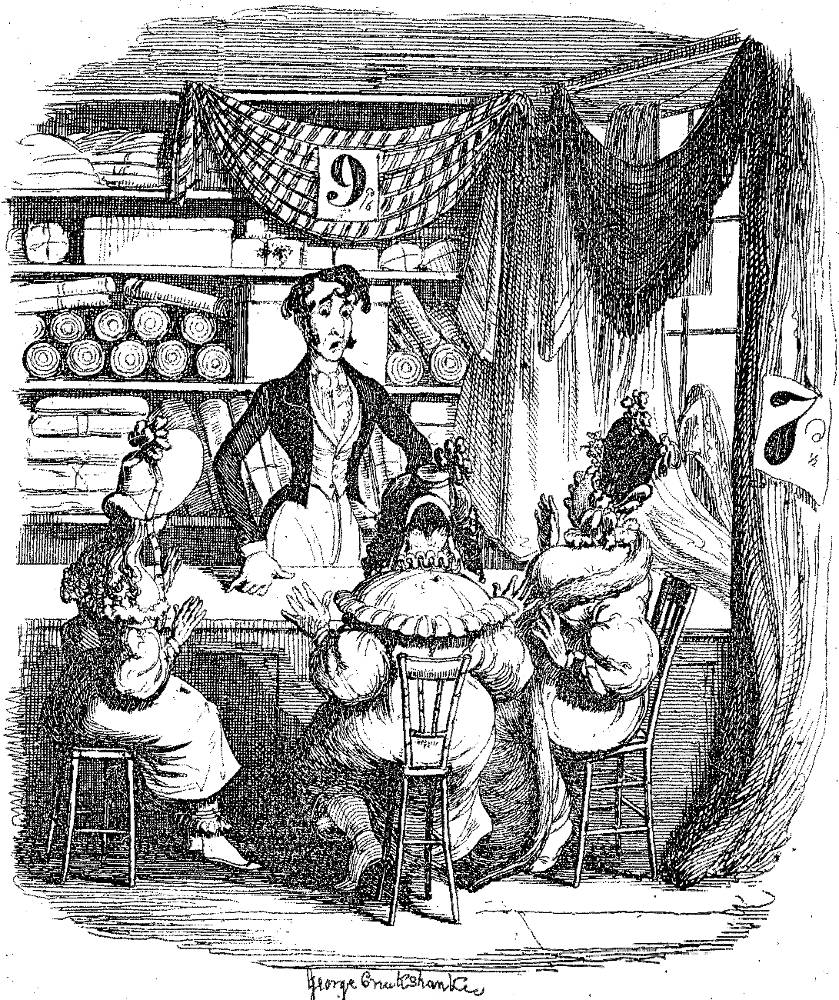 Left: George Cruikshank's​caricatural rendering of the reunion of the separated lovers, Sentiment [Theodosius Introduced to the New Pupil]. Centre: The discovery of the unfortunate Cymon hiding in Belinda Waters' room, The Tuggses at Ramsgate. Right: Cruikshank's depiction of another lover who resorts to subterfuge, Horatio Sparkins. [Click on the images to enlarge them.]
Bibliography
Ackroyd, Peter. Dickens: A Biography. London: Sinclair-Stevenson, 1990.
Bentley, Nicholas, Michael Slater, and Nina Burgis. The Dickens: Index. Oxford: Oxford U. P., 1990.
Davis, Paul. Charles Dickens A to Z. The Essential Reference to His Life and Work. New York: Checkmark and Facts On File, 1998.
Dickens, Charles. "Tales," Chapter 3, "Sentiment," Sketches by Boz. Illustrated by George Cruikshank. London: Chapman and Hall, 1839; rpt., 1890. Pp. 242-51.
Dickens, Charles. "Tales," Chapter 3, "Sentiment," Christmas Books and Sketches by Boz, Illustrative of Every-day Life and Every-day People. Illustrated by Sol Eytinge, Jr. The Diamond Edition. Boston: James R. Osgood, 1875 [rpt. of 1867 Ticknor & Fields edition]. Pp. 404-10.
Dickens, Charles. "Tales," Chapter 3, "Sentiment," Sketches by Boz. Illustrated by Fred Barnard. The Household Edition. London: Chapman and Hall, 1876. Pp. 126-28.
Dickens, Charles. "Tales," Chapter 3, "Sentiment," Sketches by Boz. Illustrated by Harry Furniss. The Charles Dickens Library Edition. London: Educational Book Company, 1910. Vol. 1. Pp. 311-22.
Hawksley, Lucinda Dickens. Chapter 3, "Sketches by Boz." Dickens Bicentenary 1812-2012: Charles Dickens. San Rafael, California: Insight, 2011. Pp. 12-15.
Londonist. The Adelphi Story. 21 May 2017. http://londonist.com/2014/05/the-adelphi-story
Schlicke, Paul. "Sketches by Boz." Oxford Reader's Companion to Dickens. Oxford: Oxford U. P., 1999. Pp. 530-535.
Slater, Michael. Charles Dickens: A Life Defined by Writing. New Haven and London: Yale U. P., 2009.
---
Last modified 22 May 2017