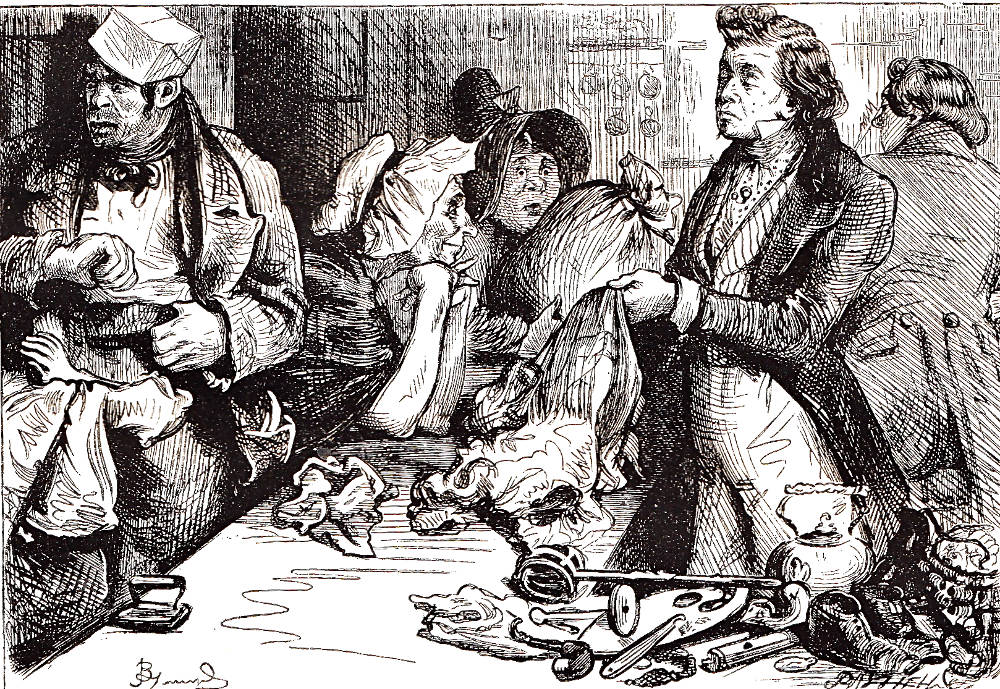 The Pawnbroker's Shop. (wood-engraving). 1876. 9.4 cm high x 13.8 cm wide, framed. Fred Barnard's realistic response to George Cruikshank's detailed description of a Drury Lane pawnbroker's shop in the Second Series' copper-engraving for the twenty-third chapter in "Scenes" in Sketches by Boz, >The Pawnbroker's Shop (see below), in which the desperate and near-destitute exchange their last few valuables for ready cash.
Scanned image and text by Philip V. Allingham. [You may use this image without prior permission for any scholarly or educational purpose as long as you (1) credit the person who scanned the image and (2) link your document to this URL in a web document or cite the Victorian Web in a print one.]
Passage Illustrated
At the present moment, this elegantly-attired individual is in the act of entering the duplicate he has just made out, in a thick book: a process from which he is diverted occasionally, by a conversation he is carrying on with another young man similarly employed at a little distance from him, whose allusions to "that last bottle of soda-water last night," and "how regularly round my hat he felt himself when the young 'ooman gave 'em in charge," would appear to refer to the consequences of some stolen joviality of the preceding evening. The customers generally, however, seem unable to participate in the amusement derivable from this source, for an old sallow-looking woman, who has been leaning with both arms on the counter with a small bundle before her, for half an hour previously, suddenly interrupts the conversation by addressing the jewelled shopman — "Now, Mr. Henry, do make haste, there's a good soul, for my two grandchildren's locked up at home, and I'm afeer'd of the fire." The shopman slightly raises his head, with an air of deep abstraction, and resumes his entry with as much deliberation as if he were engraving. "You're in a hurry, Mrs. Tatham, this ev'nin', an't you?" is the only notice he deigns to take, after the lapse of five minutes or so. "Yes, I am indeed, Mr. Henry; now, do serve me next, there's a good creetur. I wouldn't worry you, only it's all along o' them botherin' children." "What have you got here?" inquires the shopman, unpinning the bundle — "old concern, I suppose — pair o' stays and a petticut. You must look up somethin' else, old 'ooman; I can't lend you anything more upon them; they're completely worn out by this time, if it's only by putting in, and taking out again, three times a week." "Oh! you're a rum un, you are," replies the old woman, laughing extremely, as in duty bound; "I wish I'd got the gift of the gab like you; see if I'd be up the spout so often then! No, no; it an't the petticut; it's a child's frock and a beautiful silk ankecher, as belongs to my husband. He gave four shillin' for it, the werry same blessed day as he broke his arm." — "What do you want upon these?" inquires Mr. Henry, slightly glancing at the articles, which in all probability are old acquaintances. "What do you want upon these?" — "Eighteenpence." — "Lend you ninepence. — "Oh, make it a shillin'; there's a dear — do now?" — "Not another farden." — "Well, I suppose I must take it." The duplicate is made out, one ticket pinned on the parcel, the other given to the old woman; the parcel is flung carelessly down into a corner, and some other customer prefers his claim to be served without further delay. — "The Pawmbroker's Shop," p. 90.
Commentary
Barnard's fourteenth illustration for the twenty-third chapter in "Scenes" in Sketches by Boz, concerns the early nineteenth-century institution whose very existence few members of the respectable middle-class would even acknowledge; in the colloquial phrase, it was "uncle's" — the resort of the desperate whom "profligacy or misfortune drives . . . to seek the temporary relief" that such a place offers in return for their last few precious possessions, such as the little library of novels that Charles Dickens as a boy so loved, but which his father, in extreme financial straits, had to pawn. As is typical of Barnard's work, he has moved in for the closeup; although still behind the counter, the point of view he has adopted complements that of Cruikshank's The Pawnbroker's Shop (1839), revealing a variety of expressions, from the bemused expression and engaged posture curiosity of the middle-aged client to the look of concern of the next client (centre), fearing perhaps that the broker is going to give her less than she needs, to the clinical aloofness of the pawnbroker's agent as he examines the garment. Although he is immediately beside the old women, the rough-looking chap in the artisan's paper cap disregards them. The figures of the washerwomen in this 1876 composition anticipate those in Old Joe's rag-and-bone shop in the Christmas Carol illustration "What do you call this?" said Joe. "Bed-curtains?" in the Household Edition volume of 1878. Barnard shows merely the exterior of uncle's in Stuck his hands in his skirt-pockets and swaggered round the corner for Chapter 13 of Martin Chuzzlewit (1872), and this establishment seems to resemble the more respectable kind of pawnbroker's which Dickens describes as a silversmith's, with a window displaying ornaments, as well as "handsome trinkets and expensive jewellery" ("The Pawnbroker's Shop," p. 89). Not evident in the interior pawnshop scenes by Barnard and Cruikshank, but prominent in the Furniss lithograph is the traditional pawnbroker's sign, the three golden balls, which supposedly represent St. Nicholas's saving the three daughters of a poor knight from a life of prostitution by providing each girl with a suitable dowery — a bag of gold.
The Relevant Illustration from 1839 and Charles Dickens Library Editions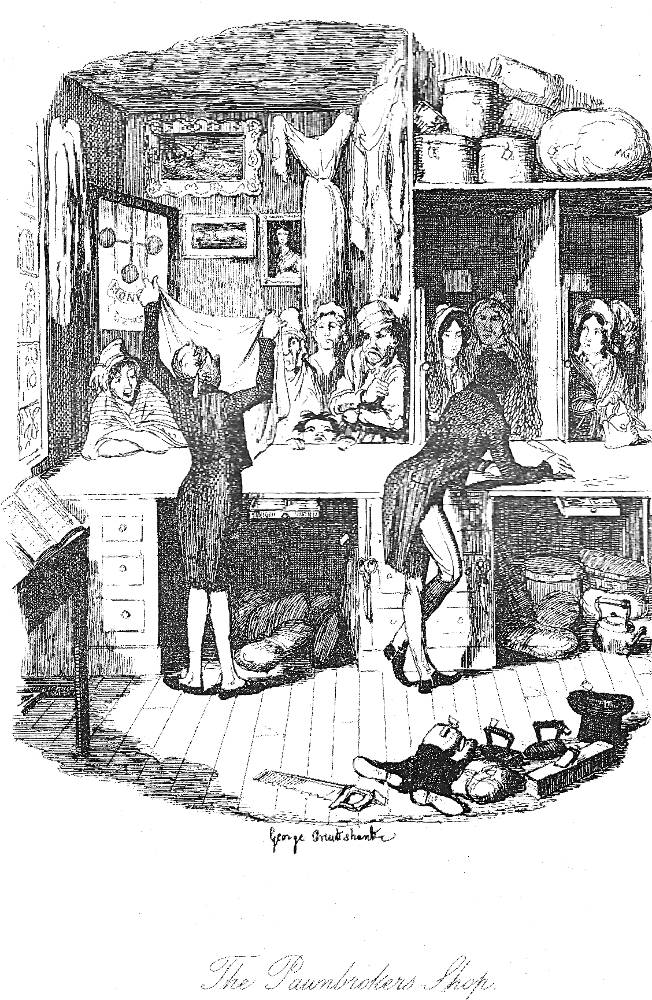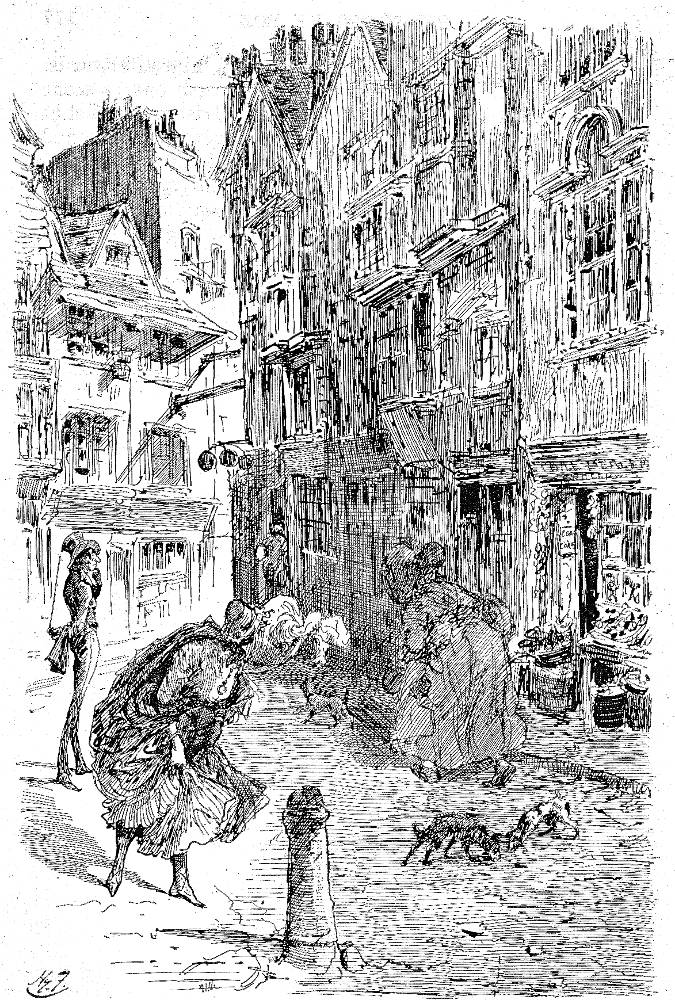 Right: George Cruikshank's elegant copper-plate engraving of the interior of the pawnbroker's from behind the counter in the Boz sketch, The Pawnbroker's Shop (1839). Right: bove: Harry Furniss's description of the ramshackle exterior of the disreputable pawnbroker's in an old by-street near Drury Lane, The Pawnbroker's Shop (1910). [Click on the image to enlarge it.]
References
Ackroyd, Peter. Dickens: A Biography. London: Sinclair-Stevenson, 1990.
Bentley, Nicolas, Michael Slater, and Nina Burgis. The Dickens Index. New York and Oxford: Oxford U. P., 1990.
Cohen, Jane Rabb. Charles Dickens and His Original Illustrators. Columbus: Ohio State U. P., 1980.
Davis, Paul. Charles Dickens A to Z: The Essential Reference to His Life and Work. New York: Checkmark and Facts On File, 1999.
Dickens, Charles. "Scenes," Chapter 23, "The Pawnbroker's Shop." Sketches by Boz. Illustrated by George Cruikshank. London: Chapman and Hall, 1839; rpt. 1890. Pp. 138-144.
Dickens, Charles. "Scenes," Chapter 23, "The Pawnbroker's Shop." Sketches by Boz. Illustrated by Fred Barnard. The Household Edition. London: Chapman and Hall, 1876. Pp. 88-92.
Dickens, Charles. "Scenes," Chapter 23, "The Pawnbroker's Shop." Sketches by Boz. Illustrated by Harry Furniss. The Charles Dickens Library Edition. London: Educational Book Company, 1910. Vol. 1. Pp. 172-177.
Dickens, Charles, and Fred Barnard. The Dickens Souvenir Book. London: Chapman & Hall, 1912.
Johnson, Ben. "The Pawnbroker." Historic UK: History Magazine. Accessed 9 April 2017. http://www.historic-uk.com/CultureUK/The-Pawnbroker/
Slater, Michael. Charles Dickens: A Life Defined by Writing. New Haven and London: Yale U. P., 2009.
---
Last modified 12 May 2017