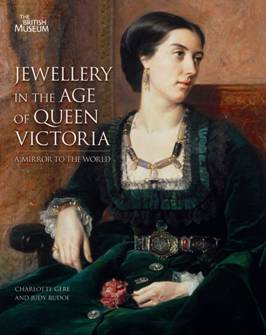 The British Museum invites you and the readers of the Victorian Web to a late-night Christmas shopping event on Thursday 2nd December in the British Museum Bookshop.
Join us from 6pm for a complimentary glass of wine and a mince pie, and enjoy a great opportunity to speak to authors Charlotte Gere and Judy Rudoe, as they make an appearance to sign copies of their fascinating title — Jewellery in the Age of Queen Victoria.
This richly illustrated book, the result of thirty years of research, uncovers what jewellery meant to the people who wore it. The 'Age of Victoria' is taken in its widest sense to encompass jewellery from Europe and America, examining the role of jewellery, its relation to dress and fashion, and its hidden messages. Its significance to its owners is revealed in jewels celebrating events or intimate friendships, or acting as memorials to the dead. Literary analysis shows how jewels are used in fiction to build character or add to the plot, while the lost language of jewels in portraits is also decoded.
The authors show how the Victorian love of novelty in jewellery reflects achievements in science, fascination with nature, the impact of topical events or popular entertainment, and the Victorian sense of humour. Also explored is how nationalism drove the revival of historical styles, and the connotations of education and culture associated with the collecting and wearing of cameos and jewels in the archaeological style.
There will be 20% off all Decorative Arts titles on the night, including Jewellery in the Age of Queen Victoria, plus an exclusive selection of authentic replica Victorian jewellery, usually exclusive to The Grenville Room and perfect for that special Christmas gift!
This event will be taking place in the British Museum Bookshop, located at the south end of the Egyptian Sculpture Gallery, on Thursday 2nd December from 6-8pm.
We hope you can attend, and look forward to seeing you there.
---
Last modified 22 November 2010