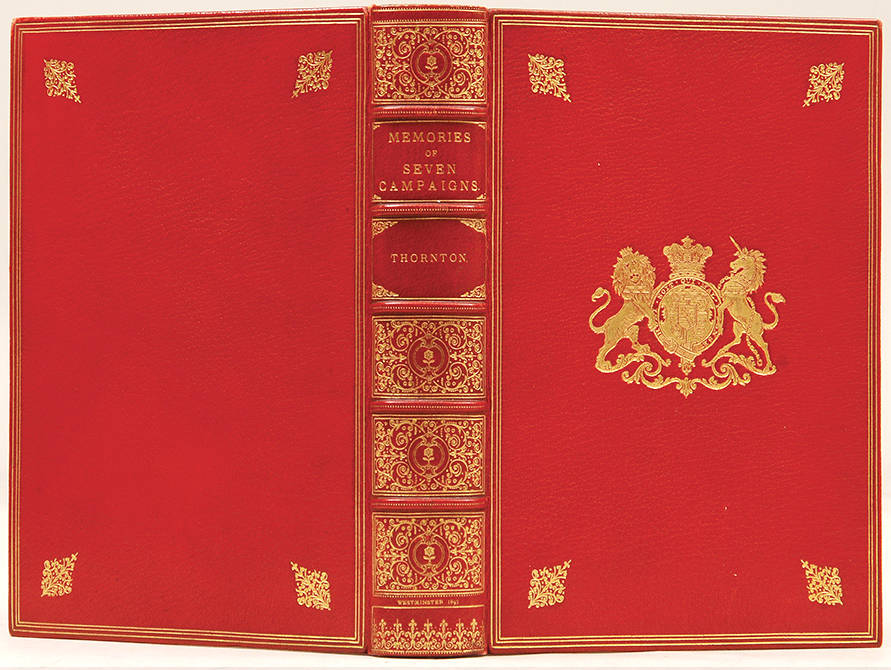 Thornton's Memories of Seven Campaigns. Binding by Joseph Zaehnsdorf. c. 1895. Red morocco presentation binding, title gilt direct to the spine, raised bands with dotted roll, compartments gilt with a central belt tool enclosing small sexfoil, and surrounded by foliate volutes with an infill of small dotted and circle tools, French fillet panel gilt to both boards, lozenge corner tools, large gilt centre tool of the Royal arms to the upper board, double rule gilt edge roll, top edge gilt, others uncut, wide inner gilt dentelles, crimson moiré silk doublures and endleaves, the endleaves with a wavy line panel within a very fine dotted roll with sexfoil corner-pieces, leather-lined hinges.
Commentary by Peter Harrington
Dr. Thornton ended his wide-ranging career as Deputy Surgeon-General of the Indian Medical Service. His first taste of India was the Mutiny, his last skirmishes on the Black Mountain as principal medical officer to the Punjab Frontier Force. Outside India, he took part in the expedition to China to capture the Taku Forts in 1860, was in Egypt in 1882, and served as principal medical officer of the Indian contingent at Suakin in 1885. Riddick complains that Thornton "eschewed the discussion of medicine for that of landscapes, his quarters, and his lifestyle," and that "in the latter years of his stay in India, his narrative would have you believing him to be more concerned about hunting tigers than the causes of cholera." However, taking this biography for what it is, rather than for what it might be, it will be found to be full of interesting detail of station life, a rather engaging and attractive personal and social, rather than professional, memoir. The dedicatee in receipt of this sumptuous copy, Prince Arthur - he was thus named for his godfather the Duke of Wellington - first Duke of Connaught and Strathearn was the "last British prince to command a significant formation in action" (ODNB), leading the brigade of Guards at Tel-el-Kebir, and receiving the commendation of his commander, Sir Garnet Wolseley, who declared that he had 'taken more care of his men and is more active in the discharge of his duties than any of the generals now with me'.
Photographs and text by Peter Harrington, Rare Books, which retains copyright. Formatting by George P. Landow. Readers may wish to visit the firm's website, www.peterharrington.co.uk.
Bibliography
Thornton, James Edward. Memories of Seven Campaigns.A Record of Thirty-five Years' Service in the Indian Medical Department in India, China, Egypt, and the Sudan. Introduction by A. Egmont Hake. Illustrated by Edward Thornton and Katherine Margaret Thornton. Westminster: Archibald Constable and Co., 1895.
---
Last modified 31 July 2013