[Click on thumbnails for larger images and additional informaiton]
As I noted in my discussion of Dante Gabriel Rossetti as an illustrator, he revolutionized the art of illustration. He had a comparable impact on styles of binding, creating a series of idiosyncratic designs which set new standards in the application of fine art, and, as versions of the Aestheticism of the sixties and seventies, were a tangible influence on the Art Nouveau book-covers of the latter part of the century, such as that for Dowson's Poems. This contribution to the art of the material book is well-known, and commentators such as Grieve and Fredeman have explored its complexities. My aim here, rather more modestly, is to provide an outline of what constitutes the Rossettian binding.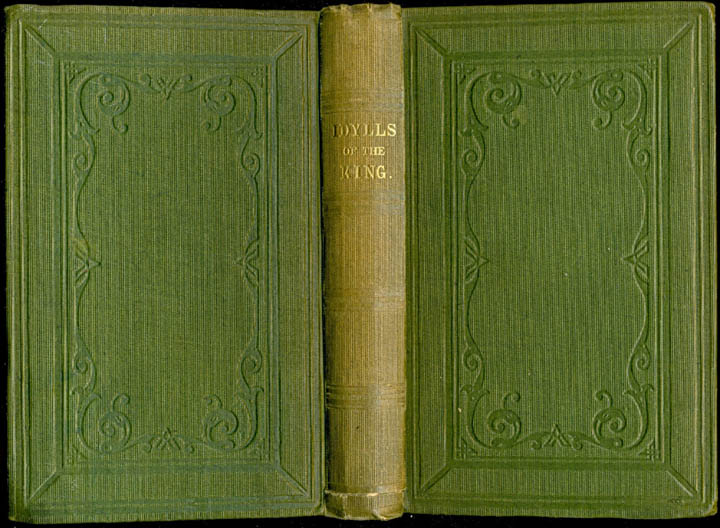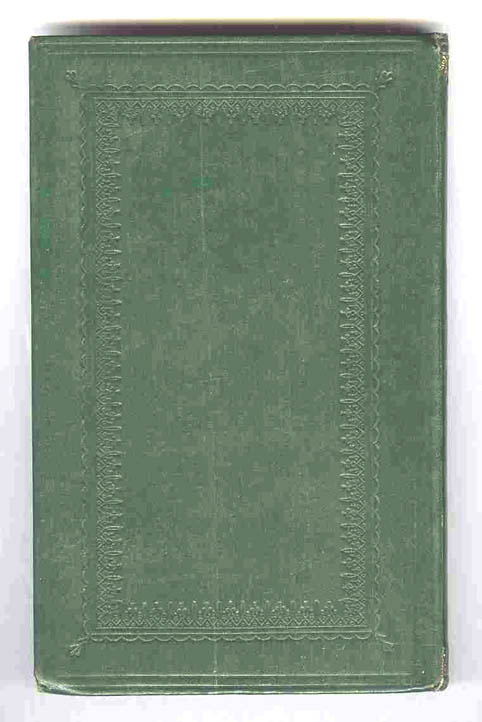 Left: Binding for Tennyson's Idylls of the King. Moxon, 1859. Right two: Binding for Tennyson's The Holy Grail. Strahan, 1870.
The startling originality of his work is best understood by comparing it to the dominant styles of the mid nineteenth century. In the period from 1855 to the mid seventies trade bindings were typified by two approaches. Serious works, such as original poetry, were usually issued in a plain cloth, sometimes with an embossed or recessed surface. A good example is the lime-green casing for Tennyson's Idylls of the King. Published by Moxon in 1859, this binding is entirely functional; no designer, as such, was involved, and the same set-up was used for a number of similar volumes. For Christmas gift-books, on the other hand, the emphasis was on flamboyance and visual splendour. Usually issued in brightly coloured or polychromatic cloth with gilt overlays, these books were produced by designers such as Leighton and Warren. Presented as ostentatious presents, they embody a characteristically Victorian excess.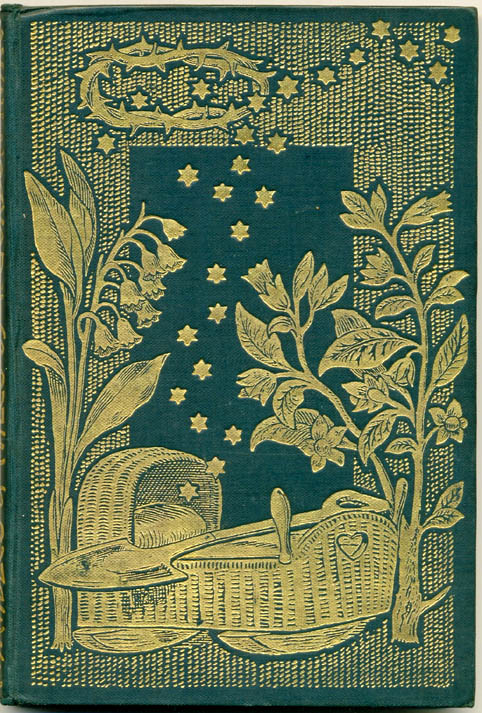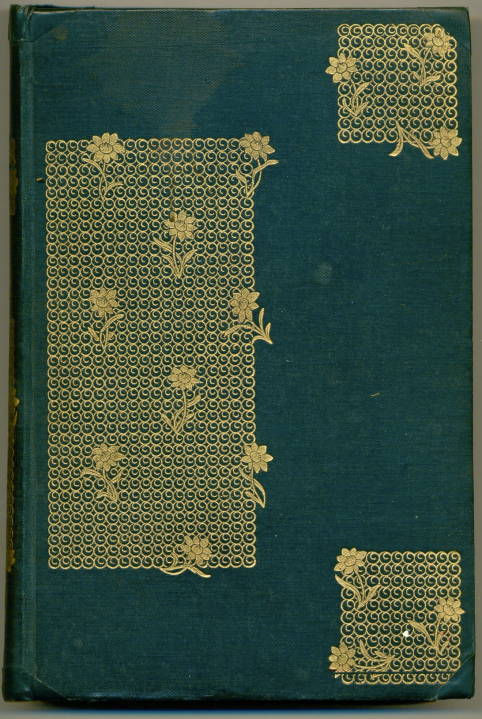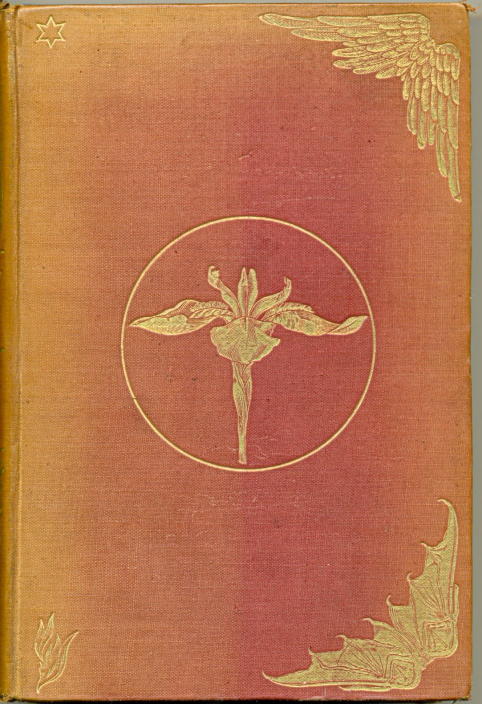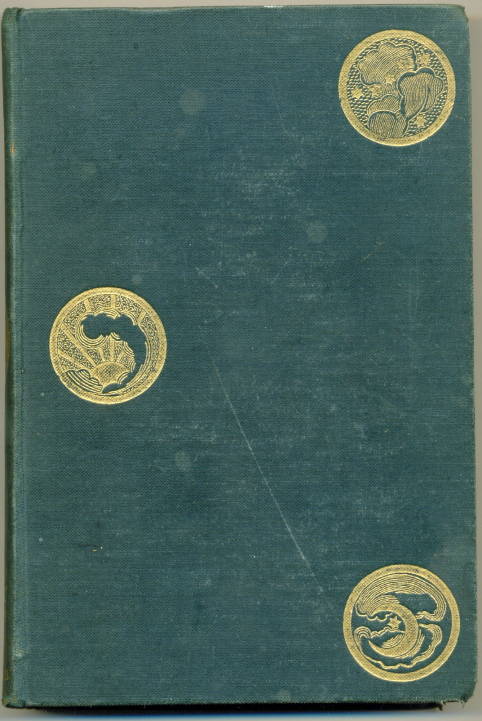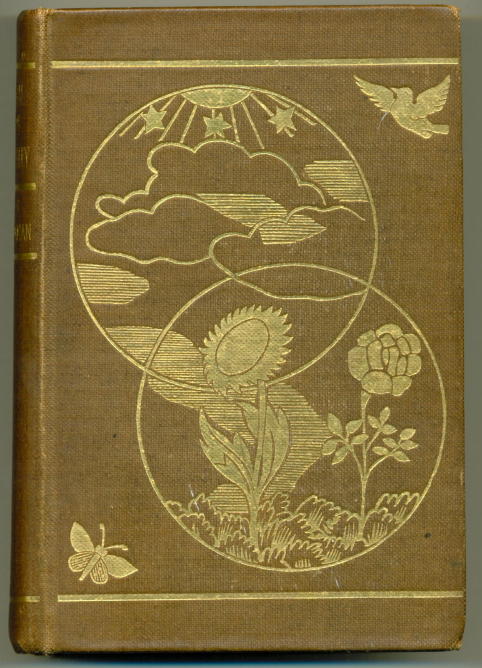 Five bindings designed by D. G. Rossetti or attributed to him — from left to right: Thomas Hake's Tales and Parables (1872), Rossetti's Poems (1870), Maria Rossetti's A Shadow of Dante (1872), Swinburne's Songs before Sunrise (1865), and Shelley's Poetical Works (1872, attributed).
Rossetti's approach mediates between these two positions. His designs are never excessively plain in the manner of the utilitarian binding, but, on the other hand, they seem positively restrained compared to the over-working of Leighton and his contemporaries. They do use gilt, but the cloth is always of a sombre hue — typically olive-green or a subdued ochre. What marks them out, however, is the artist's sensitive approach to the text. In each case, the bindings act in a carefully conceived relationship to the contents within. Sometimes this is a matter of visual or tonal anticipation that prepares the viewer for the author's themes and ideas; and sometimes the binding is a sort of contrast, existing in contrapuntal opposition to the material contained inside its boards.
In the design for Hake's Tales and Parables (1872) Rossetti provides an emblematic representation of the text's central concern with the cycle of life. Hake's focus shifts from 'Mother and Child' (1) to 'Old Mortality' (35), and the gilt illustration on the front cover anticipates this earthly cycle in the form of a startling juxtaposition between a cradle and a spade. Life's polarities, symbolized in the text by the alternation between deadly nightshade and lilies of the valley, is similarly registered on the upper board.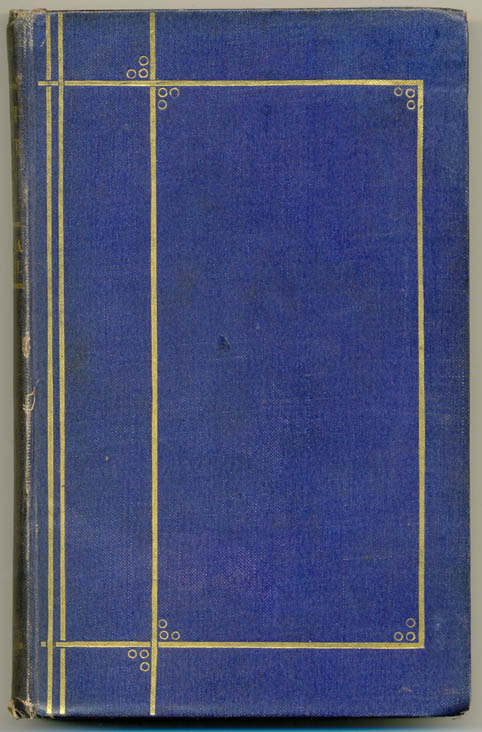 Rossetti's luxurious design for Hake is a prime example of his contribution to the emerging discourse of Art Nouveau. In complete contrast are his compositions for his own Poems of 1870 and for his sister's Goblin Market (1862). In each of these Rossetti abandons the figurative, presenting instead an austere geometrical simplicity which wilfully misleads the reader's eye. Both imply that the contents will be ascetic, severe, pared to the bone, rational. In the binding for Goblin Market, especially, the stark geometry of straight lines and tiny roundels suggests that the poem will be some sort of bloodless abstraction. When we turn the page, however, we are confronted firstly by Rossetti's pictorial frontispiece of Laura voluptuously bursting out of her dress, and then by Christina's sensual tale of lush descriptions and sexual innuendo. These qualities are thrown into relief, in other words, by the misdirections inscribed in the binding. Using the very material qualities of the book's appearance, Rossetti amplifies his sister's effects. He also foregrounds the sensory intensity of his own collection of poems, encasing them in a delicate sheen of gilt roundels which suggests a high degree of Aesthetic sensitivity, but does nothing to prepare the reader/viewer for the sensuous and emotional excesses of 'The Blessed Damozel' (text), or the angst of his sonnets.
Rossetti's bindings play their part in a calculated approach that brings together material appearance, illustrations, and texts to form an expressive whole. More than any other of his generation, Rossetti conceived his bindings as an important field of registration, a visual scheme designed to expand the range of meanings inscribed in the books' interiors.
References
Fredeman, William E. '"Woodman Spare That Block": Published and Unpublished Illustrations and Book Designs of Dante Gabriel Rossetti'. The Journal of Pre-Raphaelite Studies n.s. 5 (Spring 1996): 7-41.
Greive, A. 'Rossetti's Applied Art Designs, 2: Book Bindings'.The Burlington Magazine 115:839 (February 1973): 79-84.
Hake, Thomas. Tales and Parables.London: Chapman & Hall, 1872.
Rossetti, Christina. Goblin Market. London: Macmillan, 1862.
Rossetti, Dante Gabriel. Poems. London: Ellis & Elvey, 1870.
Rossetti, Maria Francesca. A Shadow of Dante. London: Rivingtons, 1872.
Tennyson, Alfred. Idylls of the King. London: Moxon, 1859.
Further Reading
Ball, Douglas. Victorian Publishers' Bindings. London: The Library Association,1985.
Barber, Giles. 'Rossetti, Ricketts, and Some English Publishers' Bindings of the Nineties'. The Library5th Series 25 (1970): 314-30.
King Edmund. Victorian Decorated trade Bindings, 1830-1880. London: The British Library & Oak Knoll Press, 2003.
Taylor, John Russell. The Art Nouveau Book in Britain. London: Methuen, 1966; revd. ed., 1980.
---
Last modified 13 August 2010