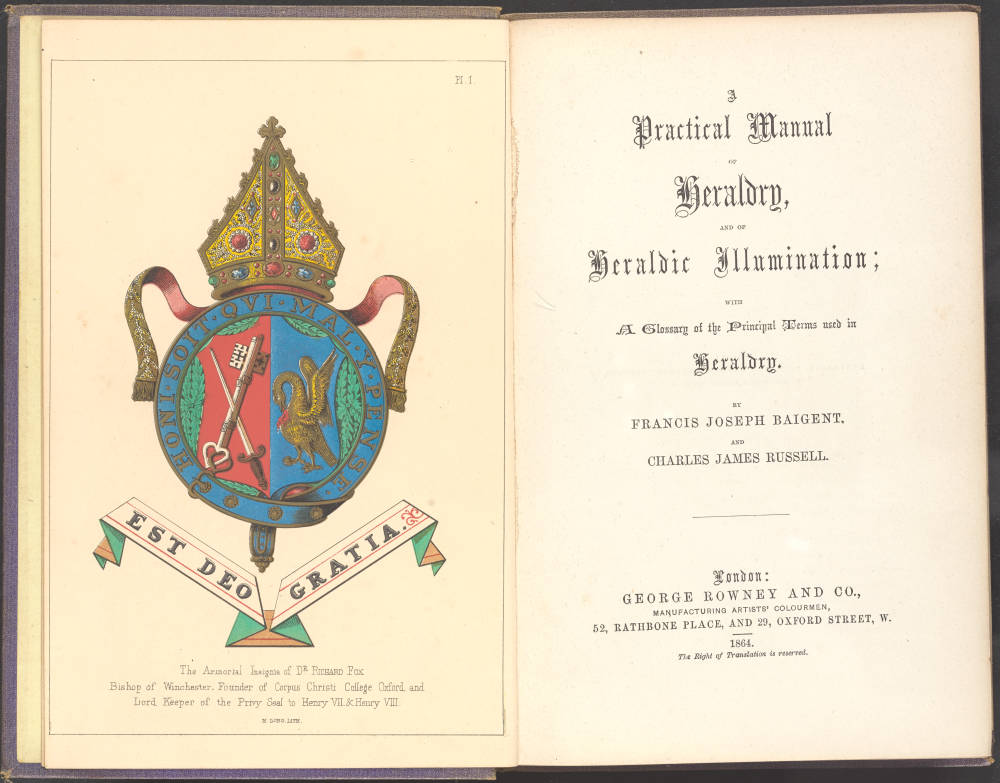 Frontispiece and title-page. A Practical Manual of Heraldry (1864) by Francis Joseph Baignent and Charles James Russell (both active 1850s & '60s). Frontispiece: "The Armorial Insignia of Dr. Richard Fox, Bishop of Winchester, Founder of Corpus Christi College Oxford and Lord Keeper of the Privy Seal to Henry VII and Henry VIII." Each page 21.8 x 14.5 cm. Collection: Oxford University. This item was catalogue no. 57 in Beckwith, Victorian Bibliomania (1987). [Click on image to enlarge it.]
Commentary by Alice H. R. H. Beckwith

ne of the ways Victorians faced the disorienting forces of industrialization was to rediscover their past. Nostalgia for the Middle Ages characterized Gothic Revivalists, who developed an interest in family lineage and concomitantly began to explore the history and description of coats of arms. The first coats of arms were painted on the shields of medieval knights as a means of identifying them in battle. By the nineteenth century, ecclesiastical and civil institutions as well as individuals carried armorial bearings.
Baigent and Russell describe their manual as intended for the novice heraldist and illuminator. For most of its 65 pages they explain heraldic vocabulary and make expert use of their sixteen plates to drill readers in blazoning and emblazoning arms. Noting that heraldic illumination belonged "as much to the present time as the past," they recommend illuminations of armorial insignia as gifts, suggesting that such presents would be a tribute to the memory of ancestors and become a valuable family heirloom. In closing their preface the authors aim their remarks at women, saying, "the Art of Heraldic Illumination is eminently one in which England's fair daughters may engage." One wonders if they were hoping women would become family historians and genealogists in order to uphold family traditions, or if they (and their publisher) only hoped to trade on the fashion for illumination that was such a feature of the 1860s. This manual was published by George Rowney and the section titled "Practical Instruction" mentioned a Rowney book by the Audsleys (cat. 56) as the best source of further technical information. The plates are followed by thirty-two pages of Rowney advertisements illustrating illuminators' colors and accessories.
With thanks to the Center for Digital Scholarship and Digital Production Services in the Brown University Library for producing the color image used in this web version. You may use this image without prior permission for any scholarly or educational purpose as long as you (1) credit the Internet Archive and Oxford University and (2) link your document to this URL in a web document or cite the Victorian Web in a print one.]
References
Beckwith, Alice H. R. H. Victorian Bibliomania: The Illuminated Book in Nineteenth-Century Britain. Exhibition catalogue. Providence. Rhode Island: Museum of Art, Rhode Island School of Design, 1987.
Baigent, Francis Joseph, and Charles James Russell. A Practical Manual of Heraldry and of Heraldic Illumination: with a Glossary of the Principal Terms Used in Heraldry.London: George Rowney and Co., 1864. Printers: Henderson, Rait and Fenton. Chromolithography: M. H. Long. Internet Archive version of a copy in the library of the Oxford University. Web. 22 December 2013. [The copy of this book in the 1987 exhibition the copy came from an anonymous lender.]
---
Last modified 23 December 2013