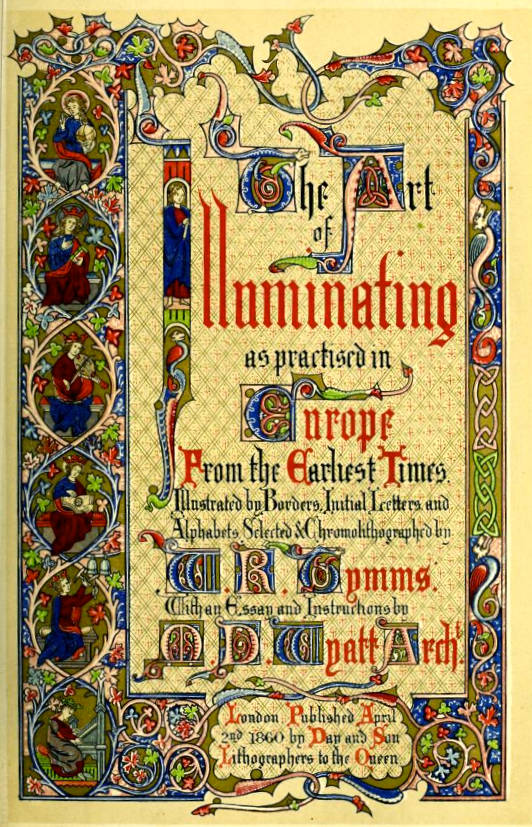 Title-page
Matthew Digby Wyatt and William Robert Tymms
1860
30.8 x 21.5 cm.
Source: The Art of Illuminating
Collection: Sterling and Francine Clark Art Institute
Other plates from this book
[continued below]
Click on image to enlarge it, and mouse over text below to find links
You may use this image without prior permission for any scholarly or educational purpose as long as you (1) credit the Internet Archive and the Clark Institute and (2) link your document to this URL in a web document or cite the Victorian Web in a print one.]
Commentary by Alice H. R. H. Beckwith
Matthew Digby Wyatt came from a family of architects and was a member of the group of Renaissance Revival architects active and influential in London during the Victorian period. As secretary of the executive committee for the Exhibition of 1851, he met Isambard Kingdom Brunel and Owen Jones, with both of whom he later collaborated, the former at Paddington Station and the latter on The Grammar of Ornament (cat. 47). Like Jones and William Morris, Wyatt designed tiles, wallpapers, carpets, and furniture (Jervis 528-29). Wyatt was knighted in recognition of his design of the India Office interiors, while his work as an author on the arts was recognized by his appointment as the first Slade Professor of Art at Cambridge University in 1869. This appointment also gave the Renaissance Revival designers equal representation with the Gothic Revivalists, since John Ruskin became the first Slade Professor at Oxford in the same year.
Between 1860 and 1861, Wyatt and Tymms brought out three books based on the information in The Art of Illuminating. Ellen Morris's copy is a rare proof copy in perfect condition. More commonly found is the smaller octavo, which has a cancelled title-page lacking the date of publication. A third and condensed version titled (on the title page) The History, Theory, and Practice of Illuminating, published in 1861, had the more didactic title Illuminating, What It Was, What It Should Be, and How to Practice It gold-stamped on the cover. The Art of Illuminating and its two variants could be grouped with works on the history of the book or with manuals of hand-illumination because both areas are covered in Wyatt's text. However, it is shown in this exhibition with books on architecture and design, since it is in these areas that Wyatt and Tymms's work makes its most significant contributions.
The first two sections of The Art of Illuminating are précis of the writings of Henry Shaw (cats. 38-40), John O. Westwood (cat. 14), and Owen Jones (cat. 47), all of whom Wyatt acknowledged. Wyatt intended his remarks as an overview of the history of illumination for the general reader in the light of the most recent books on the subject, but it is the section on contemporary uses of illumination that is the most innovative. Here, Wyatt turned to architecture and provided his readers with lists of recommended quotations, cited by the room in which he thought they could be most appropriately illuminated. He also suggested texts for the walls of buildings as diverse as halls of justice and a surgical museum. Wyatt's discussion reveals how by 1860 Victorian bibliomania had reached the point where the ornament of books and buildings was seen as interchangeable.
Another interesting issue is the attitude towards thirteenth-century illumination represented in The Art of Illuminating. Tymms and Wyatt collaborated on their book as Henry Shaw and Frederic Madden had done with Illuminated Ornaments thirty years earlier (cat. 14). However, in Tymms and Wyatt's book, the thirteenth century gained importance by being chosen as the source for the style of the illuminated title page illustrated here. Although Wyatt was a Renaissance enthusiast, he at least acquiesced in Tymms's choice of a Gothic-inspired illumination for the first page of their book.
Related Material
References
Beckwith, Alice H. R. H. Victorian Bibliomania: The Illuminated Book in Nineteenth-Century Britain. Exhibition catalogue. Providence. Rhode Island: Museum of Art, Rhode Island School of Design, 1987.
Jervis, Simon. The Penguin Dictionary of Design and Designers. New York: Penguin, 1984.
Wyatt, Matthew Digby, and William Robert Tymms. The Art of Illuminating as Practised in Europe from the Earliest Times. Illustrated by Borders, Initial Letters, and Alphabets Selected and Chromolithographed by William Robert Tymms with an Essay and Instructions by M. D. Wyatt, Architect. London; Day & Son, 1860. Illuminator: William Robert Tymms. Binder: Leighton, Son, and Hodge. Internet Archive version of a copy in the Library of the Sterling and Francine Clark Art Institute. Web. 22 December 2013.
---

Victorian
Web

Visual
Arts

Decorative
Arts

Victorian
Bibliomania

Next
Last modified 22 December 2013