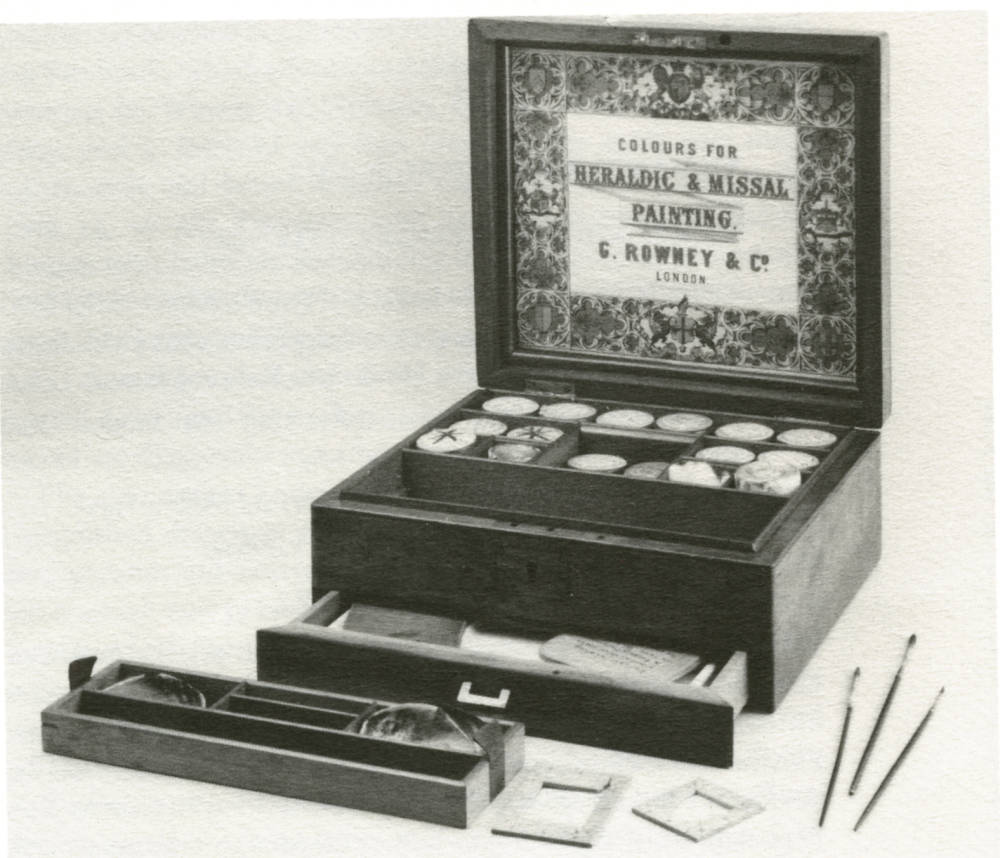 Caddy Lidded Colour Box for Heraldic and Missal Painting. George Rowney and Co., London. 2nd half of the nineteenth century. Mahogany, 10 x 26 x 22.7 cm. (depth) Provenance: William Truman Aldrich, A. I. A.; Harold Bowditch, M.D. Collection of Henry L. P. Beckwith. This item was catalogue no. 58 in Beckwith, Victorian Bibliomania (1987) [Click on images to enlarge them.]
Commentary by Alice H. R. H. Beckwith

he revival of manuscript illumination in Victorian England was supported by artists' colormen, who published instruction manuals of hand-illumination and sold color boxes like this one. A ten-color chromolithographed label identifies this fourteen- cake caddy-lidded mahogany box as a product of the color manufacturer George Rowney & Co. of London. This box may be one of those listed on page 6 of Rowney's advertising appendix in A Practical Manual of Heraldry and Heraldic Illumination by Baigent and Russell (cat. 57). The color plates in that book were printed by the printer and designer of the label on the color box, M. H. Long.
Long's design for the label interrelates heraldry, illumination, color printing, and architecture in its text and form. The statement "Colours for Heraldic and Missal Painting" establishes the links between heraldic artists and illuminators who use the same tools, including sable brushes, agates for burnishing gold leaf, and wooden patterns for shields and flag shapes. Heraldry and architecture are united in Long's Gothic Revival tracery border, which mimics architectural sculpture. Displayed clockwise around the border, beginning at the top, are the insignia of the British royal family, the Worshipful Company of Salters, the City of London, and the Worshipful Company of Goldsmiths. Each escutcheon is separated by the triune badge of an English rose, a Scottish thistle, and an Irish shamrock.
This color box illustrates the impact that the English interest in illumination and heraldry had in New England. According to the records of the Committee on Heraldry, New England Historic Genealogical Society, each of the three American owners of this box served on the Society's Committee on Heraldry, and in that capacity they researched and designed heraldic insignia and illuminations. The relationship between heraldry, illumination, and architecture is personified in the first owner, William Truman Aldrich (1880-1966), architect of the Radeke Building at the RISD Museum and the 1933 addition to the Worcester Art Museum (Aldrich II.108).
References
Beckwith, Alice H. R. H. Victorian Bibliomania: The Illuminated Book in Nineteenth-Century Britain. Exhibition catalogue. Providence. Rhode Island: Museum of Art, Rhode Island School of Design, 1987.
Aldrich, Alvin James. The George Aldrich Genealogy, 1603-1971. 2 vols. Printed for the Subscribers, 1971.
---
Last modified 1 January 2014