Nave Roof Aldenham, Herts from Sketches Graphic and Descriptive for a History of the Decorative Painting Applied to English Architecture during the Middle Ages. Edward Lushington Blackburne, F.S.A., active 1830s and '40s. 1847. 38.5 x 28.7 cm. Inscription: "J. P. Putnam" Anonymous lender. This item was catalogue no. 44. in Beckwith, Victorian Bibliomania (1987). [Click on images to enlarge them.]
Commentary by Alice H. R. H. Beckwith
By opening his treatise on Decorative Painting Applied to English Architecture during the Middle Ages with a chromolithographed illuminated page based on thirteenth-century precedent, Edward Blackburne set up a visual relationship between the decoration of books and buildings in the Middle Ages which was upheld by his illustrations. In addition, his letterpress text was decorated with wood-engraved illuminated initial letters. His page of the nave roof at Aldenham displays the architect's shorthand method of illustrating sections of architectural ornament also seen in Henry Shaw's books (cats. 38-40), and gives an idea of the way in which medieval buildings were decorated with bands of ornament similar in form to the borders of illuminated manuscripts.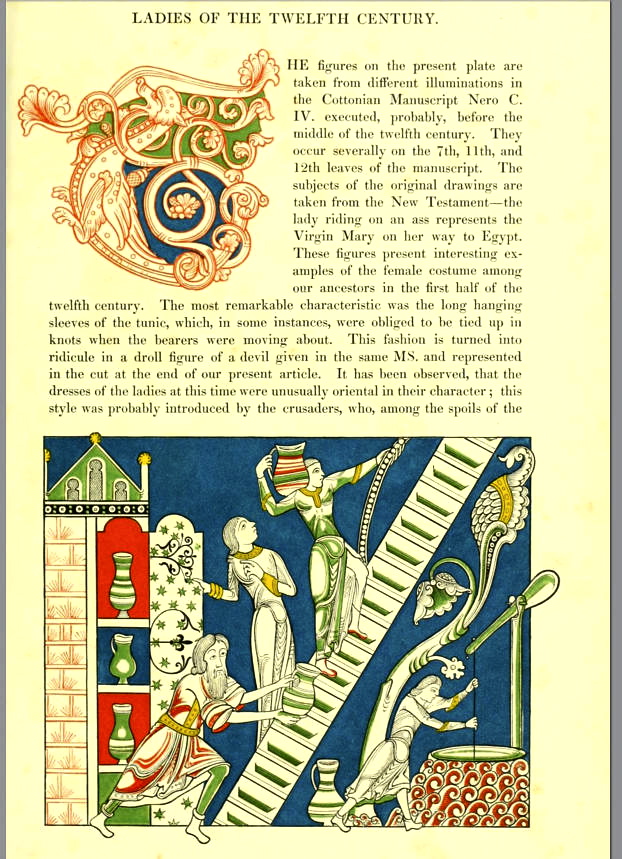 Three plates by Henry Shaw — left to right: (a) Ladies of the Twelfth Century. (b) King Henry VI and His Court. (c) A Thurible or Censer [Click on these images for larger pictures.]
John Williams, Blackburne's publisher, also listed other guides to illuminated works of interest to Gothic Revival architects, including Shaw's Illuminated Ornaments Copied from the Rarest Missals and Manuscripts, and Pugin's Examples of Gothic Architecture and Gothic Ornaments, in an advertisement which concluded an 1834 publication by Blackburne titled An Architectural and Historical Account of Crosby Place.
Blackburne's twenty-three plates in Decorative Painting, printed in opaque chromolithography, were the kind of historical authority that inspired Owen Jones's polychrome ornamentation of the interior of the Crystal Palace in 1851 and the illuminated ornament described by Henry Noel Humphreys in his essay in the Illuminators' Magazine on the London exhibition of 1862 (Humphreys, "Coloured Decorations"). The present copy of Decorative Painting was owned by the Boston architect John Pickering Putnam (1847-after 1916), who studied at the École des Beaux Arts in 1869 and the Royal Academy of Architecture in Berlin in 1870 before taking up his practice in the United States. Pickering's training and the fact that he owned this book suggest that the relationship between illuminated books and architectural polychromy in France and Germany in the nineteenth century may warrant further study.
References
Beckwith, Alice H. R. H. Victorian Bibliomania: The Illuminated Book in Nineteenth-Century Britain. Exhibition catalogue. Providence. Rhode Island: Museum of Art, Rhode Island School of Design, 1987.
Blackburne, Edward Lushington. Sketches Graphic and Descriptive for a History of the Decorative Painting Applied to English Architecture during the Middle Ages. London: John Williams, 1847. Letterpress: T. R. Drury. Chromolithography: Day & Son.
---
Last modified 1 January 2014