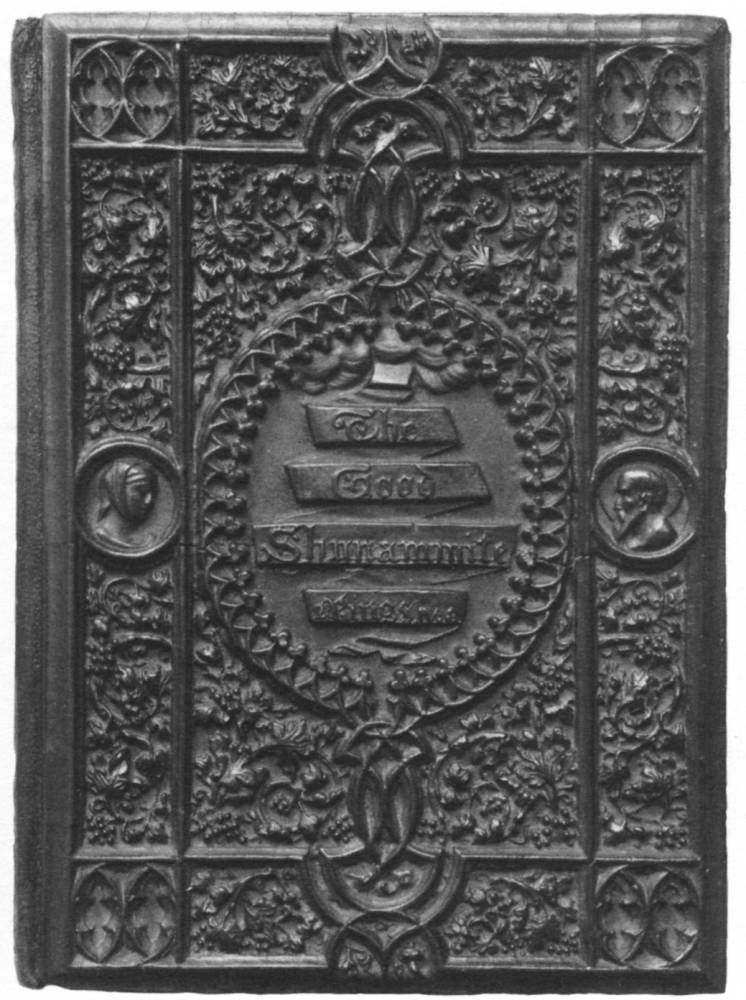 Front cover
1847
16.8 x 11.7 cm.
Source: The Good Shunammite
Collection of Ellen K. Morris
Two miracles of the Hebrew prophet Elisha as told in the Old Testament (II Kings IV, lines 8-37) form the theme of this black papier-mâché-bound chromolithographed illuminated book. The good Shunammite woman fed the passerby Elisha, then, realizing he was a holy man, gave him a place to rest in her home. [continued below]
Click on image to enlarge it, and mouse over text below to find links
Courtesy Ellen K. Morris
Commentary by Alice H. R. H. Beckwith
Elisha in return granted the woman and her husband a son. Later, when the child died, Elisha returned and raised the child from the dead. Just as in Victorian melodrama, this story has a happy ending where evil or suffering is overcome and goodness rewarded; no doubt it was chosen for ornamentation because such themes appealed to nineteenth-century readers.
Gothic architectural motifs, both geometric and naturalistic, are found on the cover of The Good Shunammite. The title appears in raised Lombardic letters on a ribbon scroll descending out of a bank of clouds within a central oval. Double oval elongated quatrefoils fill each of the outer corners, while roundel profiles of the Shunammite and the prophet Elisha face one another in the long sides of the cover. The identical covers are joined by a black leather spine on which the title is embossed.
Text pages in as many as six colors maintain the Gothic reference, with the text hand-drawn on the lithographic stone in Gothic script. Complementing ornamental initial letters, line endings, miniatures, and quatrefoils with human figures make visual reference to hand-illuminated manuscripts. Luxuriant but delicate borders of trefoils and grape leaves, recalling Henry Noel Humphrcys's chromolithographic illuminations, are found on many pages. Louis Gruner, in whose studio the book was illuminated, according to the last page, may have known Humphreys through his association with Owen Jones. Gruner cooperated on Jones's 1845 Book of Common Prayer (cat. 2). Furthermore, Ruari McLean has suggested Owen Jones as the printer of The Good Shunammite on the basis of the quality of the chromolithography (McLean, Victorian Publishers' Bindings, 92).
Papier-mâché bindings were invented in the nineteenth century and provided Gothic Revival book designers with an inexpensive means of imitating, in large quantities, medieval hand-carved bindings and architectural sculpture (Ball, Victorian Publishers' Bindings, 21-22). Charles E, Bielefeld claimed he was the inventor and sole manufacturer of this material, which he recommended for reproducing the "bold, florid carvings in Gothic, French, Flemish or Elizabethan architecture" (Bielefeld, 9). The Art Union reviewed Bielefeld's book in 1842, remarking that his papier-mâché made ornament available to all and not just the wealthy (Bielefeld, 9). Bielefeld's claims of invention are suspect, as Jackson and Sons were the patentee for the process (Ball 45). However, Bielefeld's references to the uses of the process, particularly in medieval revival bindings, are corroborated by the publisher and designer Joseph Cundall, who wrote in 1848 that the papier-mâché bindings of Henry Noel Humphreys's Miracles of Our Lord (cat. 8) and his Parables (cat. 7) as well as The Good Shunammite were fair reproductions of the "monastic style" and "appropriate" to these texts. Cundall further praised "Prayer-book covers" which recalled the "great church windows and Gothic doorways which used to be perpetrated on our Bibles" (Cundall, 11).
B. C. Middleton analyzed these bindings and determined that they were a mixture of papier-mâché and plaster, possibly with some antimony. He reported that some books with such bindings were built up on a metal framework, and suggested that they were probably done in a minimum of 1,000 sets to offset the cost of producing the complex molds (Middleton, 139).
References
Beckwith, Alice H. R. H. Victorian Bibliomania: The Illuminated Book in Nineteenth-Century Britain. Exhibition catalogue. Providence. Rhode Island: Museum of Art, Rhode Island School of Design, 1987.
Bielfield, Charles Frederick. On the Uses of Improved Papier-mâché in the Interior Decoration of Buildings, and in Works of Art. London: 1850.
Cundall, Joseph. On Ornamental Art Applied to Ancient and Modern Bookbinding. London: Society of Arts, 1848.
The Good Shunammite. London: Longman, Brown, Green & Longmans, at the studio of Lewis Gruner, 1847.
Middleton, B. C. A History of English Craft Binding Technique. 2nd ed. London: Holland Press: 1978.
---

Victorian
Web

Visual
Arts

Decorative
Arts

Victorian
Bibliomania

Next
Last modified 20 December 2013